A customized print-friendly version of this recipe is available by clicking the "Print Recipe" button on this page.
Cheese-Filled Sweet Braid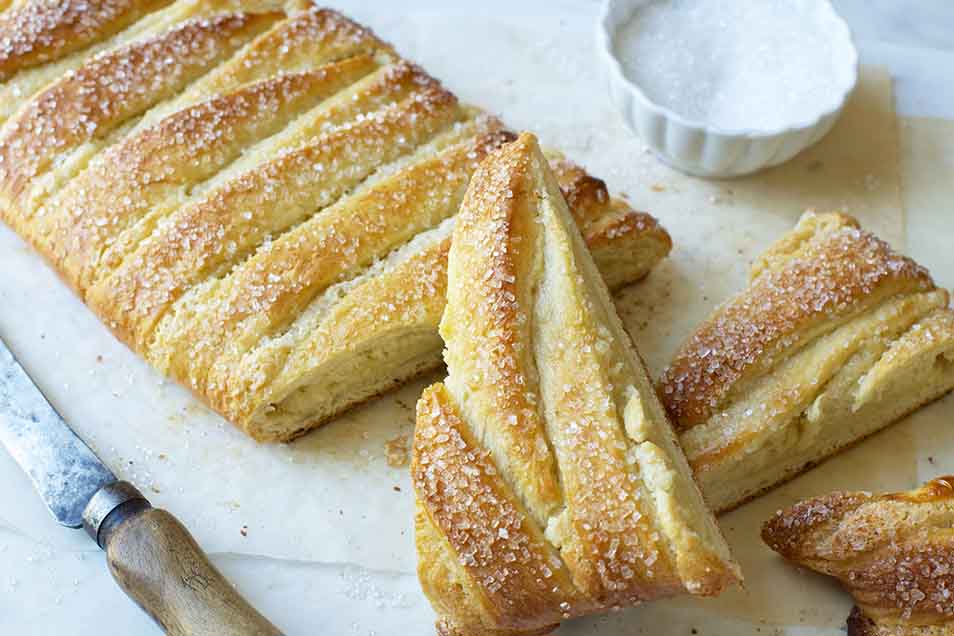 Here's a twist on a popular recipe we teach at our Baking School in Norwich, VT. It's wonderful for brunch, as it can be made ahead then reheated briefly just before serving.
Ingredients
Dough
2 1/4 teaspoons instant yeast
1/4 cup lukewarm water
1/2 cup lukewarm milk
1/4 cup (4 tablespoons) butter, softened
1 1/4 teaspoons salt
1/4 cup sugar
1 teaspoon vanilla or 1/8 teaspoon Fiori di Sicilia
1 large egg, lightly beaten
Instructions
To make the dough: Combine all of the dough ingredients, and mix and knead them together — by hand, mixer or bread machine — until you've made a soft, smooth dough. Allow the dough to rise, covered, for 45 minutes to 1 hour, or until it's puffy.

To make the filling: While the dough is rising, prepare the filling by mixing all of the ingredients together until smooth. Chill until ready to use.

To assemble the braid: Transfer the dough to a lightly oiled work surface, and divide it in half. Roll each half into a 12" x 8" rectangle. Spread half of the filling lengthwise down the center third of each rectangle. Cut 1" wide strips from each side of the filling out to the edges of the dough. Fold about an inch of dough at each end over the filling to contain it, then fold the strips, at an angle, across the filling, alternating from side to side.

Transfer the braids to 2 parchment-lined baking sheets. Allow the braids to rise, covered, for 1 to 1 1/2 hours, until puffy but not quite doubled.

Preheat the oven to 350°F.

Whisk together the egg yolk and water, and brush over the risen loaves. Sprinkle with sparkling sugar. Bake the braids for 35 to 40 minutes, or until golden brown. Remove from the oven and cool on a wire rack.

Bake the braids for 35 to 40 minutes, or until they're golden brown. Remove them from the oven and cool on a rack.

Store in the refrigerator for up to 3 days, or freeze for up to 3 months.
Tips from our bakers
Add some flavor and color by spreading a few teaspoons of jam, 1/2 cup diced fruit, or fresh berries atop the cream cheese before baking the loaves.
For a raspberry-filled braid, mix 1/2 cup raspberry jam with 2 tablespoons Instant ClearJel or all-purpose flour. Spread half of the jam on each rolled-out piece of dough, then top each with half the cream cheese filling and proceed with the recipe as directed.