A customized print-friendly version of this recipe is available by clicking the "Print Recipe" button on this page.
Cheese-Filled Sweet Braid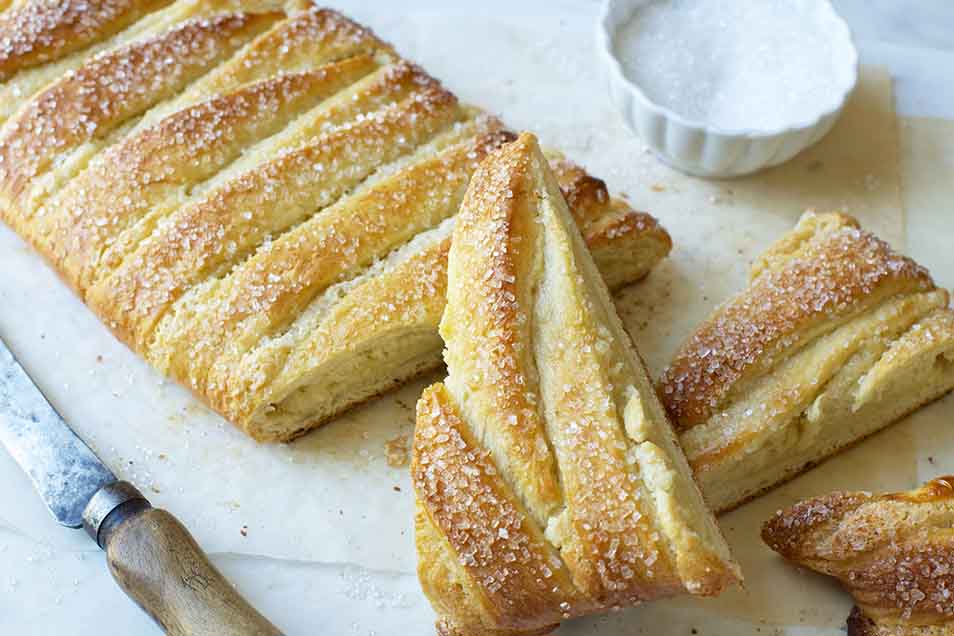 Here's a twist on a popular recipe we teach at our Baking School in Norwich, VT. It's wonderful for brunch, as it can be made ahead then reheated briefly just before serving.
Ingredients
Dough
2 1/4 teaspoons instant yeast
1/4 cup lukewarm water
1/2 cup lukewarm milk
1/4 cup (4 tablespoons) butter, softened
1 1/4 teaspoons salt
1/4 cup sugar
1 teaspoon vanilla or 1/8 teaspoon Fiori di Sicilia
1 large egg, lightly beaten
Instructions
To make the dough: Combine all of the dough ingredients, and mix and knead them together — by hand, mixer or bread machine — until you've made a soft, smooth dough. Allow the dough to rise, covered, for 45 minutes to 1 hour, or until it's puffy.

To make the filling: While the dough is rising, prepare the filling by mixing all of the ingredients together until smooth. Chill until ready to use.

To assemble the braid: Transfer the dough to a lightly oiled work surface, and divide it in half. Roll each half into a 12" x 8" rectangle. Spread half of the filling lengthwise down the center third of each rectangle. Cut 1" wide strips from each side of the filling out to the edges of the dough. Fold about an inch of dough at each end over the filling to contain it, then fold the strips, at an angle, across the filling, alternating from side to side.

Transfer the braids to 2 parchment-lined baking sheets. Allow the braids to rise, covered, for 1 to 1 1/2 hours, until puffy but not quite doubled.

Preheat the oven to 350°F.

Whisk together the egg yolk and water, and brush over the risen loaves. Sprinkle with sparkling sugar. Bake the braids for 35 to 40 minutes, or until golden brown. Remove from the oven and cool on a wire rack.

Bake the braids for 35 to 40 minutes, or until they're golden brown. Remove them from the oven and cool on a rack.

Store in the refrigerator for up to 3 days, or freeze for up to 3 months.
Tips from our bakers
Add some flavor and color by spreading a few teaspoons of jam, 1/2 cup diced fruit, or fresh berries atop the cream cheese before baking the loaves.
For a raspberry-filled braid, mix 1/2 cup raspberry jam with 2 tablespoons Instant ClearJel or all-purpose flour. Spread half of the jam on each rolled-out piece of dough, then top each with half the cream cheese filling and proceed with the recipe as directed.
Reviews
I also had the runny cream cheese issue, and the dough took an additional hour to rise. But the taste and texture is very good. I added sauted apples to one braid and raspberry jam to the other. I'll make again.
I made this twice. The second time I did the raspberry cheese filled braid that uses this dough and braiding. Both times were excellent. The raspberry cheese filled braid had me add pie filling enhancer to the cheese and the raspberry jam- that made the filling better in my opinion. The texture of the dough (sticky) helped this hold the braiding better than Theresa dough I have used. Never any leftovers!
I'm sure I did something wrong but I can't for the life of me figure out what it was. The dough was very slow to rise although that wasn't really the problem. The cream cheese filling was so thin and runny it spread out over the whole piece of rolled out dough. I had to scoop out the extra just to fold it. It baked ok but as everyone said, the cheese baked way down and since I only had a fraction of it, you could barely taste it. I'd like to try it again though with the filling done properly. Any idea what might have happened?

Gosh Kathy, we have to say that you've stumped us! With cream cheese, flour, and sugar, this should be more of a thick paste, as the only liquid is from a single egg and a touch of vanilla. We're really not sure what would be making this filling runny at all, much less too runny to spread thickly on your bread. While we usually try to offer some ideas here in the comments itself, it seems that your filling is going to require a little more investigation. We'd love it if you called our Baker's Hotline at 855-371-BAKE (2253) so that we can find out the cause of your unsatisfying filling and make sure your next sweet braid is more delicious. Kat@KAF
Love this recipe! Ive made with and without jam, I will be making this over and over!
This is a very sticky dough. I spray the inside of the bowl before proofing and also spray the sheet of plastic wrap I use before covering the bowl. The first time I made the recipe I couldn't get the dough off of my work surface even though I had oiled it. Every time I've made it since then, I roll the dough between two sheets of parchment paper. So much easier to lift the filled loaf onto the baking sheet. I've filled it with half the cheese mixture and topped it off with cherry pie filling and have also used hazelnut frangipane. Absolutely delicious.
I would like to share my experience. I think the directions need tweaking. If the instructions said, "Cut the dough on either side of the filling so that the cuts are almost perpendicular to the filling, but with a slight slant," it would be more clear. I saw this as three separate pieces, which may have been what Diane who wrote in January saw. Anyway, the filled dough is in the oven, rising. I cut long strips an inch wide and formed a braid by criss-crossing them and not as a woven, herringbone pattern. In fact, now that I have written the word, calling this a herringbone bread instead of a braid would make the construction easier.

Hi there Susan, thanks for sharing your thoughts with us. It seems like there might be some confusion about shaping this loaf; the 1" wide should should be cut from each side of the filling out to the edges of the dough (perpendicular, not slanted). The strips are angled slightly as they are folded over the flipping to resemble a mock braid. We have no doubt that your loaf came out looking just beautiful, so if you prefer the herringbone look, then feel free to stick with that next time. Happy baking! Kye@KAF
The first time I baked this it was gone very quickly, my family begged me for more, so today I'm happy to say I did it again beautiful and delicious, the kitchen smells divine. Thank you KAF
I am on my second try, doesn't come out at all like the photo, I would like it flat and the braids tight like that. Anyone else have trouble with presentation etc

Diane, try rolling the dough out, then covering it and letting it rest for a few minutes before you cut and fill it. If you roll and fill without relaxing, the gluten in the dough will snap back and make it just a bit thicker or higher. The rest also allows the cut strips to be laid across the top, not pulled. It's delicious either way! Laurie@KAF
Delicious it was gone and everyone wanted more so much people want me to make it for them to have one for them self :)
Great recipe! Delicious breat, nice and light with a crisp exterior. The cream cheese filling is creamy, next time I might add seedless raspberry jam.