A customized print-friendly version of this recipe is available by clicking the "Print Recipe" button on this page.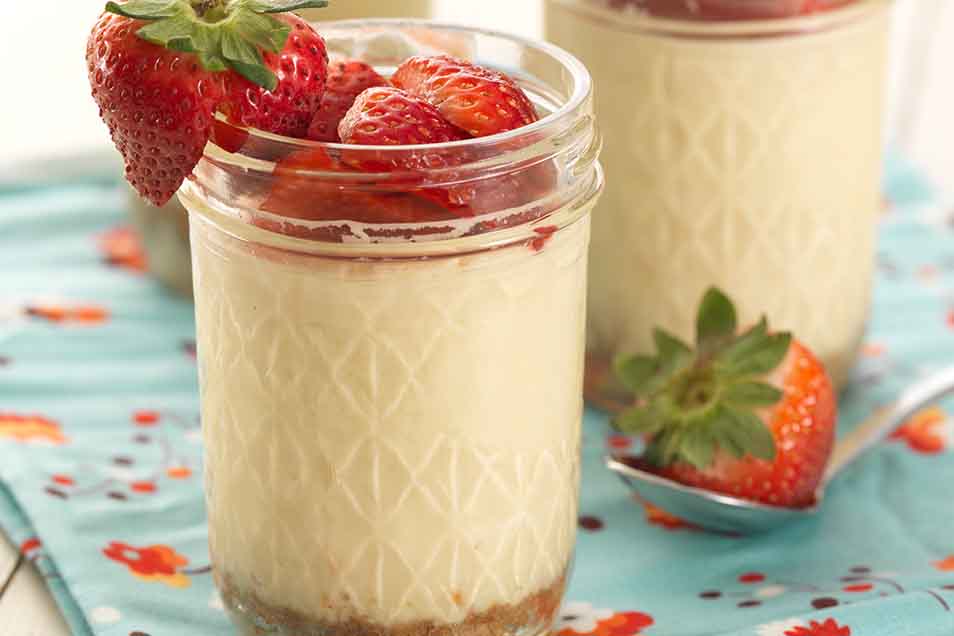 Finally, a simple and easy way to make individual servings of cheesecake that are perfectly portable. Your slow cooker is the key to creating the warm, moist environment that's best for baking cheesecakes.
Ingredients
Crust
1 cup graham cracker crumbs
1 tablespoon sugar
filling
2 pounds cream cheese, at room temperature
1 2/3 cups sugar
1/4 cup cornstarch
2 teaspoons vanilla
2 large eggs, at room temperature
3/4 cup cream, half & half, or whole milk
Instructions
To make the crust: Blend together the graham cracker crumbs and sugar. Place 2 tablespoons in the bottom of each of seven 1/2-pint canning jars, such as Mason jars. Press down lightly. Set the jars aside.

To make the batter: Place the softened cream cheese into the bowl of your mixer. Beat on medium-high speed for 2 minutes, to aerate and remove any lumps. Be sure to scrape the bowl at least twice.

Stop the mixer, scrape the bowl, and add the sugar and cornstarch. Beat on medium speed for 2 more minutes. Stop again, scrape, and add the vanilla, eggs, and cream. Beat for 2 more minutes on low speed.

Prepare a 7- to 8-quart slow cooker for baking. Place the crust-filled jars into the pot. Fill each jar 3/4 full of cheesecake batter, taking care not to drip any down the outsides of the jars.

Place the canning lid of each jar on lightly. This is to prevent water from dripping into the cheesecake while you fill the crock pot. Carefully pour warm water into the crock pot around the jars. The water level should come 3/4 of the way up the sides of the jars. When you're done pouring, remove the jar lids and set aside for later.

Cover the slow cooker and cook on high for 1 to 2 hours. All slow cookers are different, so the times may vary quite a bit. The cheesecakes are done when the centers are no longer jiggly or wobbly, and a knife inserted into the cake about 1/2" from the edge comes out clean.

Turn off the slow cooker and allow the cheesecakes to rest for about 20 minutes to cool slightly before handling. Remove the jars and place on the counter to cool for another hour before sealing and placing in the fridge to chill for several hours, or overnight.

To serve, simply open the jar, top with fresh berries, chocolate chips, hot fudge, or whipped cream, and dive in with a long-handled spoon. These are very rich cakes, so one jar will feed two people; or any leftovers can be refrigerated for serving later.

Yield: seven 1/2-pint cheesecakes, about 14 servings.
Nutrition Information
Serving Size

1/2 jar

Servings Per Batch

14 servings
Amount Per Serving:
Calories

423

Calories from Fat

255

Total Fat

28g

Saturated Fat

16g

Trans Fat

1g

Cholesterol

115mg
Sodium

272mg

Total Carbohydrate

37g

Dietary Fiber

0g

Sugars

30g

Protein

6g
* The nutrition information provided for this recipe is determined by the ESHA Genesis R&D software program. Substituting any ingredients may change the posted nutrition information.
Tips from our bakers
The slow cooker method works well for almost any cheesecake batter. Imagine a buffet of your favorite flavors, each in a perfect little jar!
Cheesecakes will stay fresh in their jars in the fridge for up to a week.
Reviews
Made this recipe for a Labor Day weekend BBQ. Tasted great, but I had some problems with the crockpot. Didn't realize until I added the jars that the newer crockpots have a slightly convex bottom, which had all but the jar in the center on a tilt. I followed the directions precisely, but I never got the knife test for doneness to come out clean. Therefore they were a little dry. Next time I'll try a previous reviewer's suggestion of using a water bath in the oven. LOVED the idea and they were so easy to transport to the BBQ!
I made these to take the Farmer's Market. They were great. Did not sell any there but they are great. Then made them as a regular cheesecake for the bakery I work at. The customers loved them. Will be making them a lot.
Another option for this recipe. I did not have a crock pot that was large enough so I baked them in the oven at 350. Put them in a 9x13 cake pan with a water bath. Filled the pan until the water came up about half-way on the jars. Since the recipe used half pints that were big enough for 2 people, I also used smaller 4 ounce jelly jars. Served them with strawberry sauce and they were a hit.
I used only 1 1/4 c of sugar as I don't care for overly sweet deserts and many of the other cheesecake recipes i have tried call for closer to 1/4 c of sugar per 8oz of cream cheese. When these are finished, I am going to check the water level before I remove the jars and measure how much water is in the crockpot. Then next time I can add the correct amount of water and then place the jars in the pot.
I substituted Splenda in this recipe. It came out great! Very often Splenda will leave a bitter after taste when baked at high temps. Since this was made in the slow cooker it never got too hot and the taste and texture were amazing!
Made this yesterday; it made 10 jars (and I still overfilled a bit). I put seven in my largest cooker and three in a small one. Due to condensation that occurs in covered slowcooker, I put just lids but not rings on jars while cooking. They peel off fine and kept most water out. All of them had a little bit of cake rise above jar top but they shrink back in as they cool. I did knife test and was sticky so cooked another 15-18 minutes but once done and cooled, maybe a tad overcooked... They are very pretty in jars. I made some muddled fresh strawberries w/a little sugar and honey and also some blueberries. Really nice flavor. Thinking will do this again come 4th of July cookout and have them have w/blueberry topping, half w/strawberry and some cute patriotic bows or something on thme.
I made this yesterday, and loved it! Everyone in my family raved about the taste and the creamy texture, even my daughter, who doesn't like cheesecake, was tempted to try a bite, and proceeded to eat the whole jar! I did have lots of batter left after filling the jars, and my crock pot is large, I was able to fit in 8 jars, easily. I decided to bake the rest in a small pie tin. (I processed some more graham crackers and added some melted butter to make a crust). I believe using a hand mixer, and not a nice Kitchen Aide stand mixer, put extra air into the batter. (I really want to get a KA mixer, someday...lol!) I used a funnel to pour the warm water into the crock, it worked well. I think next time though, I'll fill the jars while they're not in the crock. Another note to add: my cooking time was about 2 hrs + 20mins., probably because it's a larger crock pot and had 8 jars, instead of 7. I will definitely be making these again soon, but first I have to get my hands on more jars!
I only gave four stars because my jars overflowed! However the taste is five star. I filled seven 1/2 pint jars as required and still had over 2 cups of batter left, so poured that into a quart jar and baked in a separate slow cooker. The small jars puffed over the top (only one spilled over) and took 2 1/5 hours. The quart jar took closer to three., SO...........what went wrong???? I will definately try again but use more jars, fill less than 3/4 full and use to large slow cookers. Ahhhh, the fun of baking :) Thanks for a tasty recipe and a fun way to bake them.

Beating in too much air will cause an appearance of more batter. As it bakes, the cheesecakes will souffle up and then sink as they cool. They'll still be tasty but not quite as smooth and delicate! Laurie@KAF
Dear Lord this turned out perfect !!!! My husband LOVES cheesecake and I didn't know how he'd like it...he loved it !!! I brought 2 jars in to my co-workers...they went ga ga over it !!!! I can't wait to make these again !!! I think, though, I am going to omit the graham crumbs next time..for some reason, they tasted a wee bit burnt...the consistency of the cheesecake was perfect though :) Thank you

You're so welcome Anj! We're glad these portable desserts were such a hit. Feel free to try experimenting with the crust; you may enjoy the flavor of vanilla cookies (such as Nilla wafers) or chocolate graham crackers instead. Happy baking! --Kye@KAF
This recipe sounds amazing !!! I am going to make these but in smaller jars with a bit more crust :) I was reading the recipe and wondering...can't we just fill the jars BEFORE putting them in the slow cooker? And can't we put the water in the slow cooker BEFORE putting the jars in the base? That way, you aren't wasting time putting the lids on and taking them off...putting the water in first would eliminate risk of getting water in the jars. I am looking forward to making these :)
We like the way you think--try to make everything as easy as possible for yourself! You can certainly try filling the jars before putting them in the slow cooker, although we sometimes found it difficult to manipulate the relatively full jars in the tight space of the slow cooker. We do not recommend filling the slow cooker with water before putting the jars in place, however. If you do not have exactly the right amount of water you risk having the water level overflow into your carefully prepared cheesecake jars, which would be incredibly sad! Good luck with this recipe--it's easy to make and fun to enjoy! --Kye@KAF