A customized print-friendly version of this recipe is available by clicking the "Print Recipe" button on this page.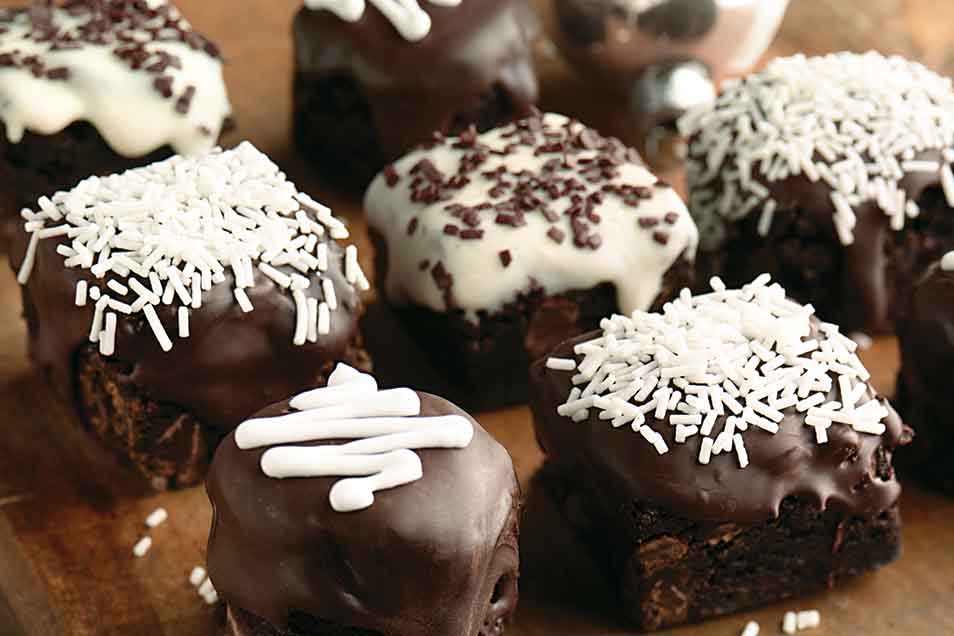 The candied cherries in these fudgy brownies evoke the Shirley Temple and Roy Rogers "cocktails" of childhood holidays.
Ingredients
1/2 cup dried sweet cherries, chopped
1 tablespoon Amaretto liqueur, brandy, or apple juice
3/4 cup chopped unsweetened baking chocolate
1/2 cup butter
1 cup sugar (Baker's Special Sugar preferred)
2 large eggs
1/2 teaspoon baking powder
1/2 cup diced almonds
1/2 cup chopped candied red cherries
1/2 cup semisweet chocolate chunks
1 1/2 pounds coating chocolate for dipping, if desired.
Instructions
Place dried chopped cherries in a microwave-safe container, sprinkle with 1 tablespoon liquid, cover, and microwave for 45 seconds. Set aside to soften and cool.

Melt together the chocolate and butter over low heat, or in the microwave. Stir in the sugar and salt. Whisk well. Set aside to cool to lukewarm.

Preheat the oven to 350°F. Lightly grease an 8" x 8" square pan or 9" round pan.

Whisk the eggs, one at a time, into the chocolate mixture. Stir in the flour and baking powder, then the soaked cherries, almonds, candied cherries, and chocolate chunks.

Spread batter into the prepared pan. Bake the brownies for 25 to 30 minutes, until set. Remove from the oven, and cool before cutting.

To dip brownies in coating chocolate: Cut into 1 1/4" squares, patting crumbs into sides of brownies. Wrap and place in the freezer.

Melt 1 1/2 pounds coating chocolate by microwaving it in 15-second bursts, and stirring between bursts until most of it is melted. To make a dark, shiny glaze, mix ½ cup + 1 tablespoon hot milk with the melted coating chocolate. Stir vigorously, until the grainy mess smoothes itself into a dark, shiny glaze. The glaze will be firm but not hard, like the chocolate glaze on your favorite snack cakes.

Using a chocolate dipping fork, plop a brownie into the glaze, and pull it out. Allow excess chocolate to drip, sliding the tines of the fork against the edges of the dipping bowl to remove excess coating. Place on parchment to set.

Yield: 3 dozen dipped brownies.
Reviews
Rating it again,-- third consecutive Christmas these have appeared on the ever-expanding Cookie Tray and as long as I am able to bake these will be a part of our holidays! I have found that if I bake these in late November and freeze, I can dip them all about the second week of December and they are tasty through the New Year festivities. Perhaps the coating prevents them from getting stale? I do keep them in a tightly-closed tin in my cool laundry room. Recent "tips"-- chop the toasted almonds finely, and use mini-semisweet chips as well, especially if you plan to cut them into small squares (I make mine about 1" square so they are bite-sized). If the nuts are too large, they don't cut nice and cleanly. I also line the pan with 2 strips of foil (going vertically then horizontally) that are sprayed with cooking spray. After baked and cooled for at least a day, then refrigerated for a while, you can lift the foil from the pan, trim the edges (for snacking later!) and cut into nice, even pieces. I get about 36 1" brownies after trimming. 10 ounces of "coating chocolate" is plenty to cover.
Getting ready to make this for the third time. Amazing, holiday quality brownies, even without the chocolate dip. Worth getting all the special ingredients to make.
Delicious and slightly decadent. Next time I'll lightly toast the almond so they have a little more flavor and crunch. Very good recipe, nice enough to share with company and for gifts.
These turned out wonderfully! I used dark chocolate melting pieces (by the way, why aren't they listed in the ingredient list rather than just being mentioned at the end of the recipe?) and Christmas sprinkles-- they're not only delicious but adorable! A note, I used only about half of the chocolate specified. And I used my fingers to dip the brownies because a fork kept dislodging the chunks of almonds and cherries...
Victoria - Glad you enjoyed this recipe and thanks for sharing the seasonal decorating tips, too! I am not sure why the coating chocolate is just listed in the procedure. Thank you for noticing and I will notify the recipe author. Elisabeth @ KAF
The first time I made this recipe, I made it in the wrong kind of pan, so I didn't get good results. The second time, I used the correct pan (8X8 square), and they came out perfect. Love the combo of chocolate/cherry. Will definately make them again!
Brownies are good, but don't add milk to coating chocolate, that doesn't work and I should have known, been making chocolate covered candy for about 20 years. It is grainy and thick and does not smooth out like the recipe indicates. I recommend you just dip the brownies in the melted coating chocolate and put back in the freezer for just a few seconds until it is set up--it will still be shiny and pretty.
Hi---just a note about the recipe--looks marvelous, and I will try them, BUT-please check the amount of liquer used. Recipe calls for 1TB, but directions say to soak cherries in 2TB "liquid".. a slight correction appears to be in order here. Keep those GREAT recipes coming..
Thanks for catching that error. We have corrected that. 1 tablespoon is correct. Mary @ KAF