A customized print-friendly version of this recipe is available by clicking the "Print Recipe" button on this page.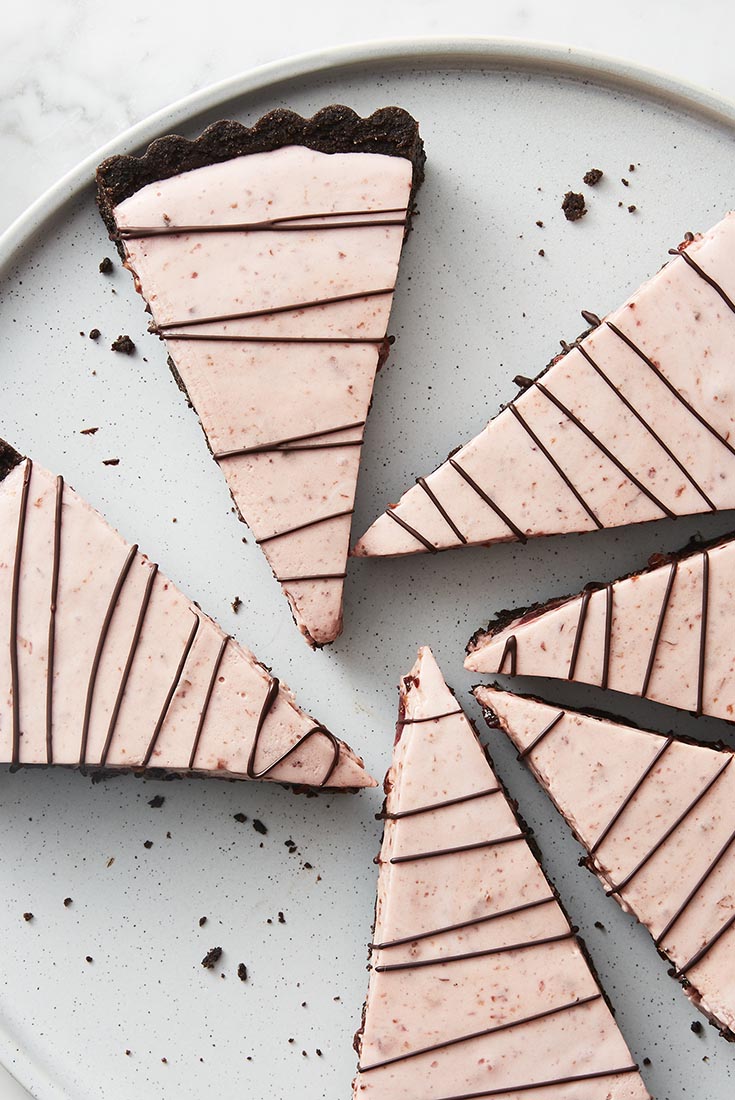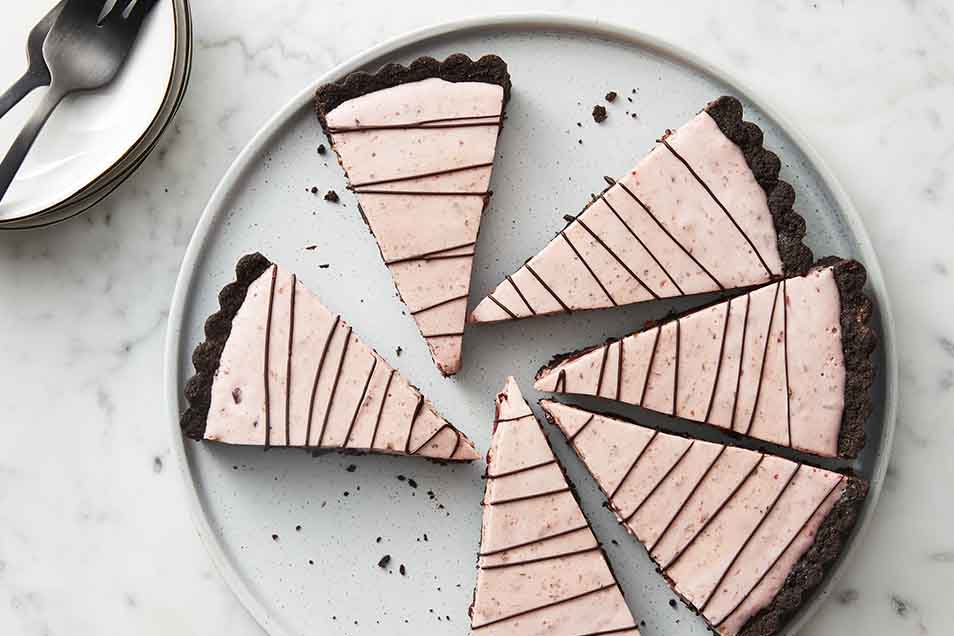 Festive brandied cherries shine in a light, tangy, cherry cream filling nestled in a chocolate crust.
Ingredients
Filling
1 cup dried cherries, chopped
2 tablespoons brandy
2/3 cup cold water
1 1/2 teaspoons unflavored gelatin (or 2 1/4 sheets gelatin)
3/4 cup sugar
1/4 cup (2 5/8 ounces) cherry juice concentrate
1 cup heavy cream, whipped to soft peaks
Instructions
Preheat your oven to 400°F. Lightly grease a 9" tart pan.

To make the crust: Beat the butter, sugar, salt, and vanilla until fluffy. Blend in the cocoa and flour.

Press the crust into the bottom and up the sides of the prepared pan. Prick all over with a fork.

Freeze the crust for 30 minutes, then bake it for 15 to 18 minutes, until it's set. Remove it from the oven and set aside to cool.

To make the filling: combine the dried cherries and brandy in a 2-cup glass measure or bowl. Cover and microwave for about 45 seconds, until the brandy boils. Stir, then set aside to cool.

Pour the water into a 2-cup glass measure or bowl, sprinkle gelatin on top, and allow it to soften for 30 minutes.

Stir in the sugar, cover, and microwave for 90 seconds. Stir until everything is dissolved, reheating as needed.

Combine the cherry juice concentrate, cherries with liquid, and warm sugar mixture in a 1-quart bowl (stainless steel, if possible). Refrigerate, stirring every 15 minutes or so, until the mixture cools and is thick as honey, about 1 1/2 hours; its temperature should be about 60°F.

Fold the cream into the chilled gelatin mixture, a third at a time. If the mixture is very soft, refrigerate for 50 to 60 minutes, until it's thick enough to form a mound; then scoop into the crust. Chill 10 to 12 hours before serving.

Yield: 8 to 10 servings.
Reviews
Rolled these out at a co-op gluten-free bakery in Geneva, IL, as an early Valentine's Day treat. Rave reviews! Made the dough with gluten-free flour, pressed it into heart-shaped tart pans, used two types of dried cherries and cherry juice from concentrate. So good.
This actually is very, very good. I wasn't sure, starting out, that I'd be impressed, but I had some cherry juice concentrate to use up... First, I agree completely with the reviewer below who mentions cutting the tartness with a dollop of whipped cream -- absolutely necessary (and a nice look, too). The tart is... well... tart, and a little boozy from the brandy soak, so the whipped cream really balances it. The crust is terrific, and a drizzle of chocolate on top never hurt anybody. Nice dessert!
An excellent dessert, tho best if eaten the first day. I made it for Passover by substituting Matzo Cake Meal for the Flour in the crust and it came out great. My only suggestion is to add chocolate flakes or pieces to the filling, tho not chips.
This looked so good and I had such high hopes for it. It was quite tart - I guess that could be mitigated by using less cherry concentrate. It needed something to tone it down though, either ganache like in the picture, or whipped cream would have worked well too. The added sweetness of either would help this tart pie. I used ganache, and my husband thought the pie was good. My (24 yo) son didn't like it though. I think as Americans we have become used to what something "Cherry" flavored ought to taste like, and this is not it. Truer to what it should be, it's just not what I expected. I may try it again with less cherry concentrate and more whipped cream in the filling.
Thanks for sharing your frank review of this recipe. We hope you will share your success and variation if you try this recipe as a springboard in your future baking. Irene @ KAF
I adore cherries and chocolate and I was excited to try this recipe, which I served for our big Christmas Eve dinner. I was really disappointed. The flavor of the filling was bland, not vibrantly, tartly sweet the way I like cherry desserts. The crust, too, was a bit blah. I think I could have made a chocolate cookie crust (similar to a graham cracker crumb crust) and it would have been tastier. I do think I want to try it again and my inclination is to use more cherry juice concentrate and cut down on some of the water. I'd also cut down on sugar and add a little lemon juice and almond extract (since almonds are a natural pairing for cherries). I'll either stay with the crust or try a cookie crumb crust.
This tart was very tasty and not too sweet. I made it for dessert for Christmas dinner, and there were only 2 slices left. I think I got too much of the crust up the sides of the pan because it was very thick and difficult to cut sides of the finished tart. I baked it for the 18 minutes because it seemed too soft at 15 minutes so maybe that was why it was hard to cut. The bottom cut very easily though. I used store brand dried cherries which were not labeled with the variety of cherry. I think they were the tart ones which were sweetened. I would use a mix of sweet and tart cherries next time because these were pretty tangy. There will definitely be a next time.