A customized print-friendly version of this recipe is available by clicking the "Print Recipe" button on this page.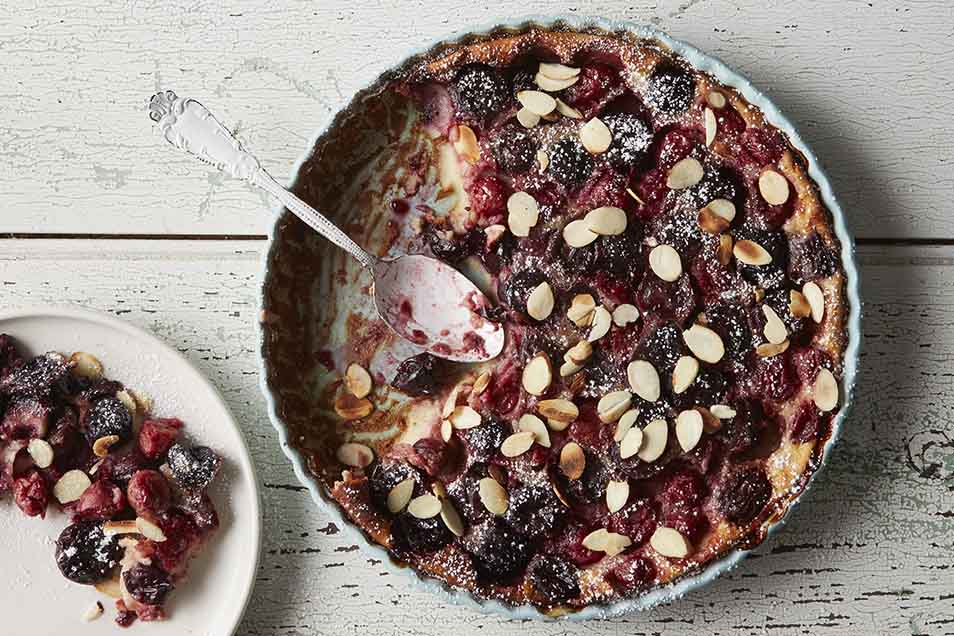 This French dessert is traditionally made with fresh cherries. But if you're feeling adventurous, try it with fresh berries, pitted Italian prune plums, or sliced peaches, apples, or pears.
Ingredients
3 to 3 1/2 cups Bing Cherries, pitted
3 large eggs, at room temperature
1 cup lukewarm milk
2 tablespoons melted butter
1 teaspoon vanilla extract
1/4 teaspoon almond extract, optional
3/4 teaspoon salt
1/2 cup sugar
1/4 cup toasted sliced almonds, to garnish the top, optional
Instructions
Preheat the oven to 450°F. Lightly grease a 9" round cake pan that's at least 2" deep. If your 9" round pan isn't at least 2" deep, use an 8" square pan (at least 2" deep).

Pit the cherries, and put them into the pan; they should form a single layer that pretty much covers the bottom of the pan.

In a blender or food processor, blend the remaining ingredients till smooth and frothy. If you're using a mixer, beat the liquid ingredients, then add the sugar and flour, quickly whisking to combine.

Pour the batter over the cherries in the pan.

Bake the clafouti on a lower-middle rack of your oven for 20 minutes.

Reduce the oven heat to 350°F, and bake for an additional 20 minutes, or until the top is lightly browned and a cake tester inserted into the center comes out mostly clean.

Remove from the oven, and wait 10 minutes before cutting and serving.

Garnish with toasted almonds, if desired.

Yield: 8 servings.
Reviews
I followed the recipe including baking 20 min at 450F. It turned out badly burned on the bottom and sides. My cake pans weren't deep enough so I used a glass 8 in square pan. I liked the portion of the clafouti that was not burned. Any feedback?

Hi Chris, we're so sorry to hear that your clafouti burned. When using glass pans, you'll find that the edges of your baked good cook (and even burn) significantly faster than the center. We'd recommend always lowering your oven temperature by 25°F if you use a glass pan. This will allow for a more even bake. It may take a couple of extra minutes, but it's worth the time to be able to eat every spoonful of your finished treat. We hope this will help prevent any burning issues in the future. Annabelle@KAF
After reading the other reviews here about the batter over running the pan and the emphasis on having a deep pan, I thought, "I'll just use my springform pan." So I prepared the pan with parchment and butter, poured the batter over the cherries, and checked the oven. When I lifted the pan to place it in the oven, I realized that batter was dripping on my feet! The batter was too thin for the springform and had run out on the counter. I sat it on the counter & frantically looked for a cake pan. Meanwhile the batter was running out and starting to drip onto the floor. I got a 9" round pan, buttered it, & poured all the batter & cherries into it. Well, despite having lost about 1/4 - 1/2 cup on the counter, the pan wasn't deep enough. I finally found a silicone pan that was deeper. I cleaned it, buttered it, and filled it. Finalky, into the oven it went! My husband, who had been in the other part of the house came through the kitchen & I asked him,"Why didn't you come help me? Didn't you hear me yelling?" He said, "All I heard was a bunch of cursing, so I figured that was my cue to stay away!" I'm pleased to report that it was delicious! I took it to my sister's for a special lunch with our niece. I served it with whipped cream & everyone raved about how yummy it was! Whew!!
Emphasizes the fruit, not overly sweet!
I had the same trouble as a few other reviewers; the edges/tops of my crust were very deeply browned and on the verge of burning by the time the first 20 minutes were up. I also thought that the center could have used a longer cooking time, but was wary of keeping it in the oven any longer since the edges were so brown already. The end product tasted okay, but was not presentable. If I make it again, I'll try adjusting the starting temperature to 400-425 or so.
I'm sorry to hear this recipe didn't work the way you had hoped. Please feel free to call the Baker's Hotline at 855-371-2253 to help you troubleshoot this or any recipe. Barb@KAF
So easy, and delicious!!! A summertime favorite with any kind of fresh fruit we have on hand!
We loved it! I made this at the last minute for a dinner guest and it was fantastic. I used 1% milk, and otherwise followed the recipe. My guest reviewed the recipe and was impressed with how delicious this was with so little flour and butter. This is really a relatively healthy desert, with a high Fruit:Flour/butter/sugar ratio. Next time I'll try cutting the flour with whole wheat and changing the fruit to prune plums.
Even though I forgot to add the eggs until the end, it came out beautifully and was really good. I had no trouble with the cooking temperatures and times, although I took it out a little earlier. I've always wanted to try this traditional French dessert, and now it's one of my favorite recipes.
Delightful. I had exactly 1 lb. of big black cherries that needed to be used. They covered the bottom of my 8 1/2" x 2 1/2" round pan perfectly. I had no problems with it going over. It did get a bit dark on the top in the first 20 minutes at 450° so I turned off the oven for the final 10 minutes. I served it with small scoops of vanilla ice cream. YUM! It's a keeper.
This is a lovely clafouti recipe. I got hooked on clafouti while I spent a year living in Paris. I wanted to mention after reading another review, this cake should taste in fact taste "eggy". If it does not, it is not clafouti. It should be reminisent of a good crepe as the batter is very similar, very different preparation. I love the sproingy, custardy, lightly sweet flavor and unique texture of clafouti. Unique and lovely. Thanks and keep up the good work.
I just made this recipe and was disappointed. It looked simple enough and sounded yummy; just what I needed to round out company dinner tonight. However, following the recipe baking times and temperatures got me into trouble. Before the first 20 minutes was up it smelling like it was over baking (at about 18 minutes). Upon checking, it sure 'nuff was overdone. The top was very browned (though not burned yet), and it was fully set. I tested the temperature with an instant read and it was 190 degrees in the center. Another 20 minutes, even at a lower temperature, would have burned it to a crisp. And, yes, my oven thermostat is functioning correctly. Ann from Tennessee