A customized print-friendly version of this recipe is available by clicking the "Print Recipe" button on this page.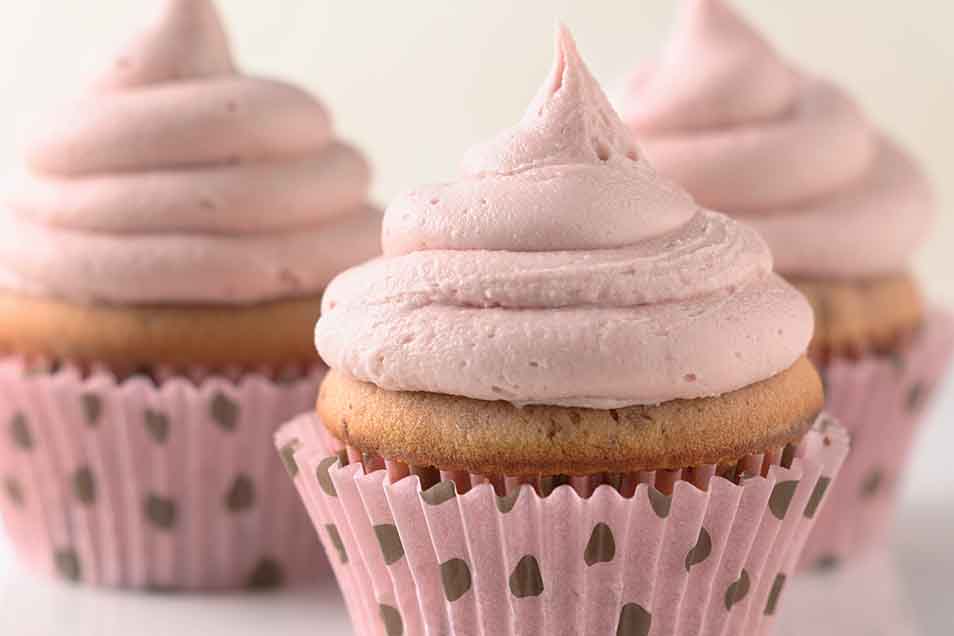 These soft, moist cupcakes have delightful cherry flavor, both in the cake, and in their pretty pink frosting.
Instructions
Preheat the oven to 350°F. Grease a 12-cup muffin pan, or line with papers.

Using a food processor or blender, finely chop the dried cherries with 1/4 cup of the sugar.

Beat the butter and remaining sugar until the mixture lightens in color and texture, about 90 seconds.

Add the oil, and beat until the mixture is light, around 60 seconds.

Beat in the sugar/cherries, cake enhancer, salt, baking powder, baking soda, almond extract, and cherry juice concentrate.

Beat in the eggs one at a time, scraping the bottom and sides of the bowl after each addition.

Gently beat in the flour, alternating it with the milk.

Divide the batter among the cups. Bake for 16 to 18 minutes, until cupcakes are very light brown and test done with a cake tester.

Remove the cupcakes from the oven and after 5 minutes, transfer them to a rack to cool completely.

To make the frosting, make our Quick Buttercream Frosting, substituting 2 tablespoons cherry juice concentrate for 2 tablespoons of the milk. Frost cupcakes when they're completely cool.
Reviews
These cupcakes were fabulous! Very moist with good cherry flavor. I don't really care for cherry flavor, but I could not stop eating them. I frosted them with the seven minute frosting, but I substituted cherry concentrate for the vanilla.
Great cupcakes! Like others, I thought the dried cherries might make them more like a muffin, but they weren't at all. Nice cherry flavor, perfect light, moist texture. Made as written (yield was 12 nice-sized high-domed cupcakes + 4 mini cupcakes) with the suggested Quick Buttercream. For the frosting, I made it as written with 2 tablespoons of cherry juice concentrate + 1 tablespoon of cream. I probably could have reduced the frosting recipe by 25% and still had plenty.
Very cute cupcakes for Valentine's Day or Presidents' Day. The cupcakes are fairly tart -- perhaps a bit too tart for my tastes. I agree with a previous reviewer that the buttercream flavor is intense; if I make again, I'll probably start with one tablespoon of cherry concentrate rather than two.
Great recipe to start with. I chopped up 1/4c frozen sweet cherries very fine and reserved the juice to add into the recipe. I also used 1cup Gluten Free Flour and 1/2 cup almond flour, instead of the 1 1/2 GF flour. After I filled the muffin tins, I sunk a cherry into the batter. The result was a very moist delicious cupcake. I used tart cherry juice in the buttercream frosting which cut the sweetness. All in all a very successful cupcake.
Love this cupcake! More tart than sweet, which Is one reason it's a favorite.
these have an amazing cherry taste! and perfectly sweet even without the icing on top. I made a batch for the last day of class, and had to try half of one - just to be sure they tasted ok! I made the buttercream frosting with the cherry concentrate for the top, and cut back the sugar - if you like the taste of cherries, this is the recipe for you. I will definitely be making these again (when I'm not on a diet!)
I make these at home, and really enjoy the light cherry taste - and my family loves that they aren't super sweet, so when I had a cupcake buffet in my advanced cakes class, I tripled this recipe to make 25 cupcakes and one 8-inch round. I firmly believe that the secret is the dried tart cherries and the cherry juice, which gave the cupcakes a lovely pink color. I also used more almond flavoring to boost the cherry-almond theme I was doing, & topped them with some almond-flavored Swiss buttercream & a fondant/marzipan/dark chocolate decoration. Came out great!!!
Cake batter instructions were superb and taste was nice but subtle. Quick Buttercream Icing had wonderful flavor using the cherry concentrate but to get a softer consistency like I prefer I had to use 3-4 additional tbsp of skim milk in addition to the 2 tbsp of cherry concentrate. I also think my concentrate's color is a little off (more of a dark brown red than true red) so my icing was not the pretty pink as in the picture but more of a beige. Still tasted great though!
These are my favorite cupcakes. I love cherries to begin with and like that these cupcakes do not contain any artificial flavors or colors. The cherry syrup gives the frosting a great pink color that looks and tastes delicious.
Any suggestions on how to turn this into a layer cake?
Please call our baker's hotline for assistance with this. ~Amy