A customized print-friendly version of this recipe is available by clicking the "Print Recipe" button on this page.
Cherry-Pistachio Biscotti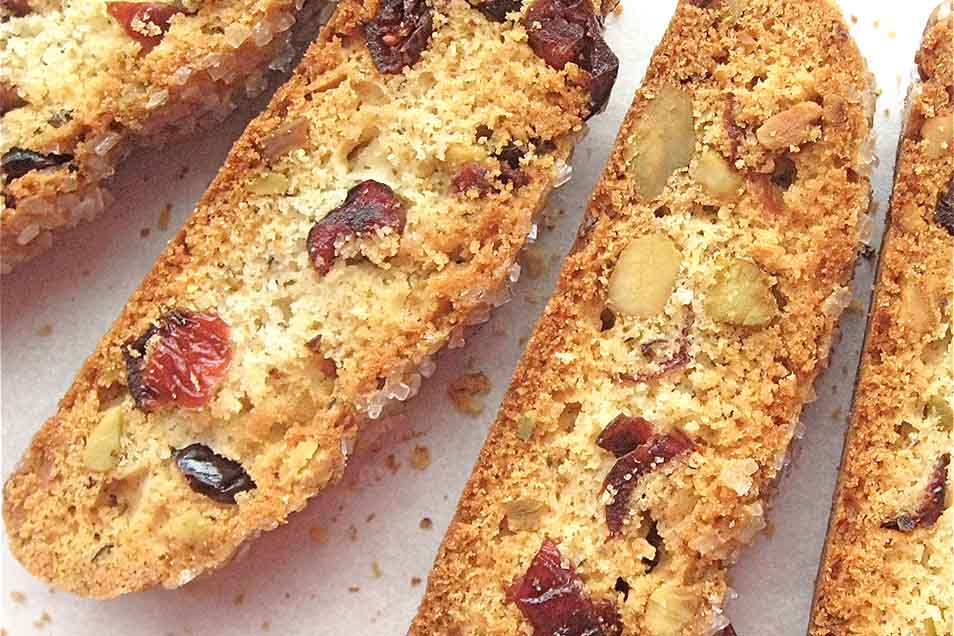 Golden-green, mildly salty pistachios and deep red, sweet and tangy dried cherries complement one another beautifully, both in color, and flavor.
Ingredients
6 tablespoons unsalted butter*
2/3 cup sugar
1/2 teaspoon salt
1/8 teaspoon pistachio flavor or cherry flavor, optional
1 teaspoon vanilla extract
1 1/2 teaspoons baking powder
2 large eggs
1 cup coarsely chopped pistachios
1 cup sweetened tart cherries**
coarse white sparkling sugar for sprinkling on top, optional
**For a lower-cost alternative, substitute sweetened dried cranberries
*Reduce the salt to 1/4 teaspoon if you use salted butter.
Instructions
Preheat the oven to 350°F. Lightly grease (or line with parchment) one large (about 18" x 13") baking sheet.

In a medium-sized bowl, beat the butter, sugar, salt, flavor, vanilla, and baking powder until the mixture is smooth and creamy.

Beat in the eggs; the batter may look slightly curdled.

At low speed of your mixer, add the flour, stirring until smooth; the dough will be sticky.

Stir in the pistachios and cherries.

Divide the dough in half, and plop both halves onto the prepared baking sheet, leaving space between them.

Shape each half into a long rectangle about 10 1/2" x 2" wide x 3/4" tall; remember, you need to leave space for expansion between the pieces of dough.

Straighten the rectangles, and smooth their tops and sides; a wet spatula or wet bowl scraper works well here.

Bake the dough for 25 minutes. Remove it from the oven. Using a spray bottle filled with room-temperature water, lightly but thoroughly spritz the two pieces of dough, making sure to cover the sides as well as the top. Softening the crust just this little bit will make slicing the biscotti without crumbling easier.

Reduce the oven temperature to 325°F.

Wait 5 minutes, then use a sharp chef's or serrated knife to cut the biscotti crosswise into 1/2" to 3/4" slices. Or cut the biscotti on the diagonal, for fewer, longer biscotti. As you're slicing, be sure to cut straight up and down, perpendicular to the pan; if you cut unevenly, biscotti may be thicker at the top than the bottom, and they'll topple over during their second bake.

If you've used parchment on your baking sheet, remove it; save it for another day. Place the biscotti on the baking sheet, on edge; they can be very close together.

Return the biscotti to the oven, and bake them for 35 to 40 minutes, until they feel very dry and are beginning to turn golden. They may still feel a tiny bit moist in the very center, if you break off a piece; but they'll continue to dry out as they cool. You'll want to start checking the biscotti around the 30-minute mark; the ones on the ends of the pan, or any smaller biscotti, may be ready to come out of the oven earlier than the larger/middle-of-the-pan biscotti.

Remove the finished biscotti from the oven, and cool them right on the pan.

Yield: 3 dozen biscotti.
Reviews
Help - they're in the oven now. I don't see when I add the sugar topping. Before the first bake? I hope not. After the spray with room temp water? Hope so. Thanks!

Fellow baker, if you ever have a question, please call our free Baker's Hotline at 855-371-BAKE (2253) as customers do not receive notifications when we answer here and we want you to get your answer immediately! The sugar goes on before baking, but you can try sprinkling it on after the spraying step — it just might not stick as well. Annabelle@KAF
Just made these yesterday and had for breakfast today. This was a great recipe! So yummy! I was going to give some away due to how many it made, but may just keep and freeze some! It was my first time making biscotti. I chopped up both cherries and pistachios. I didn't have the cherry or pistachio flavoring, but had a jar of maraschino cherries in the fridge so added about 1/4 tsp of the juice (don't think you could taste it). I followed a few of the other reviewers suggestions... I did 250 for 20 min and then 15 min at 200 for the second bake. I sliced and put the slices on their sides instead of on edge and flipped after the 20 minute dry cycle. I also had a few white chocolate chips in the cabinet so after biscotti was cooled, I melted chocolate and did a light "frosting" of white chocolate. Turned out just like picture and soo delicious!
This biscotti is delicious - just the right amount of not-too-sweet and crunch. I did reduce the temperature to 250 for the drying time, as recommended by others, and that was perfect. Then I turned the oven off and let them cool in there. The one thing I would do different next time is to chop the dried cherries into smaller pieces and reduce the amount to 3/4 cup. I thought they were a little overpowering as is. Otherwise, great recipe!
Excellent recipe. Very delicious combination of flavors and not only because I love the tart cherries. My friends loved it too. Last time when I dried them in the second baking cycle, they browned. So, I also lowered the drying temperature this way they did not brown at all. Actually, I dried them at 250 F for 20 minutes than at 200 for 15 minutes and turned the oven off and left them in.
Sorry, my previous review--which can't be edited--indicated a baking temp. of 275, to which a KAF moderator replied. I meant to say that the 2nd half baking temp could be lowered to 275 in order to avoid burning. I've made this recipe 5+ times now and find that 350 degrees for the first 25-30 minutes, then 275 degrees for 40 minutes works well in the humid conditions of coastal Southeast.
Really good taste..but definitely requires lower heat (275) & less time baking than the instructions say. Did not use sugar topping, but did put about 1/2 tsp. of almond extract as flavoring. Used a mix of salted/unsalted pistachios.

It sounds like you prefer a softer, American-style biscotti rather than a classically crunchy, Italian-style biscotti. We're glad to hear you were able to adjust the baking temperature to get the result you were looking for. Happy baking! Kye@KAF
This was the favorite cookie of Christmas this year. The biscotti itself was fabulous and I will be making these your round. Loved the crumbly texture and the pistachio was a great change from the average nut (almond, walnut and pecan).
Recipe is delicious and more important, recipe works. A few observations/tips. 1. Flour matters. I stock my pantry with a number of types of flour. I was in auto pilot and without thinking used a malted AP flour with 10.5% protein and 56% ash. The mill is excellent; they provide flours to some of the best bakeries in the country, including Tartine and Acme. But this wasn't the best flour for this recipe. The crumb was just a little bit too soft. When I reviewed the recipe I realized this recipe was developed with KAF--11.7% protein. My next batch will use a comparable flour. 2. To make the shaping easier, I oiled the baking sheet, then covered it with parchment. The oil holds the parchment in place during shaping. 3. I used my largest scoop to transfer dough from bowl to baking sheet. By placing dough balls in a line, most of the shaping is already done. 4. First bake, be sure the center is baked. If it's slightly under done, cookies will crumble when slicing. 5. The five minute cooling before slicing wasn't enough. The center needed another five minutes. If cookies start to crumble, step away for another five minutes. 6. I made candied orange peel the night before, so I reduced the sour cherries to 100g, then added 20g diced candied orange peel. Fragrant and delicious.
Great recipe...mine were a little flat though...the store bought ones seem a bit taller ....any suggestions?

Try baking your biscotti in our biscotti pan (item #2957)! It's just the right size to create tall, perfectly portioned biscotti. We recommend you take a look at it in the shop section of our website. Happy baking! Kye@KAF
I've made biscotti many times and find taste combos fun to create... I found that when using almonds and walnuts, toasting them punches up their flavor considerably. Thanks KAF!