A customized print-friendly version of this recipe is available by clicking the "Print Recipe" button on this page.
Cherry Vanilla Cream Cheese Spritz Cookies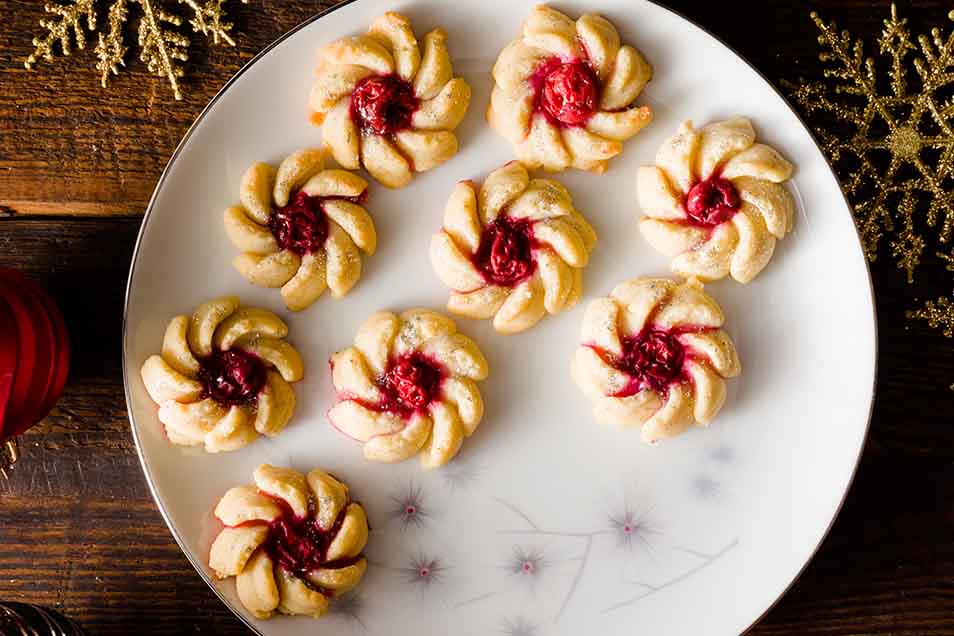 Often, spritz cookies are all show, little taste. In contrast, the flavor of these cookies created by blogger Stefani Pollack from Cupcake Project, outshines their edible glitter topping. The centers are dotted with pitted cherries and juice oozes over them during the bake, lending tart fruit essence to these vibrant vanilla treats.
Instructions
Preheat the oven to 400°F. Have on hand an ungreased baking sheet.

In a medium bowl, mix the butter, cream cheese, and sugar until light and fluffy.

Mix in the egg yolk and vanilla bean paste or extract.

Whisk flour and salt together in a small bowl, and add the dry ingredients to the butter mixture a little at a time, until just combined. Use the dough to fill a cookie press of your choice.

Press the cookies onto the ungreased baking sheet, and place a frozen cherry in the center of each cookie.

Bake the cookies for 8 to 10 minutes, or until lightly golden. Remove from the oven and cool on the baking sheet for a few minutes before transferring to a rack to cool completely.
Nutrition Information
Serving Size

1 cookie, 18g

Servings Per Batch

3 dozen
Amount Per Serving:
Calories

54

Calories from Fat

27

Total Fat

3g

Saturated Fat

2g

Trans Fat

0g

Cholesterol

9mg
Sodium

42mg

Total Carbohydrate

5g

Dietary Fiber

0g

Sugars

1g

Protein

1g
* The nutrition information provided for this recipe is determined by the ESHA Genesis R&D software program. Substituting any ingredients may change the posted nutrition information.
Reviews
This recipe was a complete disappointment for us. I am an experienced baker and while I liked the flavor of these cookies, that was about it. They were difficult to get out of the cookie press, they took much longer than specified to bake, the cherry juice spilled out on to the baking sheet making a huge mess, and the cookies never got crisp. They were just a soggy mess. After cooling they became even worse. Overall they took a long time to prepare since they wouldn't release from the press, they were expensive to make because of the vanilla bean paste and at the end of the day they ended up in the trash.

Hi there, Amy We're sorry to hear that you had such trouble with this recipe. We've found that it can be helpful to turn the cookie press a quarter turn before lifting, this helps get the cookie to release cleanly from the press. The extended baking time and excess juice could have been a result of an oven that was running a little too low or cherries that had defrosted too much before the cookies were baked. It sounds like the cherry had too much time to defrost and the juice started to leak out, making the cookie soggy. We'd suggest measuring out the cherries, laying them on a baking sheet in a single layer and keeping them in the freezer until right before you put the cookies in the oven. Also a smaller, tart cherry might be a good choice here as they have less liquid that could be released while baking. If we can troubleshoot further or help pick out a recipe that might be a better fit, please feel free to give our friendly Baker's Hotline folks a call at 855-371-BAKE (2253). Kindly, Morgan@KAF
I made these today and like them. They taste great, better than other spritz recipes I've made. A couple of issues that made me rate them a 4* instead of 5*. They're very fragile; they fall apart quite easily just when picking them up. I wonder if they might be less fragile if I baked them another minute or two. The second issue, which may be my fault, is that they didn't come off the cookie press at all. I had a chilled baking sheet and found that didn't work at all. I got out an unchilled sheet and, voila! The press worked just fine. Go figure. Anyway, they're very tasty. I just wish they weren't so fragile.
I've tried quite a few of these recipes and all turned out very good. A few questions. I used sweet cherries since I could not find frozen tart cherries and the tart cherries are an infrequent farmers market choice. I think tart cherries would be better. Have you ever tried canned tart cherries. I thought if I drained and got most of the moisture out, they would work. Also, a suggestion for a more "durable" sugar. I used sanding sugar and it didn't hold up. Thanks so much for the terrific recipes and a keeper magazine.b

Michele, we're glad to learn that you've become a fan of these cookies and of the magazine. We have not tried these out with the canned cherries, but I think they would work just fine if you drained off the extra liquid. Bryanna@KAF
I 'm not a beginner baker. These cookies taste blah. I 've no trouble using my cookie press but the batter would not come out. I got this recipe out of SIFT magazine. I've made other recipes in this latest issue,no problem. I will look for another recipe.
Today I tried my hand at spritz cookies for the first time, using an OXO cookie press my husband gave me last year for Christmas. I read lots of the reviews for the basic spritz cookies here on the KAF website, but wanted something with a bit more pizzazz for my Christmas cookie boxes. So I chose this one, heeding the advice from others about refrigerating the baking sheets, twisting the cookie press in order to release the dough, and other tips. Let me say that I had no problems whatsoever with the OXO press. It did take two clicks of the trigger to get the cookies to release, but that might have been due to this recipe. (It has granulated sugar rather than the standard powder variety.) In any case, it's a very easy cookie press to use because you place the press right on the sheet, squeeze (twice for me), lift up and the cookie is perfect and sticks to the sheet. Also, this press has a ratchet, so you get exactly the right amount of dough. In respect to this recipe, the cookies turned out pretty much as the photo depicts them. The cherry juice runs into the grooves of the cookie shape as the cherries thaw and the cookie bakes. My husband thought they could do with a bit more sugar. I thought they were quite nice. They taste very much like cherry pie, my favorite kind. I used pitted sweet cherries from Trader Joe's. Those cherries might be the cause for the only problem I had with this recipe: the cookies took far longer to bake than specified in the directions. Initially I baked them for 8 minutes. (Typically I choose the shorter time in recipes understanding that you can always add more time, but you can't take it away.) After the initial baking, I set the time for 2 more minutes. Still not golden brown. Then two more minutes: still not golden and a bit moist looking. Then I baked them for five more minutes. At that point I removed them from the oven because, while the tops might not have been golden, the bottom could have been. (Obviously, I couldn't see it.) Some were golden around the edges of the bottom, some had no color whatsoever and were a bit "bendy". Some in that group firmed up after they cooled, but they still didn't have the texture I associate with spritz, which is not crispy, but not soft either, but something in between. Those which were too soft I put back in the oven. As I noted above, the cherries could be the cause of the longer baking time and for the fact that the various cookies acquired different degrees of color. That is, the recipe calls for frozen cherries. That means the cherries have to thaw at the same time the dough bakes. I suspect that slows down the baking process. Also, the cherries were fairly large and lacked total uniformity in respect to size, which might account for the different degrees of doneness. I'd make these again--in fact, I'll have to for all the cookie boxes I want to fill. They are pretty and the dough has a nice buttery flavor. And, if you're a cherry pie lover, these are little bites of heaven. Just be sure to watch the cooking time, not because they bake more quickly than the recipe indicates, but, in fact, slower. p.s. I'm pretty sure it's not my oven because I've been baking cookies over the past couple of weeks, as well as other items, and the baking time specified in recipes and the actual time my goods needed has not differed nearly as much as with these cookies.
Can you believe that we have 12 home baker ovens in our test kitchen that all bake slightly differently? I think we all have our favorite one(s) to use when in there. I know I do! We are pleased to know you enjoyed getting to know this recipe. Elisabeth@KAF