A customized print-friendly version of this recipe is available by clicking the "Print Recipe" button on this page.
Chewy Chocolate Chip Cookie Bars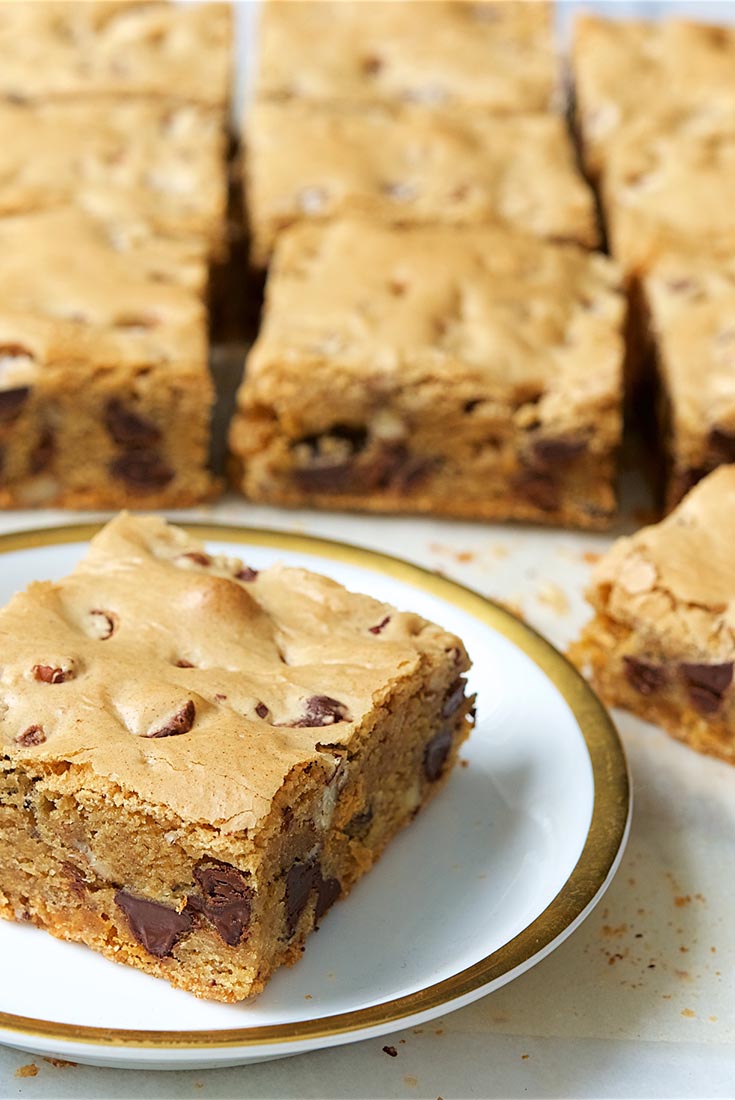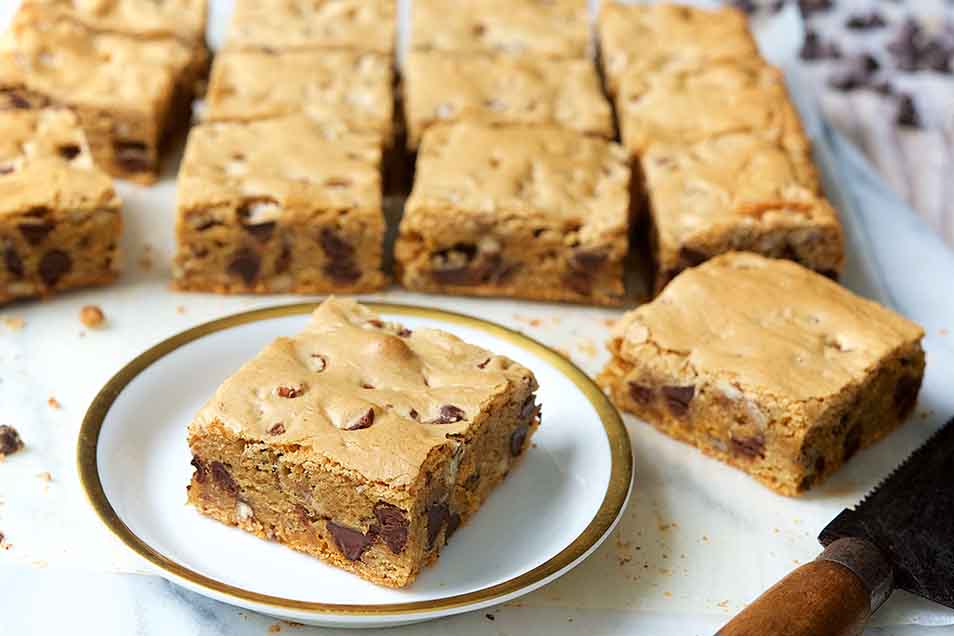 No time to make everyone's favorite, chocolate chip cookies? This dough comes together in a flash — just spread it in a pan and bake; no need to shape individual cookies.
Instructions
Preheat the oven to 350°F. Lightly grease a 9" x 13" pan.

Melt the butter, and stir in the brown sugar. Add the salt, vanilla, and flavor, stirring until well combined.

Allow the mixture to cool slightly (if it's very hot to the touch), then add the eggs one at a time, beating well after each addition. Scrape the sides and bottom of the mixing bowl midway through this process.

Add the baking powder, espresso powder, and flour, stirring to combine.

Stir in the chips or other additions of your choice.

Scoop the batter into the prepared pan, spreading it to the edges with a wet spatula (or your wet fingers). Smooth the top as best you can.

Bake the bars for 30 to 32 minutes, until they've risen, and their top is shiny and golden. Bake for the shorter amount of time in a darker pan; the longer time in a light/shiny pan. A cake tester inserted into the center won't come out clean; in fact, the center of the very middle of the pan may look quite molten when you dig into it. But so long as no wet batter is showing farther out towards the edges, the bars are done. As they cool, the center will solidify.

Remove the bars from the oven, and use a heatproof spatula to press down the risen edges; this will make bars with flat, rather than humped tops. Let the bars cool completely before cutting; overnight is best. Once bars are cool, wrap airtight. Store wrapped bars at room temperature for a couple of days.

Yield: 2 dozen bars.
Nutrition Information
Serving Size

1 bar

Servings Per Batch

24
Amount Per Serving:
Calories

280

Calories from Fat

110

Total Fat

12g

Saturated Fat

7g

Trans Fat

0g

Cholesterol

35mg
Sodium

160mg

Total Carbohydrate

42g

Dietary Fiber

2g

Sugars

30g

Protein

3g
* The nutrition information provided for this recipe is determined by the ESHA Genesis R&D software program. Substituting any ingredients may change the posted nutrition information.
Tips from our bakers
For old-fashioned "congo bars," use a mixture of your favorite flavored chips: chocolate, white chocolate, cinnamon, cappuccino, butterscotch, etc.; plus chopped walnuts or pecans.
These bars are very moist indeed just after you've removed them from the oven. You might think they're underbaked; that would be true, if you were going to eat them right away. But letting them cool completely (overnight is best) leaves them with wonderfully chewy, moist texture; if you baked them completely through initially, their final texture would be much drier.
To regain that delicious just-baked, melty chocolate freshness, reheat individual bars in the microwave very briefly, just until warm.
Reviews
These bars are outstanding! Has anyone tried making them with cocoa powder to make the base chocolate? They are terrific as is, but I'd like a double chocolate version, too.

We like the way you think, Susanne! While we haven't tried making a double-chocolate version of these cookie bars, we think that replacing 1/3 cup of the flour with 1/3 cup of Dutch-processed cocoa powder would make a delicious chocolate-based dough. If you're feeling adventurous and craving chocolate, give it a try. Feel free to share your results with us, and we wish you good luck! Kye@KAF
It was easy to make, but all the discussion about a dark metal pan and a light metal pan confused me! I decided to lower my temp to 325 degrees and checked the bars after 30 min in the oven. They were perfect! And not to mention GONE! After a few hours when I brought them to work! Good one, KAF!
These bars are AMAZING! I am not sure why anyone would say that they are dry. I made two batches back to back & got tons of compliments. Based on comments, I did reduce the sugar to 1 3/4 cups and they were perfect. Will definitely make again.
A bit dense, a bit dry, but tasty. A better baker would have made a big difference. :D

If we can help you perfect your bake, Anne, feel free to give our Baker's Hotline a call at 855-371-BAKE(2253). We'd be happy to chat! Mollie@KAF
These are delicious. I love to bake and have been doing it for 56 years, since I was 10. I really appreciated the detailed instructions with the recipe, including how using a dark or shiny pan affects baking time. Few recipes ever mention that. Thank you! Great cookies!
Yum. I was a little concerned when I poured my totally liquid mixture, no scooping, no smoothing into the pan. I baked for about 30 minutes, golden and crispy on top with a chewy center, absolutely delicious. Followed directions with 3 cups of chocolate chips, next time, which could be in a day or two, I'll add 1 cup chocolate chips and 1 cup chopped walnuts. Yum.
I'm not sure what happened. I weighed my ingredients and used a light colored pan, baked for 32 mins. My finished product rose well but was not much of a chewy cookie texture. More like a cross between a cake and a brownie but not as moist. I'm wondering if my large eggs were too small? My batter was not as runny as PJ's after the addition of the eggs, I was tempted to add another but decided to follow the recipe as written. Added white chocolate and walnuts. Tasted good but not great. Will try again with 4 eggs and see how that goes.

It sounds like there might have been a bit too much flour added to your bars, which prevented them from having the moist, chewy texture that's intended. To ensure you're using the right amount, we recommend either measuring your flour by weight using a scale, or fluffing and sprinkling the flour gently into your measuring cup one spoonful at a time before leveling off with a knife. This will help you measure light cups of flour that weigh about 4 1/4 ounces per cup, and the resulting cookie bars should be chewy and moist. Kye@KAF
I think you're supposed to use baking soda not baking powder. They turned out like a thick cake like, thick unleavened bread. Really weird taste, not a typical KAF recipe. Ended up throwing away a double batch. Wasted a lot of money on great chocolate chips & pecans.

Hi Cookie Baker, we apologize for your disappointment with this recipe. It calls for baking powder because the dough isn't quite acidic enough to react successfully with baking soda. (Brown sugar is sometimes paired with baking soda, but typically there are a few other ingredients that also make the recipe more acidic in order for baking soda to be used.) It sounds like you might have used some sort of sugar substitute rather than regular brown sugar, which should make the bars chewy, moist, and sweet. If not, consider giving our Baker's Hotline a call at 855-371-BAKE(2253) so we can troubleshoot with you further. Kye@KAF
I baked these two nights ago, following the recipe/ingredient list (2 c. chocolate chips/1 c. chopped walnuts) and baking in a glass pan, and they looked great in the oven at 32 minutes. The top was shiny and golden brown, edges nicely set, the center inside was still gooey when poked with a toothpick. However, after an over night cool, the bars are VERY doughy...they seem more like cookie dough with a crispy top. (Which is also delicious, but not exactly what I'm going for.) I'm wondering if the glass pan is the cause of my problems? I saw another reviewer covered their pan with foil for the last bit of baking. Would you recommend longer time, lower temp, covering with foil, or a combination? Also--like other reviewers, I found them to be sweeter than I'd prefer. If I reduce the sugar, do I need to increase flour (or other add some other dry ingredient...oats??) to balance it out?

Great question, Kat. What you're describing sounds like the classic problem we often encounter when baking in a glass (or ceramic) dish. Because they attract and retain heat differently than metal pans, we usually recommend turning the oven temp down by 25°and extending the bake time. Covering with foil might help keep the top from over-baking, but it won't protect the sides and bottom from the same fate. For tips on reducing sugar, check out our recent blog article entitled "How to reduce sugar in cookies and bars". It has a lot of great context and info to help with this adjustment. Mollie@KAF
I followed the recipe except I added loads of pecans and used vanilla bean paste. These turned out so chewy and delicious! They are quite the contrast to my repeated debacles with "Toll House" type recipes that taste and crumble like they came out of a box. Even my "I don't like sweet desserts" husband couldn't stop eating them. I'm making another batch today!