A customized print-friendly version of this recipe is available by clicking the "Print Recipe" button on this page.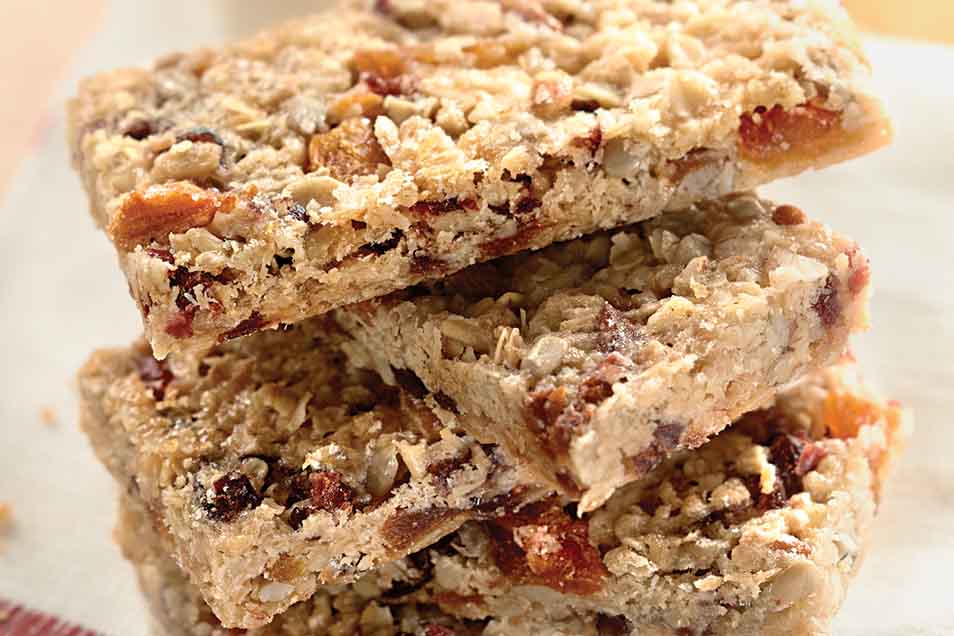 These homemade chewy granola bars are easily customized to taste with your own favorite fruits and nuts.
Ingredients
1 2/3 cups quick rolled oats
1 cup + 2 tablespoons Sticky Bun Sugar*
1/3 cup oat flour (or 1/3 cup quick oats, processed until finely ground in a food processor or blender)
1/2 teaspoon salt
1/4 teaspoon ground cinnamon, optional
2 to 3 cups dried fruits and nuts, chopped/diced*
1 teaspoon vanilla extract
1/4 cup melted butter or vegetable oil
1/4 cup honey, maple syrup or corn syrup
1 tablespoon water
*See "tips," below.
Instructions
Preheat the oven to 350°F. Lightly grease a 9" x 13" pan.

Stir together all the dry ingredients, including the fruit and nuts. For best texture and easiest cutting, be sure the fruits and nuts are cut/chopped into small, fairly uniform pieces.

In a separate bowl, whisk together the vanilla, melted butter or oil, syrup or honey, and water.

Toss the wet ingredients with the dry until the mixture is evenly crumbly.

Spread in the prepared pan, shaking the pan to evenly cover the bottom and patting down gently.

Bake the bars for 25 to 30 minutes, until they're golden brown around the edges.

Remove them from the oven, loosen the edges, and cool for 5 minutes.

Use a knife (or bench knife) to cut the bars while they're still warm in the pan. Carefully remove warm bars from the pan, and cool on a rack. Alternatively, remove from the pan before cutting into bars; it helps to cut in half first, then loosen the bottom of each half with a turner/spatula before turning out onto a sheet of parchment to cut into bars.

Wrap bars individually to store; or place in a single layer on a plate, and cover with plastic; or store in layers with parchment in between. In humid weather, it's best to store bars in the refrigerator. They also freeze well.
Nutrition Information
Serving Size

1 bar (64g)

Servings Per Batch

12
Amount Per Serving:
Calories

280

Calories from Fat

130

Total Fat

14g

Saturated Fat

3g

Trans Fat

0g

Cholesterol

10mg
Sodium

100mg

Total Carbohydrate

38g

Dietary Fiber

3g

Sugars

22g

Protein

3g
* The nutrition information provided for this recipe is determined by the ESHA Genesis R&D software program. Substituting any ingredients may change the posted nutrition information.
Tips from our bakers
Sticky Bun Sugar gives these bars a lovely crisp edge with a chewy center. If you don't want to use Sticky Bun Sugar, you can make bars that come close to that texture by substituting 3/4 cup granulated sugar + 2 tablespoons light corn syrup + 2 tablespoons melted butter for the Sticky Bun Sugar. And yes, you'll still add the additional butter as called for in the recipe.
What kinds of add-ins are good in these bars? We like 1/2 cup each dried cranberries, chopped dried apricots, chopped pecans, sunflower seeds, and coconut. Or use your favorite flavor Jammy Bits in place of the dried fruit. Walnuts, sesame seeds, pumpkin seeds, dried cherries or apples, or even chocolate chips would all be delicious as well.
This recipe is a great example of why a scale is such a key baking tool. Simply line up your favorite dried fruits and nuts, set your mixing bowl on the scale, and add a bit of this (or a lot of that) till the scale reads 10 to 15 ounces.
Did you know that supermarket ("fake") maple syrup isn't nearly as sweet as 100% ("real") maple syrup? If you want to use maple-flavored cane syrup in this recipe, you may want to add 2 tablespoons granulated sugar along with the remaining dry ingredients.
For granola bars with a hint of peanut flavor, add 1/3 cup peanut butter to the dry ingredients along with the other wet ingredients.
Reviews
Roll out between 2 pieces of parchment using 5mm caramel bars as a guide for a perfectly even bar. I baked mine 30 minutes on a parchment-line perforated pan (convection) for a crunchy bar & stored airtight w/dessicant to keep crisp. I didn't use fruit. Next time I'll try the jammy bits or modify to make a peanut butter bar. Using the Florentine Mix (Sticky Bun sugar) is a MUST in order to bind everything together. If you omit and use regular sugar, you will end up with a very crumbly bar as some have reviewed. Also more flavor w/butter. Go make some! They're good.
I forgot the cup plus 3 tbsp. of Sticky Bun Sugar. I was going to substitute regular sugar, but I totally overlooked it. I did put the 1/3 cup of sugar in, both almond and vanilla extract and used maple sugar. They are fabulous without the cup of extra sugar! Perfectly sweetened. I put tart cherries, raisins, cranberries and apricots in them. Also 1 cup of almonds. They crumbled a little, but I didn't mind eating the smaller pieces. If you think there is too much sugar....skip the cup!
I love these bars. I have made them for my son who is in the military as well as my husband. They are very tender and fall apart. Next time I will order the sticky bun sugar to see if that will make a difference. Irregardless I will continue to make these. Yumm-O
I have been making these for many years, and always had trouble with them falling apart. I've tried to remedy this myself, and have had some success (they taste so good i couldnt give up on them!), and the one thing that has solved the problem is baking them in one of those "brownie pans" -mine has twelve individual squares that i stuff the whole mix into-so they are nice and big and are enough breakfast for me!

If you'd like these bars to hold together better, consider eliminating the water and adding an egg to the mixture instead. It also helps to use real sticky bun sugar as opposed to granulated sugar plus corn syrup. I hope that helps. Happy baking! Kye@KAF
Here I give you my five year old's review: "These are the best bars EVER!"
This is one of the few KAF recipes that has let me down. I found it to be a very unreliable recipe. I've made it 6-7 times. Twice there was a puddle of goo at the bottom gluing the bars to the pan (it tasted good but it was a mess). I called the Baker's Hotline and they suggested that I had under baked it (or they suggested that maybe I didn't have the oven pre-heated enough-- but that wasn't the issue). Since then I've been baking them longer (and haven't had the goo problem), but they loose that good chew and just seem kind of dry. The last two batches (made for a faculty meeting at my son's school tomorrow-- yikes!) completely crumbled and fell apart. One batch was sticky enough that I could kind of mush the bars back together and individually wrap them, the other batch couldn't be salvaged. I've tried this recipe with and without nut butters (one with peanut butter, one with almond butter), but that didn't help it hold together any better. So the recipe gets two stars for taste and potential, but I'm not going to invest any more time and energy into trying to trouble shoot it. Sad, because I need a recipe like this in my repertoire.
I forgot to add this to my review below! After making these I store them in the freezor!!!! They are delicious when you keep them in there, plus they do help to keep them together a little better I think. It's the perfect snack with a cup of tea, when you want a little something sweet and don't want to feel guilty! Again, enjoy ! :)
We love these bars! I Have been making them for a few years now. As far as fruit and nuts, I use dried cherries, dried apricots, sliced almonds, chunks of fresh coconut (from shell) ground flax and chia seeds. I also use coconut oil instead of the veg oil, I use organic sugar when making the alternate recipe for stickey sugar (Organic cane sugar, butter and maple syrup) I am curious has anyone tried using cocounut palm sugar in stickey sugar recipe ? What were results? Thank you! Enjoy!!!!
I made this substituting the sticky bun sugar for 3/4 cup granulated sugar, 2 tablespoons additional melted butter, and 2 additional tablespoons of maple syrup. I used 1 cup of nuts and 1 cup of dried fruit. Instead of putting the mixture into a greased pan, I lined the pan with parchment and only cooked the bars for 25 minutes. I lifted the sheet out after 5 minutes, sliced the bars in half, and ran a spatula under the bottom. I sliced them immediately, wiping off the knife after each slice. Mine have stayed together nicely. Next time I'll add the peanut butter. I didn't add the optional 1/3 cup of granulated sugar.
What a mess! The finished granola was too loose to be considered bars (yes I did pat gently into the pan) and the bottom stuck so badly that I lost a good deal to the pan (yes I did grease the pan). The flavor was so-so and certainly not worth the hassle.
We're curious about any ingredient substitutions, bake time and other recipe details. Please consider a call to our Baker's Hotline at 855-371-2253 so we can problem solve this recipe with you. Happy Baking! Irene@KAF