A customized print-friendly version of this recipe is available by clicking the "Print Recipe" button on this page.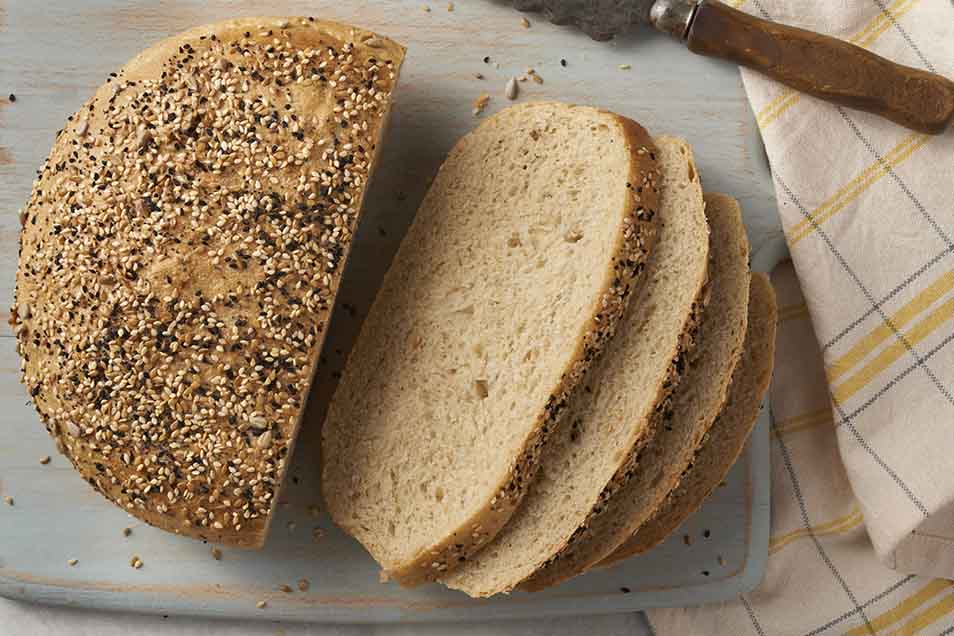 This recipe comes from reader Christine Heyn. She writes, "My family just loves the Italian bread I make with King Arthur flours using semolina and bread flour. I decided to try combining semolina with rye and bread flour to make a hearty sandwich loaf. I hope you like the results as much as we do and will share it with your readers."

We love this bread — the dough is very easy to work with, the texture is soft (but chewy), and the taste is delicious. Thanks, Christine!
Ingredients
Dough
1 cup + 2 tablespoons lukewarm water
1 tablespoon sugar
1 1/2 tablespoons olive oil
1 1/2 tablespoons minced dried onion
1 1/2 teaspoons salt
1 1/2 tablespoons vital wheat gluten, optional; for higher rise
1 cup pumpernickel flour or Perfect Rye Flour Blend
1 cup semolina
2 teaspoons instant yeast
Topping
poppy, sesame, or the seeds of your choice
Instructions
In a large bowl, or in the bucket of your bread machine, combine all of the dough ingredients.

Mix, then knead — by hand, mixer or bread machine — until you've made a smooth, slightly sticky dough. Allow the dough to rise, covered, for 1 hour.

Gently deflate the dough, and shape it into a round or oval loaf; place the loaf on a lightly greased or parchment-lined baking sheet. Or shape the dough into an 8" log, and place it in a lightly greased 8 1/2" x 4 1/2" bread pan.

Cover the loaf with lightly greased plastic wrap, and let it rise until it's very puffy, about 60 to 90 minutes. Towards the end of the rising time, preheat your oven to 400°F with a rack in the center.

Remove the plastic. Spritz the loaf with water, and sprinkle it with the seeds of your choice, if desired.

Bake the bread for 25 to 30 minutes, tenting it with aluminum foil after 20 minutes to prevent over-browning. When the loaf is fully baked, a digital thermometer inserted into its center should register 190°F.

Remove the bread from the oven, and place it on a rack to cool. If it's in a loaf pan, turn it out of the pan onto the rack. Cool completely before slicing. Store the well-wrapped bread at room temperature for several days; freeze for longer storage.

Yield: 1 loaf.
Nutrition Information
Serving Size

1 slice

Servings Per Batch

16
Amount Per Serving:
Calories

104

Calories from Fat

Total Fat

2g

Saturated Fat

Trans Fat

Cholesterol
Sodium

201mg

Total Carbohydrate

18g

Dietary Fiber

2g

Sugars

1g

Protein

3g
* The nutrition information provided for this recipe is determined by the ESHA Genesis R&D software program. Substituting any ingredients may change the posted nutrition information.
Tips from our bakers
Seeds are an optional topping, but add nice flavor and crunch. Our Artisan Bread Topping or Everything Bread & Bagel Topping are both great choices. To ensure that the seeds stick, it is helpful to brush the dough with an egg wash (1 large egg beaten with 1 tablespoon of water) before adding the seeds.
Reviews
Hello...this recipe works. I have read all the other comments and have a few suggestions. Measure out by weight the three flours in three separate bowls. Then divide up the called for amounts of VWG and yeast into three equal portions and sprinkle the ingredients over the top of the flour. Then throughly mix. Same with the salt. Once mixed separately then start adding small amounts of rye and semolina to the AP bowl and throughly mix. I believe many of the problems I read about come from bakers not thoroughly mixing the ingredients. The hydration needs to be 68%...water as a % of total flour. Mix the water and the flour by hand until shaggy....let this sit covered and warm for ten minutes to allow water absorption. Then set your mixer at a low speed for three minutes. Then go up one speed for six minutes. Nine total minutes lets the gluten form. Your dough should be SLIGHTLY STICKY...SLIGHTLY. Now you are ready for the first proof. If after the above you are still having trouble experiment with adding a flour enhancer/improver for rye or durum. Usually adding up to 4% of the total flour weight will help with texture, crust, strength and crumb. Be sure to increase your water to keep 68% hydration. These recipe ratios point toward the loaf being shaped and baked as a boule...doing so before the second proof/fermentation....then place it in your basket seam up. You can experiment with steam and a stone or a Dutch oven. Both have their pluses and minuses. If your dough keeps falling when you slash then for sure use an enhancer. You can change up the flour ratios but the hydration needs to stay at 68% for best results.
I baked this wonderful loaf of bread on Sunday, after confirming with David at The Baker's Hotline, that substituting Medium Rye Flour for the Rye Blend, should work out okay. The dough came together beautifully. I went a little light on the minced onion for my husband's sake and made up the difference with a little bit of ground flax seed. I allowed the yeast, sugar and water to bloom a few minutes in the steel bowl on my Ankarsrum mixer and used the roller/bowl scraper attachments to bring the dough together. I ran the mixer between low and medium speeds for about five minutes. The dough could likely have benefited from a few more minutes in the mixer as it was stickier than I anticipated, but I wonder if that is more the nature of the flour combinations than that batch of dough itself. I shaped the loaf into an oval and it to rise, for the first hour, in my oven; set to Proof mode. The second rise was partially in the oven at the same setting. When it was time to preheat the oven for baking I moved the loaf to the warmest spot in our house (the second floor hallway above the wood stove.) At baking time I slashed, egg-washed and seeded the loaf with caraway and everything topping. The loaf sank a bit after the slashing, so perhaps no slashing next time. I baked my loaf for 25 minutes. The foil tent went on at the prescribed 20 minute mark. The crust was beautifully golden when I pulled the loaf from the oven at 193°. It has a tight crumb and soft interior. I presume the soft interior is from the Semolina. The crust has a nice bite and slight chew. Delicious cooled with country pork ribs from the pressure cooker and apple sauce and toasted the following night with left overs of the same meal. We have a little more than half the loaf left. There is a Nor'Easter predicted for New England today. I say it is a good day for toast.
As other bakers commented, this is not a good riser, particularly if you make it as a sandwich loaf. My advice - don't use a loaf pan or the bread will resemble a brick, even though the bread is not super heavy. The flavor is very good. After speaking with one of the very competent bakers at King Arthur, she agreed that this recipe really wants to be a round/boule,, NOT a loaf!
I was so dissapointed when the bread didn't rise much. I pulled it out of the oven and it felt like a brick, another failed attempt I thought. But later when I sliced some, it was wonderful, chewy and it actually tasted like the rye bread I like from the grocery store. I didn't have a light rye flour only pumpernickel and an artisan rye from you guys. I plan on getting a lighter rye for my next loaf. In the meantime I will thoroughly enjoy ruebens and grilled cheese or just bread and butter.

We're glad to hear you were pleasantly pleased with the outcome of this loaf, fellow bread baker. We do think that the light rye flour will contribute a lighter overall structure. Pumpernickel is a whole grain flour and tends to impart a denser consistency (which maybe you find you enjoy!). Kye@KAF
Delicious! I made the whole thing from start to finish in the bread machine and added the seeds into the dough, a tablespoon each of poppy, sesame, flax and sunflower seeds. Makes great toast!
This recipe sounded like something that would be enjoyed in our house so I decided to try it...presuming I had all the ingredients except for the vital wheat gluten. Well, that wasn't completely true but I forged ahead anyway! It was a hit, modified somewhat, so I am guessing made with the 'right' stuff, we would like it better! I did not have pumpernickel or rye flour blend...created my own 'blend' - I used 1/2 c. each of dark and medium rye. I also subbed 3 tbsp. of rye bread improver for the minced onion, used everything bagel for the topping. I did not get much rise, baked it on parchment/stone for 20 min, 5 more covered with foil at 375 convection...all good and will most likely make it 'correctly' next time...but we had great corned beef/swiss sandwiches!
I mixed this dough in the bread machine & baked it in the KA bread bowl. The flavor was great, but my family prefers a crumb with a more robust texture. So, I made it again and this time added 2 T rye chops, 2 T flax seed meal, 1 T sesame seeds and an additional tablespoon of water. The result was just as tasty but with a firmer texture which was more to our liking. The recipe has now gone into my favorite recipe file to be made often.
excellent bread with excellent texture. it's easy to make your own everything bagel topping which works really well with this bread. i have to admit i had to pay special attention to adapting this to a bread machine. it would be nice if your recipe pointed out where the bread machine leaves off. i usually can figure it out, but was multi-tasking when trying to make this.
I baked this bread yesterday, after seeing the recipe in the KAF catalog that arrived two days ago. DH loves rye bread and purchases toast "on the run". Having baked with a different, more detailed, rye bread recipe, I was happy to try one that appeared less involved. I am so glad I did. This was an instant, all family hit! I'll double the recipe next time. I followed it as it is above, trading out onion for toasted caraway seeds. I let the dough rise on a parchment sling in a dutch oven. Before baking, I took the dough out of the dutch oven, spritzed it with water, lightly sprinkled with more semolina flour, slashed it, replaced it in the dutch oven, covered the dutch oven, and placed it to bake, 20 minutes, in the oven. I removed the cover for 10 minutes and continued baking. After that time, the bread was not up to an acceptable internal temperature, so I removed the bread from the dutch oven and allowed it to bake on the parchment sling for another 10 minutes. Y'all, this is excellent bread and easy to make. The dough it a joy to work with and I found it held its shape well. Do yourself a favor and bake this bread. Thank you, King Arthur Flour, for sharing this recipe!
The flavor and texture of the rye/semolina combination is just perfection. I shape it using the round brotform and it comes out beautifully. I like this bread so much I am using it as the base for my Thanksgiving stuffing.