A customized print-friendly version of this recipe is available by clicking the "Print Recipe" button on this page.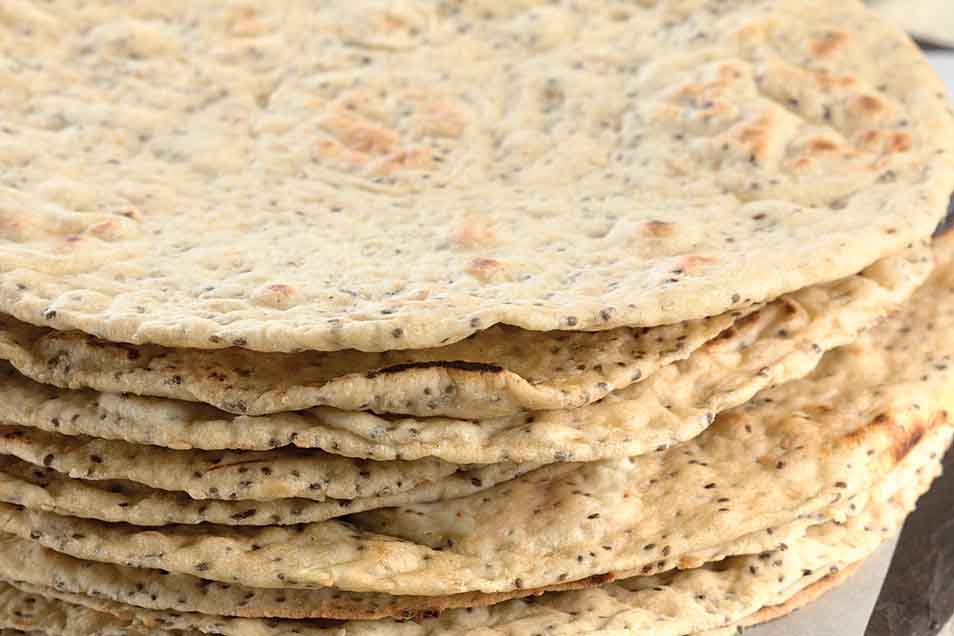 This soft and tasty flatbread features the pleasant crunch (and nutritional punch) of chia seeds.
Ingredients
2 cups Chakki Atta Indian Flour*
1/2 teaspoon salt
1 teaspoon instant yeast
2 tablespoons toasted sesame seeds or whole flax seeds
2 tablespoons chia seeds
2 tablespoons soft butter
3/4 cup warm water
*See tips below for Chakki Atta flour substitutions.
Instructions
Whisk together the flour, salt, yeast, and seeds.

Work in the soft butter and water, then mix and knead the dough until it becomes smooth and pliable.

Form the dough into a ball, place in a greased bowl, cover, and let rise for an hour or more, until puffy.

Turn the dough out onto a greased surface and fold it over several times. Divide the dough into six pieces; each will weigh about 2 3/4 ounces. Roll each piece into a ball.

Cover the balls with a damp cloth and let rest for 10 minutes.

Starting with the first ball you made, roll each ball of dough into a rough 8" to 9" circle; circles should be a scant 1/8" thick.

Heat a heavy frying pan or griddle on medium heat for a minute or two, and brush the pan with oil just before cooking the first bread.

Place a dough round in the pan. Cook the first side for 1 to 2 minutes, until it starts to bubble and has some darkish brown spots; flip over and bake the second side until firm.

Stack the breads as they come off the griddle to keep them warm and soft.

Yield: 6 flatbreads.
Tips from our bakers
Can't find Chakki Atta flour? Substitute 2 cups King Arthur White Whole Wheat Flour; or 2 cups kamut flour, or 1 cup each durum flour and white whole wheat flour. The durum/whole wheat substitute would be most like Chakki Atta.
Reviews
These were very easy to make and extremely tasty. They go with any meal and great on the run as they are very nutritious.
Easy to make. Taste heavenly. I made 12 smaller rounds instead of 6 large ones.
Yum! Thanks for sharing your easy tip! Irene @ KAF
What a great recipe! It appeared in your July 11 catalogue and I thought it would be a change from what I've tried in the past...so I ordered the additional ingredients I needed and tried it out. I've made it twice now, and will make it many more times. One change I will make the next time will be to make 8 pieces of bread and roll them thinner. Both my husband and I liked the thinner pieces...we almost fought over them! Unbelievably good...and so good for you! If using them to make a rolled sandwich, I would make according to the recipe so they would roll better. Thanks, KAF!!!
I made these tonight and they turned out great! They were quick and easy to put together and baked up very quickly. Because they don't require baking in the oven, it was great to do on a warm summer day. I was a little worried because I had to make some substitutions and because it was very warm and humid today, but I had no problems at all. I didn't have any Indian Flour, so I used 6oz White Whole Wheat Flour with 2-1/4oz All Purpose Flour. Also, because I didn't have sesame seeds, I doubled the amount of chia seeds. They have good flavor and the seeds provide a nice texture. I foresee these becoming a regular in my baking repertoire!