A customized print-friendly version of this recipe is available by clicking the "Print Recipe" button on this page.
Chicago Red Hot Poppy Seed Buns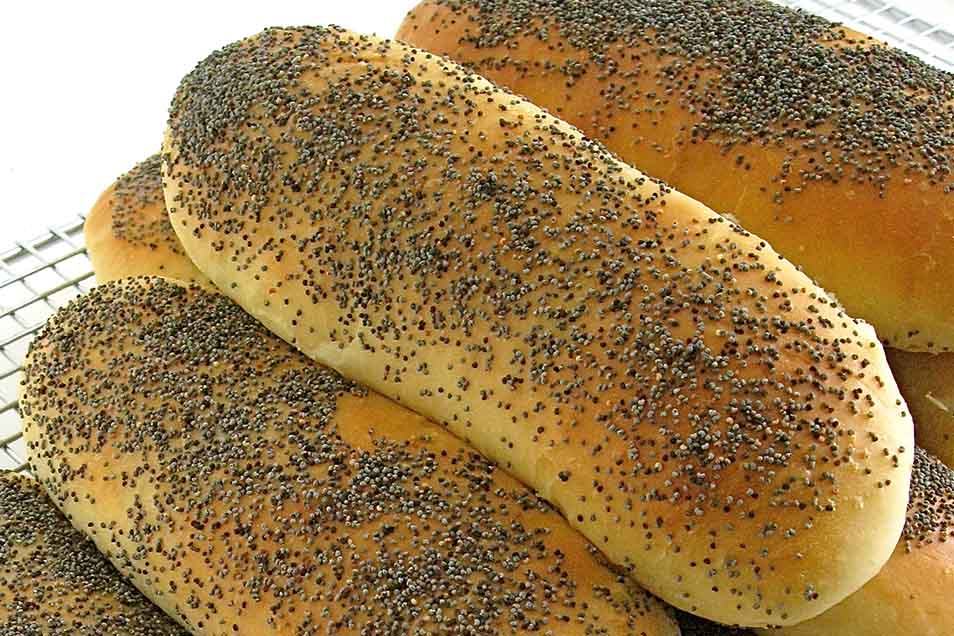 Like Chicago itself, the hot dog buns there are substantial: no undersized, spongy supermarket dog buns for this creation! In the Windy City you'll find a big, chewy poppy seed bun that has enough oomph to support the skyscraper constructions that Chicagoland natives depend on for a quick lunch. Here's our version.
Ingredients
Buns
3 tablespoons King Arthur Easy-Roll Dough Improver or Baker's Special Dry Milk; optional, but helpful for shaping buns
1/4 cup (4 tablespoons) butter or 1/4 cup vegetable oil
2 teaspoons instant yeast
2 tablespoons sugar
1 1/4 teaspoons salt
1 cup lukewarm water
1 large egg yolk, white reserved for topping
Topping
1 large egg white, reserved from the dough
2 teaspoons cold water
2 teaspoons poppy seeds
Instructions
Combine all of the dough ingredients, and mix and knead — by hand, mixer, or bread machine set on the dough cycle — until the dough is smooth and satiny.

Put the dough in a greased bowl, cover the bowl with plastic wrap, and let the dough rise in a warm, draft-free spot until it's doubled, about 90 minutes to 2 hours.

Divide the dough into 10 pieces; if you have a scale, they'll weigh about 2 1/2 ounces (71g) each. Shape each piece into a rough 3" log, and let the logs rest, covered, for about 10 minutes.

Working with one piece of dough at a time, flatten it, and fold it in half lengthwise, sealing the seam. Repeat: flatten, fold, and seal. By this time the log will have elongated a bit; flatten it one more time, making a 6" oval that's as even as you can get it.

Lay the bun on a lightly greased or parchment-lined baking sheet. Repeat with the remaining pieces of dough, laying the buns about 3/4" from one another, for soft-sided buns; or farther apart for buns with crust all around.

Cover the buns lightly with greased plastic wrap, and let them rise until they're noticeably puffy but not doubled, about 1 hour.

Preheat the oven to 350°F.

Mix the reserved egg white with 2 teaspoons cold water, and brush the mixture over the top of the risen buns. Sprinkle heavily with poppy seeds.

Bake the buns for about 18 minutes, until they're golden brown. They may seem slightly "damp." That's OK; they'll dry as they cool.

Remove the buns from the oven, and place them on a rack to cool.

Store the buns in a plastic bag for a few days on the counter, or store for up to 3 months.
Tips from our bakers
The Midwest has a number of culinary traditions, and one of the biggest surprises is the simple hot dog. People in Chicago are very, very serious about hot dogs. The number of toppings and the specific sequence of layering on the dog of your choice are practically mind-boggling.

First of all, there is the Chicago Red Hot, "dragged through the garden." This means a Vienna Beef Frank, topped with (in order, please) yellow mustard; sweet green pickle relish; chopped onion; chopped fresh tomato or tomato wedges; a kosher dill pickle spear; "sport" peppers (tiny pickled hot green peppers); and celery salt. This is the dog you'll find at Wrigley Field, home of the Cubs.

Other vendors stray off the trail somewhat, but in general a Chicago hot dog may have onions, sauerkraut, hot peppers, mustard, and the brightest neon green relish you've ever seen riding on top. Sometimes chili, sometimes cheese. Ketchup? Well, all right, if you really must; people in Chicago are way too polite to scoff at you, but you will have branded yourself a non-native at the least. And a potential sissy at worst.
Can you substitute another type of seeds for poppy seeds? Or leave the seeds off entirely? Of course; you just won't have an authentic Chicago hotdog bun.
Can you make these buns with whole wheat flour? It'll change their texture and flavor, but sure. Start by substituting 2/3 cup whole wheat flour for 2/3 cup of the all-purpose flour. If you like the result, substitute a greater amount of whole wheat next time.
Reviews
Great recipe for sturdy buns that can stand up to wet ingredients. They freeze and thaw very well after baking (30sec at 30%). Can't wait to make some larger with Chicago Italian beef from 'mike nolan', thanks for that sir. Weighed all ingredients (except the salted butter, water, large egg, and yeast) and used store-brand milk powder (24gr) and SAF Red yeast, about 2.5tsp. Also threw the whole egg in since I wasn't going to use any seeds on top, needed to add a bit more flour, all KAF AP, 360gr at first and 30-40gr additional. Mixed all dry ingredients w/paddle then added liquids and kneaded 5min w/hook, then added additional flour and kneaded additional 5 min on speed 2 w/hook; Kitchenaid stand mixer. Dough ball was 798gr, so divided the first half (400gr) into 7 pieces after an 80min first raise in a bowl sealed w/plastic wrap (about tripled in volume after 80min in a warm area), just ripped off pieces of dough, combined pieces, and put on the scale until desired weight was achieved (55g-65g per bun). After that just rolled dough into balls in the hands and then elongated w/hands just as I used to do long ago with playdough, 7 logs 5-6' long 1-1 1/4' in diameter about 3/4' apart, perfect spacing for a 14' long pan. Some were not so pretty, but they all rose and baked up nicely. Dough was sticky before the first raise, but handled without any additional bench flour or oil after that, so be patient and don't add additional flour or oil, give it time to become less sticky, it will. Raised the 7 (400gr half-recipe divided by 7) 'shaped' buns in a 14x10x2' high lasagna pan, sprayed the tops w/water and sprinkled w/flour, lined pan with non-stick foil sprinkled with cornmeal and covered the pan tightly with foil for the 2nd raise of 45min back in the warm spot. No need to spray plastic wrap and add extra oil this way and still lose moisture. The deep roasting pans covered with foil make raising rolls so much easier and they bake and brown just fine, you can also re-use the top covering foil since the raising rolls never touch it. baked 9min 350deg convection 2nd rack from the bottom uncovered, then flipped pan 180deg and 6min more uncovered, fantastic soft buns, beautiful color, great texture with a very thin layer of crisp on top and the cornmeal on the bottom. These are what you want for anything that might be fatty and/or moist, ie: jalapeno/cheddar pork sausages or juicy burgers.
Was blown away by how incredible these were. Used King Arthur flour; used canola oil instead of butter or vegetable oil; did NOT use the dough improver or dry milk option. Used a KitchenAid with mixer paddle for half of flour and everything else, then used dough hook on lowest setting to add in the rest of the flour; let it knead on lowest setting for 10 mins. I'll confess I was intimidated by the thought of shaping hot dog buns, but following the instructions, it was easy and worked out perfect! The interior had a light, chewy, complex crumb but the outside was crisp. This will be my go-to for hot dog buns, hamburger buns, etc.! My only point of real confusion was why "red hot" in the name??

Great question! Red Hot Chicaco is a beef company that's known for their various hot dogs. We hope you enjoy these at picnics to come! Annabelle@KAF
I made these for my Chicago-born husband and he loved them! We cannot get poppy seed rolls easily here and he's been craving them for a real Chicago-style hot dog. This recipe provided! I am making them next as sesame seed hamburger buns. I expect them to be just as good!
just finished making these.. They turned out fantastic,soft yet chewy and amazing flavor. I've been looking for the perfect hot dog bun recipe and this is it. Thank you for the shaping tips. It worked for me! No more store bought junk from now on! King Arthur is the BEST!
Excellent. Have made three batches over the past couple of days for Father's Day. Had to sample a couple for dinner. . .delish! Look just like what I order at Portillo's (Chicago hotdog place). Made dough in bread machine and then formed buns. . .yum!
I have made New England Hot Dog Buns from KAF several times, but these are so much better, which is surprising since the ingredients are similar. These Chicago Style Buns are absolutely delicious! In my air-conditioned kitchen, they rose much more quickly than 90 minutes the first time. Don't know why. The only thing I am waiting to find out is whether they freeze well; I will report back on this as I put several in the freezer for another time. Don't miss this recipe!
I made these for a second time yesterday for our Memorial Day brat cookout. The first time I made them they were tasty but dry. When I made them yesterday, due to time constraints, I started them the night before and put the covered dough in the fridge overnight. Took it out in the morning and let it warm/rise to double. Shaped into buns, and after the second rise I put them in the oven, set time for 18 minutes. At 13 minutes they smelled done so I checked the internal temp and they were done! Perfect! And oh so delicious and tender!!
These are awesome. They look just like the picture and taste great! I made the dough in my bread machine and then followed directions starting at 3). Can't wait to enjoy them with grilled brats and homemade Krazy Kraut.
Looking for a good roll for meatball sandwich. Would this be hearty enough for a good meatball sandwich?
Yes, this recipe should prove to be sturdy enough for a fabulous meatball sandwich. Enjoy! Elisabeth
The hot dog buns were so good. I was surprised at how well your shaping technique worked too. Thank you for the recipe - it was fun for the family to assemble the hot dogs, and more fun to eat them!