A customized print-friendly version of this recipe is available by clicking the "Print Recipe" button on this page.
Chicken and Herb Dumplings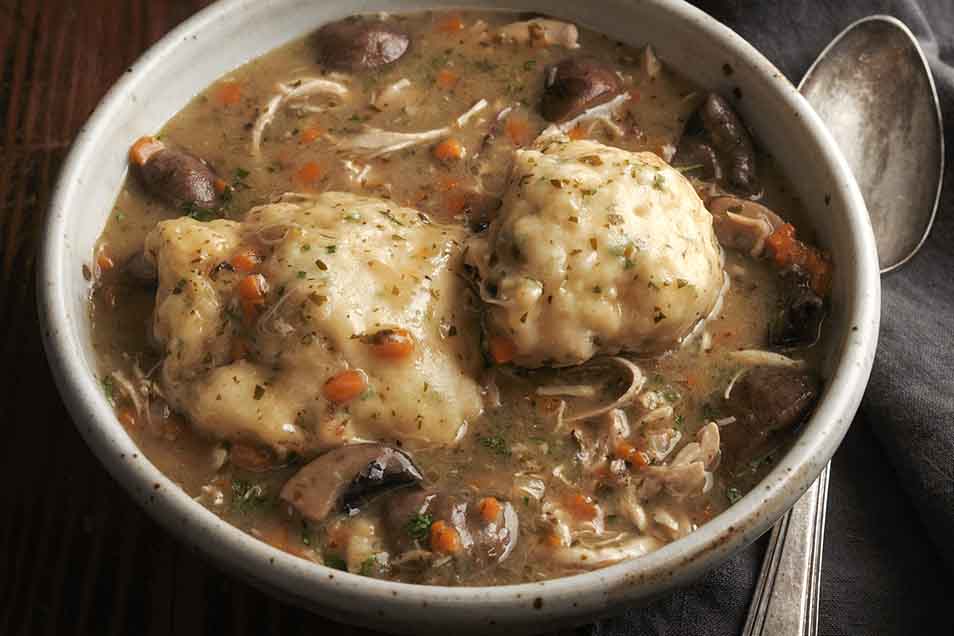 Jessica Battilana's book "Repertoire" is filled with family-friendly recipes you'll want to make again and again. Poaching a whole chicken gives you the stock for this comforting dish, which is finished with fluffy dumplings floating atop the gravy.
Ingredients
Chicken
1 (3- to 4-pound) chicken
1 1/2 cups diced onion (1" pieces)
2 sprigs fresh parsley + 1/2 cup chopped fresh parsley
2 sprigs fresh thyme + 1 teaspoon chopped fresh thyme
1 teaspoon salt
8 tablespoons (1/2 cup) unsalted butter
1 cup diced onion
1 cup diced carrots
3 1/2 to 4 cups (one 10-ounce package) cremini or button mushrooms, stemmed and quartered
kosher salt and freshly ground black pepper
1/4 cup heavy cream
Dumplings
1 3/4 cups King Arthur Unbleached All-Purpose Flour
2 teaspoons baking powder
1 teaspoon kosher salt or 3/4 teaspoon table salt
1 teaspoon sugar
1 large egg
1 cup whole milk
1/4 cup minced herbs (tarragon, chervil, chives, and/or parsley)
2 scallions, thinly sliced, green part included
Instructions
To make the chicken: Remove the wings and legs, and separate the thighs and drumsticks. Remove the breasts and cut each in half. With a cleaver, cut the carcass into 2" pieces.

Heat a Dutch oven or heavy lidded pot over medium-high heat and add the chicken bones, wings, and the 1 1/2 cups onion pieces. Cook, stirring occasionally, until the chicken starts to brown.

Add 1/2 cup water, reduce the heat to low, add the parsley and thyme sprigs, cover, and cook for 20 minutes.

Increase the heat to medium-high and add 6 cups of hot water, the remaining chicken pieces, and 1 teaspoon of salt. Bring to a boil, then reduce to a simmer.

Skim any foam off the surface, then partially cover and simmer until the chicken pieces are just cooked through, about 20 minutes.

Remove the chicken pieces with a slotted spoon and transfer to a plate. When cool enough to handle, pull the chicken from the bones and shred it; you should have about 4 cups of meat.

Strain the stock and discard the bones and skin; you should have about 6 cups.

Rinse out the pot and place over medium heat. Add the butter. When melted, add the diced onion, carrots, and mushrooms. Sauté until the vegetables are just tender but not brown, about 6 minutes.

Sprinkle the flour over the vegetables and cook, stirring, for 2 minutes. Whisk in 5 cups of the stock 1 cup at a time, bringing to a simmer after each addition to prevent lumps.

Once the gravy thickens, stir in the chopped parsley and thyme and 3 cups of the shredded chicken (save the rest for another use). Season to taste with salt and pepper. Turn the heat to low.

To make the dumplings: In a medium bowl, whisk together the flour, baking powder, salt, and sugar.

In a large measuring cup, whisk together the egg and milk, then pour into the dry ingredients. Add the herbs and scallions and stir until well combined.

Add the heavy cream to the pot and return to a simmer. Drop tablespoonfuls of dumpling batter onto the chicken mixture.

Repeat dropping the dumplings until the surface is covered (you may not use all the batter initially). Cover and simmer for 10 minutes, until the dumplings are cooked through (cut one in half to test; it should be fluffy). If you have extra batter, transfer the first batch of dumplings to a covered bowl to keep warm while you cook the rest.

Spoon a few dumplings into bowls, then ladle some of the warm chicken stew over them. Serve hot.

Store any leftovers, covered, in the refrigerator for up to three days.
Reviews
I have made chicken and dumplings over the years and this did not hold a candle to mine. No flavor in the broth. And adding flour, especially 3/4 cup to thicken the broth before putting dumplings on top was way too thick to simmer to cook the dumplings. I should have known better.

We're sorry to hear that this well-loved recipe didn't do the trick for you. We're glad to hear you already have a recipe that you enjoy. If we can help troubleshoot, please give our Baker's Hotline a call at 855-371-BAKE (2253). Kindly, Annabelle@KAF
Delicious!! I'm new to poaching as a way to cook chicken and it is sooo good, moist and tender and tasty. I don't like mushrooms so I left them out, and the recipe was still wonderful without them (just a different color). And I have about 2 cups of stock and 1 cup of chicken left over to use for something else! I used chive and parsley in the dumplings; my husband (who loved this despite being initially unenthusiastic to hear I was making chicken and dumplings for dinner) thinks tarragon would be better than parsley next time. The best chicken and dumplings recipe I've found!