A customized print-friendly version of this recipe is available by clicking the "Print Recipe" button on this page.
Chocolate Almond Flour Torte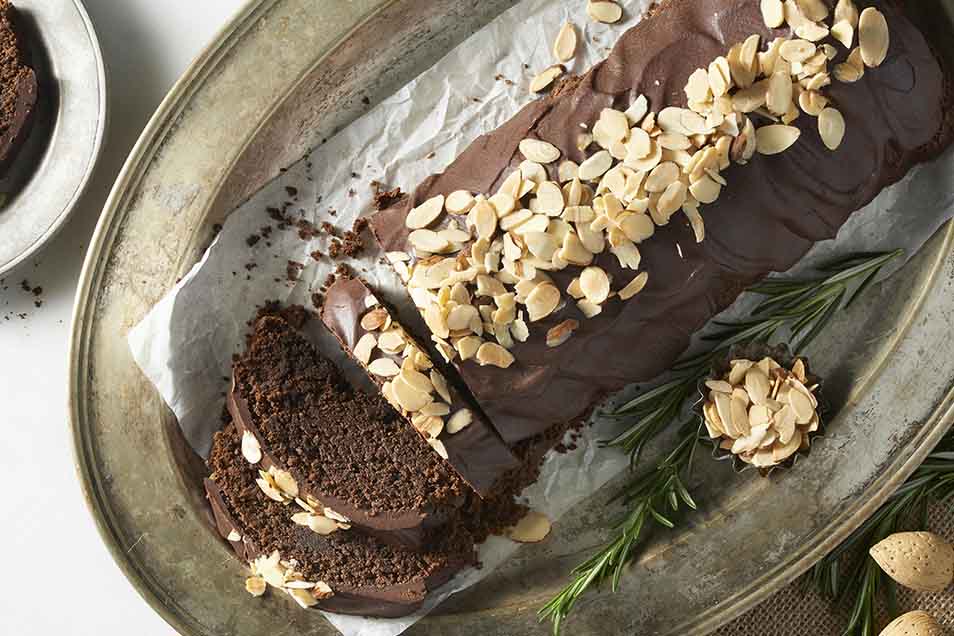 Rich, dark, and dense, this chocolate cake is the perfect finish to a celebratory meal. The almond flour ensures moist, tender texture, while our Triple Cocoa Blend, espresso powder, and bittersweet chocolate all contribute to an extra-indulgent chocolate experience. In sum, this is one dessert you won't want to skip.
Ingredients
Cake
1 cup almond flour
1/4 cup Triple Cocoa Blend or Dutch-process cocoa powder, plus extra for dusting the pan
2 teaspoons espresso powder; optional, for richer chocolate flavor
1/4 teaspoon salt
2/3 cup chopped bittersweet chocolate
8 tablespoons (1/2 cup) unsalted butter
5 large eggs
1/2 cup sugar
1 teaspoon vanilla extract
Topping
1/4 cup heavy cream
1/3 cup chopped bittersweet chocolate
Instructions
To make the cake: Preheat the oven to 350°F.

Butter a ridged cake loaf pan or an 8" round pan and thoroughly dust the inside of the pan with cocoa powder, turning the pan to coat evenly and shaking out any excess. Set the prepared pan aside.

In a small bowl, stir together the almond flour, cocoa powder, espresso powder, and salt. Set aside.

Melt the chocolate and butter on a stove or in short 10 to 20 second increments in the microwave, stirring until smooth. Set aside.

In a large mixing bowl using a paddle attachment, beat the eggs, sugar, and vanilla until the mixture has lightened in color and falls in thick ribbons from the beater, about 5 minutes.

Fold in the melted chocolate followed by the dry ingredients, stirring gently until everything is incorporated.

Pour the batter into the prepared pan. If baking in a ridged cake loaf pan, it's helpful to place the pan on a baking sheet before filling it with batter for easy transfer in and out of the oven.

Bake the cake for 38 to 43 minutes, until a cake tester inserted into the center comes out with just a few moist crumbs clinging to it.

Remove the cake from the oven and set the pan on a rack. Allow the cake to cool in the pan for 5 minutes, then turn it out onto a rack to cool completely.

Once the cake is cool, place the rack over a piece of parchment paper.

To make the topping: In a saucepan set over medium-high heat or in a small bowl in the microwave, heat the heavy cream until hot. Add the chocolate and let it melt, stirring until the glaze is smooth.

Allow the topping to cool for 5 to 10 minutes then drizzle it down the center of the cake, letting it drip unevenly down the sides onto the parchment paper below.

Top the cake with toasted almonds, if desired, and allow the topping to set until ready to serve.

Refrigerate any leftover torte for up to three days.
Reviews
Baked this torte using European style butter and it was excellent. Instructions were very clear and assembly was easy. Glad I set timer for 38 min., as torte was done and might have gotten dry if cooked longer. Be careful when transferring torte to serving plate: length-to-width ratio may make it slightly fragile
I gifted this cake to my gluten-free friend for her birthday. She was thrilled beyond belief. Nothing about it smacks of GF with its rich, tender, flavorful texture. The glaze (I did double the recipe) and toasted almonds were the perfect touch. It is a cake to be repeated and not just for those who must be gluten free. Thanks to AdaK's of Los Alamos recommendation for high altitude adjustments. I live just across the valley.
Note to self. Don't try this is a small bundt pan. Removal was a disaster and so I'm trying to figure something else out for Thanksgiving chocolate lovers. I wasn't wild about the taste of the scraps so all in all not a productive experiment.

We're sorry to hear your cake didn't work out in Bundt pans, Tish. If you're interested in trying out this recipe again, we encourage you to use a Ridged Cake Loaf Pan or a regular loaf pan for ease of removal. If you use a regular loaf pan, you can use a sling of parchment paper to line it, allowing you to easily lift the whole cake out once it's done. If we can help further or pick out a recipe that better fits your tastes, please give our Baker's Hotline a call at 855-371-BAKE (2253). Kindly, Annabelle@KAF
This recipe is fantastic. I baked it in a well sprayed bundt pan and it came out great. My entire office loved it. The texture is amazing, very moist on the inside. The chocolate glaze was very nice.
Addition to earlier review. I'm enamoured by the texture. It's almost like a souffle. Light and yet that totally " fill your mouth and senses with the lightness of the cake and the density of the ganache. Lovely.
Delicious! Love how the almond flour gives it a delicate crumb. I used 8 in round pan, and started checking after 25 minutes. Used a thermopen and took it out when internal temp was 200 degrees. Only one thing I strongly recommend - use parchment paper in the pan. Okay I know you couldn't with the fluted pan, but the cake stuck in the round pan. Fortunately, I covered up the lumpy surface with lots of ganache :) It's going to be dessert for Christmas dinner. I feel the need to practice a few more times :):):) Yum!!!
I'm testing recipes before a family get together. Yummy! Great crumb, intense chocolate but not too intense. Can this be frozen earlier in the week? I'd like to defrost (in the fridge or just warm temp?) and glaze the day before the gathering? Are there any other suggestions you can recommend for advance planners? Thanks!

You can make this ahead of time no problem, JJ! Once it's cool, wrap it well in plastic wrap (a couple layers to be safe) and freeze for up to three months. Let it thaw in the fridge overnight before glazing and serving. For ease of glazing, bringing it to room temperature first will help. Happy baking! Annabelle@KAF
It is a very good recipe. I did butter the pan. I used half butter and half applesauce to cut down the caloric intake. Since we don't like our baked goods to be too sweet, I cut sugar down to 58g and it still tasted fabulous. I also added an extra egg and extra 4T of almond flour for high altitude baking.
The cake itself turned out very nice, but the glaze was not good. It turned into an oily, drippy mess. I tried whisking it to emulsify it, and even added confectioner's sugar to try to "dry it out" a bit, but that didn't really help. When I poured it into the cake, the glaze that fell onto the parchment paper below actually had oil pooled around it! I talked to the Bakers' Hotline and that person suggested pouring the warmed cream over the chocolate, rather than stirring the chocolate into the warmed cream. I am not sure that would help. I am thinking next time I might just make a buttercream using the melted chocolate, but I don't think I will use the glaze again as it is described currently in the recipe, as it was a messy disappointment (and it never did "set").

Thanks for giving this recipe a go, Sandy! We're here to help. It sounds like the cream may have been a little too hot for the chocolate to handle and the emulsification split, making the fat from the chocolate (cocoa butter) seep out. This would account for the oily appearance, the slippery texture, and the lack of cooperation. We agree with the suggestion from the Hotline that one of the safest, easiest ways to make a ganache is to scald your cream on the stove — meaning it just starts to steam and tiny little bubbles may be forming around the edges of the pan. Then, pour the warm cream onto the chocolate in a bowl, making sure the chocolate is submerged. After that, let it sit for about 5 mintues without touching it. Once the 5 minutes are up, it should whisk together nicely and be far more agreeable than a split ganache. There's nothing wrong with trying out a chocolate buttercream, in fact, it would be oh-so-tasty, but if you're interested in trying this ganache again, we hope this method works better for you. Kindly, Annabelle@KAF
This was an excellent cake/torte. It is still dense but the almond flour gives it a little something to give a little cake texture to it. I used a circle cake pan and it cooked perfectly through. It only cooked for 33 minutes and was perfect, per the instructions, so watch your time just in case. The eggs mixed about 12 minutes to get the ribbons so that either takes longer or make my mixture wasn't fast enough. I made the ganache topping as well and it was perfect. Came out of Pan easily but I did do the butter/cocoa trick recommended in the directions.