A customized print-friendly version of this recipe is available by clicking the "Print Recipe" button on this page.
Chocolate Almond Flour Torte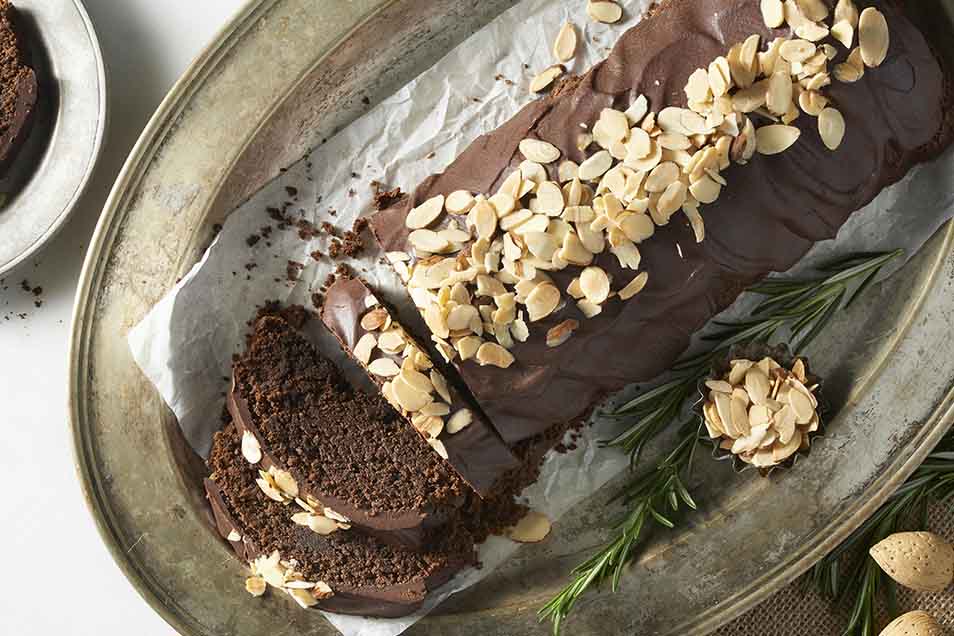 Rich, dark, and dense, this chocolate cake is the perfect finish to a celebratory meal. The almond flour ensures moist, tender texture, while our Triple Cocoa Blend, espresso powder, and bittersweet chocolate all contribute to an extra-indulgent chocolate experience. In sum, this is one dessert you won't want to skip.
Ingredients
Cake
1 cup almond flour
1/4 cup Triple Cocoa Blend or Dutch-process cocoa powder, plus extra for dusting the pan
2 teaspoons espresso powder; optional, for richer chocolate flavor
1/4 teaspoon salt
2/3 cup chopped bittersweet chocolate
8 tablespoons (1/2 cup) unsalted butter
5 large eggs
1/2 cup sugar
1 teaspoon vanilla extract
Topping
1/4 cup heavy cream
1/3 cup chopped bittersweet chocolate, we like our Guittard Bittersweet Onyx Wafers
3 tablespoons sliced almonds, toasted; optional, to garnish
Instructions
To make the cake: Preheat the oven to 350°F.

Butter a ridged cake loaf pan or an 8" round pan and thoroughly dust the inside of the pan with cocoa powder, turning the pan to coat evenly and shaking out any excess. Set the prepared pan aside.

In a small bowl, stir together the almond flour, cocoa powder, espresso powder, and salt. Set aside.

Melt the chocolate and butter on a stove or in short 10 to 20 second increments in the microwave, stirring until smooth. Set aside.

In a large mixing bowl using a paddle attachment, beat the eggs, sugar, and vanilla until the mixture has lightened in color and falls in thick ribbons from the beater, about 5 minutes.

Fold in the melted chocolate followed by the dry ingredients, stirring gently until everything is incorporated.

Pour the batter into the prepared pan. If baking in a ridged cake loaf pan, it's helpful to place the pan on a baking sheet before filling it with batter for easy transfer in and out of the oven.

Bake the cake for 38 to 43 minutes, until a cake tester inserted into the center comes out with just a few moist crumbs clinging to it.

Remove the cake from the oven and set the pan on a rack. Allow the cake to cool in the pan for 5 minutes, then turn it out onto a rack to cool completely.

Once the cake is cool, place the rack over a piece of parchment paper.

To make the topping: In a saucepan set over medium-high heat or in a small bowl in the microwave, heat the heavy cream until hot. Add the chocolate and let it melt, stirring until the glaze is smooth.

Allow the topping to cool for 5 to 10 minutes then drizzle it down the center of the torte, letting it drip unevenly down the sides onto the parchment paper below. Allow the topping to set before slicing; if garnishing with toasted almonds, sprinkle on the almonds while the topping is still tacky.

To make the optional toasted almonds: Spread sliced almonds in a shallow pan. Toast them in a preheated 375°F oven for 5 to 6 minutes, or until they're a light golden brown. Top the torte with toasted almonds, if desired.

Refrigerate any leftover torte for up to three days.
Reviews
Loved this recipe, it was so easy to make and simply delicious. I loved that it wasnt too sweet so I was able to truly enjoy the flavors. I added extra vanilla and added shredded non sweetened coconut as topping. I will make this again and again!
This recipe came out great!!! Everone loved it as it is not too sweet - resembles a european torte! Love it and its easy to make. I used the belclade chocolate as the recipe chocolate was sold out still turned out great!!
Absolutely delicious, moist with a rich chocolate flavor. Every chocolate lovers dream dessert! Used 62% cocoa chocolate bar, that's what I had and was perfect for me and my valentine:).
I had weight loss surgery April, 2018 and since then have followed a low carb, low sugar diet. This recipe appealed to me as it calls for almond flour. I substituted Monk Fruit sweetener for the sugar, adding equal amounts, and then used Lily's sugar free chocolate chips for the ganache. The cake was dense, moist and tasted wonderful...not a sweet cake by any means but it appealed to me as I no longer eat sugary treats. It smelled glorious as it was baking!! I've never used sugar free chocolate chips and while the ganache turned out beautifully, it was very bitter. Maybe adding a little Monk Fruit would help? If I bake the Torte again, I'm more inclined to serve it with some homemade whipped cream or experiment with a sugar free chocolate sauce to drizzle.

We're glad this recipe worked out well with your substitutions, Sally! We have a feeling that the chocolate chips you used just weren't as sweet in flavor as the ones we used, so adding some of the monk fruit sugar or finding a different sugar-free chocolate chip will be a good experiment to try next time. If you do the adding monk fruit sugar technique, try dissolving a couple tablespoons of it in the cream before adding it to the chocolate chips. Happy baking! Annabelle@KAF
I made this for Christmas. I follow recipe exactly except I baked it in a bunt pan. I cut a cardboard ring and covered it with foil to remove the cake, as it does not fill a bunt pan enough to be able to turn it out. I frosted it as recipe instructs but also served it with whipped cream, vanilla ice cream and raspberry sauce with fresh raspberries. It was a hit.
This torte was terrible, It was strong on chocolate flavor but did not have enough sweetness to it. And I'm a person who normally would reduce the amount of sugar in a recipe because I don't like things terribly sweet. I change nothing in this recipe and it was just bitter.

We're sorry this wasn't to your taste, Jane! While many die-hard chocolate fans love dishes where the deep, bitter flavor of chocolate is allowed to shine through, others prefer a lighter, more sugary flavor. Since you found this cake to be too bitter for your preference when using bittersweet chocolate, we'd suggest trying again with chocolate containing a lower percentage of cocoa. Happy baking! Kat@KAF
This was a very pretty cake that was quite simple to pull together, with a strong chocolate flavor. I used the semi-sweet chunks and Dutch process cocoa I had on hand, went a little short on the espresso powder, and it was still quite an intense flavor profile. Depending on your chocolate and sweetness preferences, bittersweet chocolate might be a bit much. But overall, it was delicious and came out as the recipe and photo indicated.
I have made hundreds of recipes from KAF and this is my first review. I just had to write and tell you that I thought this was terribly tasteless. There just was no flavor, which is unusual for a good cake. I finally threw out the last piece because I couldn't sell any of it to my family. This recipe needs reworking. Sorry to be so negative.

We're sorry to hear this recipe was disappointing, Elaine, and definitely, appreciate your feedback. This is a newer recipe on our site so we'd love the chance to talk through the recipe with you and get some additional details. We encourage you to reach out to our free and friendly Baker's Hotline staff at 855-371-BAKE (2253). Thanks again, Annabelle@KAF
This recipe came together as directed. Buttering the pan and dusting it with cocoa powder worked like a charm. Very light and delicious cake!
Tube pan provided was flimsy, looked plastic but label said it was aluminum. Cake stuck to pan and broke apart in three chunks. My husband and myself tasted the cake chunk and it was dry and tasteless. Avoid this recipe and cake kit. KAF should have given us a complete refund on this kit!

Hi there. We're sorry to hear that this recipe bundle wasn't a good fit for you. Please give our friendly Customer Service team a call at 1-800-827-6836 so we can come to a meaningful solution for you. Kindly, Morgan@KAF