A customized print-friendly version of this recipe is available by clicking the "Print Recipe" button on this page.
Chocolate and Raspberry Brownie Bars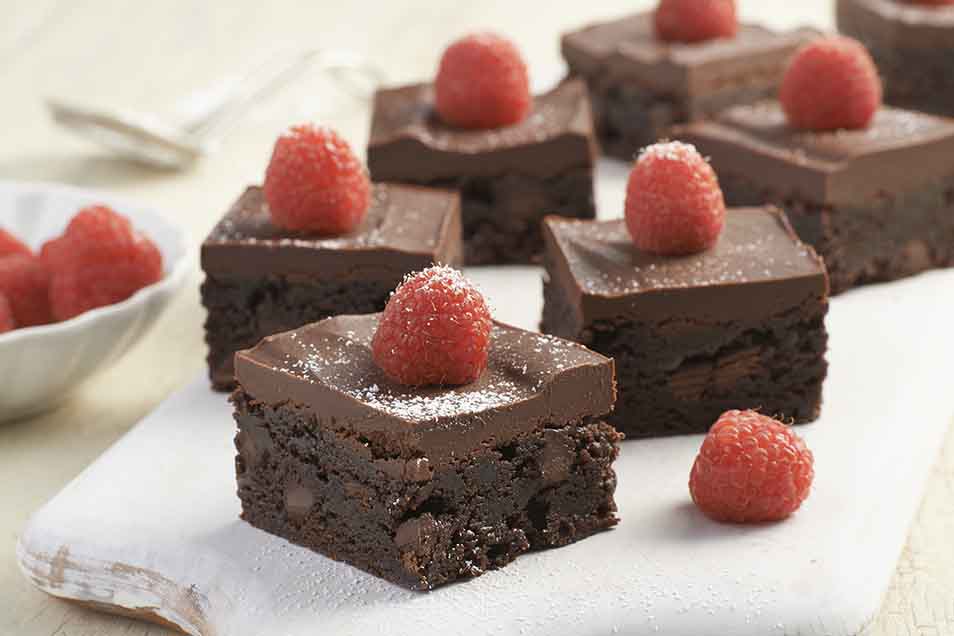 Rich chocolate plus sweet-tart raspberry bits topped with more rich chocolate — what could be better? This recipe is great to make ahead, as it stays moist for up to a week; or freeze for longer storage.
Ingredients
Chocolate Ganache Glaze
1 cup heavy cream
1 tablespoons light corn syrup
2 2/3 cups semisweet or bittersweet chocolate, chopped
1 tablespoon Chambord or liqueur of your choice; or vanilla extract, espresso powder, or another flavor, to taste
Instructions
Preheat the oven to 350°F. Lightly grease a 9" x 13" pan. To make very even bars, line the pan with aluminum foil before baking, leaving foil sticking up above the edges of the pan.

Crack the 4 eggs into a bowl, and beat them with the cocoa, salt, baking powder, and vanilla until smooth.

Add the sugar and melted butter, stirring until smooth.

Add the flour, chips, and Jammy Bits, again stirring well.

Spoon the batter into the prepared pan.

Bake the brownies for about 30 minutes, until a cake tester inserted into the center comes out clean, or with just a few moist crumbs clinging to it. The brownies should feel set on the edges, and the center should look moist, but not uncooked. Remove them from the oven.

Heat the raspberry jam with the Chambord or water, and stir until smooth. Brush over the warm brownies. Set aside to cool for an hour or longer before topping with the ganache.

To make the ganache, heat the cream and corn syrup until they begin to steam. Pour over the chopped chocolate in a bowl. Let sit for 5 minutes, add any flavorings, and whisk until smooth. Let cool for 15 minutes or so.

Pour ganache over the brownies while it's still warm, but has begun to thicken — reheat if it thickens too much as you work. Allow several hours for the ganache to set up fully. You may refrigerate the brownies to hasten the setting of the ganache.

Remove the brownies from the pan using the aluminum foil sling. Heat a knife in hot water, wipe dry and use to cut the brownies. Repeat with each cut.

Just before serving, garnish brownies with fresh raspberries and confectioners' sugar, if desired.