A customized print-friendly version of this recipe is available by clicking the "Print Recipe" button on this page.
Chocolate and Raspberry Brownie Bars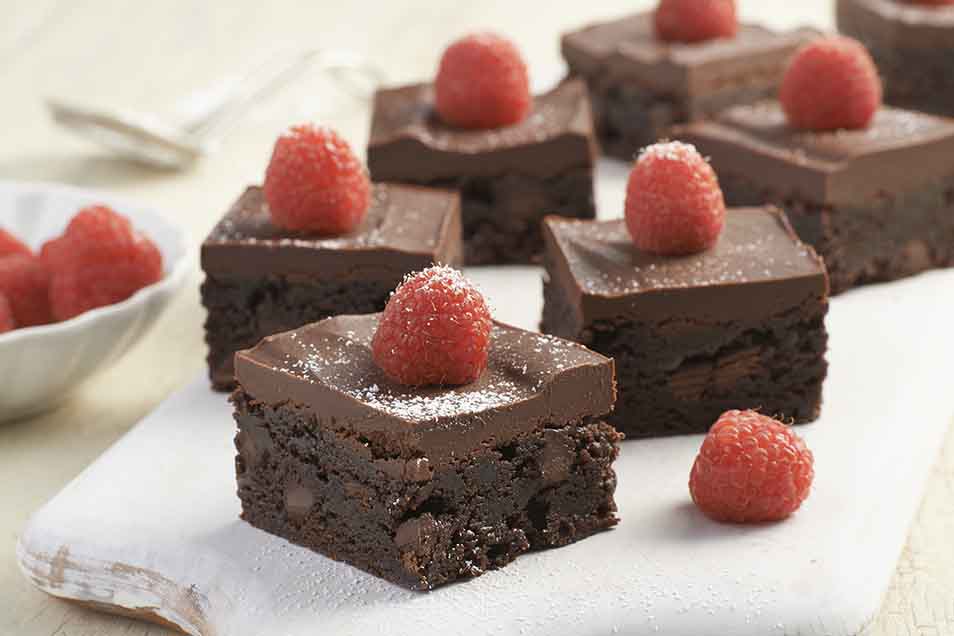 Rich chocolate plus sweet-tart raspberry bits topped with more rich chocolate — what could be better? This recipe is great to make ahead, as it stays moist for up to a week; or freeze for longer storage.
Ingredients
Chocolate Ganache Glaze
1 cup heavy cream
1 tablespoons light corn syrup
2 2/3 cups semisweet or bittersweet chocolate, chopped
1 tablespoon Chambord or liqueur of your choice; or vanilla extract, espresso powder, or another flavor, to taste
Instructions
Preheat the oven to 350°F. Lightly grease a 9" x 13" pan. To make very even bars, line the pan with aluminum foil before baking, leaving foil sticking up above the edges of the pan.

Crack the 4 eggs into a bowl, and beat them with the cocoa, salt, baking powder, and vanilla until smooth.

Add the sugar and melted butter, stirring until smooth.

Add the flour, chips, and Jammy Bits, again stirring well.

Spoon the batter into the prepared pan.

Bake the brownies for about 30 minutes, until a cake tester inserted into the center comes out clean, or with just a few moist crumbs clinging to it. The brownies should feel set on the edges, and the center should look moist, but not uncooked. Remove them from the oven.

Heat the raspberry jam with the Chambord or water, and stir until smooth. Brush over the warm brownies. Set aside to cool for an hour or longer before topping with the ganache.

To make the ganache, heat the cream and corn syrup until they begin to steam. Pour over the chopped chocolate in a bowl. Let sit for 5 minutes, add any flavorings, and whisk until smooth. Let cool for 15 minutes or so.

Pour ganache over the brownies while it's still warm, but has begun to thicken — reheat if it thickens too much as you work. Allow several hours for the ganache to set up fully. You may refrigerate the brownies to hasten the setting of the ganache.

Remove the brownies from the pan using the aluminum foil sling. Heat a knife in hot water, wipe dry and use to cut the brownies. Repeat with each cut.

Just before serving, garnish brownies with fresh raspberries and confectioners' sugar, if desired.
Reviews
These are decadent and indulgent! The raspberry flavor pairs well with the ganache topping, but these would still be good without the raspberry element, in my opinion. Whenever I make them, I get rave reviews. They keep well and also freeze well provided you have any left!
Easy to make and very yummy. I made mine with the Chambord liquer. After reading the reviews, I did a half recipe of Ganache with Guittard bittersweet chocolate. I personally will stay with the full recipe on my next batch as I would have liked the thicker layer of Ganache.
This is a really good recipe. Chocolate is the bomb. But I like to cut it into smaller portions, as they are so thick! A favorite in my family
I have made these twice now - to rave reviews! A definite keeper.
I have made these brownies many times! I sent them with my son to his law firm potluck, thus the reason I have made them many times! Frequently requested! The only problem I have ever countered, is underbaking them. So, please check when you feel they are done, to be sure the centers arent like soft fudge. I don't keep chambord, so I use Raspberry coffee syrup in its place. Yummo!
I took these to a gathering and overhead two guys discussing them. The one fellow told the other not to eat them, because they were "lethal." He raved and raved about them. I made the recipe exactly as written, except I only made 1/4 the ganache recipe; that was more than enough. I put them in a fridge for a couple days before I cut them into 48 little bars. For a special occasion it's worth making. By the way, instead of using foil, I used parchment.
The brownies take a bit of time to make, but are worth it. The only problem is the serving size. I would recommend cutting them smaller because of the richness. A keeper recipe. Especially with the punch of the raspberry bits.
This is a most scrumptious brownie I have ever had! I also created an alternative using orange jammy bits, 1 T. Triple Sec, and orange marmalade in place of the raspberry bits, raspberry jam and Chambord, and I added 1/2 t. orange oil to the ganache. Orange- Chocolate super!
Seriously dense and chocolaty and tasty. Chocolate-raspberry is my favorite flavor combo - it was the flavor of my wedding cake. But, are they supposed to be this dense? I'm not sure if I mixed the batter too much or not enough. Any thoughts or advice? However, they are yummy with vanilla ice cream. I may not make these again, though, due to them being so dense and rich.

Winnie, chocolate and rapsberry is a timeless combination that we love in practically any form; brownies included! Your brownies might have turned out a little bit denser than expected if too much flour was added to the batter. To ensure you're using the right amount, we recommend checking out the "Measuring Standards," link next to the ingredients header above. You'll see that either measuring your flour by weight using a scale, or fluffing and sprinkling the flour into your measuring cup are the most accurate ways to measure flour. Using precisely the right amount of flour and large eggs (avoid smaller sizes) should give your brownies that slightly-fudgy but not-too-dense texture you're looking for. Good luck, and happy baking! Kye@KAF
Prepared and baked as directed, even purchased the "set" of ingredients. Wonderful chocolate taste, but could barely taste the raspberry. The ganache layer was too thick. Very expensive ingredients, even with the set. I wanted to love this recipe. May try to alter it more to my tastes. To each their own, and I'm happy for those that enjoyed it!

Looking for more raspberry and less ganache? Try topping the cooked brownies with a layer of your favorite raspberry jam. Chill in the fridge slightly and then pour the still-warm chocolate ganache (possibly make a half batch) over the jam. This should give the bars the flavor you're looking for. Happy baking! Kye@KAF