A customized print-friendly version of this recipe is available by clicking the "Print Recipe" button on this page.
Chocolate and Raspberry Brownie Bars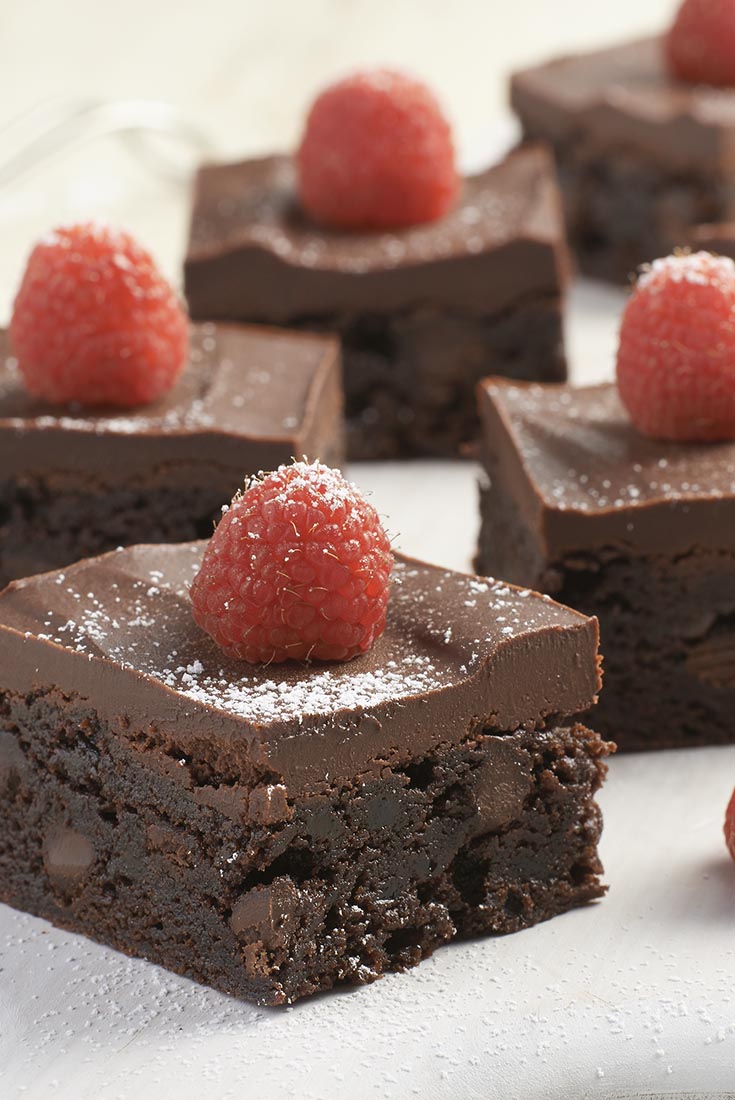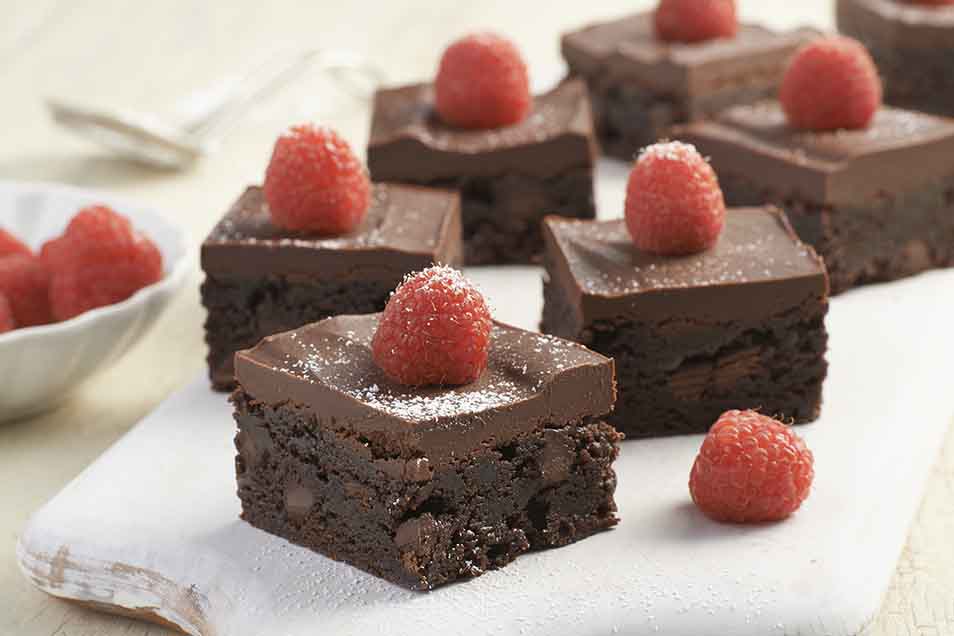 Rich chocolate plus sweet-tart raspberry bits topped with more rich chocolate — what could be better? This recipe is great to make ahead, as it stays moist for up to a week; or freeze for longer storage.
Ingredients
Chocolate Ganache Glaze
1 cup heavy cream
1 tablespoons light corn syrup
2 2/3 cups semisweet or bittersweet chocolate, chopped
1 tablespoon Chambord or liqueur of your choice; or vanilla extract, espresso powder, or another flavor, to taste
Instructions
Preheat the oven to 350°F. Lightly grease a 9" x 13" pan. To make very even bars, line the pan with aluminum foil before baking, leaving foil sticking up above the edges of the pan.

Crack the 4 eggs into a bowl, and beat them with the cocoa, salt, baking powder, and vanilla until smooth.

Add the sugar and melted butter, stirring until smooth.

Add the flour, chips, and Jammy Bits, again stirring well.

Spoon the batter into the prepared pan.

Bake the brownies for about 30 minutes, until a cake tester inserted into the center comes out clean, or with just a few moist crumbs clinging to it. The brownies should feel set on the edges, and the center should look moist, but not uncooked. Remove them from the oven.

Heat the raspberry jam with the Chambord or water, and stir until smooth. Brush over the warm brownies. Set aside to cool for an hour or longer before topping with the ganache.

To make the ganache, heat the cream and corn syrup until they begin to steam. Pour over the chopped chocolate in a bowl. Let sit for 5 minutes, add any flavorings, and whisk until smooth. Let cool for 15 minutes or so.

Pour ganache over the brownies while it's still warm, but has begun to thicken — reheat if it thickens too much as you work. Allow several hours for the ganache to set up fully. You may refrigerate the brownies to hasten the setting of the ganache.

Remove the brownies from the pan using the aluminum foil sling. Heat a knife in hot water, wipe dry and use to cut the brownies. Repeat with each cut.

Just before serving, garnish brownies with fresh raspberries and confectioners' sugar, if desired.
Reviews
A fantastically decadent brownie. The raspberry jammies and ganache really elevate the brownies to another level.
this was a mess. nothing worked. i guess the taste was ok, but the time and expense definitely not worth it. . the ganache was a nightmare and total overkill. never again.

We're genuinely sorry to hear you had such trouble with this recipe. We understand it's frustrating when things don't turn out as expected. Please feel encouraged to give the Baker's Hotline a call at 855-371-BAKE(2253) so we can hear more about what parts of this recipe didn't work out, so we can work to improve your experience going forward. Kye@KAF
Woooooooowwwwwww - chocolate lovers rejoice. This brownie delivers a big, rich and deep chocolate flavor. I would however have preferred more of a raspberry "push" of flavor - however, it could be because I didn't have Chambord on hand and subbed Blackberry liquer - so I'm not sure if it's a "user" error or if the recipe could use a tweak more of raspberry flavor somehow. There was quite a bit of ganache left over so I called the bakers hotline and was told I could put it in a container and pour it over some ice cream (thanks for the suggestion!) - sounds good to me.
These were so dense and decadent! A small piece goes a long way. I love dark chocolate and raspberry and these filled the bill.
I wanted a "special" bar for a party and thought this would be perfect since I love chocolate, especially a chewy brownie and I love raspberry. That said, I was disappointed by this brownie. The special things about this recipe are the cost to make, and the time that it takes. My brownies did require an additional 2 minutes, but they were far too dense and deep chocolatey for even this chocolate lover. I think if I hadn't put the raspberry jammy bits in I would have disliked the whole thing. The recipe came together well, although I think I used a whole lot if utensils since I wanted to be sure I had everything measured correctly and ready to go at the exact time needed. A whole lot of time later, the brownies just weren't worth the time and expense involved. I might try the recipe for the brownies next time without a whole cup of chocolate chips. The raspberry/chocolate combo is a winner. This just isn't the recipe to use them in.

Susan, we're sorry to hear this wasn't quite the right recipe for you. You might prefer the recipe called "Raspberry Truffle Bars," which has fewer ingredients and take less time to pull together. The topping is a combination of jam and chocolate ganache, which makes them quite tasty. We hope you find a recipe that satisfies your chocolate-raspberry cravings. Kye@KAF
I was very excited to make these once I received my raspberry jammy bits from KAF. I love the jammy bits and how they lend a wonderful tartness to offset the sweetness from all the sugar in the brownies. I made homemade raspberry jam and added chambord to spread on the top of the brownies. Bittersweet chocolate was used for the ganache and for the chips in the batter. I felt the ganache that was intended to be spread on top of the brownies was a bit too thick, so I had to cut some off to offset the thickness. I ended up putting some chocolate sprinkles on top for some nice presentation.
All I can say is wow these are killer. I used a raspberry jam with chambord I made this summer it was wonderful plus I used a 72% bittersweet chocolate and so yummy these are very addictive can't just eat one maybe two these,were made for a birthday gift and they loved these delectable melt in your mouth heavenly chocolate delights .
This is by far, the most amazing, surprisingly easy, and my most requested chocolate cake recipe. Every person I have served this cake to has raved about it and requested more. My granddaughter, age 7, even requested it for her birthday, minus the raspberries. After tasting her second piece the next day, she called me to say she wanted the recipe exactly how it was, including the raspberries! It has even won over non-chocolate lovers. Simple a must bake!
Comment about "3 tablespoons raspberry jam, seedless preferred" - Jam is seeded. If you are looking for seedless you should call it "Jelly". this correction would be most appreciated in the recipes that I have seen. Thank you.
Actually, jam does not necessarily need seeds to be jam. The larger difference is that jelly tends to be thicker and has a much clearer consistency than jam because it is made from juices; jam is made from fruit. It is possible to have fruit solids in jam without seeds (apricot, peach, etc. come to mind). Thank you for your keen insight and bringing up this interesting point. Best, Kim@KAF

These are delicious! They were even better the next day. I had no corn syrup so I used a different ganache recipe. The foil is an excellent idea. I have a very sharp scraper blade that easily cut squares. I cut about 48 pieces. YUM!