A customized print-friendly version of this recipe is available by clicking the "Print Recipe" button on this page.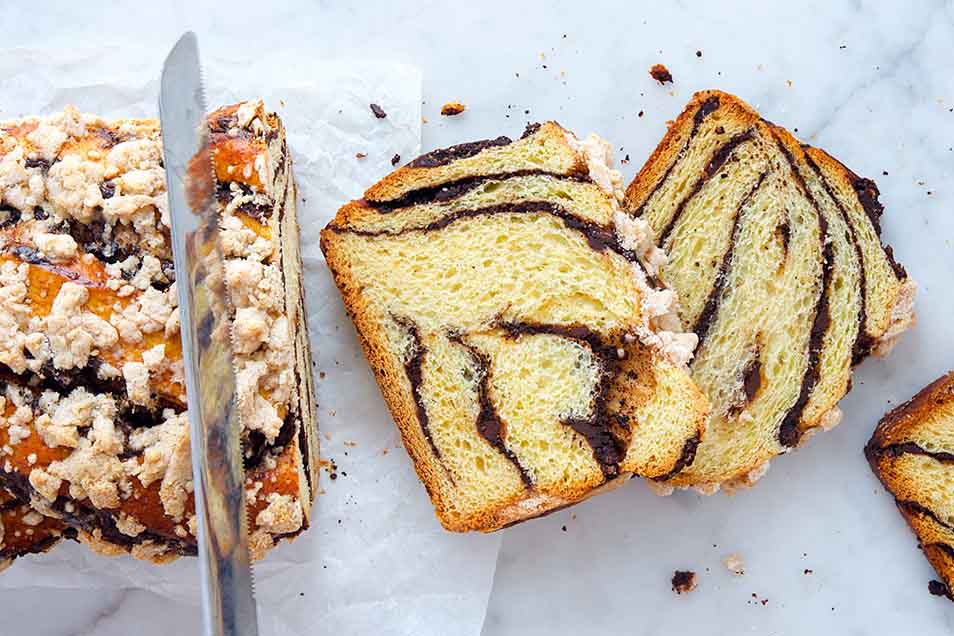 This overstuffed yeast loaf, filled with two kinds of chocolate, nuts, and cinnamon, is based on a traditional eastern European bread. A classic sweet bread, it's usually shaped in a twist and topped with streusel. Babka is a perennial best-seller at Jewish bakeries in many major North American cities.

This recipe makes two rather large loaves: one to keep, one to give away. If you'd like to make just a single loaf, see "tips," below.

Our thanks to Maggie Glezer, and her book, "A Blessing of Bread," for the inspiration for this recipe.
Ingredients
Filling
1/2 cup sugar
1/2 teaspoon ground cinnamon
1/3 cup Double-Dutch Dark Cocoa, Triple Cocoa Blend, or the cocoa powder of your choice, Dutch-process or natural
1/2 teaspoon espresso powder
1/4 cup melted butter
1 cup finely chopped semisweet chocolate or semisweet chocolate chips, mini chips preferred
1 cup diced pecans or walnuts, toasted if desired
Glaze
1 large egg beaten with a pinch of salt until well-combined
Topping
4 tablespoons melted butter
1/2 teaspoon ground cinnamon
2/3 cup confectioners' sugar
Instructions
Combine all of the dough ingredients (starting with the lesser amount of water), mixing until everything is moistened. Add additional water if necessary to enable the dough to come together. Cover the bowl, and let the dough rest for 20 minutes. Then mix/knead it until it's soft and smooth.

Place the dough in a lightly greased bowl, and cover the bowl. The dough is going to rise for about 1 1/2 to 2 hours, until it's quite puffy.

Gently deflate the dough, and divide it in half. Set the pieces aside, covered, while you make the filling.

To make the filling: Combine the sugar, cinnamon, cocoa, and espresso. Stir in the melted butter. The mixture will look grainy and slick; that's OK.

Shape each half of the dough into a 9" x 18", 1/4"-thick rectangle. If the dough "fights back," let it rest for 10 minutes to relax the gluten, then stretch it some more. Don't be fussy about this; 19" or 20" is as good as 18".

Smear each piece of the dough with half the filling, coming to within an inch of the edges.

Scatter half the nuts, and half the chopped chocolate/chips over each piece. If using standard-size chips, process them in a food processor first, to create smaller bits of chocolate and a less chunky filling.

Starting with a short end, roll each piece gently into a log, sealing the seam and ends. Working with one log at a time, use a pair of scissors or a sharp knife to cut the log in half lengthwise (not crosswise) to make two pieces of dough about 10" long each; cut carefully, to prevent too much filling from spilling out. With the exposed filling side up, twist the two pieces into a braid, tucking the ends underneath. Repeat with the other log. Place each log into a lightly greased 9" x 5" loaf pan.

Brush each loaf with the egg glaze. Mix together the topping ingredients until crumbly, and sprinkle half the topping over each loaf.

Tent each pan with plastic wrap, and let the loaves rise until they're very puffy and have crowned a good inch over the rim of the pan, 1 1/2 to 2 1/2 hours. Towards the end of the rising time, preheat your oven to 300°F.

Bake the bread for 35 minutes. Tent lightly with foil, and bake for an additional 15 to 25 minutes (for a total of 50 to 60 minutes); the loaves should be a deep-golden brown.

To ensure the loaves are baked through, insert a digital thermometer into the center of one loaf. It should register at least 190°F.

Remove the loaves from the oven, and immediately loosen the edges with a heatproof spatula or table knife. Let the loaves cool for 10 minutes, then turn them out of the pans onto a rack to cool completely.

Slice the babka and serve it at room temperature; or rewarm individual slices briefly in a toaster, if desired. Store any leftovers, well wrapped, at room temperature for several days; freeze for longer storage.
Nutrition Information
Serving Size

66g

Servings Per Batch

32
Amount Per Serving:
Calories

250

Calories from Fat

100

Total Fat

11g

Saturated Fat

5g

Trans Fat

0g

Cholesterol

35mg
Sodium

200mg

Total Carbohydrate

33g

Dietary Fiber

2g

Sugars

12g

Protein

5g
* The nutrition information provided for this recipe is determined by the ESHA Genesis R&D software program. Substituting any ingredients may change the posted nutrition information.
Tips from our bakers
We love that this recipe makes two loaves; it's great to be able to keep one, and have one to give away. If you want to make just a single loaf, though, simply cut all of the ingredients in half, and proceed as directed in the original.
Note: A prior version of this recipe included alternate shaping directions. In case you're looking for them, here they are, beginning with the rolled-out dough spread with filling: Starting with a short end, roll each piece gently into a log, sealing the seam and ends. Place each log of dough into a lightly greased 9" x 5" loaf pan. Just before baking, brush each loaf with the egg glaze; pop any air bubbles with a toothpick. Then, cut a deep vertical slash the length of each loaf, cutting through at least 3 layers. Bake as directed.
Reviews
Help please! Did I do something wrong? I thought it would be more light and fluffy but it was kind of dense? It was pretty good right out of the oven but not so much the next day. Any suggestions on what I should try next? Thank you!

Hi Lisa, One of the most common reasons why baked goods, especially yeast dough, turns out dry and heavy is because too much flour is used. To ensure you're using the right amount, we recommend checking out the "Measuring Standards," link next to the ingredients header above. You'll see that either measuring your flour by weight using a scale, or fluffing and sprinkling the flour into your measuring cup are the best ways to ensure your recipe turns out perfectly.

Also try storing your babka in an airtight container or plastic wrap overnight and reheat the next day before serving. Enjoy! Kye@KAF
I love this recipe, I've made it many many times (just substituting plant-based eggs, milk, & butter). I've also used various fillings instead of the chocolate including cinnamon/brown sugar/apple sauce and cookie butter spread. It always turns out just great. One question though: today I tried using a sugar plum jam and the resulting loaf is very wet on the bottom (it's still too warm to cut) and it's sunk at one end. I suspect because of the extra liquid from the jam and I kind of expected this but wanted to try anyway. Any suggestions on what I could do to thicken the jam or make it more suitable for a filling? Because the idea of sugar plum babka sounds just lovely. p.s., I've tried the brioche recipe which does use jam and didn't like it as much because I'm vegan and the increase in eggs was just more complicated and the recipes seem so similar otherwise.

We're glad this is a well-loved recipe for you, Sue! Sugar plum jam sounds lovely, and a little bit of extra thickening should help it from making your babka soggy. We'd recommend stirring about a tablespoon of cornstarch with one to two tablespoons of water until it's smooth, then add it to the jam and heat it on the stove until it bubbles for one to two minutes, stirring constantly. Once that's cooled, it should be thicker, and the starch will help absorb extra liquid. Annabelle@KAF
Made this babka recently replacing the chocolate filling with KAF packaged cinnamon filling; perfect! My only problem was leaving it too long to rise causing the bread to slump in the middle but it was still delicious but not pretty. Since my husband doesn't like chocolate in his breads I'll definitely make it this way again. Love that it makes 2 loaves, 1 for now, 1 for the freezer. Be sure to grease your loaf pans well even on the top edges.
I tried it yesterday and I loved it. I tried before the king Arthur Flour babka mix (delicious and easy to prepare!) but I wanted to try to do it from scratch. I did some minor changes: I didn't add walnuts in the filling and the glaze and it delicious! I would love to find a recipe with the cinnamon filling.
I tried this recipe on a rainy Sunday. My dough rose well, and after shaping, I let it rise until it was only 1 inch over the pan side. Had it in the oven for about 40 minutes, and when I checked the temperature (I put in the thermometer in the middle of the bread), and the middle collapsed. When I took it out of the oven it also seemed to collapse (despite it being 190 degrees when tested). What did I do wrong? Did me taking the temperature collapse the middle of the dough, or was there another reason it collapsed? Help!

The most common reasons why dough collapses is because it rises too quickly or is left to rise for too long. Be sure you're letting your dough rise somewhere that's a comfortable room temperature and not too warm. Also make sure you're using a strong flour that can support the weight of the fillings - we recommend using King Arthur All-Purpose Flour for best results. We encourage you to check for doneness using an instant read thermometer. The dough should not be so delicate that it falls when tested. Keep looking for that 190°F when it has finished baking. Kye@KAF
I made this yesterday, though I started it the night before and did an overnight fridge rise as I had a lot of cooking planned for during the day. I didn't use nuts as I don't care for them, so I added a full bag of chocolate chips. I forgot to buy the mini chips so I ran them through the processor, which meant they were various sizes, which I think was nice. I thought it was very tasty but a bit dry so I mixed some butter, vanilla, and icing sugar and made a spread for it. SOOOO good. I had some people over and five of us finished one loaf after a tray of lasagna. I plan to give the other away, with the leftover spread. (Note: some people used the spread and others didn't, so probably it wasn't really that dry)
Have made this three times. First time, followed recipe as written omitting nuts and topping. As written, it is a lot of filling and chocolate, too rich for my taste. After cutting cocoa (Dutch) and chopped chocolate in half, it was just right, tasty and attractive. I used bread machine to mix dough and made just one loaf (half recipe) at a time. Third time, I put dough in fridge overnight and rolled/shaped next day. Cool dough is easier to work. I brushed dough w/melted butter and sprinkled sugar/cocoa/chopped choc mix on dough. After rolling, I cut with pizza wheel and twisted. Sprinkled top of loaf w/filling that fell out. Baked as directed and drizzled w/confectioner's sugar glaze when cool. This is addictive!
I've made this twice (three times if you count one disaster). I do not recall how I made it over the summer when I did it as the bake along. Today I made it for Christmas giveaways and was surprised by the amount of flour and the fact that it was not for the bread machine (which I almost always use). Although I could not recall at all how I made it over the summer, other than that it came out great, I proceeded to do it in the mixer using the dough hook. The mixer struggled and I felt that something was wrong about the liquid to dry proportions. Turns out I forgot the vanilla. I worked it in to the dough but had a bad feeling and after I put it to rise it lay there like a lead balloon. Knowing that it should be great and it should be rising, I decided to start over again, this time using the bread machine. This time went perfectly and rose like a champ in the machine, which had no problem with the 6 1/4 cups flour (I double checked the amount). Right now it is shaped and rising in the pans. I really love chocolate babka and this recipe, though a bit complicated with the filling, the wash and the topping, is worth it.
I actually have a question. Last year I've made this recipe and it was very good. Re-reading the recipe I've noticed that it uses 2 tablespoons of yeast and I just don't remember if I used that much. Are you sure? typically 2 teaspoons are the norm. Just checking. Thanks.

Thanks for checking, fellow baker. The amount of yeast called for is higher in this recipe than in most of our others both because it makes two loaves and because it's such a heavily enriched dough. You could try it with less if you prefer, just know that the rise times will be longer as a result. Mollie@KAF