A customized print-friendly version of this recipe is available by clicking the "Print Recipe" button on this page.
Chocolate Breakfast Muffins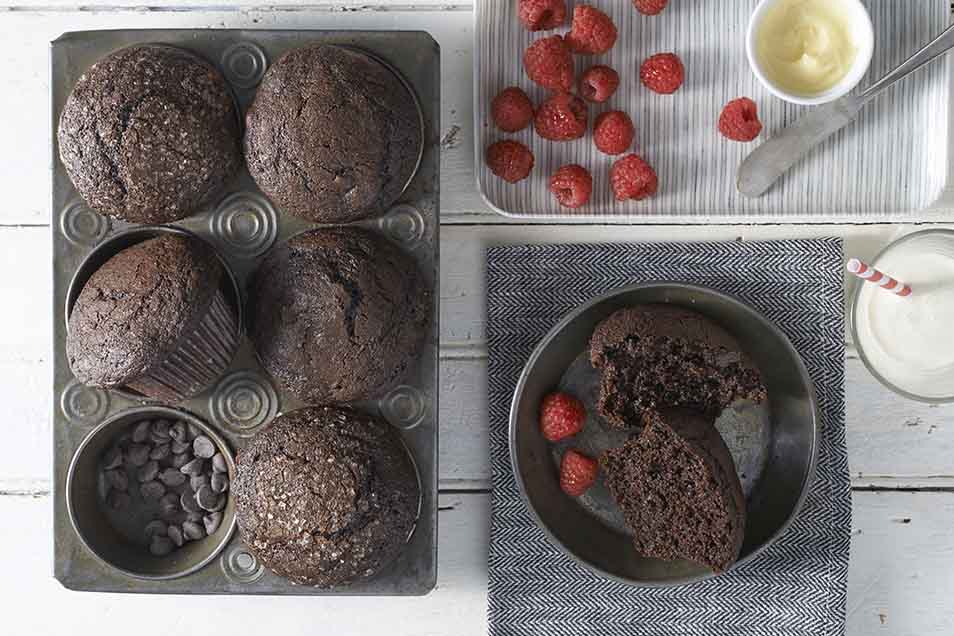 These muffins are rich and tender, high-rising, and deep chocolate, both in color and flavor. Warm from the oven, spread with butter or raspberry jam, they're a totally decadent way to greet the day. We recommend them anytime you feel like treating yourself to something really special. And, by the way, they don't need to be relegated to the breakfast table; frosted with fudgy icing, they double as an awesome cupcake. A final aside — one of the King Arthur taste-tester comments we received was as follows: "This is the best chocolate thing I've ever had to eat in my whole life, and the best thing I've ever eaten here at King Arthur." Fair praise, indeed!
Ingredients
2/3 cup Dutch-process cocoa
1 1/4 cups light brown sugar
1 teaspoon baking powder
3/4 teaspoon espresso powder, optional
1 teaspoon baking soda
3/4 teaspoon salt
1 cup chocolate chips
2 large eggs
3/4 cup milk
2 teaspoons vanilla extract
2 teaspoons vinegar
1/2 cup butter, melted; or 1/3 cup vegetable oil
sparkling white sugar or pearl sugar, for topping (optional)
Instructions
Preheat the oven to 350°F. Line a standard muffin pan with paper or silicone muffin cups, and grease the cups.

In a large mixing bowl, whisk together the cocoa, flour, sugar, baking powder, espresso powder, baking soda, salt, and chocolate chips. Set aside.

In a large measuring cup or medium-sized mixing bowl, whisk together the eggs, milk, vanilla, and vinegar.

Add the wet ingredients, along with the melted butter, to the dry ingredients, stirring to blend; there's no need to beat these muffins, just make sure everything is well-combined.

Scoop the batter into the prepared muffin pan; the cups will be heaped with batter, and the muffin will bake into a "mushroom" shape. Sprinkle with pearl sugar, if desired.

Bake the muffins for 20 to 25 minutes, or until a cake tester inserted in the center of a muffin comes out clean.

Remove the muffins from the oven, and after 5 minutes remove them from the pan, allowing them to cool for about 15 minutes on a rack before peeling off the muffin papers or silicone cups.
Reviews
These muffins were just amazing. I originally wanted to make the oven-baked chocolate donuts but didn't have a donut pan so I tried this recipe instead with the chocolate glaze on top. Holy cow, were they delicious! We devoured them so fast! Used a kitchen scale and they turned out very moist as well. Will definitely make these again.
These muffins were just amazing. I originally wanted to make the oven-baked chocolate donuts but didn't have a donut pan so I tried this recipe instead with the chocolate glaze on top. Holy cow, were they delicious! We devoured them so fast! Used a kitchen scale and they turned out very moist as well. Will definitely make these again.
Similar to other recent posts, I too found the muffins to be a bit dry. I have a kitchen scale which I use regularly and used on this recipe with the exact amount of flour called for, and it still came out just a touch dry. I also decreased the baking time by 4 min just in case, but still just slightly dry. They weren't dry enough to warrant complaint, but they were more dry than other KAF muffin recipes I've baked. I think that's the slight disappointment-- I've come to expect moist, tender muffins with a KAF recipe and these were just a touch dry.
Like many others noted, I found the recipe to be dry. After following the directions, my batter was almost the consistency of cookie dough. I knew that wasn't going to turn out right. So I added an extra 1/2 cup milk, 1/4 cup oil (already had melted butter in the batter), and a tablespoon of strong brewed coffee (didn't put espresso powder in). Even with all the extra liquids added, which made the batter a normal muffin consistency, the batch still came out dry and crumbly. I can't imagine what it would have been like had I not added liquids. For the second pan baking into the oven, I removed it before the toothpick came out fully clean, just to test the overbaking theory. They were still the same moistness as the first batch, and still a bit crumbly. The flavor is nice and chocolately, but just not a moist muffin.

We're sorry to hear this recipe produced a dry muffin, Leah! The most common reason a recipe turns out dry is if any extra flour was packed (which flour likes to do!) into the measuring cup. Scooping flour can add up to 1/4 cup extra for every cup which adds up pretty quickly.

To ensure you're using the right amount, we recommend checking out the "Recipe Success Guide," link next to the ingredients header above. You'll see that either measuring your flour by weight using a scale, or fluffing and sprinkling the flour into your measuring cup are the most accurate ways to measure flour.

We hope this helps create a better muffin experience next time! Annabelle@KAF
Made them today - the photo that drew me in though had raspberries in it - was bummed to find that was a "serving suggestion" so I added them to the recipe anyway - and it worked great. Dumped in a couple of cups of frozen berries. Others have mentioned that they thought the recipe was too dry - mine didn't turn out that way maybe because of the added berries? Will definitely make them again with the added berries.
Very chocolaty. I baked them last night and they were too dry, so I used oil instead of butter and buttermilk instead of milk and vinegar (because I had it on hand) and had the same result this morning when I baked them again. I think this is a dud.

We're sorry to hear this recipe didn't work out for you, Gale! Overly dry muffins are usually a sign of too much flour or not enough liquid in the batter, which is a super common problem during the dry winter months, when ingredients like flour lose their moisture due to the lack of humidity. Instead of switching ingredients, we suggest adding a little more liquid next time, or decreasing the flour by just a bit. We think that should help you get the moist muffins you've been looking for. Happy baking! Kat@KAF
These muffins taste very good but are too dense. They need more moisture. I bake alot of bread so I weighed all my dry ingredients exactly, as I know how much that can contribute to the outcome. They formed a dry crusty exterior minutes after baking. Inside was good and somewhat soft, but still too dry overall. Second day they seemed stale. I read other comments that said the same. I think it might be time for a recipe adjustment. Maybe some sour cream.

Thank you for your feedback, Jill. We encourage you to experiment if you'd like to tweak the recipe to have a longer shelf life. One thing to make sure of is that they're baked just until they're done. You'll know they're done when the internal temperature reads about 205°F to 210°F on a digital thermometer. Annabelle@KAF
I was having one of those days where I didn't know what I wanted to make, or could make. My cupboards are bare and I really only had enough things to kinda sorta follow the recipe. This recipe is so foolproof that I made it with a ton of substitutes (some of which are creative and hilarious): I am out of white sugar (which luckily this doesn't have), mostly out of brown sugar (1/4th + 1/8th cup) and I have a partial bag of coconut sugar my sister gave me (for the remaining sugar). I also don't have much butter and wanted to save it, so I used peanut oil. I ran out of vanilla, but I do have some creme de caco & ameretto up in the cupboard that has been sitting around, so I used about a half shot of each. I also don't have vinegar, but I have some vermouth and added just about a teaspoon. I did have instant espresso, so that felt like a real win, along with dutch processed cocoa; almost enough baking soda and just a touch over enough baking powder so I used the rest of that to dub in for the missing baking soda. I haven't had chocolate chips in forever, so those were scratched out, and I don't have pearl or sparkling white sugar for the top - but I do have that really rustic coconut sugar. So, with how amazing this recipe is, I followed it along as best I could. I live in the desert so my 3/4th cup milk and 2 eggs just wasn't enough due to the dry climate I live in even with the extra liquids I mentioned above, so I added an extra egg. I stirred until combined like suggested and then scooped them into some well oiled (brush and oil, I am out of spray) paper muffin cups, almost to full. I sprinkled a little bit of that coconut sugar on top, and then followed the bake time and temp (20 minutes for me). They were still amazing! Moist, soft, good flavor and not crumbly! If I actually had all the ingredients I can about imagine that they'd knock me on my rear with how good they are. Totally going to try the actual recipe with all the ingredients for the holidays, my family's going to be so happy. <3 Thank you!!!
These taste amazing. Deep rich chocolate. They didn't rise as much as I thought they would and so they are very dense. That's not a terrible thing. I did use regular cocoa because I didn't have Dutch processed and so I wonder if that altered the ph and limited the baking powder rise. I'm definitely baking these again (and again) so I'll see if following the recipe exactly puffs them up more.
I found this delicious recipe while looking for chocolate muffins using Dutch-process cocoa. After trying it out (used sunflower oil, and omitted the chocolate chips) I did get the crumbly texture the first time though, even after following the measurements by weight. So I made a test batch substituting plain yogurt for eggs (a little over 1/8th cup worth per egg) and maxed out the 25-minute baking time. It came out as beautifully as the original recipe, only moister and without the crumbliness even after the muffins have cooled. I'm eating one right now: it's heaven!