A customized print-friendly version of this recipe is available by clicking the "Print Recipe" button on this page.
Chocolate Breakfast Muffins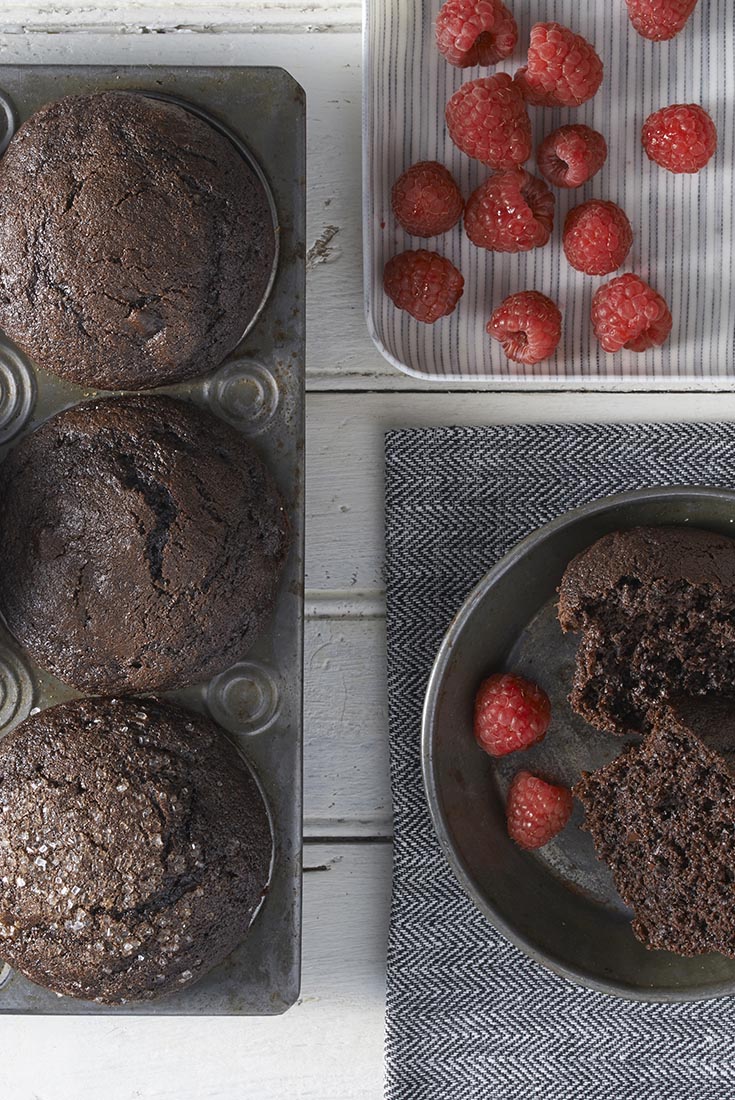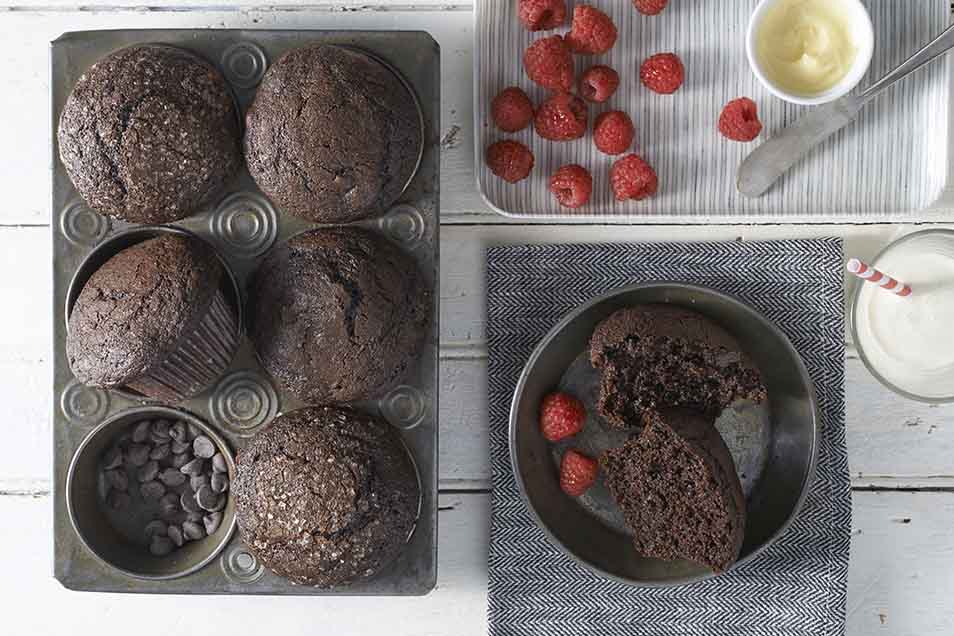 These muffins are rich and tender, high-rising, and deep chocolate, both in color and flavor. Warm from the oven, spread with butter or raspberry jam, they're a totally decadent way to greet the day. We recommend them anytime you feel like treating yourself to something really special. And, by the way, they don't need to be relegated to the breakfast table; frosted with fudgy icing, they double as an awesome cupcake. A final aside — one of the King Arthur taste-tester comments we received was as follows: "This is the best chocolate thing I've ever had to eat in my whole life, and the best thing I've ever eaten here at King Arthur." Fair praise, indeed!
Ingredients
2/3 cup Dutch-process cocoa
1 1/4 cups light brown sugar
1 teaspoon baking powder
3/4 teaspoon espresso powder, optional
1 teaspoon baking soda
3/4 teaspoon salt
1 cup chocolate chips
2 large eggs
3/4 cup milk
2 teaspoons vanilla extract
2 teaspoons vinegar
1/2 cup butter, melted; or 1/3 cup vegetable oil
sparkling white sugar or pearl sugar, for topping (optional)
Instructions
Preheat the oven to 350°F. Line a standard muffin pan with paper or silicone muffin cups, and grease the cups.

In a large mixing bowl, whisk together the cocoa, flour, sugar, baking powder, espresso powder, baking soda, salt, and chocolate chips. Set aside.

In a large measuring cup or medium-sized mixing bowl, whisk together the eggs, milk, vanilla, and vinegar.

Add the wet ingredients, along with the melted butter, to the dry ingredients, stirring to blend; there's no need to beat these muffins, just make sure everything is well-combined.

Scoop the batter into the prepared muffin pan; the cups will be heaped with batter, and the muffin will bake into a "mushroom" shape. Sprinkle with pearl sugar, if desired.

Bake the muffins for 20 to 25 minutes, or until a cake tester inserted in the center of a muffin comes out clean.

Remove the muffins from the oven, and after 5 minutes remove them from the pan, allowing them to cool for about 15 minutes on a rack before peeling off the muffin papers or silicone cups.
Reviews
I found this delicious recipe while looking for chocolate muffins using Dutch-process cocoa. After trying it out (used sunflower oil, and omitted the chocolate chips) I did get the crumbly texture the first time though, even after following the measurements by weight. So I made a test batch substituting plain yogurt for eggs (a little over 1/8th cup worth per egg) and maxed out the 25-minute baking time. It came out as beautifully as the original recipe, only moister and without the crumbliness even after the muffins have cooled. I'm eating one right now: it's heaven!
This is such a great muffin - moist, not too sweet, and really quick to put together. I've started baking it in a large loaf pan, though. The same people who couldn't possibly eat a whole, decadent muffin, happily eat slice after slice of a loaf! I do drop the baking temperature to 350, but make no other changes.
These are super chocolaty and we loved them. Making a selection of muffins for my granddaughter's 1st birthday which is a breakfast and I know these will be popular!
Agree with April from Washington. Fresh out of the oven these were delicious, but the next day they were terribly dry. My children are chocoholics and still wanted to eat them, but my son asked me to 'make them less dry next time.'
I've been making this recipe for over 20 yrs. I got it from the Nov - Dec 1996 THE BAKING SHEET. You have changed the recipe slightly....a little less milk and a little more flour and the addition of espresso powder. I live at 3000' now so I have to cut the baking powder back to 1/2 tsp. I also use 12 jumbo muffin cups/with unbleached paper liners. Otherwise they rise all over the tops of the tins. This has always been one of my favorite muffin recipes.
These were delicious! We made smaller ones and got twenty decent muffins. Added the chocolate chips. They were a bit dry the next day, but still tasted nice. The first night, though, warm out of the oven, they were fabulous! I'm sure they would be good with some raspberry jam, but we ate all of them plain! Although, they seem very decadent and sweet for breakfast. Made a good tea-time snack, though!
These muffins were very chocolatey and tasty - the first day. But they were so dry and dense by the next day that I had trouble getting even my children to eat them. I followed the recipe exactly. So if you're looking for a moist chocolate muffin, this isn't it.
My family absolutely loved this recipe. I substituted half the flour for a combo of oat flour, sprouted wheat flour, wheat germ, and wheat bran. These flours added a nice nutty flavor and texture to the muffins. Hopefully they made the muffins a bit more nutritious also. The kids were licking the papers, savering every last bite.
This recipe is AH-MAZING! I found it when looking for recipes to make for sharing at a work breakfast, but I knew from looking at it that I better double it to leave some here at home or my family would be extremely upset with me. Well, I was correct! I also had orders to make these for a co-worker's wife, she loved them so much!
You know how you just know when a recipe is going to turn out perfect? I knew it on this from the first taste of the batter. Yum. So fricken good. Baked up high with a nice crust. These muffins you guys!!! Moist, fluffy and full of chocolate. I am in love. Again. Ha. Thanks King Arthur. Hope you don't mind that I switched the chocolate chips to peanut butter chips. I was out of chocolate ones.