A customized print-friendly version of this recipe is available by clicking the "Print Recipe" button on this page.
Chocolate Breakfast Muffins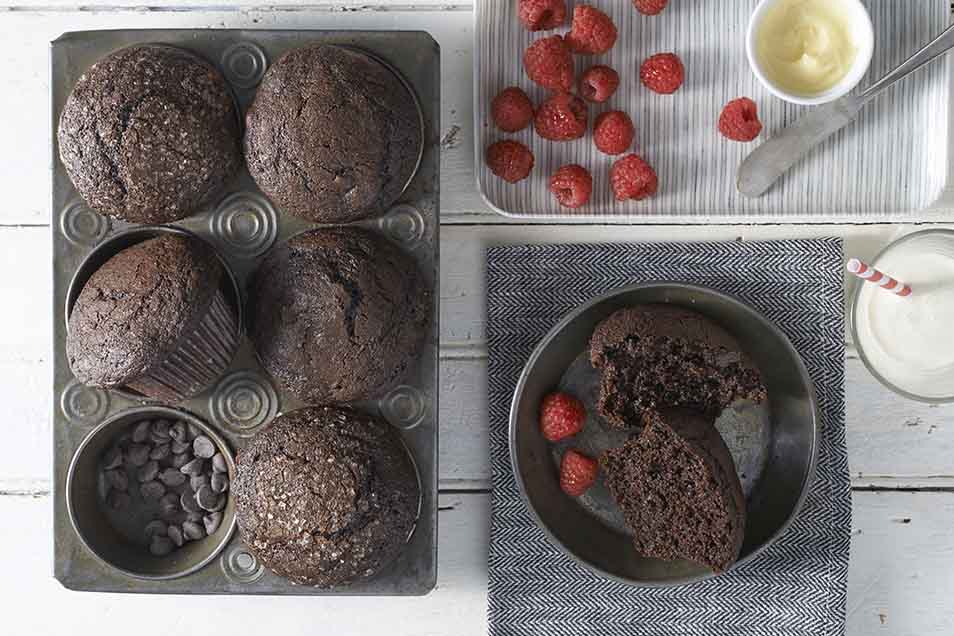 These muffins are rich and tender, high-rising, and deep chocolate, both in color and flavor. Warm from the oven, spread with butter or raspberry jam, they're a totally decadent way to greet the day. We recommend them anytime you feel like treating yourself to something really special. And, by the way, they don't need to be relegated to the breakfast table; frosted with fudgy icing, they double as an awesome cupcake. A final aside — one of the King Arthur taste-tester comments we received was as follows: "This is the best chocolate thing I've ever had to eat in my whole life, and the best thing I've ever eaten here at King Arthur." Fair praise, indeed!
Ingredients
2/3 cup Dutch-process cocoa
1 1/4 cups light brown sugar
1 teaspoon baking powder
3/4 teaspoon espresso powder, optional
1 teaspoon baking soda
3/4 teaspoon salt
1 cup chocolate chips
2 large eggs
3/4 cup milk
2 teaspoons vanilla extract
2 teaspoons vinegar
1/2 cup butter, melted; or 1/3 cup vegetable oil
sparkling white sugar or pearl sugar, for topping (optional)
Instructions
Preheat the oven to 350°F. Line a standard muffin pan with paper or silicone muffin cups, and grease the cups.

In a large mixing bowl, whisk together the cocoa, flour, sugar, baking powder, espresso powder, baking soda, salt, and chocolate chips. Set aside.

In a large measuring cup or medium-sized mixing bowl, whisk together the eggs, milk, vanilla, and vinegar.

Add the wet ingredients, along with the melted butter, to the dry ingredients, stirring to blend; there's no need to beat these muffins, just make sure everything is well-combined.

Scoop the batter into the prepared muffin pan; the cups will be heaped with batter, and the muffin will bake into a "mushroom" shape. Sprinkle with pearl sugar, if desired.

Bake the muffins for 20 to 25 minutes, or until a cake tester inserted in the center of a muffin comes out clean.

Remove the muffins from the oven, and after 5 minutes remove them from the pan, allowing them to cool for about 15 minutes on a rack before peeling off the muffin papers or silicone cups.