A customized print-friendly version of this recipe is available by clicking the "Print Recipe" button on this page.
Chocolate Breakfast Muffins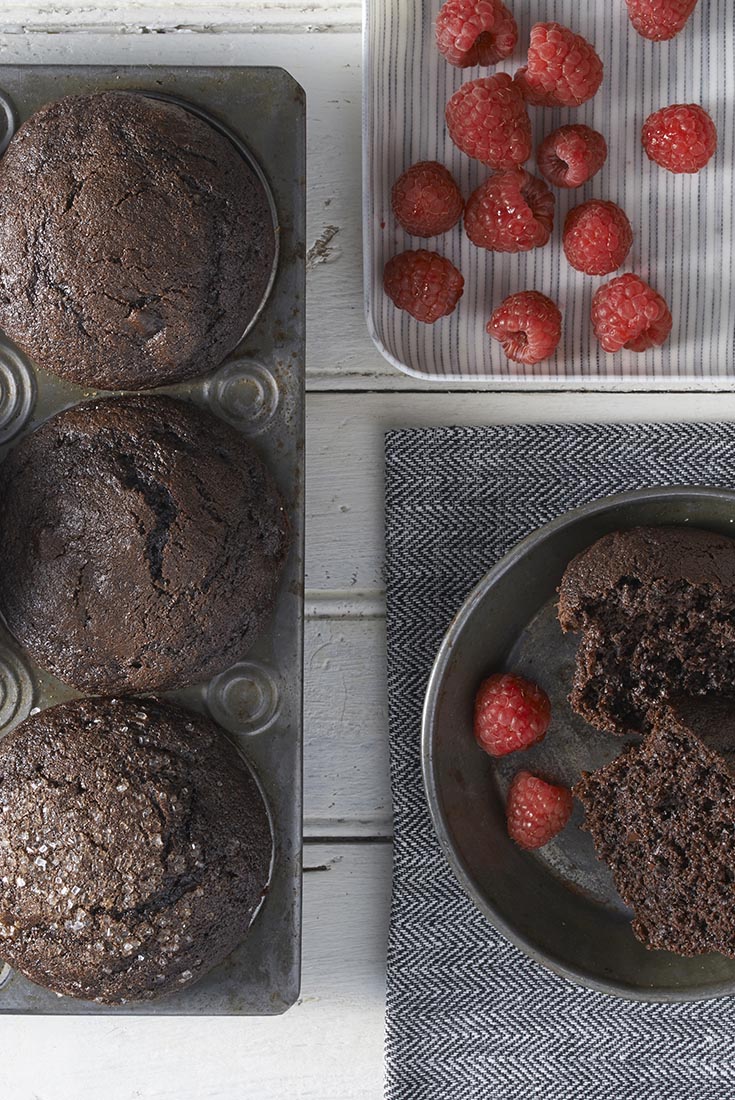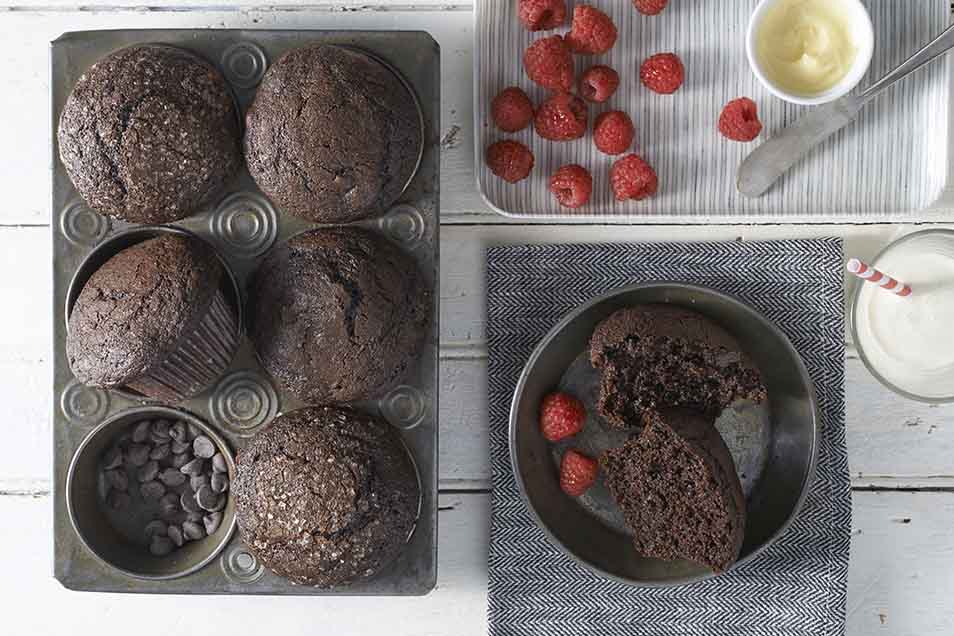 These muffins are rich and tender, high-rising, and deep chocolate, both in color and flavor. Warm from the oven, spread with butter or raspberry jam, they're a totally decadent way to greet the day. We recommend them anytime you feel like treating yourself to something really special. And, by the way, they don't need to be relegated to the breakfast table; frosted with fudgy icing, they double as an awesome cupcake. A final aside — one of the King Arthur taste-tester comments we received was as follows: "This is the best chocolate thing I've ever had to eat in my whole life, and the best thing I've ever eaten here at King Arthur." Fair praise, indeed!
Ingredients
2/3 cup Dutch-process cocoa
1 1/4 cups light brown sugar
1 teaspoon baking powder
3/4 teaspoon espresso powder, optional
1 teaspoon baking soda
3/4 teaspoon salt
1 cup chocolate chips
2 large eggs
3/4 cup milk
2 teaspoons vanilla extract
2 teaspoons vinegar
1/2 cup butter, melted; or 1/3 cup vegetable oil
sparkling white sugar or pearl sugar, for topping (optional)
Instructions
Preheat the oven to 350°F. Line a standard muffin pan with paper or silicone muffin cups, and grease the cups.

In a large mixing bowl, whisk together the cocoa, flour, sugar, baking powder, espresso powder, baking soda, salt, and chocolate chips. Set aside.

In a large measuring cup or medium-sized mixing bowl, whisk together the eggs, milk, vanilla, and vinegar.

Add the wet ingredients, along with the melted butter, to the dry ingredients, stirring to blend; there's no need to beat these muffins, just make sure everything is well-combined.

Scoop the batter into the prepared muffin pan; the cups will be heaped with batter, and the muffin will bake into a "mushroom" shape. Sprinkle with pearl sugar, if desired.

Bake the muffins for 20 to 25 minutes, or until a cake tester inserted in the center of a muffin comes out clean.

Remove the muffins from the oven, and after 5 minutes remove them from the pan, allowing them to cool for about 15 minutes on a rack before peeling off the muffin papers or silicone cups.
Reviews
I made these with some tweaks and they were fantastic. I used whole wheat pastry flour instead of the white flour. To add some visual contrast and increase complexity of flavor, I also subbed in white chocolate chips instead of the regular chocolate chips and also added 2 tablespoons of KAF's black cocoa to the existing 2/3 cup dutch-process cocoa called for in the recipe. And instead of using milk, I used lowfat kefir to give a little more rise & tang. Highly recommend!
I've already shared the recipe on FB. De, De, Delicious!!!
Oh GOOD LAWD!! These were delicious! better than store bought. I added a whole hass avocado (pureed) into this recipe for some added nutrition. Moist and Pretty Tops ! I plopped some whipped cream on top and it was a cupcake lol Great recipe. It will be saved to my recipe box.
My family says these are the best chocolate muffins ever: moist, fudge-like, and bursting with chocolate flavor. They taste best made with dark or semisweet chocolate; I used milk chocolate chips once, and they just didn't taste right. They seem to be equally good made with butter or oil, although using oil results in a deeper chocolate flavor.
These are our favorite Chocolate Muffin recipe! Easy to make. Delicious!
Nice chocolate flavor by adding the expresso powder. Mine did spread in pan, didn't bother me.
Wow! These are so yummy! Thanks for this recipe, King Arthur Flour. Ok, I did make one tiny change (don't roll your eyes yet!). I used gluten free flour and they were still perfect! You know how sometimes gluten free flour can impart a funny taste? Not here! Even taste approved by my mother who doesn't have to be gluten free. So, if anyone is looking at this recipe with a side-eye because you're celiac, have no fear, just maybe check them at the 20 minute mark to be sure they don't over bake. You've made me one happy chocoholic today. :)
Not sure if it's the espresso powder added but it just tasted "off" from what I was expecting but can't quite put a finger on what the taste issue is. My chocolate muffin loving son wouldn't eat them so I doubt I'll make them again.

We're sorry to hear your muffins didn't turn out quite right. Often times this can be a result of an ingredient not being fresh (even the butter or eggs). Regardless, we're glad that your son loved the final result, and we hope that with the next batch, you'll love them too! Kye@KAF
Haven't tasted these yet ... but the muffins went flat all over the pan instead of up!!!

Hi Michelle, it sounds like something went awry with your breakfast muffins, as they should rise beautifully in the oven. It could have been a measuring error that caused the trouble, or perhaps an ingredient choice threw off the texture. If you'd like to troubleshoot further, please feel free to give our Baker's Hotline a call at 855-371-BAKE(2253). We're here to help! Kye@KAF
Best chocolate muffin I've ever eaten, much less made!