A customized print-friendly version of this recipe is available by clicking the "Print Recipe" button on this page.
Chocolate Caramel Stuffed Monkey Bread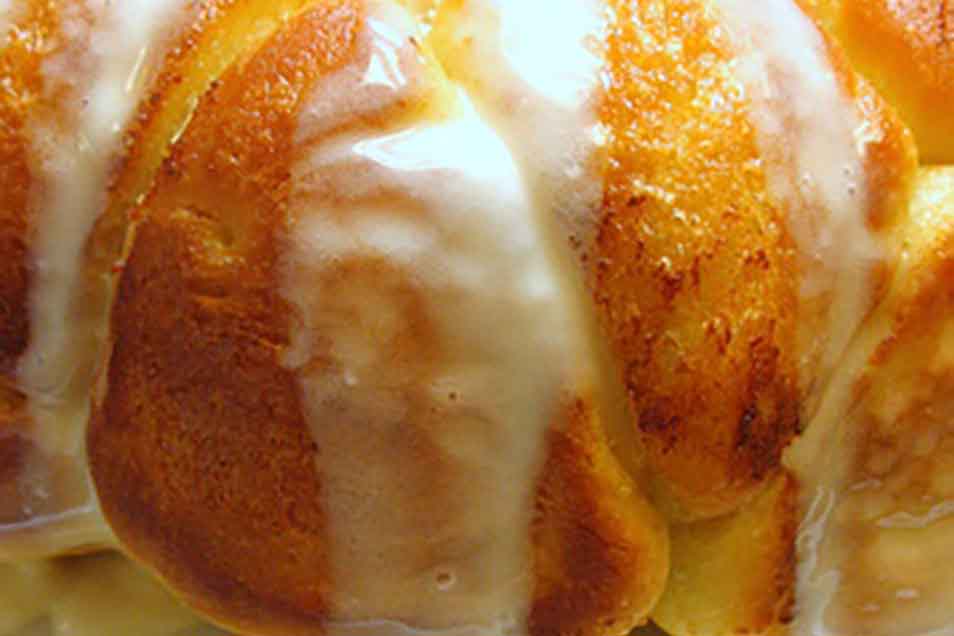 Sweet vanilla yeast dough wraps around tiny bundles of chocolate chips and caramel pieces, then snuggles them together in a bundt or tube-shaped loaf of melted goodness. A rich butter/vanilla glaze completes this decadent special occasion treat. Each diner gets to pull of sections of this bread, like little monkeys sharing the sticky, sweet confection.
Ingredients
Sweet vanilla yeast dough
3/4 cup lukewarm milk
1/4 cup unsalted butter, melted
2 1/4 teaspoons instant yeast
1 1/4 teaspoon salt
1 teaspoon vanilla extract
1/4 cup sugar
1 large egg
Filling and dough topping
Butter Vanilla glaze
2 tablespoon unsalted butter, melted
2 cups confectioners' sugar, sifted
1 teaspoon vanilla extract
2 to 4 tablespoons heavy cream
Instructions
Prepare the yeast dough by hand, machine or on the dough cycle of your bread machine. The dough will be soft and smooth.

Allow the dough to rise, covered, for 45 to 60 minutes, or until full and puffy.

Gently deflate the dough and pat to an 8" x 10" rectangle. Cut into 4 equal lengths, then cut each length into 10 pieces.

Taking one piece at a time, create a small well in the dough ball and add a few chocolate chips and caramel pieces. Seal the dough into a ball and place in a well-greased 10-cup bundt pan or 10" tube pan.

Continue to fill and add dough balls to the pan until all dough is used. Pour the melted butter/vanilla mixture over the dough and cover the pan with plastic wrap. Allow to rise for an additional 45 to 60 minutes or until puffy.

Remove the plastic wrap and bake in a pre-heated 350°F for 25 to 30 minutes or until golden brown and crisp on the outside.

Turn the hot bread out onto a rimmed serving platter. Allow to cool for 10 minutes. Prepare the glaze by whisking the ingredients together until smooth and pourable, adding more cream if needed. Pour over the bread and serve warm.
Reviews
When I made this, the dough was more like cookie dough than bread dough. I looked at the blog photos but it starts at the rolled out stage and it seemed more bread like. After the first rise, it was clear something went wrong. I ended up adding an extra cup of flour approximately. I made the cranberry vanilla cinnamon roll at the same time and both doughs were this wet, but that one had extra flour so it went better. The monkey bread turned out quite nice and I'd recommend putting as much filling in as you can. In case someone else experiences this, I'd love to hear from a KAF baker as to why the dough was so wet and if that is how it was supposed to be. I used the gram version which said 361 g of flour. Thanks!

Kelly, what you've described in both of your reviews points to a "weak" flour. We're wondering if you used another brand aside from King Arthur, as often times they're lower in protein content than our flour. You typically need to add more of it to get the same results. Feel free to call our Baker's Hotline to troubleshoot: 855-371-BAKE(2253). Kye@KAF
I wasn't impressed with the taste of the dough, however, my nine-year old son thought they were delicious (hence the 3, instead of a 2). The recipe intrigued me, have been meaning to make this for along time. Won't make this again , but with all of your other fabulous recipes I doubt anyone will notice.
I made this for a Christmas brunch at work last year and it was so good it was gone in ten mins! I'm making this year for my family's christmas breakfast. Can't wait until the morning!
This is a dangerous recipe! I made it, and used caramel filled Hershey Kisses in each piece of dough. Oh my, this was the wrong thing to bake when I am in the house by myself! I ate a piece and quickly called my parents to stop at my house and take it away from me- I know I will just continue to eat it!! The dough is easy to work with and the whole thing actually goes together very quickly.
This is a real party pleaser. It is very easy to make. I used my bread machine to mix and knead the dough then I kept it in the bread machine until it had risen. So light and sweet! The dough is very easy to handle and to fill. I used semi-sweet chips and K.A. caramel bits. WOW!!! Everyone loved this treat so much that I brought home an empty plate and many requests for the recipe. I will be making this again. Thanks
This is the most amazing thing i have ever had. I first made it with just chocolate ( iused milk, semi and bittersweet) and it was amazing. Next i made it caramel and....you can't top it. It is fabulous. Easy to make and to do and no messy butter- cinnamon dip. I can't wait to make it again. Thanks
I made this monkey bread for a recent holiday potluck dinner. I prepared the dough in my Zoji bread machine, and it turned out perfect. Preparation instructions were straightforward and easy to follow. I did however thin the glaze out considerably, so as to apply a light glaze. Will probably only make half the glaze next time, since I threw most if it out. Let me say this was a hit. So light with just enough sweetness with a light yeast flavor. Definitely a keeper. Planning on making a few more of these over the holidays.