A customized print-friendly version of this recipe is available by clicking the "Print Recipe" button on this page.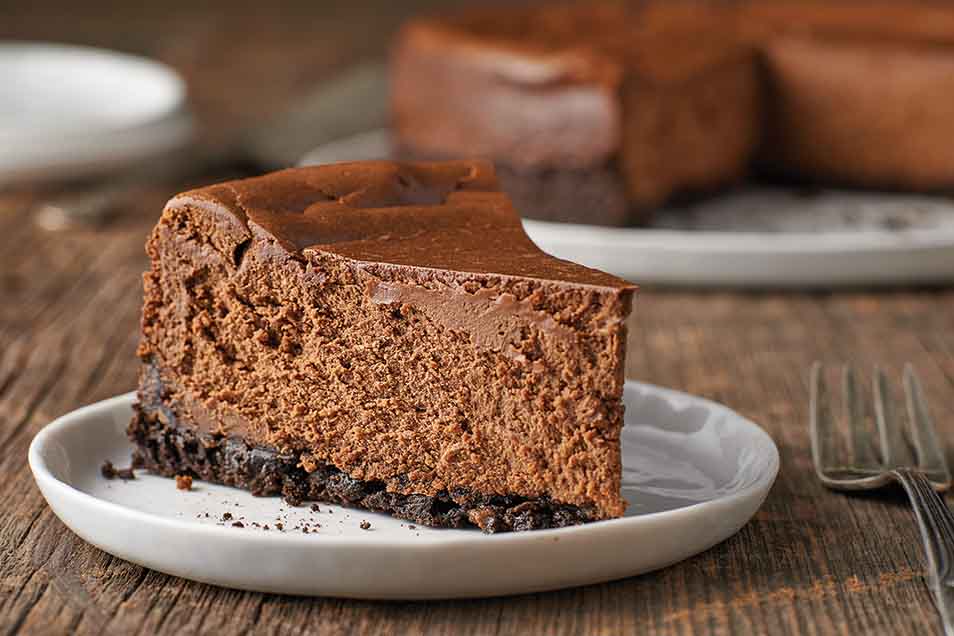 This straightforward chocolate cheesecake is everything you want it to be: rich, moist, dense, and hugely chocolate. Not only that — it's simple to put together, requiring neither special ingredients, nor a fussy water bath. If you're looking for a very rich (and very chocolate) dessert, you've found it.
Ingredients
Crust
24 vanilla-filled chocolate sandwich cookies (e.g., Oreos)
1/4 cup confectioners' sugar
4 tablespoons melted butter
Instructions
Preheat the oven to 375°F. Lightly grease a 9" springform pan.

To make the crust: Crush, grind, or otherwise pulverize the cookies together with the sugar; a food processor works well here. If desired, set aside about a tablespoon of the crumbs to garnish the finished cake.

Add the melted butter, processing briefly or stirring until the mixture is evenly crumbly. Press the moist crumbs into the bottom and partway up the sides of the prepared pan. Place the pan on a baking sheet, to catch any potential drips of butter.

Bake the crust for 15 minutes. Remove it from the oven, and set it aside as you make the filling.

Reduce the oven heat to 350°F.

To make the filling: Combine the milk and chocolate chips in a small saucepan or microwave-safe bowl or large cup. Heat, stirring frequently, until the chips melt and the mixture is smooth. Remove from the heat, stir in the espresso powder, and set the mixture aside.

In a large mixing bowl, beat together the cream cheese and sugar at low speed, until thoroughly combined. Scrape the bottom and sides of the bowl, and beat briefly, just until smooth.

Add the eggs one at a time, beating to combine after each one.

Stir in the vanilla, then the flour.

Add the chocolate/milk mixture, beating slowly until thoroughly combined. Scrape the bottom and sides of the bowl; beat briefly, just until smooth.

Pour the batter atop the crust in the pan. Place the pan on a baking sheet; this will make it easier to get the cake in and out of the oven safely.

Bake the cake (remember, the oven temperature should be 350°F) for 45 to 50 minutes, until a toothpick inserted into the cake 1" from the outside edge comes out clean. A digital thermometer, inserted at the same point, should read 175°F. The center may not look set; that's OK.

Turn off the oven, crack the door open several inches, and allow the cake to cool in the oven for 1 hour. Remove the cake from the oven, and set it on a rack to finish cooling. When it's completely cool, cover the cake, and refrigerate it until ready to serve.

Garnish the cake with the reserved crumbs, if desired. Serve it in small slices, with whipped cream and berries.
Nutrition Information
Serving Size

1 slice (98g)

Servings Per Batch

20
Amount Per Serving:
Calories

350

Calories from Fat

210

Total Fat

24g

Saturated Fat

13g

Trans Fat

0.5g

Cholesterol

85mg
Sodium

190mg

Total Carbohydrate

35g

Dietary Fiber

2g

Sugars

27g

Protein

5g
* The nutrition information provided for this recipe is determined by the ESHA Genesis R&D software program. Substituting any ingredients may change the posted nutrition information.
Tips from our bakers
When you're baking the crust, as soon as you can smell a strong chocolate aroma, remove it from the oven; it's done. The crust may or may not have baked for 15 minutes, but the "aroma test" is a better indicator of doneness than the amount of time elapsed.
For a simple garnish, reserve about 2 tablespoons chocolate crumbs from the crumb crust, prior to baking. Sprinkle some crumbs over the top of each slice just before serving.
Reviews
I am wondering about the weight of the chocolate as I prefer to use high quality chocolate instead of chips? It looks amazing! Should I quarter it or reduced by two thirds for a 4 inch pan?

Hi Ronda! We'd recommend going with a 1/4 batch. The weight is listed if you click "Grams" or "Ounces" under the Ingredients header. 12 oz of chocolate chips are called for for a full batch. Annabelle@KAF
All I can say is that I baked this in February for Valentine's Day and my family is still talking about it. It's April. I was "told" by one of my sisters that I will be making this again for Easter. Absolutely incredible.
I have just made this cake and I found the baking time is 65 minutes at 375. But I had two issues - cracking of cake and slight depression in the middle of the cake. Not sure why except the comments of baking in a "bath" may eliminate the cracking. If that works, KArthur should update recipe. But the depression??

Hi there, Robert! We're sorry to hear that you had a bit of trouble with this recipe. Most often when a cheesecake cracks on the top it is because of over-baking — when a cheesecake is done the center will appear a little soft and jiggle slightly. It can also be helpful to take the internal temperature of the cake, which should be 175°F about 1" from the edge of the cake.
The depression in the center of the cake is a bit odd. We wonder if the batter was over-mixed and too much air got knocked out. When mixing cheesecake it is best to use a low or medium speed. If we can help troubleshoot or pick out a recipe that better fits your tastes, please give our Baker's Hotline a call at 855-371-BAKE (2253). Kindly, Morgan@KAF
I made this Chocolate Cheesecake recipe last week for my friends birthday. OMG was it delicious I'm so happy how it set and turned out my friend loved the Chocolate Cheesecake too. I did poor a chocolate ganache on top it worked great! Thank you so much I'm definitely going to recommend this Chocolate Cheesecake recipe to everybody! :-D Erin B
For anyone who wants to make these in muffin/cupcake pans, here's some timing and weights that might be useful. I weighed out the crust into muffin liners. They came out to 15-17g each (including weight of liner), which yielded 24 shells. This produces quite thick shells - mine came out practically equal height crust and filling which I personally like but might be too much for some. I baked the shells for 5 minutes. Then I baked the filled shells for about 16-18 minutes. They did crack pretty badly, but after they cooled, the filling collapsed a bit and the cracks mostly filled themselves in. I doubt it's worth using a water bath. My yield was 24 mini cheesecakes (standard 12 muffin pan), but there was extra batter, perhaps enough for another 6-12 mini cheesecakes. Next time, I will probably make the shells thinner (perhaps 10g crust + liner) and try for 36 mini cupcakes, which will hopefully use up the extra batter.
I made this a few days ago. I made the cake batter then let it sit in the fridge until the following day when I was ready to bake it. I used mint oreo cookies for the crust and everyone at work said they loved it. They said the cake was delicious too and was completely gone! Thank KAF!
I'm a cupcake girl. So, I make most of my selections into cupcakes. I used just a thin Oreo in the bottom of the cupcake paper (no need to do anything else to them, and they fit perfectly!). I fill the cupcakes to almost full, 3/4 or so. Bake for about 18-20 minutes. I brought them to the hospital where I work and they were gone in minutes. So good, and so easy to make, it's fool-proof! I've made hundreds of cheese cakes over the years, this recipe is just about perfect. Thanks KAF for all the great resources and recipes!
Like Auro said, I substituted cocoa powder (Droste) for flour and I used gluten free chocolate sandwich cookies for the crust. I skipped adding sugar to the crust but did add butter. It made a gluten free dessert that was to die for! Thanks Auro for the tips.
I made this recipe yesterday and I used the Philly reduced fat cream cheese and IMHO I thought it was plenty rich. I used a 9" springform pan it took a little over 60 minutes for the toothpick to come out clean. Overall, it was a very delicious dessert. I'll definitely do it again.
This recipe takes much longer than the 1 hour 45 minutes. 30 minutes prep, 50 minutes baking, 60 minutes in the oven finishing, cooling on the rack and then in the fridge. That worked out to well over 2 1/2 hours from start to finish.

Thanks for reaching out to us, Sean. The cooling time isn't included in the "At a glance" box but we've shared your feedback and concern with the Recipe Team. Thanks again, Annabelle@KAF