A customized print-friendly version of this recipe is available by clicking the "Print Recipe" button on this page.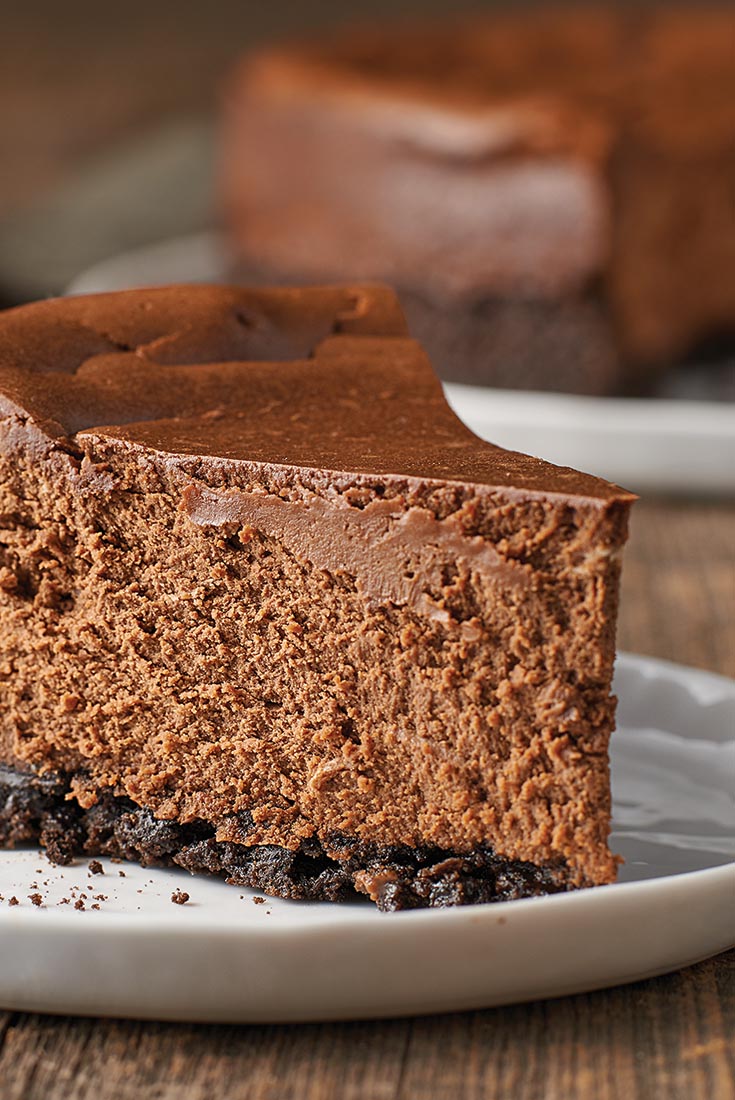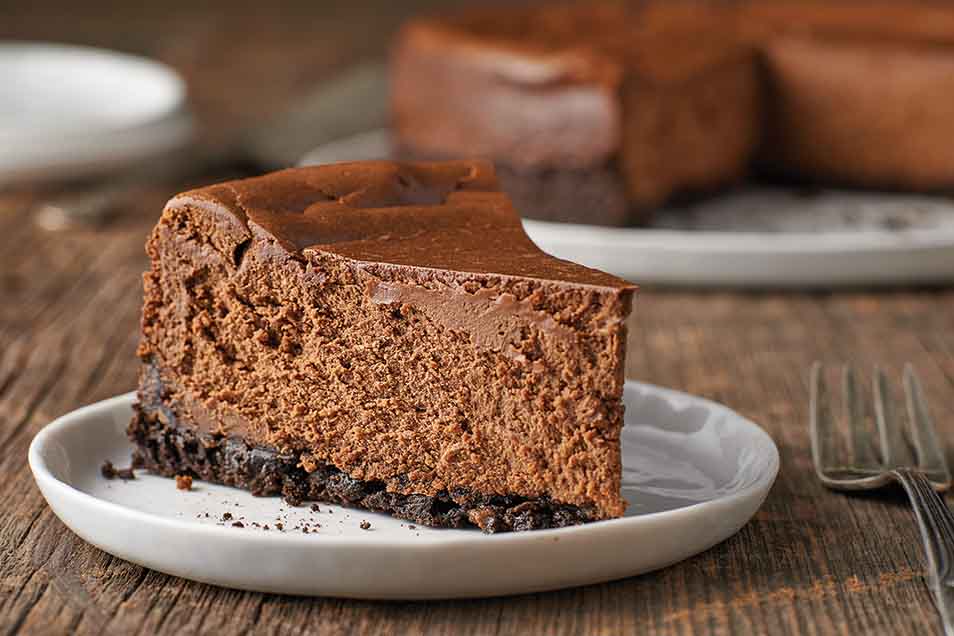 This straightforward chocolate cheesecake is everything you want it to be: rich, moist, dense, and hugely chocolate. Not only that — it's simple to put together, requiring neither special ingredients, nor a fussy water bath. If you're looking for a very rich (and very chocolate) dessert, you've found it.
Ingredients
Crust
24 vanilla-filled chocolate sandwich cookies (e.g., Oreos)
1/4 cup confectioners' sugar
6 tablespoons melted butter
Instructions
Preheat the oven to 375°F. Lightly grease a 9" springform pan.

To make the crust: Crush, grind, or otherwise pulverize the cookies together with the sugar; a food processor works well here. If desired, set aside about a tablespoon of the crumbs to garnish the finished cake.

Add the melted butter, processing briefly or stirring until the mixture is evenly crumbly. Press the moist crumbs into the bottom and partway up the sides of the prepared pan.

Bake the crust for 15 minutes. Remove it from the oven, and set it aside as you make the filling.

Reduce the oven heat to 350°F.

To make the filling: Combine the milk and chocolate chips in a small saucepan or microwave-safe bowl or large cup. Heat, stirring frequently, until the chips melt and the mixture is smooth. Remove from the heat, stir in the espresso powder, and set the mixture aside.

In a large mixing bowl, beat together the cream cheese and sugar at low speed, until thoroughly combined. Scrape the bottom and sides of the bowl, and beat briefly, just until smooth.

Add the eggs one at a time, beating to combine after each one.

Stir in the vanilla, then the flour.

Add the chocolate/milk mixture, beating slowly until thoroughly combined. Scrape the bottom and sides of the bowl; beat briefly, just until smooth.

Pour the batter atop the crust in the pan.

Bake the cake (remember, the oven temperature should be 350°F) for 45 to 50 minutes, until a toothpick inserted into the cake 1" from the outside edge comes out clean. A digital thermometer, inserted at the same point, should read 175°F. The center may not look set; that's OK.

Turn off the oven, crack the door open several inches, and allow the cake to cool in the oven for 1 hour. Remove the cake from the oven, and set it on a rack to finish cooling. When it's completely cool, cover the cake, and refrigerate it until ready to serve.

Garnish the cake with the reserved crumbs, if desired. Serve it in small slices, with whipped cream and berries.

Yield: one 9" cake, 16 to 24 servings.
Nutrition Information
Serving Size

1 slice (98g)

Servings Per Batch

20
Amount Per Serving:
Calories

350

Calories from Fat

210

Total Fat

24g

Saturated Fat

13g

Trans Fat

0.5g

Cholesterol

85mg
Sodium

190mg

Total Carbohydrate

35g

Dietary Fiber

2g

Sugars

27g

Protein

5g
* The nutrition information provided for this recipe is determined by the ESHA Genesis R&D software program. Substituting any ingredients may change the posted nutrition information.
Tips from our bakers
When you're baking the crust, as soon as you can smell a strong chocolate aroma, remove it from the oven; it's done. The crust may or may not have baked for 15 minutes, but the "aroma test" is a better indicator of doneness than the amount of time elapsed.
For a simple garnish, reserve about 2 tablespoons chocolate crumbs from the crumb crust, prior to baking. Sprinkle some crumbs over the top of each slice just before serving.
Reviews
Great, simple recipe. I did change the biscuit base to a normal chocolate biscuit because of previous times i used orea, i find it too oily. But so happy i found a good recipe. Definitely will be a family favorite
Good basic cheesecake recipe - very tasty. I see in the other reviews problems with oil leaking out of the pan during cooking. 3 things you can do to make sure this will not happen to you. First use a quality unmodified (not whipped, flavored...) cream cheese - read the label. Second, use quality chocolate - the chocolate chips you use to make cookies are not ok to use in a recipe like this! Again read the label, you will be surprised whats in there. Third, make sure you FULLY cool the crust BEFORE you place the cheesecake filling into the pan. The pan and the crust should booth be cool to the touch - do not try an speed this up by placing it in the refrigerator. I also suggest not using a spring-form pan. I use a extra tall cake pan that has been greased and lined with parchment paper (this allows you to use water bath without any fear of your springform pan allowing water to leak into your cake). Cut a circle out the size of the bottom of your pan and then use strips to protect the sides. Do this before you bake the crust! Once the cheesecake has fully cooled dip your pan in hot water for 10 to 15 seconds and easily lift the cake out of the pan. Peel the paper off and you have the perfect cheesecake.
Made it for a birthday. Yes my cheesecake cracked and I wish I understood why, but it was so deliciously amazingly tasty no one cared.

We're happy to hear it was a quickly-devoured dessert, Harmony! Cheesecakes usually crack when the edges set much earlier than the center, if they're overbaked, or if they cool too quickly. As you've realized, it doesn't change the flavor, but if you'd prefer a smooth top, we can help.

A lot of cheesecake recipes out there call for baking in a water bath. This keeps the temperature of the pan even around the sides and bottom. It takes a little longer to bake, but it bakes more evenly. To do this, simply pop your cheesecake pan into another, larger pan, stick it in the oven, and carefully pour water into the larger pan until it reaches the level of your batter. Start checking for doneness and for that internal temperature of 165°F to 170°F around the 45 minute mark, though know it could take over an hour to get there using this method. Happy baking! Annabelle@KAF
I made this recipe this morning. After reading other reviews, I didn't prebake the crust and used granulated sugar instead. I felt like it still turned out a bit hard, but tasted good. I also had the problem of the crust leaking butter or oil out the bottom-so now I will need to clean my oven. :( I added 1/2 tsp of espresso powder and I thought that was more than enough. This is very rich and garnish of raspberries went a long way to cut the richness. It looked lovely and did not crack. 4 stars because of the crust. Would make it again.
i was wondering if there was a crust I could use and not bake it

Hi Megan, it sounds like you might want to "borrow" the crust from our Easy Cheesecake recipe. It doesn't require par-baking before the cheesecake filling is added. It all gets baked at once for a delicious, creamy, easy result! Kye@KAF
Baked for 60 minutes, toothpick still not coming out clean. Cake still very jiggly. Turned off oven and hoping it will set up. Few cracks around the edge, but not bad.
Deliciously rich and chocolatey! My cake cracked on top but I think I baked it just a smidge too long. When I tested at 45 min the toothpick didn't come out clean so I left it for 5 more min before turning off the oven and opening the door. I covered it with the King Arthur chocolate ganache and raspberries do it looked beautiful despite the cracks. My stepdaughter says it's fabulous so I'm pleased. Will definitely make again.
I've made this twice and it was terrific. I used two different chocolates. First one was great no problems, the second had oil leaking everywhere. Both still tasted great. I noticed another reviewer said she had oil and I believe it was the chocolate chips. So be careful and take precautions about leaking oil.

It's true that some brands of chocolate will perform better and stay emulsified (not "split") longer than others. We've found Guittard Bittersweet Chocolate Chips work well in this recipe, but lower quality brands may prove troublesome. Chopped bar chocolate is always a fabulous choice that tends to work well. Kye@KAF
First time to make this recipe. After reading reviews, I decided to make a different crust. I used chocolate teddy graham butter and sugar, chilled it, did not pre-bake it. Turned out great. I will be making this again soon.
Made this cheesecake for a dinner party yesterday. No problem with making/baking. Came out w/o cracks. However, my only complaint is that the crust was very hard. I couldn't get it out from the bottom of the springform pan:(. The cheesecake tasted wonderful, but, no one had any crust. I used the Oreos with the cream filling, and baked it as directed. I'll make it again using chocolate graham crackers. The hard crust is the reason for the 4 stars.