A customized print-friendly version of this recipe is available by clicking the "Print Recipe" button on this page.
Chocolate Cheesecake with Raspberry Topping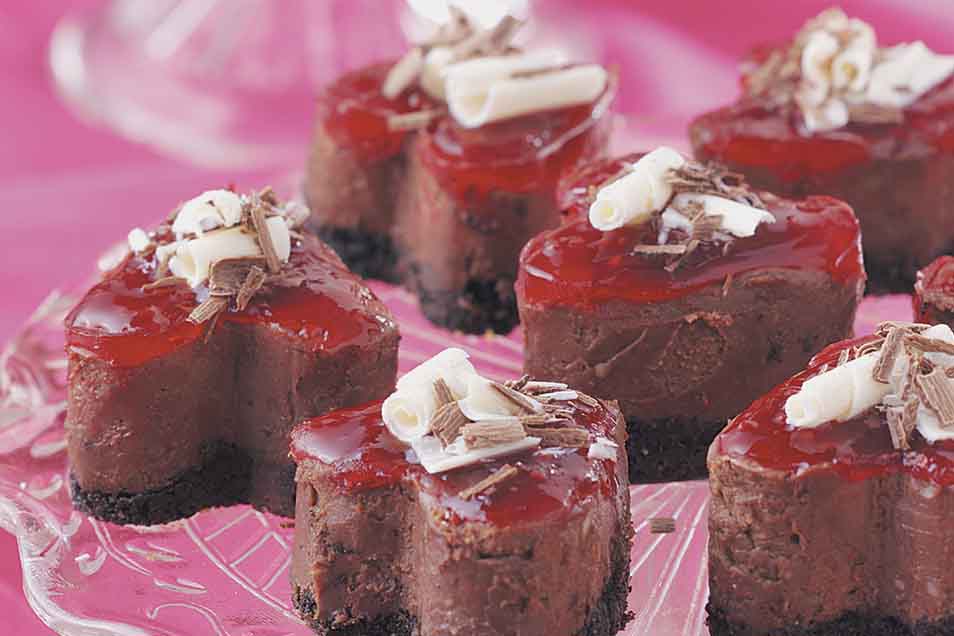 Smooth, chocolaty filling atop a crisp cookie crust, in adorable bite-size heart shapes.
Ingredients
Crust
2/3 cup chocolate cookie crumbs
2 tablespoons sugar
2 tablespoons butter, melted
Filling
8 ounces cream cheese, at room temperature
1/3 cup sweetened condensed milk
heaping 3/4 cup semisweet or bittersweet chocolate, melted
1 teaspoon vanilla extract
1 large egg
Sauce
1 cup frozen raspberries, thawed, pureed, strained
1 teaspoon fresh lemon juice
2 teaspoons Instant ClearJel® or cornstarch
1/4 cup sugar
Instructions
To make the crust:

Mix together and place a tablespoon of crumbs in each cup. Press into the bottom and about 1/4 inch up the side. Place into a preheated 350°F oven and bake for 10 minutes. Remove from the oven and cool slightly. Turn the oven down to 275°F.
To make the filling:

Beat the cream cheese until soft and fluffy. Mix in the sweetened condensed milk. Stir in the melted chocolate, vanilla, and egg. Use about 2 heaping tablespoons to fill the cups about 3/4 full. Bake for 35 minutes, until the cheesecake is set around the edges--a small spot should still look soft in the middle. Remove from the oven and cool slowly to room temperature, then remove from the pan and chill.
To make the sauce

Place the raspberries and lemon juice in a small saucepan. Place the raspberries and lemon juice in a small saucepan. Mix the sugar and Instant ClearJel® together. Stir into the raspberries, then heat to a simmer. Remove from the heat. Spoon a teaspoon over each of the chilled cheesecakes.
Tips from our bakers
If using cornstarch, mix with 2 tablespoons of cold water, then stir into the purée. Bring the sauce to a boil to thicken it, then cool before using.
Reviews
This is tasty and easy. The filling itself is simply chocolate, you could make it with a variety of toppings, or switch the vanilla for something else. I'm thinking mint extract with crushed peppermint on the top would be great. Or a little chile powder for a New Mexican treat. I doubled the batch and used a mini-cheese cake pan for half and mini-cupcake liners in a regular muffin pan for the others. The filling is stiff enough they didn't flop out ant stayed mini. I used a wooden tart tamper for the crust (don't know what it is called on the website) and that made compressing the crust easy.
First of all, let me be clear about one thing: these are delicious. I mean, it's just absurd how good they are. Rich, creamy, chocolatey... need I go on? They're also extremely easy to make gluten free by simply using gluten free chocolate cookies for the crust, which I can find easily at the grocery store. My one complaint is that mine were not remotely pretty. When I think of cheesecake, I think of a smooth, even surface, but mine were lumpy and cracked. I followed the directions to a T. Any suggestions for more aesthetically pleasing future attempts?
The uneven surface issue can be tackled by 1.) making sure the mixture is extremely smooth before you tip it into the crust, 2.) Gently tapping the cheesecake on the counter to remove any air bubbles before baking (3-4 taps are good!), 3.) Carefully smoothing the top of the cheesecake with a wet spoon before baking and 4.) to avoid cracks, bake the cheesecake at a lower temperature and a little longer. Then, when baked through (it's temperature in the middle should be 170F), letting it cool completely on the counter before placing in the fridge. Hope these tips help! Kim@KAF
I've made these a few times now. They are always a hit. They look so cute! Especially the raspberry topping which is such a gorgeous pop of color. I have been using a muffin/cupcake pan (since the recipe doesn't specify, just says cups) lined with paper. I just tried making mini versions in a mini-muffin pan, but I didn't have any papers. They came out fine, but without the papers about half of the crust stayed in the cups of the pan. I don't know if I don't crush up the chocolate cookies enough or something, but the crust has never been moldable for me. Too dry to press into the bottom and up the sides. Maybe next time I will try increasing the amount of butter in the crust. My only other question is whether the 10 oz measurement for the frozen raspberries is before or after they have been pureed and strained. I have always measure out 10 oz. and then pureed and strained them and it has been enough to top the full amount of cakes, but I just always wondered if I was reading that correctly.
These are lovely individual desserts that were a huge success with the teachers at my school for Valentine's Day. They are more than just a bite when made in the mini-cheesecake pan, really a perfect looking and fabulous tasting individual serving. The raspberry topping -- I used Clear-jel -- doesn't need chilling before putting it on the cakes. It sits nicely on the top and offers a wonderful contrast in flavor,color and texture to the dense cheesecake. As it was getting late after making a double batch with only one set of pans, I just topped each with a chocolate chip. These were very easy and quicker to make than a large cheesecake that requires more baking and chilling time. Try them for a sumptuous, elegant treat that's easy on the cook.