A customized print-friendly version of this recipe is available by clicking the "Print Recipe" button on this page.
Chocolate-Coconut Macaroon Bars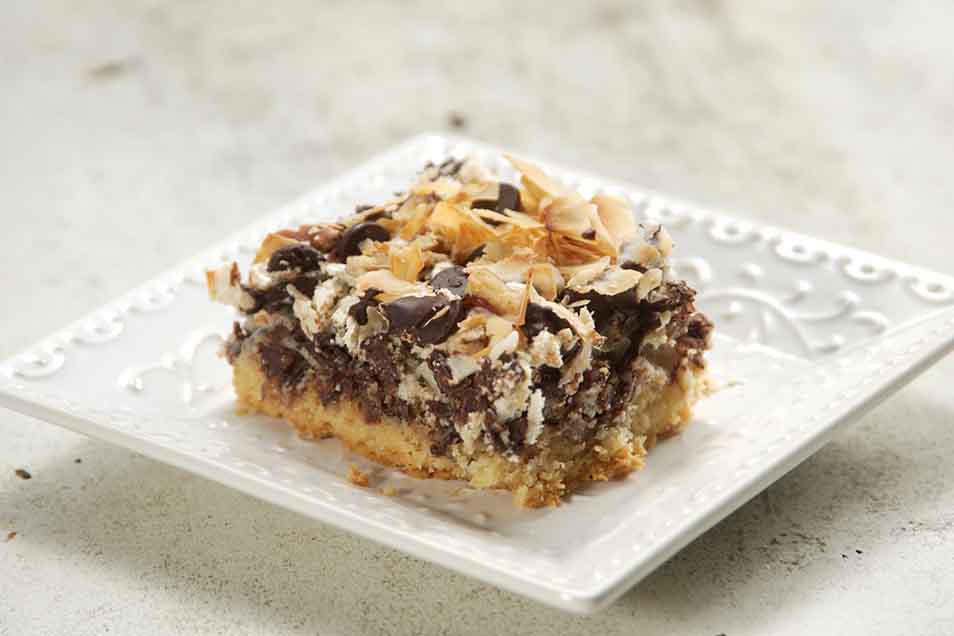 These sumptuous bars sport a chewy crust topped with coconut and chocolate-studded meringue. They're wonderful with a cup of coffee.
Ingredients
Crust
1 cup almond flour or pecan meal, or 1/2 cup almond flour + 1/2 cup coconut milk powder
1/4 cup sugar
1 teaspoon salt
1 1/4 cups (20 tablespoons) unsalted butter, at cool room temperature; it should be malleable, but not soft
1 to 2 tablespoons water
Topping
5 large egg whites
1/2 teaspoon cream of tartar
1/2 teaspoon salt
1 1/4 cups (8 3/4 ounces) sugar
2 teaspoons vanilla extract
1/4 teaspoon coconut flavor (optional)
1 cup almond flour or pecan meal
2 cups unsweetened or toasted coconut
2 cups (12 ounces) chocolate chips or bittersweet chocolate chunks (reserve some for garnish)
1 1/2 cups chopped, lightly toasted almonds or pecans (reserve some for garnish)
1/2 cup unsweetened coconut flakes, for garnish (optional)
Instructions
To make the crust: Preheat the oven to 375°F. Lightly grease a 9" x 13" pan.

Whisk together the all-purpose flour, nut flour, coconut milk powder (if you're using it), sugar, and salt.

Use a pastry blender or fork to thoroughly work the butter into the flour mixture.

Add the water a bit at a time, mixing until the mixture will hold together when squeezed, but is still crumbly.

Scatter the mixture into the pan. Press it into an even layer across the bottom and about 1" up the sides.

Bake the crust for 15 to 18 minutes, until set. Remove it from the oven and reduce the temperature to 325°F.

To make the topping: Beat the egg whites or meringue powder and water until foamy, then add the cream of tartar and salt. Omit the cream of tartar if you're using meringue powder. Beat until the mixture starts to form peaks.

Beat in the sugar a bit at a time, then add the vanilla and coconut flavor, and beat until the mixture is shiny.

Fold in the nut flour, coconut, and about 3/4 of the chocolate and nuts.

Spread over the crust and sprinkle with the reserved chocolate and nuts.

Bake the bars for 45 to 55 minutes, until they're lightly browned and crisp. Remove them from the oven; garnish with unsweetened coconut flakes, if desired. Cool completely (for about 2 hours) before cutting into bars. Store at room temperature, well-wrapped, for several days; freeze for longer storage.

Yield: 24 bars.
Tips from our bakers
To save time (and eggs), make the topping with 1/4 cup meringue powder mixed with a scant 1/2 cup water. If you make this substitution, omit the cream of tartar in the ingredients list.