A customized print-friendly version of this recipe is available by clicking the "Print Recipe" button on this page.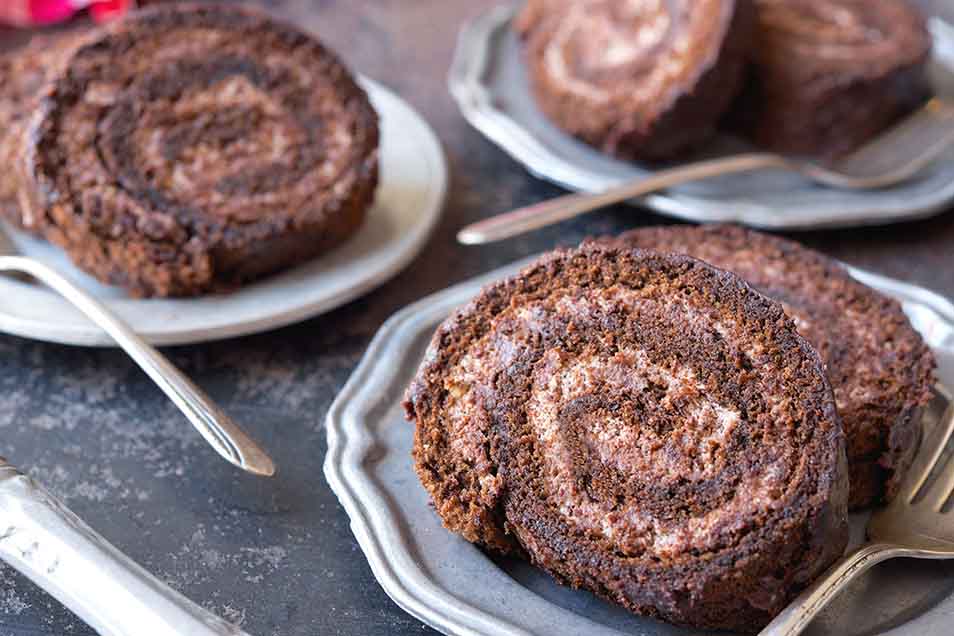 This tender, cream-filled cake is very easy to assemble; it rolls like a dream!
Ingredients
Filling
1 cup heavy cream
1 teaspoon chocolate extract, optional
1 tablespoon sugar
2 teaspoons Instant ClearJel
1/2 cup finely grated dark chocolate
Glaze
1/2 cup heavy cream
2 tablespoons corn syrup, light or dark
1 cup chopped semisweet or bittersweet chocolate, or chocolate chips
Instructions
Preheat the oven to 350°F. Line a jelly roll pan with parchment paper and spray with non-stick vegetable oil spray.

To make the cake: In a large bowl, beat the eggs until thick and pale, then beat in the sugar, salt, and extracts.

Sift together the flour, cocoa, and baking powder, and fold gently into the egg mixture. Whisk together the oil and buttermilk and fold in, stirring just until combined.

Spread the batter onto the pan and smooth with a spatula. Bake the cake for 10 to 12 minutes, until the top springs back when pressed gently.

Remove the cake from the oven, let it cool in the pan for 1 to 2 minutes, then loosen the edges with knife. Turn out onto a tea towel lightly dusted with confectioners' sugar (or onto a piece of parchment), roll up loosely (starting with a short end), and let cool completely.

To make the filling: Stir together the cream and chocolate extract in a large bowl. Mix the sugar and ClearJel, then sprinkle over the cream. Whip on high speed until soft peaks form, and fold in the grated chocolate. Refrigerate until needed.

To make the glaze: Gently heat all of the ingredients until the chocolate is melted and the mixture is smooth. Cool for 10 to 15 minutes to thicken slightly.

To finish the cake: Unroll the cake and spread it with the filling. Re-roll, and place seam-side down on a serving plate. Trim the edges for a clean appearance. Drizzle with chocolate glaze, using a spoon or a squeeze bottle.

Serve the cake immediately, or refrigerate until ready to serve, up to 24 hours. Freeze for longer storage.
Tips from our bakers
Instant ClearJel stabilizes the whipped cream. If you choose not to use it, prepare the filling and finish the cake just before serving.
If the glaze gets too thick for a squeeze bottle, gently reheat the glaze-filled bottle by setting it in hot water.
Reviews
Made this with a strawberry cream instead (fresh berries chopped, sugar with instant gel, and whipped cream). Exceptional! The instant gel is holding really well to give stability without affecting texture. So glad I bought some from KA. This was my first roll and I am very pleased with the sweetness and texture of the sponge. I think this recipe will lend itself to different adaptations.
Update. I remade the roll because I needed to get this right. This time I did a proper beating of the eggs seeing lots of air bubbles and paleness. Lightbulb moment....sponge should be airy. As soon as all the ingredients were put together I knew this one was done right. It was amazing and everyone raved. They couldn't get enough. Thank you so much for the recipe and the feedback. This is going to be a regular in the rotation.
I thought that the recipe was great. Measured all ingredients using the weight conversion and it rolled up really nicely with only one crack. However, the texture of the cake after completed was slightly chewy/rubbery. I don't know what I could have done wrong. I reviewed the recipe and confirmed I followed it to the tee cooking it for 12 minutes and having the cake spring back to the touch when it was done. I used a 10 x 15 jelly roll pan and it leveled itself all the way to the ends of the pan for the most part. It was a little disappointing because it looked amazing, it just did not taste as good as it looked. (Oh I did not use the chocolate extract in the cake because I didn't have it. Could that have caused it to be rubbery?) I am sure it something I did wrong but I can't figure it out.

We're glad to hear that you were mostly pleased with this recipe, Laura, though sorry to know that the texture left something to be desired. Sponge cakes are generally used in rolls like this one because they are flexible enough to be rolled, and as the name implies, they are a little spongier in texture than a typical layer cake. A "chewy/rubbery" texture may be the result of not beating enough air into the eggs at the beginning. The goal is to beat them until they are thick and pale, much like vanilla pudding. Allowing the cake batter to sit for some time before baking could also lead it to deflate, resulting in a more rubbery texture. If you're interested in troubleshooting further, feel free to give our Baker's Hotline a call at 855-371-BAKE(2253). We'd be happy to chat! Mollie@KAF
When I said the cake was damp, I meant the part that stuck to the parchment paper. The cake itself was perfect. One thing I remembered that may have effected the outcome, I ran out of dutched cocoa and had to substitute regular cocoa. Another question regarding cocoa. Is Hershey's Special dark cocoa which states it is blended with dutched cocoa acceptable as substitute for Dutched Cocoa? When I took the cake out of the oven, the top was not damp at all...only after I rolled it in the parchment paper. I did spray the parchment paper and did not use butter to grease the parchment. Thanks for your help. I will try the recipe again because I love the taste and the texture of the cake.
If there is a way to mess it up I will find it. The cake is delicious but my problem is a good percentage of it stuck to the parchment paper (Both sides!!!) I waited two minutes and turned it over onto parchment paper dusted with powdered sugar. I pulled the parchment off the bottom side and the bottom seemed not quite done and a layer adhered to the parchment. I used an insulated pan, could have have caused it not to form a firmer bottom? Then I rolled it up and let it sit a couple of hours before I unrolled it and another layer of cake came off. It seemed to have steamed enough to make the top of the cake damp enough to adhere to the parchment. I filled it an rolled it back up again losing a little bit of the cake again to the paper. So I would love to know how to avoid the problem of the cake sticking to the paper and losing so much of it. The part that stuck seemed very damp (still quite delicious when I scraped it off and ate it!) Maybe using the tea towel would allow it to breath? I baked it the full 12 minutes.

Thanks for giving this recipe a bake, Jean, and for your interest in getting it right. The fact that you described the finished cake as "damp" makes us think that it might have needed to bake a bit longer, despite baking it for the full 12 minutes. Every home oven is a little different, so it may be that yours simply runs a bit cooler and takes a bit longer (the different kind of pan could also make a difference). Greasing the parchment paper with a good, non-stick vegetable spray (rather than butter, for example) is also an important step and should help to make for easier release. If we can offer additional tips, feel free to give us a call at 855-371-BAKE. We'd be happy to troubleshoot further. Mollie@KAF
Made this cake over the holidays and everyone enjoyed! Thanks KAF. However, I don't usually buy buttermilk, but I do have a bag of powdered buttermilk. Since this recipe calls for a little amount, what would be the best measurement to mix?

We're glad to hear this recipe was a hit with your family! To use your Dried Buttermilk Powder, add 1 1/2 tablespoons (1 tablespoon plus 1 1/2 teaspoons) of the powder to the flour and then add 6 tablespoons of water to the mixture when it calls for adding the buttermilk. Happy baking! Kye@KAF
Can milk be used instead of buttermilk?

K, a better bet to maintain the pH balance would be to sour your own milk by combining 1 Tbsp lemon juice or vinegar with enough milk to get a full cup. Allow the mixture to sit for 10 minutes, then incorporate it as you would buttermilk. Mollie@KAF
Made this as a Christmas Eve dessert and it was great. I left out the cocoa for the filling and made it vanilla instead. A nice contrast. My son said it looked like a giant yodel (it did!) after assembly. I also used unflavored gelatin for the filling because I didn't have the clear gel on hand and it was just fine. I would definitely recommend this as a dessert. Yummy!
It cracked, but I recognize my error. We used a strawberry filling and white chocolate gnash and it was fab regardless of its appearance.
We loved this dessert. Will be making it again. Family devoured it.