A customized print-friendly version of this recipe is available by clicking the "Print Recipe" button on this page.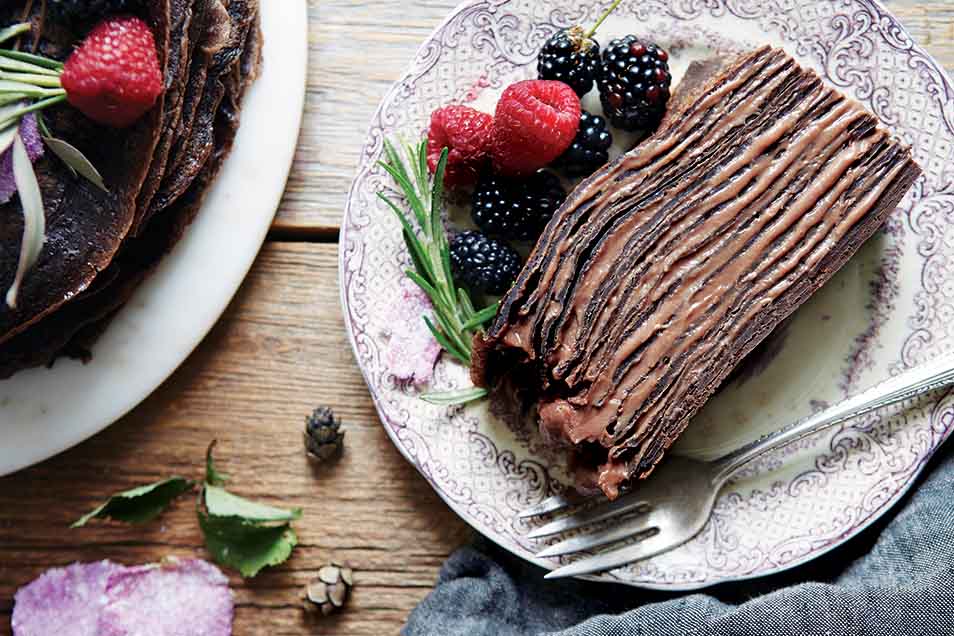 Layer upon layer of tender chocolate crêpes filled with hazelnut pastry cream creates this unique celebration cake. Cook up an extra batch of crêpes for the freezer, and this cake will take less than 20 minutes to put together.
Ingredients
pastry cream filling
2 cups homemade Pastry Cream
3/4 cup chocolate hazelnut spread, such as Nutella
Instructions
For the crêpes: In a medium-sized bowl, whisk together the flour, salt and cocoa. If the cocoa has any lumps be sure to break them up or sift them out.

Whisk in the eggs, milk and butter and continue to whisk until the mixture is smooth. Pour the batter through a strainer into a clean bowl, cover and set aside for 30 minutes.

Towards the end of the rest period, preheat your crêpe pan according to the manufacturer's direction. Cook a test crêpe or two, and adjust the batter with milk if it is too thick to work with. Cook the rest of the crêpes, you'll need about 18 to 20 for the cake.

Cool the crêpes while you prepare the homemade Pastry Cream . You will need approximately 2 cups of cooled pastry cream.

To make hazelnut pastry cream: Warm the chocolate hazelnut spread in the microwave for 20 seconds, or until it is soft and almost pourable. Whisk the warm spread into the pastry cream, and continue to whisk until it is lump free.

To assemble the cake: Stack 3 crêpes on a serving plate and spread with 2 tablespoons of hazelnut pastry cream. Continue to layer a single crêpe and 2 tablespoons of filling until you are nearly out of crêpes. For stability, occasionally layer two or three crêpes instead of one single crêpe.

End with a layer of 3 crêpes. Wrap the cake well in plastic wrap, using a little pressure to keep the cake pressed down. Chill for at least 60 minutes, or up to overnight. Slice in wedges to serve.
Tips from our bakers
For a firmer filling, increase the amount of cornstarch in the base pastry cream recipe to 1/3 cup; the filling thins out some when the hazelnut spread is stirred in.
Reviews
This was a lot of work for nothing. If you insist on making this save yourself a lot of money and eliminate the pastry cream hazelnut mixture and buy chocolate pudding because after making the pastry cream I found out it was just homemade vanilla pudding and the addition of nutella just turned it into chocolate pudding. The crepes were bland. The whole thing reminded me of when my mom would cut up white bread and put it in chocolate pudding. The picture on the recipe makes it look SO good, but I was really disappointed.

We're sorry to hear this recipe wasn't quite right for you, but we do appreciate your feedback. Perhaps the Apple Caramel Crepe will be more suited to the flavor profile you're looking for. We hope you're able to find the right match for your taste buds. Kye@KAF
If you're looking for an impressive-looking, not too sweet dessert to bring to an event, this is it. Each slice is photo-worthy with its many layers, and the cake is especially stunning if you top it with whipped cream and fresh berries or nuts. It can get messy if you try to slice the pieces thinly; stick with 12 generous pieces and be sure to use a very sharp knife when serving.
Nutella crepe cake was a really good idea. The filling (pastry cream and nutella) was delicious. I enjoyed the filling spread on the crepes, folded, and served warm. The cake looked rustic, and tasted good. I will definitely make the filling when having crepes with fruit.