A customized print-friendly version of this recipe is available by clicking the "Print Recipe" button on this page.
Chocolate Decadence Ice Cream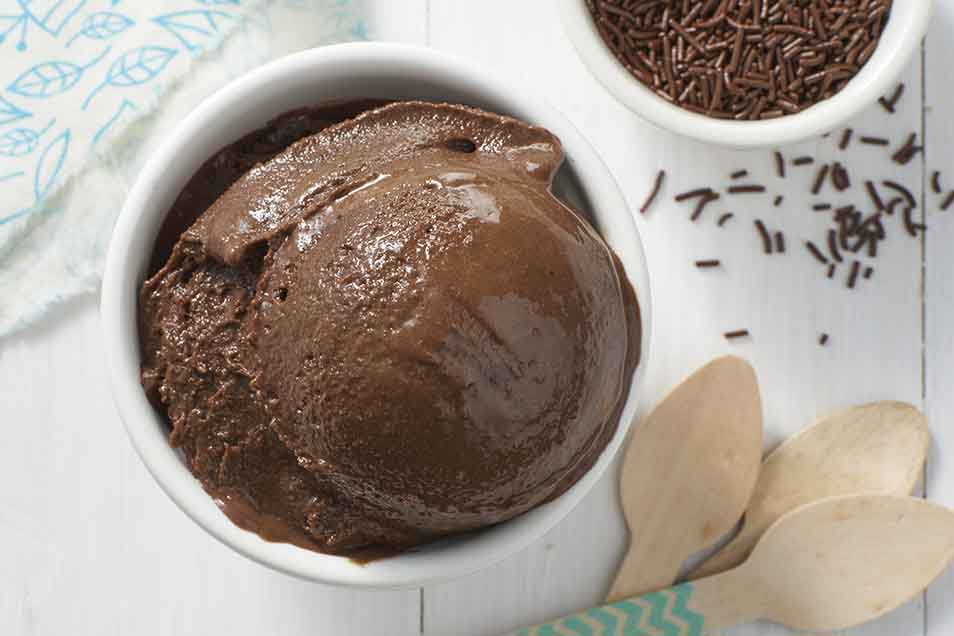 Chocolate Decadence is an overworked recipe name; it seems every restaurant dessert featuring even a hint of chocolate has been given the over-the-top "decadence" label. But this ultra-smooth, dense ice cream truly is decadent, meeting at least one of the word's definitions: "downfall." If you're dieting — this ice cream will surely be your downfall!
Ingredients
1/2 cup Dutch-process cocoa
1 cup sugar
3 tablespoons Instant ClearJel or cornstarch
1/4 teaspoon salt
1 cup water
1 tablespoon vanilla; or 1 tablespoon espresso powder; or 1 teaspoon cinnamon, all optional
2 cups (1 pint) whole milk
1 cup chopped semisweet or bittersweet chocolate, or chocolate chips
1/4 cup coffee liqueur (e.g., Kahlua) or the liqueur of your choice, optional
Instructions
In a medium saucepan, whisk together the cocoa, sugar, ClearJel or cornstarch, and salt.

Slowly whisk in the water, then the flavor of your choice and the milk.

Bring to a boil over medium heat, whisking frequently as the mixture warms, then almost constantly as it becomes hot; you don't want the mixture to stick to the bottom of the pan.

Remove from the heat and stir in the chopped chocolate or chocolate chips, whisking until chocolate melts.

Pour into a bowl, and stir occasionally as it cools, to prevent a skin from forming.

Lay a piece of plastic wrap on the surface of the chocolate, again to prevent a skin from forming, and refrigerate until it's well chilled; overnight is good. Make sure the canister for your ice cream maker is in the freezer, too; it needs to be as cold as it can be.

Next day, pour the chocolate into the ice cream maker, and freeze for 20 to 25 minutes, until it's quite stiff.

Scoop the ice cream into a bowl. For best texture, stir in 1/4 cup coffee liqueur (e.g., Kahlua), or the liqueur of your choice. This will keep the ice cream soft and scoopable indefinitely in the freezer.

Serve the ice cream immediately, if desired; it will be very soft. For harder ice cream, store in the freezer. Ice cream without liqueur will become nicely hard in 3 hours. With the addition of liqueur, it will take 6 hours or more to become quite solid. Ice cream without liqueur will become unpleasantly hard within 5 hours or so; to soften, let sit at room temperature for 30 minutes or so before serving.

Yield: 3 3/4 cups, a scant 1 quart.
Nutrition Information
Serving Size

about 1/2 cup

Servings Per Batch

8 servings
Amount Per Serving:
Calories

288

Calories from Fat

73

Total Fat

8g

Saturated Fat

5g

Trans Fat

0g

Cholesterol

6mg
Sodium

104mg

Total Carbohydrate

51g

Dietary Fiber

3g

Sugars

42g

Protein

4g
* The nutrition information provided for this recipe is determined by the ESHA Genesis R&D software program. Substituting any ingredients may change the posted nutrition information.
Tips from our bakers
Liqueur not only enhances the flavor of this ice cream, it helps its texture. Most homemade ice cream becomes rock-hard when stored in the freezer longer than 6 hours or so; this one, with the addition of liqueur, remains nicely scoopable indefinitely. Why? The alcohol in the liqueur acts as anti-freeze.
Reviews
OMG! I made this, yesterday. It was absolutely heavenly! Very smooth. Very decadent. A must-try for all Chocolate-lovers!
Wow! Death by chocolate! This ice cream is delicious. I did an overnight "incubation." Then froze it for another night. Perfect consistency (did not add alcohol). Very rich chocolate flavor. Does not need anything added to it. Will make again!
My new favorite chocolate ice cream! Very smooth, not grainy at all, and intensely chocolaty. Easy to make. Thank you, King Arthur Flour.
I made this ice cream for the first time last weekend.......and it was so good I knew I had to make it for the 4th of July. It tastes very rich and yet it's made without cream. The first batch had toasted almonds and marshmallows. The second batch I toasted some pecans in browned butter and added some salt. To die for. I love this recipe so much I ordered the recipe bundle.
Intense chocolate and smooth, creamy texture. We loved this recipe and will certainly use again. Couldn't have been easier.
I loved this recipe. I'm not sure where people were getting the grainy texture because mine was not grainy at all. It was smooth and tasty and very rich. I made mine with the espresso powder and the Kahlua and 60% cocoa chips. I did find even with the Kahlua it did freeze a little hard but it was nothing that sitting it out for a few minutes didn't cure. I will definitely make this again.
The flavor is amazing, but the texture was slightly grainy. I think the chocolate chips didn't fully melt. Last time I made this I used vanilla for the flavoring. This time I tried adding cinnamon and that was excellent, too.

Next time try using a bar of chopped bittersweet chocolate or chocolate wafers; they are specifically designed to melt well and leave a smooth, creamy texture. Kye@KAF
Love the intense chocolate flavor. Love the texture, which is creamy -- a little more gelato than traditional ice cream. Worked well in the Cuisinart ice cream maker.
My husband and I were very disappointed in this recipe. (A first for KAF.). We knew from the beginning that it was going to be difficult for our Cuisinart Ice Cream Machine. As well as more than a single batch for the tub, but not enough for two batches. It was as thick as pudding from the beginning. The next day, our Cuisinart could only push it for a few minutes. So we froze as is. It was basically a frozen pudding, very heavy, and definitely not ice cream.

Since solid chocolate is going to set up quite quickly in the frozen bucket, try using an extra 1/2 cup of cocoa and adjusting the sugar to taste. You may also want to thin it a bit with more milk or half and half- the final product will still freeze. Happy baking! Laurie@KAF
While looking for an eggless ice cream recipe, I found this one fairly easy to make but I'm not a fan of the grainy texture. The chocolate taste was a little over the top as well. (I even saved a handful of chocolate bits until after the mixture had cooled.) The alcohol did prevent it from getting too hard. There is also a funny taste. At first I wondered if it was the liqueur butI think it was the vanilla.

The graininess can result from adding the chocolate when the mixture is still too hot, or if the cooked mixture stuck to the pan slightly and scorched- which would also cause the funny taste. We're sorry it didn't work out, and we'd be happy to help you with your ice cream adventures. Happy baking! Laurie@KAF I'll try a variation of this recipe next time. No vanilla, and maybe tapioca instead of cornstarch. Strawberries instead of the chocolate bits.