A customized print-friendly version of this recipe is available by clicking the "Print Recipe" button on this page.
Chocolate Decadence Minis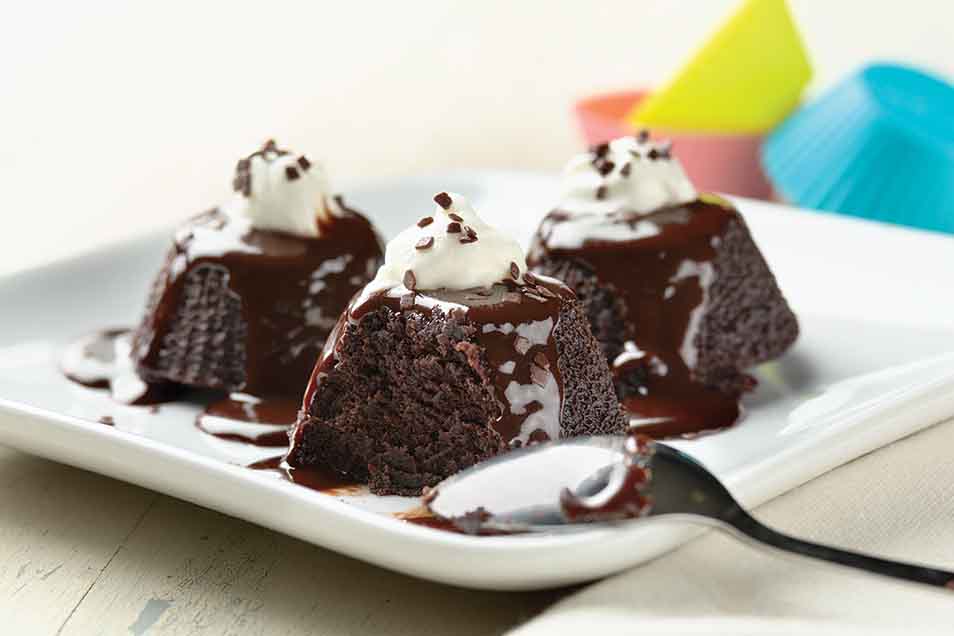 First, there were chocolate lava cakes: jumbo-muffin sized chocolate cakes with molten fudge centers. Now, enjoy the sequel: molten-center minis, whose lave-flow comes not from unbaked batter, but from a chunk of solid chocolate added to the center of each tiny cake before baking. Cakes bake, centers melts, chocoholics enjoy!

Follow our step-by-step photos for making these cakes at our blog, Flourish.
Ingredients
1/2 cup butter
1/4 cup Dutch-process or European-style cocoa powder
1/2 teaspoon espresso powder
1/2 cup hot water
1 cup King Arthur Unbleached All-Purpose Flour
1 cup sugar
1/2 teaspoon baking soda
1/4 teaspoon salt
1/4 cup buttermilk, plain yogurt, or sour cream; low-fat is fine
1 large egg
1 teaspoon vanilla extract
1 2/3 cups semisweet or bittersweet chocolate discs; Guittard Onyx bittersweet wafers work well here
Instructions
Preheat the oven to 400°F. Grease a 20- or 24-cup mini muffin pan.

Melt the butter, and stir in the cocoa, espresso powder, and hot water.

In a separate bowl, whisk together the flour, sugar, soda, and salt.

Pour the cocoa mixture over the dry ingredients, stirring to blend.

Beat in the buttermilk, yogurt, or sour cream; the eggs, and the vanilla.

Pour batter into each of the muffin cups, filling them about 3/4 full. You won't use all of the batter; you'll need to bake this first batch, then bake the remainder (unless you have two mini muffin pans).

Submerge 3 or 4 discs of your favorite solid chocolate — about enough to equal the size of a Hershey's Kiss — in the center of each. Note: Hershey's Kisses won't melt as these cakes bake, so pick a chocolate that's meltable, like our Onyx wafers.

Bake the cakes for 10 minutes.

Remove them from the oven, and serve immediately.

Repeat with the remaining batter. Cakes freeze beautifully. Reheat briefly in the microwave to melt their centers, just prior to serving.

Yield: about 32 mini cakes.
Nutrition Information
Serving Size

1 cake

Servings Per Batch

32
Amount Per Serving:
Calories

100

Calories from Fat

45

Total Fat

5g

Saturated Fat

3g

Trans Fat

0g

Cholesterol

15mg
Sodium

45mg

Total Carbohydrate

12g

Dietary Fiber

1g

Sugars

9g

Protein

1g
* The nutrition information provided for this recipe is determined by the ESHA Genesis R&D software program. Substituting any ingredients may change the posted nutrition information.
Reviews
These are really easy to make, simple ingredients and delicious out of the oven, but I had the sticking problem too! :( I used a "temp-tations" mini muffin pan i sprayed with PAM and they still stuck. (i've baked mini cupcakes in these sprayed with PAM and they did fine) I scooped one out (to try) but I'm going to leave the rest and just warm in the oven, right in the pan before serving and scoop out with a spoon. I don't think my guests are going to be too upset. ;) PS I had a small amount of batter left and scooped that into a 6oz anchor hocking ramekin (the clear kind) I had also sprayed with PAM. It too is delicious, but stuck on the bottom. This won't deter me from trying this recipe again. I'll either use parchment liners, or make the trip to KA and buy the recommended pan! (good excuse to go there!!)

We sure hope you'll come visit us, Colleen! In the meantime, we encourage you to read the full article on our blog called, "How to prevent Bundt cakes from sticking," which includes helpful tips that apply to all sort of cake baking, this recipe included. Happy baking! Kye@KAF
I sprayed my pan a lot with your spray. They still stuck in the pan. I was quite disappointed. I love your cocoa!

Sorry to hear about your sticking problem, K. You may want to check out the article on our blog called, "How to prevent your Bundt cakes from sticking." These mini decadences are kind of like mini Bundt cakes, so the tips included there might prove helpful to you. Kye@KAF
Made these for Valentines. I used a high quality (70% Cacao) bittersweet chocolate bar for the molten part - Next time I would use one a little more sweet. I also used KA gluten free Measure for Measure flour. You couldn't even tell they were GF. No problem getting them out of the pan - and I just used spray. They were good the first night - but even better was freezing them and having small decadent bites of deliciousness for desert through the month. 30 seconds is perfect and we think they're even better this way than fresh out of the oven. YUM!
I just finished making these! Yummm! The flavor and texture of the chocolate cake is awesome. Since this was my firt try, I did not have enough "lava" though. Next time I will add more discs. I am giving it 4 stars only because it was very hard to get out of the pan. I used a silicone mini cupcake pan because the reviews said the cakes were hard to come out. Because of the flexibility of the silicone I was able to salvage most of them. I would highly recommend you try it though. Definitely making them again!!!
This was the second time I tried this. The cake is delicious but I could not get the cakes out of the pans. After my first try at the recipe I contacted KA about the problem and they suggested greasing the pans. I had used a spray the first time. Today I tried baking a few using Crisco and also put a few in mini cupcake papers. I baked them at the suggested time and temp, checking the temp with an oven thermometer. The cakes still stuck to the pan. Not as much as my first try. Using paper liners worked. Fortunately for me, I am baking these ahead and freezing them so taking the papers off before reheating will work. I'd still like to figure out what I'm doing wrong!!
Be sure you are removing them from the pan immediately. Perhaps using muffin papers is the answer here? Or spray more heavily next time. Elisabeth@KAF
These were easy to make. Before I invested $40 for the pan and ingredients, I only purchased the pan and used my Callebaut Dutch cocoa and some Hershey's melting chips I saw at the grocery store. I wanted to get an idea how they tasted first before any more money was spent. Hersheys melting chocolate chips work but the chocolate isn't top-notch. My cocoa was fine but I have nothing else to compare it to. I am not familiar with other brands. The issue I had with the recipe was the removal of the cakes. Mine did not nudge out. I used a fork as shown in the blog, i tried a mini spoonula, mini spatula with little success. Yes, I used the USA pan. Yes, I buttered the cups (perhaps I should have used Crisco?). But try as I might, the cakes fell apart during the removal. I gave up and am going to wait until they cool down to room temp and firm up. If that doesn't work, I will chill them and be forced to zap them in the microwave when i want to eat them. The recipe says "serve immediately". How?
Grrr. We're as frustrated in the results as you are.....PJ used the non-stick mini muffin pan and greased with no-stick vegetable oil spray; but thought solid shortening should work just as well. Butter has a lower melting point, so may have been the culprit. We hope you don't give up on this recipe. Irene@KAF
These were fairly quick and so yummy. I got about 18 and froze the leftover. As stated, they are great right out of the freezer after a quick microwave warm-up. I used broken pieces of a high quality dark chocolate bar. Instead of pushing the chocolate pieces into the batter, how about spooning some batter, dropping in the chocolate, and then spooning more batter on top?
It all depends on the fat content of the pieces/discs. Some will stay put, others may fall. It's going to take a little experimenting. Give it a try. Frank @ KAF.
I finally got around to making these today. I ordred the ingredients and the mini muffin pan from KA. First let me get my rave for the pan out of the way. This is one of the finest baking pans I have ever used. Love it! Now to the recipe. Oh my goodness. These are delicious! I ate one right out of the oven and put the rest in the freezer. As is described on the blog, you can freeze these then take out as many as you want and pop them in to the microwave for a few seconds and they taste like they just came out of the oven. Make these! You wont regret it! :)
OMG - little bits of extreme deliciousness! I made these using the chocolate wafers for the centers and had to use buttermilk powder in place of the buttermilk/yogurt/sour cream. They are not too sweet but full of the most incredible chocolate flavor! I have (apparently) very small mini-cupcake tins so I got just over 3 dozen finished cakes. I will definitely make them again, and I will probably make them ahead to freeze them for an upcoming party.