A customized print-friendly version of this recipe is available by clicking the "Print Recipe" button on this page.
Chocolate-Dipped Coconut Macaroons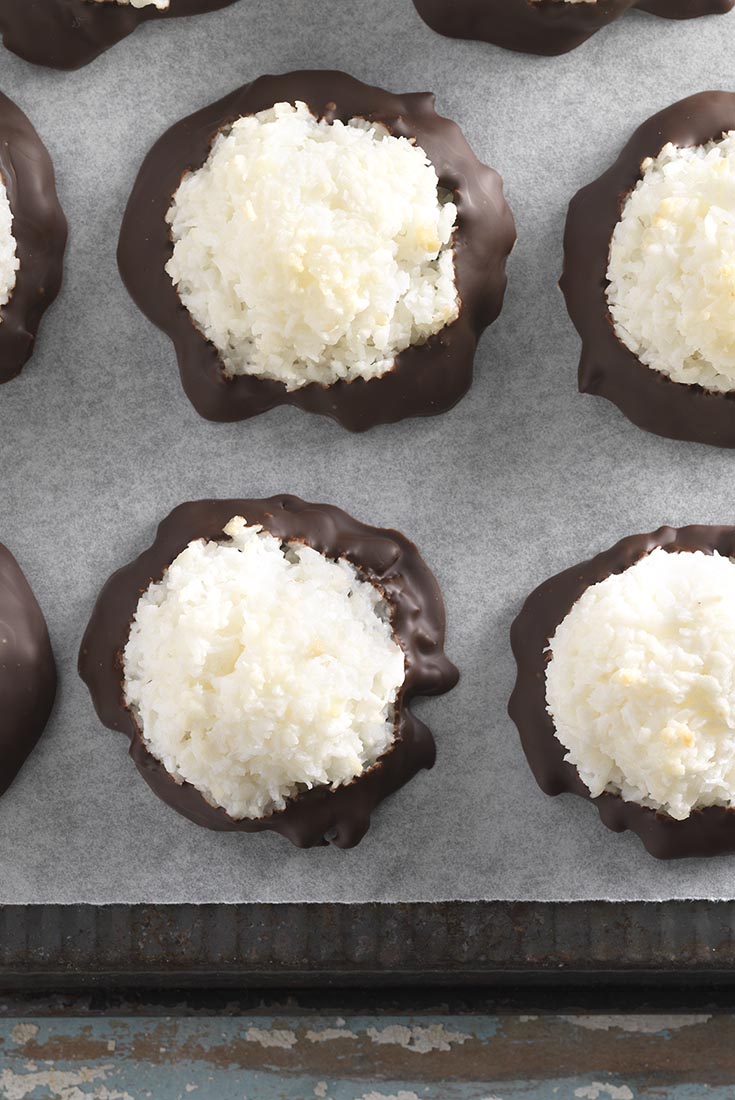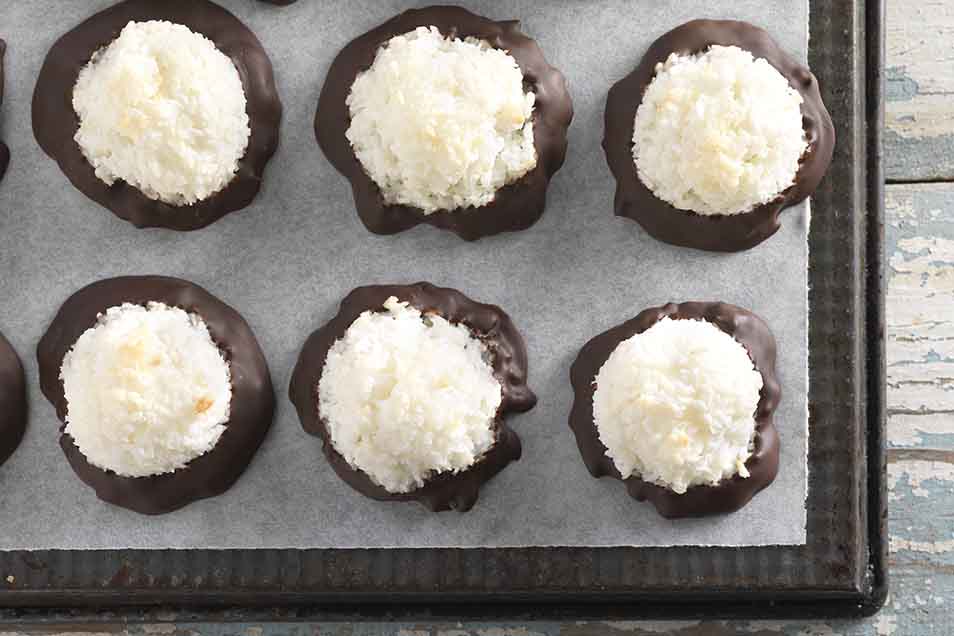 These coconut macaroons are sticky-moist on the inside, and coated with rich dark chocolate. Without flour, they're a sweet finish to a gluten-free dinner. Read our blog about these macaroons, with additional photos, at Flourish.
Ingredients
Macaroons
generous 5 cups shredded unsweetened coconut
1 1/2 cups sweetened coconut cream (cream of coconut); one 16-ounce can
1/4 teaspoon salt
1/2 teaspoon coconut flavor, optional
1/3 cup coconut milk powder, optional
Coating
1 1/2 cups semisweet chocolate chips
2 1/2 tablespoons butter or margarine
2 tablespoons light corn syrup or honey
Instructions
Preheat the oven to 350°F. Lightly grease a baking sheet, or line with parchment.

In a medium bowl, mix together the coconut, coconut cream, salt, and coconut flavor, stirring till thoroughly combined.

Add the coconut milk powder, stirring to combine.

Drop the sticky mixture in ping pong-sized balls (about 1 1/2") onto the prepared baking sheets. It helps to use a tablespoon cookie scoop or small ice cream scoop here. For best results, pack the coconut mixture into the scoop; each ball should weigh about 1 ounce. You can space the balls fairly close together on the baking sheet; they only need about 3/4" to 1" between them.

Bake the macaroons for about 10 minutes; they won't brown. You may see the merest hint of brown on top.

Remove from the oven, and cool completely on the baking sheet.

To make the coating, heat the chocolate chips, butter, and corn syrup until the chips are very soft. A microwave oven works well, as does a saucepan set over very low heat.

Dip half of each cooled macaroon into the chocolate. Set the macaroons back on the baking sheet, and allow the chocolate to set completely before serving. To store, place in one layer in a closed container. They'll keep for 2 or 3 days, but will gradually become less moist as they sit.

Yield: 33 macaroons.
Nutrition Information
Serving Size

1 macaroon

Servings Per Batch

33 macaroons
Amount Per Serving:
Calories

187

Calories from Fat

128

Total Fat

14g

Saturated Fat

12g

Trans Fat

0g

Cholesterol

3mg
Sodium

39mg

Total Carbohydrate

17g

Dietary Fiber

1g

Sugars

11g

Protein

2g
* The nutrition information provided for this recipe is determined by the ESHA Genesis R&D software program. Substituting any ingredients may change the posted nutrition information.
Tips from our bakers
Coconut cream, sweetened condensed coconut milk, is the coconut equivalent of sweetened condensed milk. Substitute sweetened condensed milk, if desired.
Coconut milk powder adds flavor and helps the macaroons hold their nice, smooth shape. Leave it out if you like.
For extra special macaroons, try these variations: Chocolate Cherry Macaroons: Add 1/2 cup diced cherries (candied or maraschino) and 1/2 cup semi-sweet mini chips.
German Chocolate Macaroons: Add 1/2 cup diced pecans and 1/2 cup semi-sweet mini chips. Drizzle caramel sauce over the cooled cookies.
Reviews
We agree with the issues identified by other reviewers. Oddly enough, at the KAF store in Norwich they have for years offered KILLER macaroons. We have bought many over the years. Could you supply the recipe that you use in-house, or is it a trade secret?

We're sorry to hear that this recipe hasn't worked out well for you, Roger. As another reviewer noted, taking care to use cream of coconut (or sweetened coconut cream) is key to its success. You might also try using sweetened condensed milk if you're having trouble locating the correct coconut product; or simply giving our Coconut Macaroon Cookie Mix a try. We aren't able to provide the exact recipe for our bakery macaroons...after all, we've got to give you a reason to keep coming back! If we can help troubleshoot this one any further, we hope you'll give our free Baker's Hotline a call at 855-371-BAKE. Mollie@KAF
I think the problem here is that coconut cream and cream of coconut are two different things. One is sweetened and the other is simply the cream. It is a huge difference. I believe that cream of coconut is what is desired in this recipe. A full can of coconut cream with unsweetened coconut would be a disastrous mess.

Thanks for your helpful note, Paulette. You're right that we are recommending cream of coconut, which is a sweetened coconut cream. To avoid any further confusion, we have updated the wording accordingly. Thanks for calling our attention to it! Mollie@KAF
You can't do anything with these except eat them with a fork or spoon. They are impossible to pick up and eat without a mess everywhere and you can't even begin to "dip" them in chocolate. I picked mine up and drizzled the chocolate over the bottom. When you cook them on parchment for 10 minutes, then cool them, there's two things: they don't look done and they sit there and sweat on the parchment causing even more moisture. It was a huge waste of $7 worth of coconut. I won't be making them again. They need egg white or something to hold them together.
We're sorry to hear that you had trouble with the recipe. We hope you'll take a look at our blog for step by step directions, and don't hesitate to contact our hotline if you'd like to troubleshoot further. MJR @ KAF
These are delicious and easy to make BUT they were impossible to dip. They are very fragile. I dribbled chocolate on them, but even that was hard. I made them exactly as written, except that my coconut cream was an ounce less than the recipe called for. I wouldn't have wanted more, because some of it leaked out of the cookies. Even today, you can mold the cookies with your fingers as you picked them up.
Love the coconuttiness of these cookies. Btw, nowhere does it say these are kosher for Passover, at least as far as I can see. Love of macaroons is not limited to we Jewish folk. Not everything has to be K for P and besides there are ways to adapt as someone else has done here if you are observant. The folks at KA are responsive to all kindly made suggestions and there is no need for anyone to take offense.
I agree that many of the ingredients are not suitable for those who observe Passover, as I do. To make coconut macaroons that are permissible and delicious, use 1 1/3 c unsweetened coconut to 2 egg whites, 1/3 c sugar, 3 Tbs matzoh meal and 1 tsp almond extract.
I followed the recipe exactly and they taste great....PROBLEM being is that all the cream of coconuts oozed out of the bottom while they were baking and I have a huge mess of coconut and nothing that can even be dipped....what a waste of my time a products very disappointing as I use KA as my go to for recipes

That's no fun!Check how you measured the coconut- weight of the bags would be best. And be sure to use the coconut milk powder- it helps to hold things together. A thorough mixing will ensure that all ingredients are fully dispersed. Please call our Hotline at 1-855-371-2253 if you'd like some more tips before trying them again. Laurie@KAF
There is no kosher for Passover coconut cream. If you are truly serious about adapting recipes that meet the stringencies of Passover, I strongly suggest you consult a competent authority. For most of your audience, it probably doesn't matter; for those of us to whom it does, your lack of research feels like an insult. Thanks for the additional info. I'll pass along your encouragement to our test kitchen team. Frank @ KAF.
I have made these twice and both times the coconut cream oozed and spread out the bottoms during baking, creating a sort of burnt sugar ring. Fortunately, I used parchment, so clean up was easy. To fix the bottoms I allowed the macaroons to cool then trimmed the excess off with scissors. For me dipping the bottoms in chocolate (instead of top) helped them hold together better. I think my second batch made using the coconut milk powder performed best. A little extra effort was required by the ooze, but worth the trouble. They are moist, delicious and pretty.
Does this use cream of coconut (sweetened) or unsweetened coconut cream?,br /> This is from the blog. " cream of coconut, which you can find in the mixed drinks section of your supermarket. You know how most macaroon recipes call for sweetened condensed milk? This is condensed sweetened coconut milk." Mary @KAF