A customized print-friendly version of this recipe is available by clicking the "Print Recipe" button on this page.
Chocolate-Filled Walnut Madeleine Cookies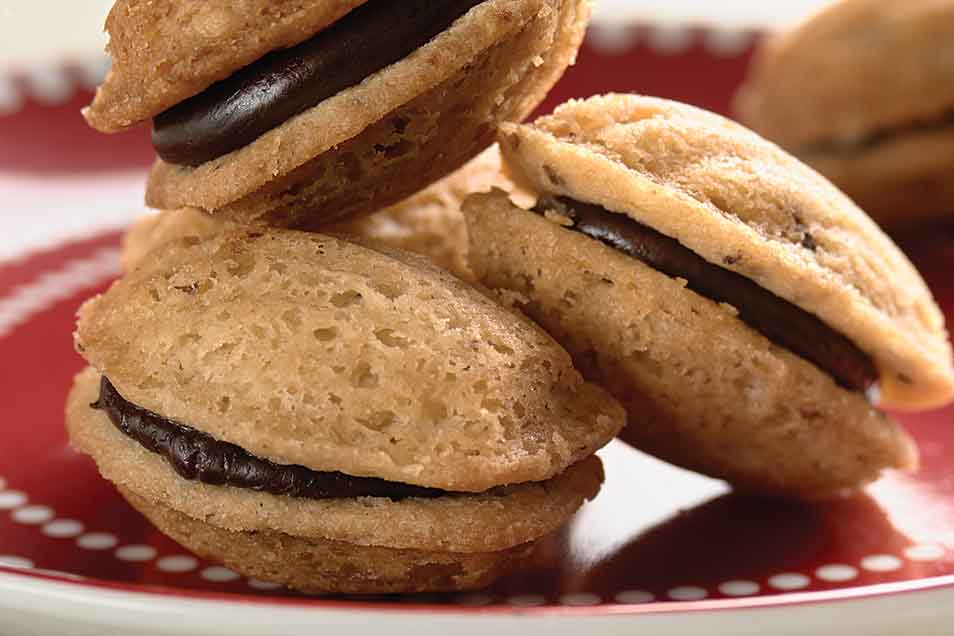 These tiny sandwich cookies, shaped and baked in a madeleine pan, then filled with creamy dark chocolate, are just as tasty as they are cute.
Ingredients
Filling
1/3 cup heavy cream
2 teaspoons light corn syrup
2/3 cup semisweet or bittersweet chocolate chips or chopped chocolate, melted
Instructions
Preheat the oven to 375°F. Get out your mini madeleine pan; there's no need to grease it.

To make the cookies: Beat the soft butter, brown sugar, salt, and flavorings until fluffy.

Stir in the flour, cornstarch, and nuts.

Wrap the dough, and refrigerate for 30 minutes.

Press 1 teaspoonful of chilled dough into the bottom and up the sides of each well in the pan.

Bake the cookies for 8 to 10 minutes, until they're browned around the edges. Cool for a few minutes, then push on the thick edge of each cookie to pop it out of the pan. Repeat with the remaining dough.

To make the filling: Heat the cream and corn syrup until steaming; a microwave works well here.

Add the chocolate, stirring until it melts. Reheat briefly on low heat if the chocolate doesn't completely melt.

Cool until the mixture thickens somewhat, whisking often.

Spread a bit of the chocolate on each side of the cookies. Let them sit for a few minutes to partially set up, then sandwich the halves together.

Yield: 27 to 29 filled cookies.
Reviews
If you roll the dough into an egg-shaped ball before pressing into the mold, the result looks prettier.
At first I wasn't sure how they would turn out, not your usual method for Madelines but they were absolutely delicious! Not difficult to make and to add the ganache, perfect. Shared them at my Church Thanksgiving lunch and not one was left. Thanks for the recipe
Very quick and easy to make, and not too sweet -- a good thing in my book. I substituted arrowroot powder for the cornstarch and a few drops of butter rum flavor for the vanilla-butternut flavor, omitted the nuts, and just ate the cookies without the chocolate filling. They taste a lot like shortbread, but are a bit lighter. Excellent with a cup of tea or coffee. I was a bit surprised at how dry the dough was with no added liquid, but it pressed into the pan just fine. I appreciate the tip on how to remove the cookies from the madeline pan, too. That worked quite well!
These are delicious! I absolutely love the recipe, and the method was simple to follow. This was a wonderful way to use my new madeleine pan.