A customized print-friendly version of this recipe is available by clicking the "Print Recipe" button on this page.
Chocolate Fudge "Blackout" Cake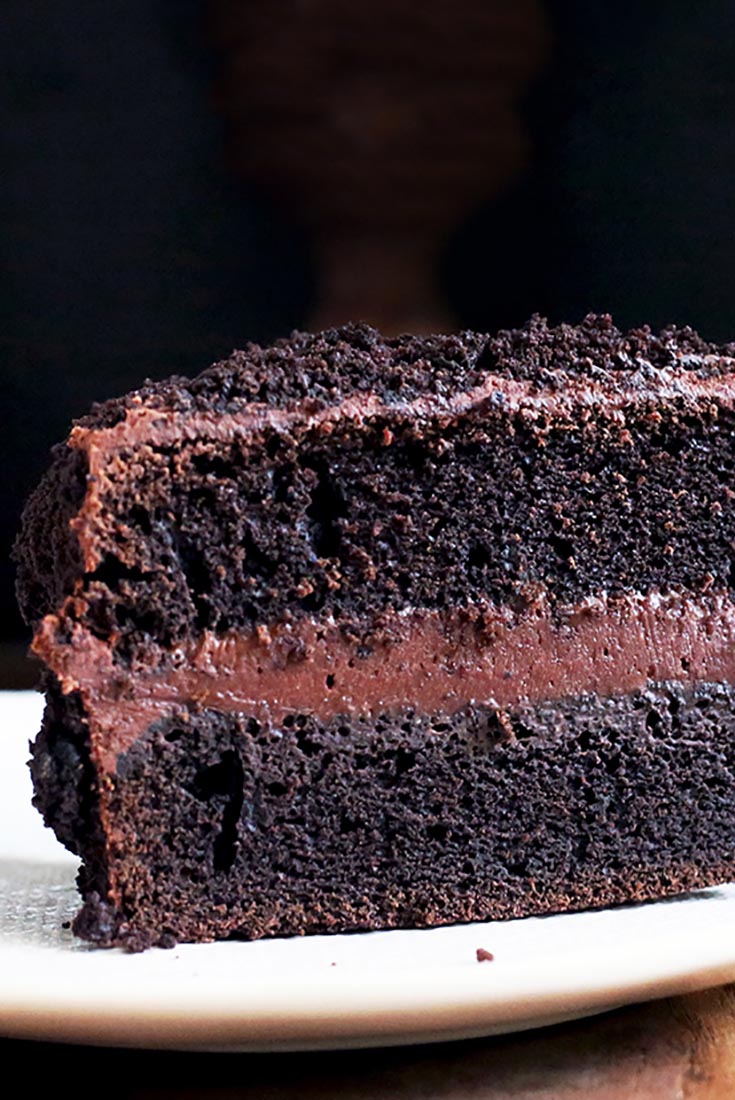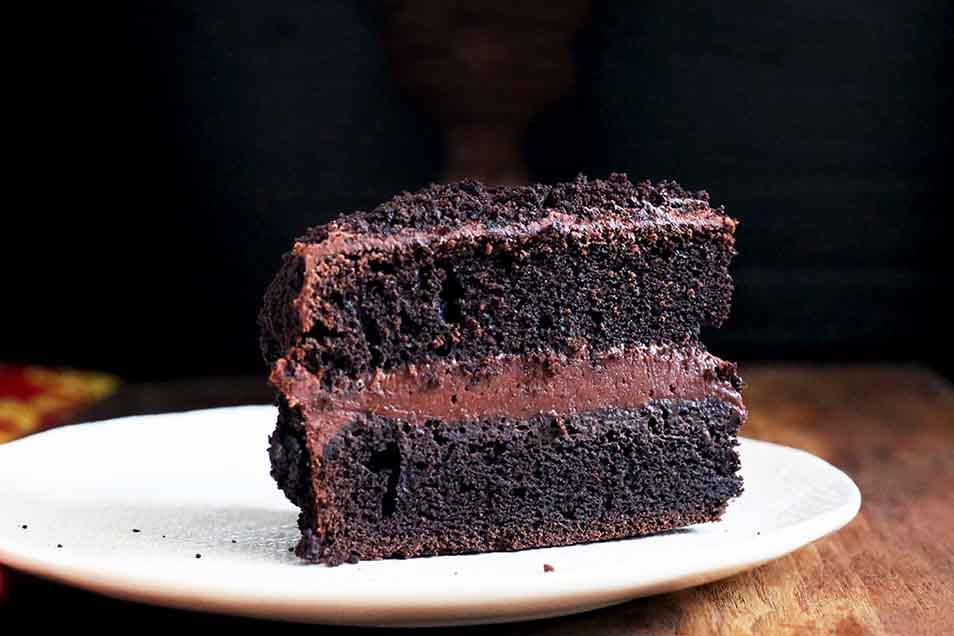 Ebinger's, a lost-but-not-forgotten Brooklyn bakery, made their original version of this cake famous. Our recipe, based on the spirit of Blackout Cake if not its exact ingredients, marries a moist chocolate layer cake with rich, pudding-like filling and thick ganache icing — plus Ebinger's trademark cake-crumb coating.
Ingredients
Filling
1 cup semisweet chocolate chips
1/8 teaspoon salt
2 tablespoons sugar
1/2 teaspoon espresso powder, optional; for enhanced chocolate flavor
1 large egg, at room temperature
1 cup heavy cream
1 teaspoon vanilla extract or 1 to 2 tablespoons liqueur (e.g., Kahlua)
Cake
2 cups sugar
2 tablespoons Cake Enhancer, Instant ClearJel, or cornstarch
3/4 cup Double-Dutch Dark Cocoa or Dutch-process cocoa
2 teaspoons baking powder
1/2 teaspoon baking soda
1 teaspoon salt
1 teaspoon espresso powder, optional; for enhanced chocolate flavor
4 large eggs
3/4 cup vegetable oil
2 teaspoons vanilla extract
1 1/4 cups water
Icing
1 1/2 cups chocolate chips or chopped semisweet or bittersweet chocolate
3/4 cup heavy cream
Instructions
To make the filling: Place the chocolate chips, salt, sugar, and espresso powder in a blender or food processor and pulse until finely ground.

Add the egg and pulse just until the mixture is smooth.

Heat the cream to just below a boil, with small bubbles forming around the edge of the saucepan (or microwave-safe bowl).

Turn on the blender or processor, and slowly add the cream. Scrape down the sides of the container if necessary. Add the vanilla, or liqueur of your choice, and pulse to blend.

Pour the pudding into a shallow bowl, and refrigerate it until chilled and thickened, 2 hours to overnight.

Preheat the oven to 350°F. Lightly grease two 8" x 2" round cake pans. Line them with 8" parchment circles, if desired, and grease the parchment; this step will ensure your cake's crumble-free turnout from the pan.

To make the cake: Whisk together the dry ingredients.

Add the eggs, oil, and vanilla; beat on medium speed for 2 minutes, scraping the bottom and sides of the bowl.

Stir in the water; the batter will be thin.

Pour the batter into the two prepared pans.

Bake the cakes for 35 to 45 minutes, or until a toothpick inserted into the center comes out clean.

Remove the cakes from the oven. Cool them for 15 minutes, then turn them out of the pans to cool completely on a rack.

To make the icing: Combine the cream and chocolate in a microwave-safe bowl or in a saucepan. Heat until the cream is steaming and showing small bubbles around the edge.

Remove the chocolate/cream from the microwave or burner, and stir until the chocolate is melted and the mixture becomes completely smooth, with no lighter areas remaining visible.

Refrigerate the icing for 30 minutes. Beat the chilled icing briefly, until it thickens a bit and becomes spreadable.

To assemble the cake: Cut the domed tops off both cake layers; these will become your crumb coating.

Place one layer on a serving plate. For best presentation, lay strips of parchment around the edge of the plate before laying the cake on top; these will catch the inevitable icing drips, and can be removed once you're done icing the cake.

Top the cake with the filling, spreading it evenly to the edges.

Center the second layer of cake atop the filling.

Spread the icing over the top and onto the sides of the cake.

Crumble the reserved cake, and gently press it onto the top and sides of the assembled cake.

Serve immediately, or within a couple of hours. For longer storage, refrigerate. This cake is best served the same day it's made, or within 24 hours. Freeze, well-wrapped, for longer storage. You may also choose to freeze individual slices — for those times when you HAVE to have a piece of chocolate cake!
Nutrition Information
Serving Size

1 piece (195g)

Servings Per Batch

12
Amount Per Serving:
Calories

650

Calories from Fat

360

Total Fat

40g

Saturated Fat

16g

Trans Fat

1g

Cholesterol

125mg
Sodium

430mg

Total Carbohydrate

79g

Dietary Fiber

5g

Sugars

54g

Protein

9g
* The nutrition information provided for this recipe is determined by the ESHA Genesis R&D software program. Substituting any ingredients may change the posted nutrition information.
Reviews
I've made this cake several times each time its been a hit with no issues. The first time I made exactly per the directions and it was fine as is. Now each subsequent time I add a new twist. Currently I substitute KA cake flour instead of all purpose, use twice the salt, and use 50/50 milk/semisweet chocolate for the ganache. I also make the filling a day ahead of time by lining my cake pan with plastic wrap, refrigerating or freezing, and then removing the set filling in pan shape for use later. Sometimes I even make the icing/ganache ahead of time and then soften in microwave and whip before spreading. Much better luck with this recipe in an aluminum cake pan Vs steel. No issues with a firm filling when cream is hot enough and finely ground Ghirardelli 60% Cacao Chocolate chips.
All the flavors are great, but the filling is way too thin. it oozed out when i put the top layer on. I did whip the icing after chilling it a little longer than the recipe suggests. but it was still thick and barely covered the top layer and its sides. But it didn't matter so much because the oozing filling covered the bottom layer. The crumbs from the cake crowns were too gummy to crumble good and only covered the top. I made this for my granddaughter's 13th birthday and she loved it! That's really all that matters!

We're happy to hear this was a birthday success in spite of any minor pitfalls, Patricia! If we can help to troubleshoot for an easier next bake, feel free to give us a call at 855-371-BAKE. Our bakers are here seven days a week, ready to chat. Mollie@KAF
The other comments are correct when they say the filing is to thin. Someone asked me to make this for them and to my disappointment the only thing that came out correctly was the cake. I could have made the frosting work though the picture taken is not of the cake we made. I know how to make ganache frosting so I knew when it called for heavy cream and chocolate chips that's what is making not a frosting shown in the picture. Best answer to this cake is try another.

Carrie, we're sorry to hear that this cake left you disappointed. You're right that the icing is a ganache, but the key to getting it stiff enough to spread is to chill it for 30 minutes, then beat it just enough to make it spreadable. Skipping the chilling step would inevitably lead to a thinner icing that would drip right off the cake. Whether or not you give this recipe in particular another try, we hope this tip will help down the road. There's really never a wrong time for a ganache icing after all. Mollie@KAF
Hi, there is a mistake with the filling: if your filling is not setting up its because there is a mistake with the chocolate and cream mix. Chocolate should be about twice of the cream....like ganaches . Please make correction of the ingredients list and you'll be find. (at the filling ingredient list change the amount of cream for chocolate, and the chocolate for cream and that's it..)

Thanks for keeping us on our toes, Natch, but the filling here is intentionally a little softer, more like a pudding than a ganache. It's actually the same as our recipe for Quick Pots de Creme, which you can also find here on our website. Hope this helps to clarify! Mollie@KAF
The cake overall was delicious. My only suggestion is to have a back up plan for a way to thicken the pudding filling as it didn't set up well despite using exact ingredients and following the directions. After a few hours of chilling, it was still pretty soupy, so I did as another reviewer suggested and stirred in some unflavored gelatin and then I let it sit overnight in the refrigerator. Although it did set more, it wasn't quite firm enough (maybe I should've added a bit more gelatin) and didn't really 'hold' very well between the cake layers and oozed over and down the sides. Not super runny but not as expected. I'll probably make it again but may research more first on how to get the filling to set up better.

Nancy, using a bit of unflavored gelatin certainly is a good back-up plan. We'd love to help you achieve success right from the start, though! Be sure you use heavy cream and heat the mixture until boiling. This should help activate the thickeners. You could also try using some Instant ClearJel mixed with the sugar to give the filling extra body and strength. We hope this helps! Kye@KAF
Love this recipe. The only issue I have is that despite leaving the filling in the fridge overnight ( both times I've made it), the mixture never thickens up. This makes assembling the cake really difficult as it just spills everywhere. Could there be a particular reason why it never thickens? I'd like to know, because this cake really is delicious, and I'd like to make it again without this issue reoccurring.

Alice, this sounds like a good challenge to work through with our Baker's Hotline. Give us a call at 855-371-BAKE, and one of our bakers will be happy to troubleshoot with you. Mollie@KAF
I make all my cakes in a rice cooker and this one worked just fine. Please remember that some people are a little trashier than others: It's helpful to be consistent with your language. I am sure that most people don't stumble over the use of "ganache," but the recipe only talks about "icing" and "filling." I was able to figure it out with context clues (ingredient list is different for both), but not everyone will know what you meant by "ganache." Cake itself turned out great of course. And I used the crumbs on the side of the rice cooker for the topping because there's no top to lop off :) For novices: This isn't as hard as it seems. And you can use high-end chocolate bars chopped up instead of chocolate chips if that's easier. A pound is about right if you tend to snack on about 5% of what you make. I also omitted the salt from the recipe without incident, but I know, I know. That debate ought to be held elsewhere.

Joel, we agree that is could be potentially confusing to refer to the topping as "icing" in one place and then "ganache," later in the instructions. The truth is this cake is topped with a ganache-style icing! We've asked our Recipe Team to look into this and make the recipe's language more consistent for clarity. Thanks for sharing your thoughts with us. Kye@KAF
We really love this cake in my house. My filling didn't set up so I added just a little unflavored gelatin and it turned out fine in the end. I didn't crumb the entire cake but rather just the bottom inch and I dotted it with some shiny, silver nonpareils. Also, I baked this in two, six inch rounds for a spectacular and towering four-layer cake. This is a rich cake so we had plenty leftover which was just as good for breakfast the next day. Thanks, KAF!
I loved this cake. I have had our family recipe that is the tried and true chocolate cake recipe (depression cake, with no eggs and vinegar) and used it regularly until now. This cake was moist, the genache on the outside was freakin awesome. I added Kahlua to the center and wished after that I just used vanilla... It was still very good, but it gave it an off flavor that was off putting to some. I recommend using the espresso powder, it elevates the chocolate to another level. Thank you King Arthur, once again you have proved that your recipes are as incredible as your products.
I made the cake layers only, to test the flavor and how it turned out before making the other elements of the recipe. I wasn't happy with the texture and flavor after it cooled from the oven. Put one layer in the freezer and let one layer hang out for a couple of days in the fridge. What a difference! FANTASTIC. A great time saver, knowing the texture and flavor improved by hanging out for a while. The layer from the freezer just disappeared around my house. I'm for certain making the full cake for my son's birthday and I'm sure it will be a hit! Thank you, KAF!

Wow, Linda! Thanks for letting us know we can bake ahead and have it become even better! Laurie@KAF