A customized print-friendly version of this recipe is available by clicking the "Print Recipe" button on this page.
Chocolate Fudge "Blackout" Cake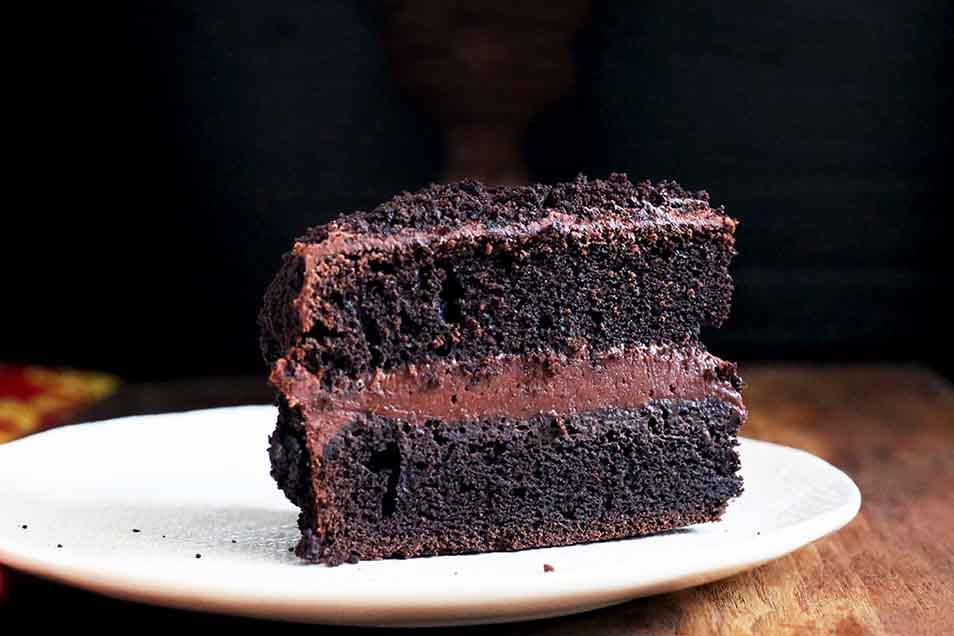 Ebinger's, a lost-but-not-forgotten Brooklyn bakery, made their original version of this cake famous. Our recipe, based on the spirit of Blackout Cake if not its exact ingredients, marries a moist chocolate layer cake with rich, pudding-like filling and thick ganache icing — plus Ebinger's trademark cake-crumb coating.
Ingredients
Filling
1 cup semisweet chocolate chips
1/8 teaspoon salt
2 tablespoons sugar
1/2 teaspoon espresso powder, optional; for enhanced chocolate flavor
1 large egg, at room temperature
1 cup heavy cream
1 teaspoon vanilla extract or 1 to 2 tablespoons liqueur (e.g., Kahlua)
Cake
2 cups sugar
2 tablespoons Cake Enhancer, Instant ClearJel, or cornstarch
3/4 cup Double-Dutch Dark Cocoa or Dutch-process cocoa
2 teaspoons baking powder
1/2 teaspoon baking soda
1 teaspoon salt
1 teaspoon espresso powder, optional; for enhanced chocolate flavor
4 large eggs
3/4 cup vegetable oil
2 teaspoons vanilla extract
1 1/4 cups water
Icing
1 1/2 cups chocolate chips or chopped semisweet or bittersweet chocolate
3/4 cup heavy cream
Instructions
You'll want to let the filling set overnight, so make it the day before you bake the cake. Place the chocolate chips, salt, sugar, and espresso powder in a blender or food processor and pulse until finely ground.

Add the egg and pulse just until everything is well combined; the mixture may start to form a cohesive mass.

Heat the cream in a bowl in the microwave, or in a pan set over medium-high heat. Heat until the cream's just short of a full rolling boil; it should be bubbling vigorously around the edges, with larger bubbles rippling across the interior. The temperature should be at least 205°F. If the cream's not hot enough it won't cook the egg, and the filling won't set properly.

Turn on the blender or processor, and slowly add the cream. Scrape down the sides of the container if necessary. Add the vanilla, or liqueur of your choice, and pulse to blend.

Pour the pudding into a shallow bowl, and refrigerate it until chilled and thickened, 2 hours to overnight.

Preheat the oven to 350°F. Lightly grease two 8" x 2" round cake pans. Line them with 8" parchment circles, if desired, and grease the parchment; this step will ensure your cake's crumble-free turnout from the pan.

To make the cake: Whisk together the dry ingredients.

Add the eggs, oil, and vanilla; beat on medium speed for 2 minutes, scraping the bottom and sides of the bowl.

Stir in the water; the batter will be thin.

Pour the batter into the two prepared pans.

Bake the cakes for 35 to 45 minutes, or until a toothpick inserted into the center comes out clean.

Remove the cakes from the oven. Cool them for 15 minutes, then turn them out of the pans to cool completely on a rack.

To make the icing: Combine the cream and chocolate in a microwave-safe bowl or in a saucepan. Heat until the cream is steaming and showing small bubbles around the edge.

Remove the chocolate/cream from the microwave or burner, and stir until the chocolate is melted and the mixture becomes completely smooth, with no lighter areas remaining visible.

Refrigerate the icing for 30 minutes. Beat the chilled icing briefly, until it thickens a bit and becomes spreadable.

To assemble the cake: Cut the domed tops off both cake layers; these will become your crumb coating.

Place one layer on a serving plate. For best presentation, lay strips of parchment around the edge of the plate before laying the cake on top; these will catch the inevitable icing drips, and can be removed once you're done icing the cake.

Top the cake with the filling, spreading it evenly to the edges.

Center the second layer of cake atop the filling.

Spread the icing over the top and onto the sides of the cake.

Crumble the reserved cake, and gently press it onto the top and sides of the assembled cake.

Serve immediately, or within a couple of hours. For longer storage, refrigerate. This cake is best served the same day it's made, or within 24 hours. Freeze, well-wrapped, for longer storage. You may also choose to freeze individual slices — for those times when you HAVE to have a piece of chocolate cake!
Nutrition Information
Serving Size

1 piece (195g)

Servings Per Batch

12
Amount Per Serving:
Calories

650

Calories from Fat

360

Total Fat

40g

Saturated Fat

16g

Trans Fat

1g

Cholesterol

125mg
Sodium

430mg

Total Carbohydrate

79g

Dietary Fiber

5g

Sugars

54g

Protein

9g
* The nutrition information provided for this recipe is determined by the ESHA Genesis R&D software program. Substituting any ingredients may change the posted nutrition information.
Tips from our bakers
For best success use good-quality chocolate chips. Off-brand chips may not have the strong chocolate flavor of good-quality chips; and they might also contain more sugar, which in the case of the filling can affect its ability to set.
Note: For those readers who comment their filling doesn't set, we're sorry! This recipe works perfectly as written every single time we test it; and we've explored every single way we can think of to make it fail, without success; so we're flummoxed why it doesn't work for you. For the record, we've tried chocolate chips vs. chopped chocolate; whipping cream vs. heavy cream; heating the cream to a simmer vs. heating it to just warm; and adding the liqueur vs. leaving it out. Every iteration works fine. We welcome comments from any reader who thinks s/he has the answer to this non-setting conundrum!
If you worry about raw eggs and food safety issues, use a pasteurized egg in the filling for this cake.
Reviews
Big hit with a native Brooklyn/Ebinger's crowd. Per other reviewers' advice, froze filling in 8" plastic lined pan and worked perfectly.
The filling set up perfectly for me, even though my cream only has 30% fat. I think the key is to use good quality chocolate. I used Callebaut callets. The recipe is as easy as pie.
I've baked a lot of pastries but this was my first cake, and it turned out fantastic! Intensely chocolatey flavor, moist and tender cake, and a pretty straightforward and easy process, even though it takes a lot of steps. I only had 9" cake pans, so I scaled everything up 25% and it worked well. I still went with 350F, and they took somewhere around 40 minutes to bake. The pudding filling set up just fine for me, although I think it ended up a hair too loose - at room temp, my slice was a little wiggly. Didn't fall over though! All in all, highly recommended even if you don't have cake baking experience. I look forward to making it again!
I found that you must make sure you use a LARGE egg when making the filling. No other size gives the same results
Contrary to many of the reviews here, I had zero issues with the filling, which I had left in the refrigerator for 8 hours to set.
Oh, Blackout Cake. If loving you is wrong, I don't wanna be right..."
Before I begin, I just want you guys to know that I adore your recipes and have a couple that I make quite frequently. Typically they're foolproof (for the most part) and delicious. In a time where companies are faceless and give the most minimal amount of support they can, I really, REALLY appreciate the fact that you read these reviews and respond, even though you provide all of this for free. All that said.... We gotta talk about this cake filling. (As another quick aside: I'll be using this cake recipe as my chocolate cake from now on, bar none. It's amazing and has the perfect texture/bite that I look for in a chocolate cake.) I have a pretty standard Kitchen Aid food processor (it's the KFP0711 model). I used the generic two blade attachment. I have a scale and a thermometer. I let the heavy cream (container says 'heavy whipping cream' and it was the only thing my grocery store has) get up to ~195F before pulling it off the burner, just to be sure I was accounting for the temp drop as I added it to the chocolate/egg mixture. Once this step was done, it looked great, other than being soupy. I put it in the fridge for 6-8 hours. I left it in the food processor bowl (would that matter?). Here's where things started going wrong.... When I took it out to use it, it seemed 100% fine. When I tilted the bowl it was it, it didn't run *at all*. Like, didn't budge whatsoever. Stayed completely flat. The second I started to work with it, spooning it on to the bottom layer, it turned almost immediately back to the consistency of cake batter (cake was completely cool btw). So I'm at a loss. Other than leaving it to set overnight, I have no idea what I've done wrong. I know baking is a science, so I'm usually really, really particular about things like weight and temp. I weighed all my ingredients and measured the temp of the heavy cream before adding it. I'm now going to have to re-bake the cake entirely because the pudding soup ruined the bottom layer and I'm just about to bag the whole thing because I'm so frustrated. Obviously I'm not alone in this (literally the only complaint in almost all of the reviews is the pudding). I wish we could figure out a way for it to fail for you guys or at the very least figure out if there's a little piece missing from the instructions. Maybe the pudding has to be transferred to another bowl for it to work? I feel like that's the only thing I didn't do, but I'm really failing to see how it would matter. Ugh. At least the chicken and dumplings I made for dinner turned out.

We admire your fudgy tenacity, Evan! Our test kitchen bakers have been going over this recipe with a fine-toothed comb over the last couple of months and tested any and all variations trying to replicate the issues that customers have been having with their pudding. Try as we might, the pudding eventually set up every single time. We tried chocolate chips vs. chopped chocolate; whipping cream vs. heavy cream; heating the cream to a simmer vs. heating it to just warm; and adding the liqueur vs. leaving it out. The way you described the pudding as being solid on top but still liquidy underneath is something we came across in testing. Leaving it in the fridge overnight allowed for all of the pudding to set up, not just the top. The food processor bowl shouldn't be a problem, it sounds like it just needed another 4-6 hours to firmly set up the whole way through. We always encourage fellow bakers to experiment and to reach out to our free and friendly Baker's Hotline at 855-371-BAKE (2253) if you have any questions along the way. A few more hours in the fridge and your pudding should be good to go! Annabelle@KAF
Hardest part is pudding filling ....but here's is what seems to work for me: - watch the cream like a hawk, and as soon as you see those little bubbles around the outside of the pan, it's ready to pour in to the chocolate/egg/sugar mixture - I run the food processor at a low setting - and add the heated cream in very slow - maybe it takes just under a minute to pour it all in through the feed chute. - Here is the kicker: I add 1 tablespoon of KA Instant Clearjel - Refrigerate in the coldest part of the refrigerator (typically towards the back) for at least 2.5 hours - if not much longer. Make it in the early morning if you can, and then make the rest of the cake later.
OMG this was probably the best chocolate cake I've ever had. I read the reviews ahead of time and saw that a lot of people seemed to have trouble with the pudding/mousse layer not setting, so I made sure to heat my cream a bit longer, until I could start to hear the hissing of the cream beginning to simmer. I refrigerated it overnight, though after a couple of hours it was set. The next day it was actually a bit stiff, but a quick stir softened it enough, and it was the richest chocolate mousse I had ever had! My ganache broke slightly ( I have never made one before; may have over-stirred or over-heated it), but a quick google search told my to mix in a small amount of warm milk, which worked pretty well (tasted great, covered in crumb coat anyways!). The cake itself was moist and chocolate. I couldn't find Dutch processed cocoa so I used a blended cocoa with Dutch processed a regular mixed, and the chocolate taste was awesome. I used Ghirardelli semi-sweet chocolate chips where semi-sweet chocolate was needed.
My dear friend requested a chocolate layer cake with chocolate pudding between the layers for her 50th birthday party, and this was the only recipe that I trusted enough for such a special occasion. With a guest list of 12, I decided I'd use 9 inch round pans and double the recipe for both the cakes and the filling. After reading so many reviews about how the filling wouldn't set, I decided to make the cake tonight since the party is tomorrow and I'll need a back-up plan if the filling is runny... I followed the recipe for filling as described above - omitting the optional espresso powder and doubling all other quantities. Specifically, I used Horizon organic heavy whipping cream, Guittard semisweet chocolate chips, KAF Baker's Special Sugar, Morton's iodized salt, The Fresh Market cage-free eggs, and KAF Pure Vanilla Extract. I decided to use a stovetop to heat the heavy whipping cream because I think it gives better temperature control than the microwave. (I used a Le Creuset quart pan with a pour spout.) I don't have a candy thermometer, so I watched for bubbles to form at the periphery of the pan and for the cream to start to steam just prior to adding it to all other ingredients in my food processor (Cuisinart 7-quart). To my great relief, the filling set in less than 2 hours in the fridge and it's sooooooooooooooooo good. The 9-inch cakes are in the oven, and I trust they'll be gorgeous. I'm writing this review as I wait for the cakes to finish with the hope that it will ease the mind of any potential future baker who reads reviews like I do and worries about making this cake. It's going to be a HUGE hit at the party tomorrow - I know I'll be making this again. :)