A customized print-friendly version of this recipe is available by clicking the "Print Recipe" button on this page.
Chocolate Fudge "Blackout" Cake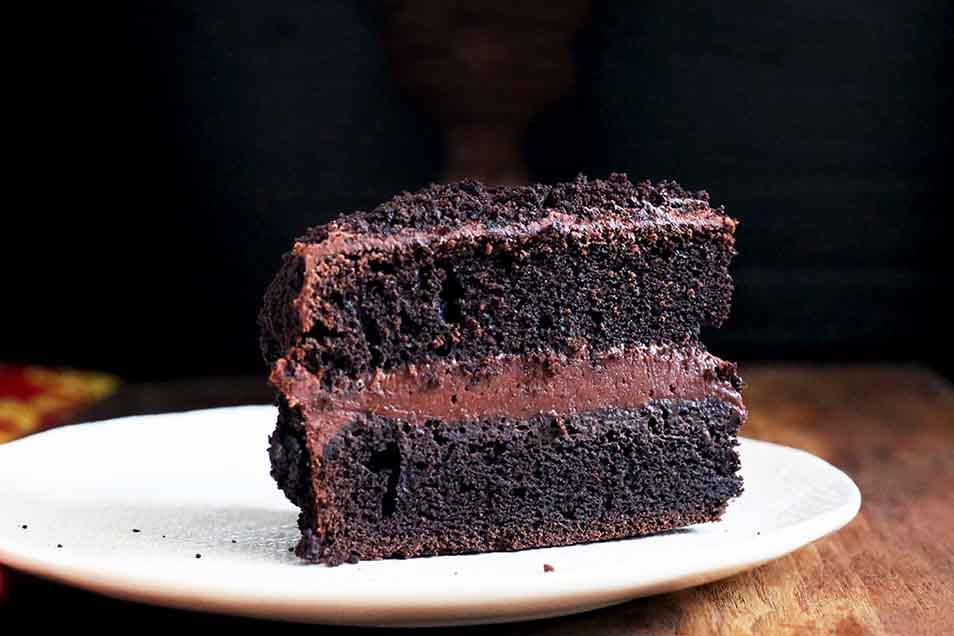 Ebinger's, a lost-but-not-forgotten Brooklyn bakery, made their original version of this cake famous. Our recipe, based on the spirit of Blackout Cake if not its exact ingredients, marries a moist chocolate layer cake with rich, pudding-like filling and thick ganache icing — plus Ebinger's trademark cake-crumb coating.
Ingredients
Filling
1 cup semisweet chocolate chips
1/8 teaspoon salt
2 tablespoons sugar
1/2 teaspoon espresso powder, optional; for enhanced chocolate flavor
1 large egg, at room temperature
1 cup heavy cream
1 teaspoon vanilla extract or 1 to 2 tablespoons liqueur (e.g., Kahlua)
Cake
2 cups sugar
2 tablespoons Cake Enhancer, Instant ClearJel, or cornstarch
3/4 cup Double-Dutch Dark Cocoa or Dutch-process cocoa
2 teaspoons baking powder
1/2 teaspoon baking soda
1 teaspoon salt
1 teaspoon espresso powder, optional; for enhanced chocolate flavor
4 large eggs
3/4 cup vegetable oil
2 teaspoons vanilla extract
1 1/4 cups water
Icing
1 1/2 cups chocolate chips or chopped semisweet or bittersweet chocolate
3/4 cup heavy cream
Instructions
You'll want to let the filling set overnight, so make it the day before you bake the cake. Place the chocolate chips, salt, sugar, and espresso powder in a blender or food processor and pulse until finely ground.

Add the egg and pulse just until everything is well combined; the mixture may start to form a cohesive mass.

Heat the cream in a bowl in the microwave, or in a pan set over medium-high heat. Heat until the cream's just short of a full rolling boil; it should be bubbling vigorously around the edges, with larger bubbles rippling across the interior. The temperature should be at least 205°F. If the cream's not hot enough it won't cook the egg, and the filling won't set properly.

Turn on the blender or processor, and slowly add the cream. Scrape down the sides of the container if necessary. Add the vanilla, or liqueur of your choice, and pulse to blend.

Pour the pudding into a shallow bowl, and refrigerate it until chilled and thickened, 2 hours to overnight.

Preheat the oven to 350°F. Lightly grease two 8" x 2" round cake pans. Line them with 8" parchment circles, if desired, and grease the parchment; this step will ensure your cake's crumble-free turnout from the pan.

To make the cake: Whisk together the dry ingredients.

Add the eggs, oil, and vanilla; beat on medium speed for 2 minutes, scraping the bottom and sides of the bowl.

Stir in the water; the batter will be thin.

Pour the batter into the two prepared pans.

Bake the cakes for 35 to 45 minutes, or until a toothpick inserted into the center comes out clean.

Remove the cakes from the oven. Cool them for 15 minutes, then turn them out of the pans to cool completely on a rack.

To make the icing: Combine the cream and chocolate in a microwave-safe bowl or in a saucepan. Heat until the cream is steaming and showing small bubbles around the edge.

Remove the chocolate/cream from the microwave or burner, and stir until the chocolate is melted and the mixture becomes completely smooth, with no lighter areas remaining visible.

Refrigerate the icing for 30 minutes. Beat the chilled icing briefly, until it thickens a bit and becomes spreadable.

To assemble the cake: Cut the domed tops off both cake layers; these will become your crumb coating.

Place one layer on a serving plate. For best presentation, lay strips of parchment around the edge of the plate before laying the cake on top; these will catch the inevitable icing drips, and can be removed once you're done icing the cake.

Top the cake with the filling, spreading it evenly to the edges.

Center the second layer of cake atop the filling.

Spread the icing over the top and onto the sides of the cake.

Crumble the reserved cake, and gently press it onto the top and sides of the assembled cake.

Serve immediately, or within a couple of hours. For longer storage, refrigerate. This cake is best served the same day it's made, or within 24 hours. Freeze, well-wrapped, for longer storage. You may also choose to freeze individual slices — for those times when you HAVE to have a piece of chocolate cake!
Nutrition Information
Serving Size

1 piece (195g)

Servings Per Batch

12
Amount Per Serving:
Calories

650

Calories from Fat

360

Total Fat

40g

Saturated Fat

16g

Trans Fat

1g

Cholesterol

125mg
Sodium

430mg

Total Carbohydrate

79g

Dietary Fiber

5g

Sugars

54g

Protein

9g
* The nutrition information provided for this recipe is determined by the ESHA Genesis R&D software program. Substituting any ingredients may change the posted nutrition information.
Tips from our bakers
For best success use good-quality chocolate chips. Off-brand chips may not have the strong chocolate flavor of good-quality chips; and they might also contain more sugar, which in the case of the filling can affect its ability to set.
Note: For those readers who comment their filling doesn't set, we're sorry! This recipe works perfectly as written every single time we test it; and we've explored every single way we can think of to make it fail, without success; so we're flummoxed why it doesn't work for you. For the record, we've tried chocolate chips vs. chopped chocolate; whipping cream vs. heavy cream; heating the cream to a simmer vs. heating it to just warm; and adding the liqueur vs. leaving it out. Every iteration works fine. We welcome comments from any reader who thinks s/he has the answer to this non-setting conundrum!
If you worry about raw eggs and food safety issues, use a pasteurized egg in the filling for this cake.
Reviews
Fantastic, turned out reallyyyy yyuummy
Just made this for my husband's birthday. It is an A+. I actually made the filling and the cake layers a day ahead of time to make it a little more manageable for a weeknight celebration. I wrapped the cake layers very tightly in aluminum foil and kept them in the fridge. While I was preparing the ganache, I let the cake come back up to room temp and get soft. It was perfect. The only thing that was kind of a nuisance was grinding the choc chips in the blender. I didn't want to put them in my Vitamix because the blade does not come out for cleaning and I knew the heat would melt the chips. So, I had to bust out the old Oster, which was loud and messy. But, it was worth it.
I made this cake for Valentines Day. It was SOOOO delicious and rich! Many thanks for the recipe
I love chocolate, but this was just too much...maybe a white cream filling? Also, used cake wraps to prevent doming. You don't mention them. Enjoy your site.
It is almost too much chocolate had to cut it with vanilla ice cream. It was almost perfect except my cake crumb was not fine enough. The pudding was perfect. I microwaved my heavy cream for two min., it was boiling and the pudding set up in 4 hours. It was a last minute decision to make for a birthday. I am freezing the left over.
I live and bake in Colorado Springs and my rating is based on the educated guess that this recipe would work like a dream at sea level. Where I live altitude is a constant headache and I have found that dutch process cocoa, in particular, is problematic. I tried this recipe with a mixture of dark and regular cocoa powder instead, and had beautiful results. I was also concerned about moisture so I added a couple yolks in addition to the water increase. I provided my adjustments below in case anyone else on here shares my struggles. Also, King Arthur- your recipes are awesome and I love using them as a reference/starting point. I also love that you provide an altitude guide....but I do hope someday you consider moving towards testing and posting recipes that are already adjusted. (Overall, there are lots of us out here and precious little information on the subject) 2 cups -2 T sugar 2 1/4 cups A/P 1/2 cup dark cocoa + 1/4 cup regular (not dutch) cocoa 1 1/3 cup warm water 1 tsp Baking Powder 1/4 tsp Baking Soda 1 tsp espresso 4 eggs and 2 yolks 3/4 cup oil
A couple suggestions regarding the filling: --make sure the egg and chocolate are at room temperature before adding the hot cream. The temperature after combining with the cream should be hot, not just warm. --if the consistency after adding the cream is still too runny, put it over a double boiler to bring the temperature high enough to set the egg.
Icing is awful. Same icing recipe you had with the yellow cake recipe. Please give us a better frosting recipe.

Susan, we'd be happy to point you towards a different recipe. Please give us a call at 855-371-BAKE (2253) so we can get an idea of the style of frosting you're looking for. Thank you, Annabelle@KAF
Big hit with a native Brooklyn/Ebinger's crowd. Per other reviewers' advice, froze filling in 8" plastic lined pan and worked perfectly.
The filling set up perfectly for me, even though my cream only has 30% fat. I think the key is to use good quality chocolate. I used Callebaut callets. The recipe is as easy as pie.