A customized print-friendly version of this recipe is available by clicking the "Print Recipe" button on this page.
Chocolate Fudge Bundt Cake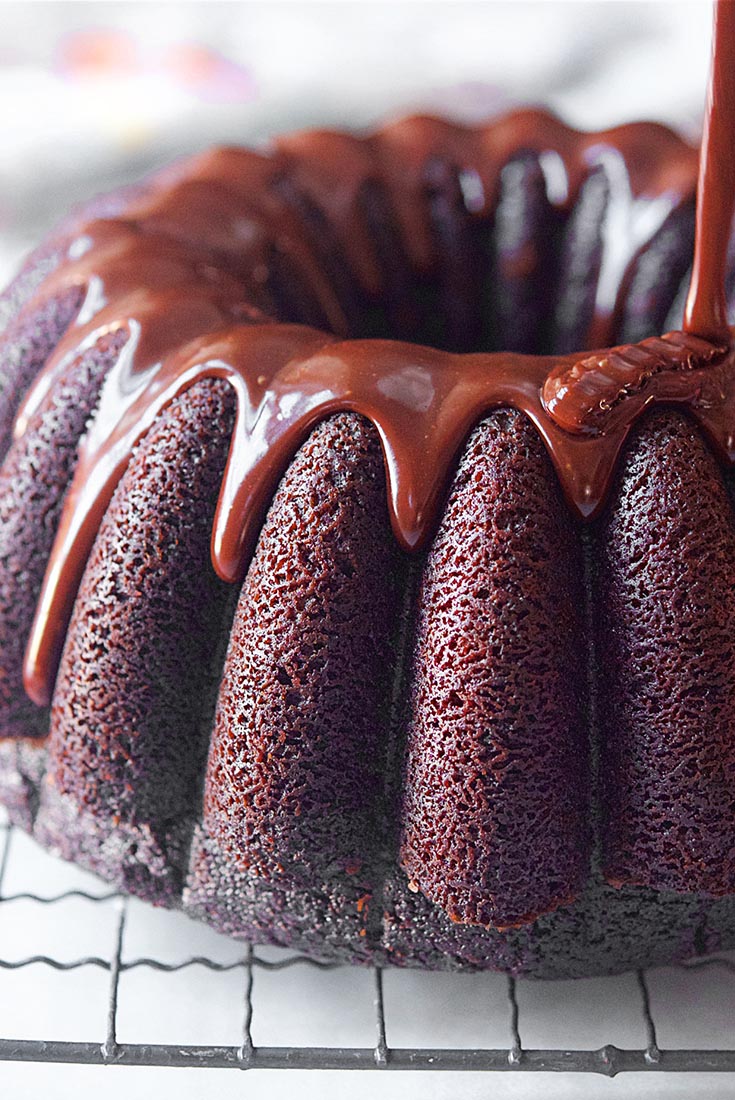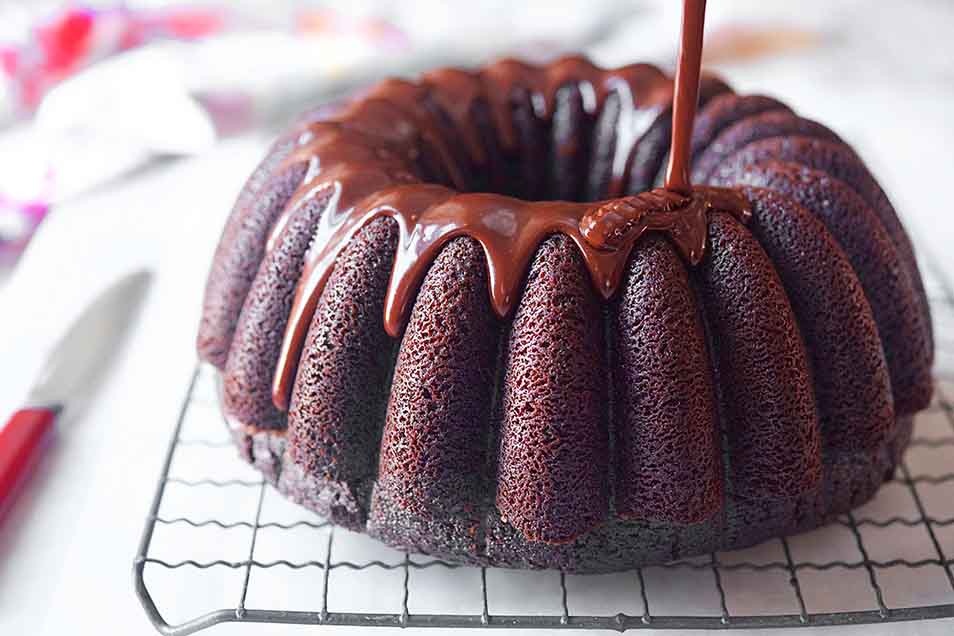 This moist, nicely dense fudge cake has an ultra-fine grain: think pound cake. Topped with a thick layer of rich ganache, it's a chocoholic's dream come true.

Baking gluten-free? For great results, substitute King Arthur Gluten-Free Measure for Measure Flour for the all-purpose flour in this recipe; no other changes needed.
Ingredients
Cake
1 cup brewed coffee*
16 tablespoons (1 cup) unsalted butter
3/4 cup unsweetened cocoa powder, Dutch-process cocoa preferred
2 cups sugar
3/4 teaspoon baking powder
1/4 teaspoon baking soda
3/4 teaspoon salt
2 teaspoons vanilla extract
2 large eggs
1/2 cup sour cream or yogurt (regular or Greek), full-fat preferred
*See "tips," below, for coffee alternatives.
Icing
2/3 cup chopped bittersweet or semisweet chocolate, or chocolate chips
1/4 cup heavy or whipping cream
Instructions
Preheat the oven to 350°F.

To make the cake: Place the coffee, butter, and cocoa in a small saucepan or microwave-safe bowl. Heat, stirring, until the butter melts. Remove from the heat, and whisk until smooth. Let the mixture cool for 10 minutes.

While the chocolate is cooling, put the sugar, baking powder, baking soda, salt, and flour into a mixing bowl, whisking to combine.

Pour the cooled chocolate mixture into the bowl with the dry ingredients, and mix until thoroughly combined. Scrape the bottom and sides of the bowl, and mix again to incorporate any residue.

In a separate bowl, whisk together the vanilla, eggs, and sour cream or yogurt. Mix into the chocolate batter, stirring until thoroughly combined.

Thoroughly grease a 10- to 12-cup Bundt pan, preferably non-stick. Pour the batter into the prepared pan. Bake the cake for 50 to 55 minutes, until a long toothpick or skewer inserted into the center comes out clean. Note: a pan with a dark interior will bake the cake more quickly; start checking at about 40 minutes.

Remove the cake from the oven, wait 5 minutes, and turn the pan over onto a cooling rack. After 5 more minutes, lift the pan off the cake. Let the cake cool completely before icing.

To make the icing: Combine the chocolate and cream in a microwave-safe bowl, or in a saucepan set over medium heat. Heat until the cream starts to bubble around the edges.

Remove from the heat, and stir until the chocolate melts and the mixture is smooth. Spoon the icing over the top of the cake, letting it drip down the sides.

Store any leftover cake at room temperature, well wrapped, for several days. Freeze for longer storage.
Nutrition Information
Serving Size

78g

Servings Per Batch

20
Amount Per Serving:
Calories

270

Calories from Fat

130

Total Fat

15g

Saturated Fat

9g

Trans Fat

0g

Cholesterol

50mg
Sodium

135mg

Total Carbohydrate

33g

Dietary Fiber

1g

Sugars

22g

Protein

4g
* The nutrition information provided for this recipe is determined by the ESHA Genesis R&D software program. Substituting any ingredients may change the posted nutrition information.
Tips from our bakers
If your cake develops a "foot" (a domed ring of cake) on the bottom, feel free to slice it off before transferring to a serving plate, for greater stability. But don't throw the cake trimmings away — baker's treat!
We highly recommend using brewed coffee in this recipe; while coffee won't add its own mocha flavor, it enhances the cake's chocolate flavor. However, you may substitute water, juice, or even stout beer for the coffee, if desired.
Our Gluten-Free Measure for Measure Flour makes it easy to make many of your favorite traditional recipes (like this one) gluten-free. Simply substitute Measure for Measure flour 1:1 for the flour called for in your recipe; no additional ingredients or other changes needed.
If you're like us (and many other bakers), and you've sometimes had trouble with your bundt cake getting stuck in the pan, please check out our blog Flourish. for some helpful tips.
Reviews
I followed the directions to a T. I should have followed my gut and floured the pan as well as grease it well with Crisco. Half the cake stayed in the pan, a huge disappointment. Should have floured the pan, too. Why no flour? I have a dark bundt pan, and a toothpick came clean after 45 minutes in the oven. Perfect. On the upside, the cake is delicious, moist and fine-crumbed. I'll have to make it again and prepare the pan differently. I made a mocha glaze for it, which was perfect.

Sorry to hear about the sticky situation, Nicki. Our test kitchen bakers have done a number of side-by-side comparisons trying to figure out the best way to ensure Bundt cakes release easily from the pan. When flour was used on top of a light coating on grease, it formed a bit of a paste, which in some cases actually made the cakes stick more. We prefer using a nut flour, cocoa powder, or even sugar to coat the inside of pans before adding the batter. These ingredients all successfully make a buffer between the cake and the pan without the gluten/paste-forming tendencies of regular flour. We hope next time the cake turns out beautifully. Kye@KAF
Good cake.....mine was a bit crispy on the bottom but then I had read the actual recipe which said bake 50-55 minutes. In the box at the upper right, it said 45-55 minutes. I think it would have been better if I'd removed it at 45 or 48 minutes but because of the 50-55 min. suggestion IN the actual recipe, I didn't start checking till 50. It seems that could be corrected by KAF. Good chocolate flavor but I felt that oil would have worked as well as butter for this particular recipe. Why is it done with butter? My tasters enjoyed it.

Thanks for sharing your feedback, Geoffrey. The 'At a Glance' box lists 40-55 minutes as the possible range of baking time because as you'll see noted in step 6, dark pans bake faster than lighter colored ones, in which case we recommend starting to look for doneness around 40 minutes. It sounds like this may have been what happened with your cake, which is why it was just a bit overbaked by the end of the full bake time. Another tip that can help you achieve the perfect bake is to put your Bundt pan on a baking sheet. This helps protect the bottom and outer edges of the Bundt from being too dry or burned by the time the middle is cooked. As for your question about butter, we found it added a deliciously creamy flavor that complemented the chocolate well. You're welcome to experiment with using vegetable oil next time if you prefer. Kye@KAF
I halved the recipe and made it in a small bundt pan and it came out perfectly. I cut back just a little bit on the sugar and will do that again the next time (and there will be a next time!). It was easy and quick enough that I was able to make it on a weeknight after work with my 4 year old, just in time to have after dinner for my mother-in-law's birthday. I lost track of how long it baked in the small bundt pan, but roughly 30 minutes or so.
Great for chocolate lovers. I'd like to offer one hint. Use Crisco and gerously grease your pan and make sure you get the flour coated evenly. The spray oils don't do the job. I'll bake this again.
I made this for my family for Valentine's Day, and it was a hit. Nice chocolate flavor and moist texture (not too dense in my opinion). I didn't have any problems with sticking- I oiled the bundt pan well and dusted it with cocoa powder, and it popped right out.
It came out absolutely perfect. No issues at all. Just follow the directions!
I thought I'd try a different cake recipe on a whim and went with this. I am a pastry school grad so should have known better than to have followed this recipe fully. The method and ingredients are flawed, first I'd use oil instead of butter and it should have had at least more more egg, the method was very unusual as well and the pan should be sprayed and floured. Turned out crumbly and top completely stuck to the pan.

We're sorry to hear you had such poor results with this well-loved recipe, Lindsay. We've done a number of side-by-side comparisons in our test kitchen to see which method works best for preventing cakes from sticking, and it turns out that greasing and flouring often creates a paste and leaves a sticky residue that may not release reliably. We found that either just greasing with a high-quality non-stick spray or brushing the pan with melted vegetable oil using a clean pastry brush worked best. (To check out the full article, click on the link to Flourish within the last Baker's Tips.) We hope you find the chocolate cake recipe you're looking for. Kye@KAF
Great rich taste. Came out perfect, I used Nordicware Bundt Cake pan.
Like the bumpy cake recipe, this recipe has errors. 350 degrees doesn't seem to be hot enough for this cake to bake in the 50-55 minutes stated in the recipe. I thought the cake was done, it had risen nicely, and a toothpick came out clean. But after I put the fudge icing on it and later cut it I found the top third of the cake was basically raw. I like the fudge icing, but I will probably search the internets for a better cake recipe. But the cake did come out of the pan without issue.

We're sorry to hear this recipe didn't turn out well, Curtis and thank you for letting us know. We'd love the chance to talk through this recipe with you and see where things may have gone awry. Our friendly Baker's Hotline staff is at the ready at 855-371-BAKE (2253). Kindly, Annabelle@KAF
Darn! I'm an accomplished baker, so I didn't think I'd have the same problems getting my cake out of the pan. I used a nonstick bundt pan and sprayed it heavily w cooking spray. Followed recipe carefully and yet when I tried to get the cake to release, WHUMP, half the cake came out but the bottom half half stuck to the pan! It's a mess. While it tastes good, this was supposed to be a birthday cake for a work colleague. I can't bring this to work and will have to bake an entirely new cake. Really sorry I wasted all that time and ingredients. I really thought I could trust KAF!