A customized print-friendly version of this recipe is available by clicking the "Print Recipe" button on this page.
Chocolate Fudge Bundt Cake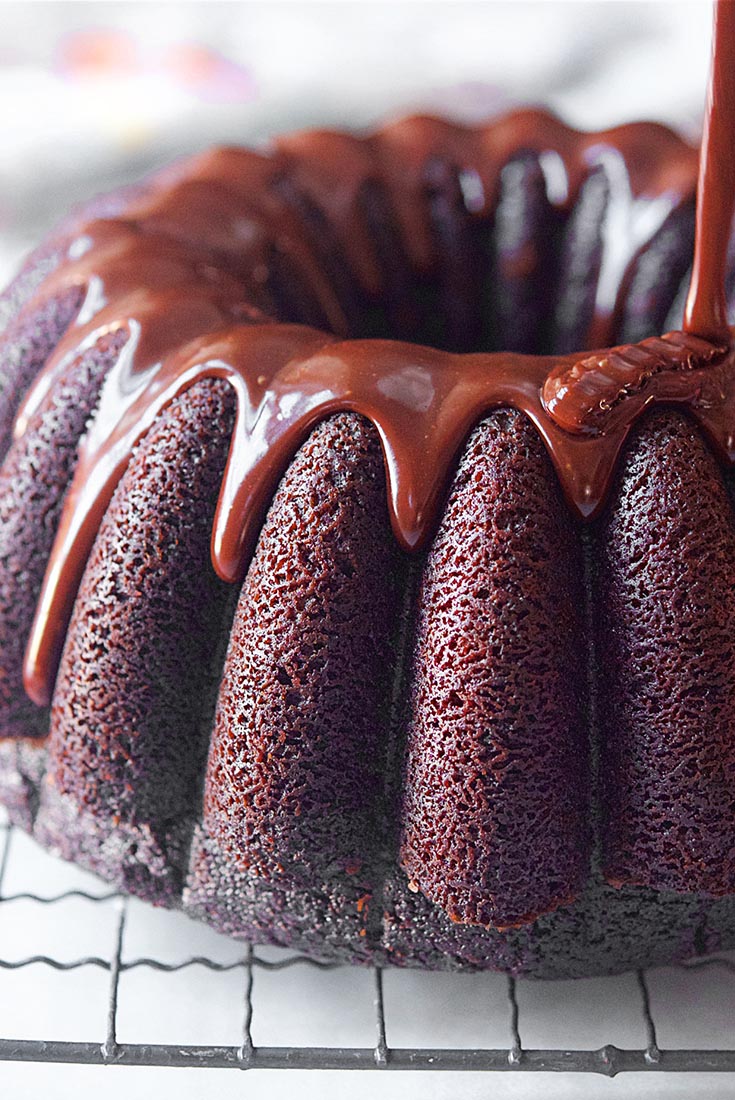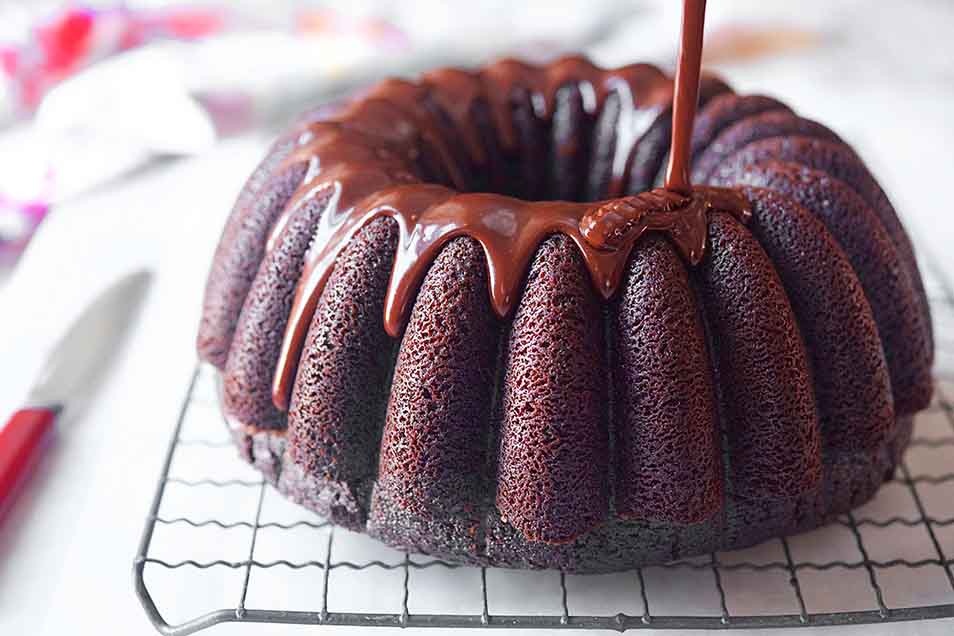 This moist, nicely dense fudge cake has an ultra-fine grain: think pound cake. Topped with a thick layer of rich ganache, it's a chocoholic's dream come true.

Baking gluten-free? For great results, substitute King Arthur Gluten-Free Measure for Measure Flour for the all-purpose flour in this recipe; no other changes needed.
Ingredients
Cake
1 cup brewed coffee*
16 tablespoons (1 cup) unsalted butter
3/4 cup unsweetened cocoa powder, Dutch-process cocoa preferred
2 cups sugar
3/4 teaspoon baking powder
1/4 teaspoon baking soda
3/4 teaspoon salt
2 teaspoons vanilla extract
2 large eggs
1/2 cup sour cream or yogurt (regular or Greek), full-fat preferred
*See "tips," below, for coffee alternatives.
Icing
2/3 cup chopped bittersweet or semisweet chocolate, or chocolate chips
1/4 cup heavy or whipping cream
Instructions
Preheat the oven to 350°F.

To make the cake: Place the coffee, butter, and cocoa in a small saucepan or microwave-safe bowl. Heat, stirring, until the butter melts. Remove from the heat, and whisk until smooth. Let the mixture cool for 10 minutes.

While the chocolate is cooling, put the sugar, baking powder, baking soda, salt, and flour into a mixing bowl, whisking to combine.

Pour the cooled chocolate mixture into the bowl with the dry ingredients, and mix until thoroughly combined. Scrape the bottom and sides of the bowl, and mix again to incorporate any residue.

In a separate bowl, whisk together the vanilla, eggs, and sour cream or yogurt. Mix into the chocolate batter, stirring until thoroughly combined.

Thoroughly grease a 10- to 12-cup Bundt pan, preferably non-stick. Pour the batter into the prepared pan. Bake the cake for 50 to 55 minutes, until a long toothpick or skewer inserted into the center comes out clean. Note: a pan with a dark interior will bake the cake more quickly; start checking at about 40 minutes.

Remove the cake from the oven, wait 5 minutes, and turn the pan over onto a cooling rack. After 5 more minutes, lift the pan off the cake. Let the cake cool completely before icing.

To make the icing: Combine the chocolate and cream in a microwave-safe bowl, or in a saucepan set over medium heat. Heat until the cream starts to bubble around the edges.

Remove from the heat, and stir until the chocolate melts and the mixture is smooth. Spoon the icing over the top of the cake, letting it drip down the sides.

Store any leftover cake at room temperature, well wrapped, for several days. Freeze for longer storage.
Nutrition Information
Serving Size

78g

Servings Per Batch

20
Amount Per Serving:
Calories

270

Calories from Fat

130

Total Fat

15g

Saturated Fat

9g

Trans Fat

0g

Cholesterol

50mg
Sodium

135mg

Total Carbohydrate

33g

Dietary Fiber

1g

Sugars

22g

Protein

4g
* The nutrition information provided for this recipe is determined by the ESHA Genesis R&D software program. Substituting any ingredients may change the posted nutrition information.
Tips from our bakers
If your cake develops a "foot" (a domed ring of cake) on the bottom, feel free to slice it off before transferring to a serving plate, for greater stability. But don't throw the cake trimmings away — baker's treat!
We highly recommend using brewed coffee in this recipe; while coffee won't add its own mocha flavor, it enhances the cake's chocolate flavor. However, you may substitute water, juice, or even stout beer for the coffee, if desired.
Our Gluten-Free Measure for Measure Flour makes it easy to make many of your favorite traditional recipes (like this one) gluten-free. Simply substitute Measure for Measure flour 1:1 for the flour called for in your recipe; no additional ingredients or other changes needed.
If you're like us (and many other bakers), and you've sometimes had trouble with your bundt cake getting stuck in the pan, please check out our blog Flourish. for some helpful tips.
Reviews
This cake is a beautiful moist cake. It is easy to make and bakes beautifully, though it took a little longer in my oven. I did not make the icing and served it with whip cream and mixed berries.
I baked this cake the day before yesterday, albeit with a few changes: 1. I made only half a recipe and bake it in a small bundt pan. 2. I used only half the amount of sugar suggested, and am glad I did that. If I had used the full amount, in this case one cup, it would have been much too sweet. 3. It's cherry season here in California, and I added half a cup of pitted fresh bing cherries each cherry cut in half. I use the painting with butter and dusting with flour method of preparing the bundt pan for baking. It works beautifully for me, and so far the cakes have always dropped out of the molds without any breakage. Your advice has been invaluable. This is a deep rich cake, and was delicious, although when I make it again over the weekend for my grandchildren I will toss in a half a cup of mini chocolate chips. I think they will give it not only added taste but also added texture. We are unmistakably chocoholics! Again I will make only 1/2 a recipe, but bake it in two mini bundt forms -- one for each grandkid to take home after the visit. I am sure they will join me in thanking KAF.
I made this cake for my son's birthday party using a pirate ship bundt cake pan I have. It came out perfectly! Because of the odd shape of my pan I had to bake it a little longer but it didn't stick to the pan and was moist on the inside of the cake. I dusted mine with powder sugar to make the details of the cake pop more but plan on making it with the icing next time.
Dear KAF, I made this recipe today and wanted to share a bit of feedback. First, it is very quick to put together, and that's a huge plus. I made it with organic ground cacao in celebration of a recent trip to Belize with a group of students. I actually like it better with the cacao than with cocoa, honestly. It gives it a deep chocolate flavor that is absolutely fabulous, soft and rich, and with just a vague, delightful bitterness. It is hard to describe - a bit less harsh than cocoa (which I've purchased from you and like), and fabulous. I highly recommend trying it. Now, to an issue that came up: I decided to take extra precautions for 'sticking-bundt-avoidance' so checked out your article on that topic, and went with the sugar coating after very thorough brushing with shortening. Not a success. The cake came out in three pieces :( I made a cacao glaze that was delicious and more than made up for how it came out of the pan, but would like to avoid a repeat of the break-up business. Bundts are a challenge, and mine don't always come out perfectly, but this one was worse than previous sticking issues. I realize the cacao might have been part of the issue, but am not sure that's the case. The cake had a soft texture, a bit less robust than some bundt recipes I've made, but not excessively so, and a lovely crust on the top (my favorite part, along with the glaze). Just thought I'd let you know! And if you've not made this with cacao, I highly recommend you give it a try. If you ever do it would be great to hear your thoughts!
Made this for a birthday this weekend and everyone loved it! The cake is moist with a deep chocolate flavor, without being too sweet. I greased the pan very thoroughly with butter and followed the directions to the letter...and one side of the cake fell apart when I was taking it out of the pan, so i patched it together and hid the flaws under the ganache. Next time I will allow it to cool longer before inverting the bundt pan. Thinking of trying this again as a 9x13 sheet cake for a party. Could it work?

Defintiely go for a 9" x 13" pan, Sara. You'll need a double batch to fill it, but this recipe doubles well. Happy baking! Annabelle@KAF
Would adding chocolate chips to the batter be overkill? If not, how much would you recommend adding? Thanks!

Chocolate chips tend to sink in cake batter that is not very thick; this batter is somewhere between thick and thin, so it may work. Two options to consider using if you want to ensure success are either chopping the chips roughly or using mini chips; or you could add 2 tablespoon of Instant ClearJel to the sugar in the recipe. This ingredient is a culinary thickener that will strengthen the batter and prevent the chips from sinking. If you use this last option, feel free to add up to 1 cup of chocolate chips. Happy baking! Kye@KAF
This is my go-to bundt cake recipe! This is a huge it with everyone I have made it for! My husband and I both dislike coffee, so I substitute double chocolate stout and it is soooo good! I was worried, because it had a strong beer smell, but it bakes up beautiful, flavorful and so moist. I've tried several bundt cake recipes, and this one is by far the absolute best. I make mini bundts as gifts for birthdays and Christmas. My sister for the last 2 years has requested these mini bundts as her gift! I bake 1-2 dozen minis and she freezes them. They freeze perfectly. I always make extra for me and my husband to freeze. We take one out in the morning, take it to work, and by lunch time its thawed and tastes as fresh as if I'd just made them. I doublt wrap them in plastic cling wrap, making sure to get it in the center of the bundt, and wrap in aluminum foil. They last for months. My sister once discovered one in her freezer she hadn't seen for six months, and she said it still tasted good when she thawed it out!
This truly is a chocolate fudge Bundt cake. I am not a huge chocolate fan, but the grandkids are. I needed something special for a family get together and decided to give this a try, with some trepidation because of the reviews. I certainly have had my share of Bundt cakes that did not release from the pan well, but I have had more success recently following the instructions on the Nordic ware website: use melted butter and dust with sugar or cocoa, do not use baking sprays. I used about 1 1/2 tbsp. of melted butter to grease my full size Nordic ware Bundt pan. I followed the directions carefully and weighed everything (except the baking powder, soda, and salt). I waited the prescribed time for turning the pan over and lifting the pan off. I could not have asked for better results - perfect release. The texture was just right for a Bundt cake, somewhere between pound cake and a light layer cake. The flavor was rich and fudgy. The kids (and adults) loved the flavor. I used brewed coffee (I agree it enhances the chocolate flavor) and Bensdorp Dutch-Process cocoa. I have a black, non stick Nordic ware Bundt pan and started to test for doneness after 40 minutes and suggested. The total baking time was 52 minutes and there was no problem with a crusty outside (maybe the butter on the pan was a help here, but I am only guessing about that). Thanks KA.
This is my second review. I made this for Easter but thought it looked skimpy, so I wrapped and froze it. I served it today, and my friends loved it. It has a wonderful texture and is intensely chocolate.
I made this cake yesterday as one of the Easter dinner desserts using my 12 cup Bundt pan. I had no trouble releasing the cake from the pan as I used the recommended method of melted shortening and cocoa dusting. It smells heavenly. However, it looks very small and did not rise as other recipes do. It just looks skimpy. I decided to cool, triple wrap, and freeze for another gathering with fewer people. Then I made another recipe with much better results. I know all of my ingredients are fresh, and I am an experienced baker. I may review again once I actually taste it! Perhaps it would look better in a smaller pan.