A customized print-friendly version of this recipe is available by clicking the "Print Recipe" button on this page.
Chocolate Fudge Bundt Cake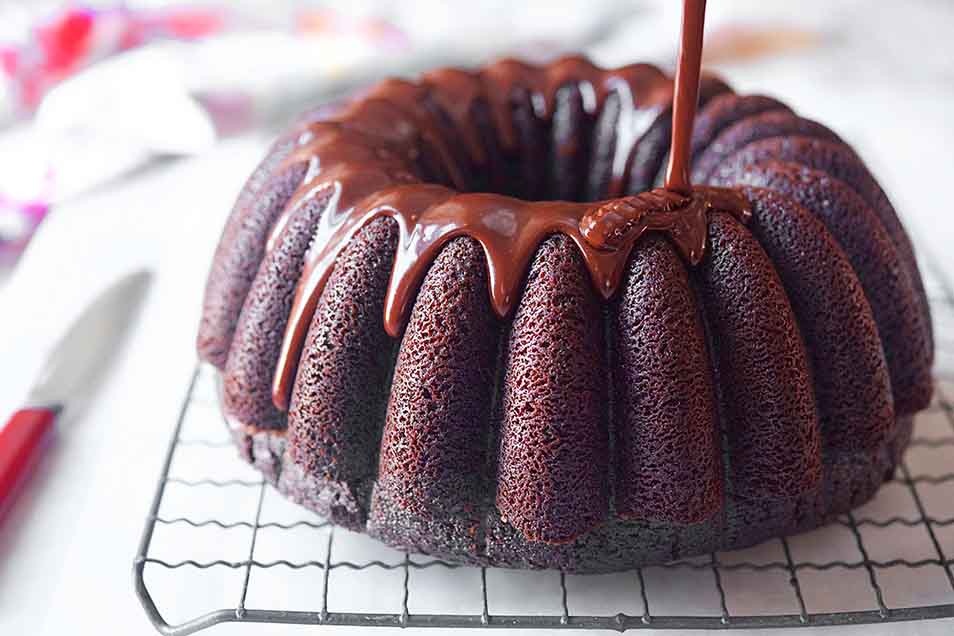 This moist, nicely dense fudge cake has an ultra-fine grain: think pound cake. Topped with a thick layer of rich ganache, it's a chocoholic's dream come true.

Baking gluten-free? For great results, substitute King Arthur Gluten-Free Measure for Measure Flour for the all-purpose flour in this recipe; no other changes needed.
Ingredients
Cake
1 cup brewed coffee*
16 tablespoons (1 cup) unsalted butter
3/4 cup unsweetened cocoa powder, Dutch-process cocoa preferred
2 cups sugar
3/4 teaspoon baking powder
1/4 teaspoon baking soda
3/4 teaspoon salt
2 teaspoons vanilla extract
2 large eggs
1/2 cup sour cream or yogurt (regular or Greek), full-fat preferred
*See "tips," below, for coffee alternatives.
Icing
2/3 cup chopped bittersweet or semisweet chocolate, or chocolate chips
1/4 cup heavy or whipping cream
Instructions
Preheat the oven to 350°F.

To make the cake: Place the coffee, butter, and cocoa in a small saucepan or microwave-safe bowl. Heat, stirring, until the butter melts. Remove from the heat, and whisk until smooth. Let the mixture cool for 10 minutes.

While the chocolate is cooling, put the sugar, baking powder, baking soda, salt, and flour into a mixing bowl, whisking to combine.

Pour the cooled chocolate mixture into the bowl with the dry ingredients, and mix until thoroughly combined. Scrape the bottom and sides of the bowl, and mix again to incorporate any residue.

In a separate bowl, whisk together the vanilla, eggs, and sour cream or yogurt. Mix into the chocolate batter, stirring until thoroughly combined.

Thoroughly grease a 10- to 12-cup Bundt pan, preferably non-stick. Pour the batter into the prepared pan. Bake the cake for 50 to 55 minutes, until a long toothpick or skewer inserted into the center comes out clean. Note: a pan with a dark interior will bake the cake more quickly; start checking at about 40 minutes.

Remove the cake from the oven, wait 5 minutes, and turn the pan over onto a cooling rack. After 5 more minutes, lift the pan off the cake. Let the cake cool completely before icing.

To make the icing: Combine the chocolate and cream in a microwave-safe bowl, or in a saucepan set over medium heat. Heat until the cream starts to bubble around the edges.

Remove from the heat, and stir until the chocolate melts and the mixture is smooth. Spoon the icing over the top of the cake, letting it drip down the sides.

Store any leftover cake at room temperature, well wrapped, for several days. Freeze for longer storage.
Nutrition Information
Serving Size

78g

Servings Per Batch

20
Amount Per Serving:
Calories

270

Calories from Fat

130

Total Fat

15g

Saturated Fat

9g

Trans Fat

0g

Cholesterol

50mg
Sodium

135mg

Total Carbohydrate

33g

Dietary Fiber

1g

Sugars

22g

Protein

4g
* The nutrition information provided for this recipe is determined by the ESHA Genesis R&D software program. Substituting any ingredients may change the posted nutrition information.
Tips from our bakers
If your cake develops a "foot" (a domed ring of cake) on the bottom, feel free to slice it off before transferring to a serving plate, for greater stability. But don't throw the cake trimmings away — baker's treat!
We highly recommend using brewed coffee in this recipe; while coffee won't add its own mocha flavor, it enhances the cake's chocolate flavor. However, you may substitute water, juice, or even stout beer for the coffee, if desired.
Our Gluten-Free Measure for Measure Flour makes it easy to make many of your favorite traditional recipes (like this one) gluten-free. Simply substitute Measure for Measure flour 1:1 for the flour called for in your recipe; no additional ingredients or other changes needed.
If you're like us (and many other bakers), and you've sometimes had trouble with your bundt cake getting stuck in the pan, please check out our blog Flourish. for some helpful tips.
Reviews
This cake actually got applause! I made it in a bundt pan and it was just a beauty when it came out of the pan, with a shiny patina. I made a mint glaze with natural green food coloring - the taste did not disappoint. I followed the recipe as written. The coffee I used was dark espresso and it probably gave it a depth of flavor. The yogurt was lowfat, and the cake was very moist. I baked it for about 47 minutes, checking it as of 40 because my bundt pan is a dark color. It's perfection, and I hope it works again for the next party!
This is a remarkably light cake, and the taste is wonderful. Mine was a little crumbly in spite of weighing the ingredients, so I am wondering if it was the butter I used. I have not used that brand before. Even so, my family liked the cake and made it clear they want to have it again.

Deanna, that's a good thought about the butter! If it has a different fat content than the brand you're used to, it could definitely affect the texture. While it could be any number of things, it's worth trying with your old butter brand to see if that's the variable that made the difference here. Happy baking! Kat@KAF
My first attempt. Really good!! Taste and texture was great. It did however take about 10 minutes longer to bake at 350. I will definitely use this recipe again.
I followed the recipe, oiled and floured the pan. Cake cake out no problem. Taste wise was good. My issue is that the cake sunk pretty quickly after it was done, so the middle part of the cake was rather dense. Like a pudding cake if I have to try to describe. But I prefer a more crumb like cake. Not sure what I did wrong.

Hi Mia! We're glad you enjoyed the flavor of this cake. It sounds like it just needed about 5 more minutes in the oven to prevent that sinking. To know it's done, you can check the internal temperature — you want it to be around 205°F on a digital thermometer. Annabelle@KAF
This recipe is an absolute keeper. The cake is delicious and moist. I've made it several times and only once did it not turn out of the pan (which was probably due to a lack of diligent prepping of the pan by me). I follow the cake recipe exactly, but I have never made the icing. Instead I have used brewed chocolate raspberry coffee (which I happen to buy at stores like Marshall's/TJ Maxx), and filled the hole in the center of the cake with fresh raspberries. Just before serving, I sprinkle the cake with powdered sugar. If you do it too soon, the sugar will disappear into the cake. I strongly recommend experimenting with flavored coffees that work well with chocolate. The next time I make it, I am going to try using Kahlua.
This recipe is fab! I keep making it and it comes out amazing each time. But now I sorta want to spice it up, do you have any suggestions for slight variations I could do? I was thinking of maybe putting nuts or dried fruits in it (or even orange zest!) Also just a suggestion, maybe mention that creme fraiche could be used as a substitute? American supermarket sour cream isn't really common here and creme fraiche is the closest thing (soured cream is the closest in name, but it's more like pouring cream!)

We're so happy to hear that this recipe has become so well-loved by you! You certainly could add in nuts or dried fruits, we would suggest using about 1 cup of additions. Orange zest would definitely be a good addition to this cake! You could also try a peppermint icing on the cake for a nice holiday variation. That is great to know that creme fraiche works well, we will certainly pass that along! Happy baking! Morgan@KAF
I am a huge fan of King Arthurs Caribbean rum cake recipe. I am looking do to a chocolate rum cake for Christmas this year. Any guidance on how I can make this Chocolate Fudge Bundt Cake recipe rummy?

A rum-infused chocolate fudge Bundt? Yum! Consider replacing half of the coffee in the recipe with rum and also applying a rum soaking syrup to the baked cake. You can borrow the recipe for the soaking syrup from our Caribbean Rum Bundt Cake recipe. (Find it by entering its name into the search box at the top part of this page.) It'll be boozy and delicious! Kye@KAF
I have made this recipe several times and always enjoyed it a lot. However this time I made a substitution. I didn't have any sour cream or yogurt so I substitutied chocolate instant pudding. And, this time the cake cracked when it came out of the Bundt pan. Can y'all suggest a reason that might happen? Thank you.

Hi Shelly. We're happy to help troubleshoot the cracked cake with you. Though they have similar textures, pudding will behave quite differently than sour cream or yogurt will as it contains many ingredients. One of these ingredients is sugar, and having extra sugar in a cake recipe tends to make it stick to the pan, causing breakage during removal. If you're ever in a pinch and need a replacement, cream cheese or even just plain cream or whole milk will do the trick. Kindly, Annabelle@KAF
The best part of this recipe is the glaze. The cake itself left a lot to be desired. I followed the instructions to the "T" but it came out dry, crumbled & broke apart. It was disappointing and I threw it out. What's the point of indulging in mediocre chocolate cake. The recipe needs improvement. In the meantime, I think I'll stick with Ina.

Medicore chocolate cake is no fun; we'll give you that, fellow baker. Let's see if we can help boost the flavor and texture to meet your high expectations next time. It sounds like you might be measuring your flour by volume, which can result in packing the flour into the measuring cup. When too much flour gets added to cake batter, the resulting cake is bland in flavor, dry, heavy, and often crumbles.

To ensure you're using the right amount, we recommend checking out the "Measuring Standards," link next to the ingredients header above. You'll see that either measuring your flour by weight using a scale, or fluffing and sprinkling the flour into your measuring cup are the best ways to ensure your recipe turns out perfectly. Kindly, Kye@KAF
I've made this cake twice in two weeks, it's that good. It's very easy to make. Even in my cheap oven with its uneven heat the cake baked up fine. The first time I used a brand new Bundt pan and part of the cake stuck in the pan, ooops. But I was able to tease it out in one piece with a small rubber spatula and used some icing to "paste" it back on! My guests never knew. This week I made some changes. My husband wanted it a little less sweet, so I cut the sugar, using 1 cup of light brown and 1/4 cup of white sugar. The texture was about the same. I baked the second one in an old Nordicware Bundt pan that was my Mom's and is probably 30 years old, the cake slid right out. The dense texture and rich chocolate flavor make this a stand-out cake. I'll make this recipe over and over!