A customized print-friendly version of this recipe is available by clicking the "Print Recipe" button on this page.
Chocolate Fudge Cake Doughnuts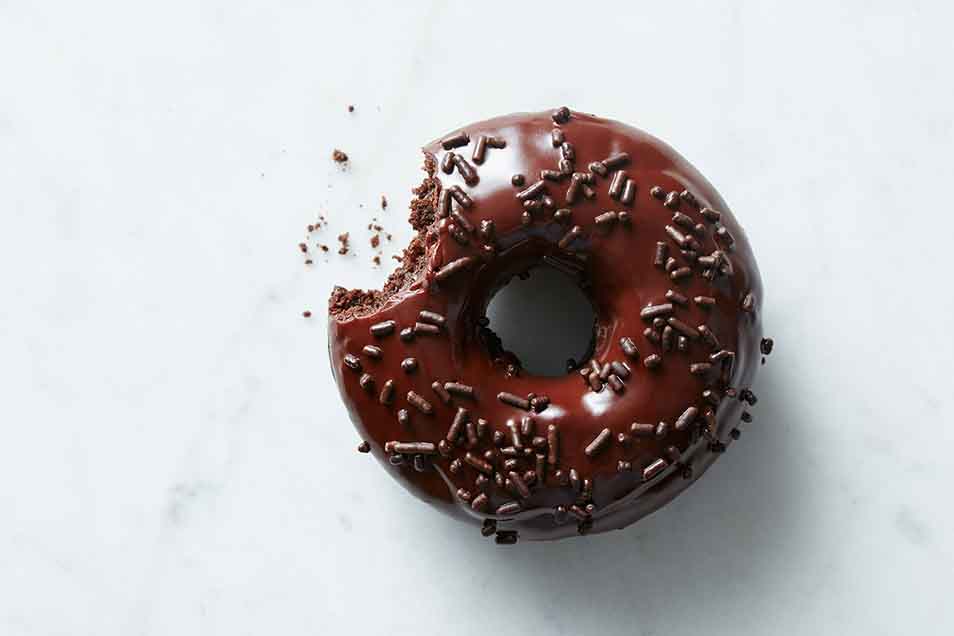 Many of you have been wondering when we'd come up with a chocolate version of our popular baked doughnut recipe — and here it is. Moist, dense, and dark, these doughnuts are everything a chocolate lover could want.
Ingredients
Chocolate icing, optional
1 cup chocolate chips
4 tablespoons milk or half & half
Instructions
Preheat the oven to 350°F. Lightly grease the wells of two standard doughnut pans. If you don't have two pans, simply bake the batter in two batches.

In a large mixing bowl, whisk together the cocoa, flour, sugar, baking powder, espresso powder, baking soda, salt, and chocolate chips. Set aside.

In a large measuring cup or medium-sized mixing bowl, whisk together the eggs, milk, vanilla, and vinegar. You may notice some curdling of the milk; that's OK.

Add the wet ingredients, along with the melted butter or vegetable oil, to the dry ingredients, stirring to blend; there's no need to beat the batter, just make sure everything is well-combined.

Spoon the batter into the prepared pan(s), filling them between 3/4 and full.

Bake the doughnuts for 12 to 15 minutes, or until a toothpick inserted into the center of one comes out clean.

Remove the doughnuts from the oven, and after 30 seconds or so, loosen their edges and turn the pan upside down over a rack. Gently let the doughnuts fall onto the rack. If they seem to be sticking (see "tips," below), use a nylon spatula to gently pry under their edges and loosen them underneath.

For sugar-coated doughnuts, immediately shake the doughnuts in 1 tablespoon granulated sugar; add 1/2 teaspoon cocoa powder to the sugar for an additional touch of chocolate.

If you want to ice the doughnuts rather than shake them in sugar, allow them to cool completely before icing.

To make the icing: Combine the chocolate chips and milk or half & half in a microwave-safe bowl or measuring cup. Heat until the half & half is steaming and starting to bubble.

Remove from the microwave, and stir until the chips have melted and the icing is smooth.

Dip the top of each doughnut in the icing; or spread icing on the doughnuts.

Yield: 12 doughnuts.
Tips from our bakers
Can you shake these in confectioners' sugar? Yes, but it will gradually be absorbed into the doughnuts, and disappear. If you want to go this route, it's best to shake them in sugar just before serving. Or shake them in non-melting white sugar, which won't be absorbed — thus allowing you to finish them ahead of serving time.
Want to make these doughnuts without a doughnut pan? Check out our recipe for Chocolate Breakfast Muffins.
If your doughnuts tend to stick in the pan, make sure your pan is very clean, with no gummy buildup of non-stick spray. In addition, using a lower-cost pan spray can sometimes cause sticking; as can using inexpensive chocolate chips, which contain a greater percentage of lecithin (which can cause them to stick to the pan).
Reviews
My first epic fail of a KAF recipe :( Carefully weighed the ingredients, lightly greased the pans (dark, non-stick Wilton), took them out when toothpick was clean, and - they stuck like they were glued to the pan. Still tasty. Ended up using the crumbled pieces in parfaits with ice cream, so not a total loss. Can't say for sure it's the recipe or me though.

Hi KG! We're glad you enjoyed the flavor but are sorry to hear they wouldn't come out of the pan. We'd recommend using a pan spray that's designed specifically for baking like Everbake or Vegelene, and giving your oven a good 30 to 45 minutes to preheat. Sometimes a lower oven can cause some serious sticking so making sure it's good and hot with an oven thermometer is key. Annabelle@KAF
I made these with Swerve and sugar free chocolate chips and they were perfect!!!
Made these for my husband birthday. I used the USA donuts pan and 3 of 6 came out. Rest I baked in cupcake liners. Consider myself a pretty experienced hobby baker and I evaluate the probable success of a recipe before I dive in. Very low fat content so reason it sticks. This would be great baked in ramekins with a scoop of vanilla ice cream. Very decadent tasting without the extra fat. Would bake again but not as donuts.
I've made this recipe a few times, w/o the chips but with the espresso powder. They always rise beautifully, and come out moist and delicious.
The donuts were delicious and not dry at all. I did have trouble getting them out of the pan because they were too soft. I suppose I went the opposite way and didnt add enough flour, because they had no structural support. I made a half batch but regret it since they are so good.
I just made these today and wow are they chocolaty, messy (I have young kids) and delicious. I didn't give them 5 stars because I adjusted the recipe based on previous reviews. First, I weighed the flour and cocoa powder because I know that KAF seems to really fluff up their dry ingredients more than I do when measuring by volume. Second, I found 10-11 minutes was the right amount of baking time. Finally, I ended up with 18 doughnuts, not 12. My doughnuts definitely filled the pan, some even almost filling the hole, so I don't think I under-filled them. Final note, I had buttermilk at home that I wanted to use up, so I just used that instead of milk/vinegar mix (same volume).
Help! Third time not a charm for me. Dry, crumbly, What am I doing to cause this? Experienced baker, never any dry results....ever...until this. With all of the positive 'moist' reviews.... This time, added 4 Tbls extra butter, no difference at all, still way dry.

We're here to help, Michele! The most common reason a recipe turns out dry is if any extra flour was packed (which flour likes to do!) into the measuring cup. To ensure you're using the right amount, we recommend checking out the "Measuring Standards," link next to the ingredients header above. You'll see that either measuring your flour by weight using a scale, or fluffing and sprinkling the flour into your measuring cup are the most accurate ways to measure flour. Using this method or measuring by weight should result in a much moister, more tender doughnut. Also, if you happen to be at high altitude, search "high altitude" on our website to pull up the chart of necessary adjustments. We hope this helps! Annabelle@KAF
Wow. I'm a pretty skilled home baker, and I have never failed as spectacularly in the kitchen as I did using this recipe. Also, I swear by KAF recipes, so I'm pretty surprised that this is so problematic. This is a great muffin recipe, however.

It sounds like perhaps this recipe for Chocolate Fudge Cake Doughnuts didn't turn out to be quite as doughnut-like as you were hoping for, fellow baker. It's true that this is a cake doughnut by design, so the crumb is tender and delicate, much like a cake or cupcake. If you're looking for a recipe that's more authentically like a doughnut, consider making our Yeast-Raised Doughnuts recipe and covering the freshly fried treats in a chocolate icing to work in this flavor component. We think you'll be delighted with this approach! Kye@KAF
I've used King Arthur flour for 29 years, so I knew this recipe would be delicious! The doughnuts are moist and stand up well to the frosting. I used melted unsalted butter instead of the oil, and baked them for 12 minutes. I had some batter left over and poured that into an individual cake pan lined with parchment paper and cooked for 10 minutes. I had just enough frosting to cover this little cake. I will definitely be making these more often!