A customized print-friendly version of this recipe is available by clicking the "Print Recipe" button on this page.
Chocolate Fudge Cake Doughnuts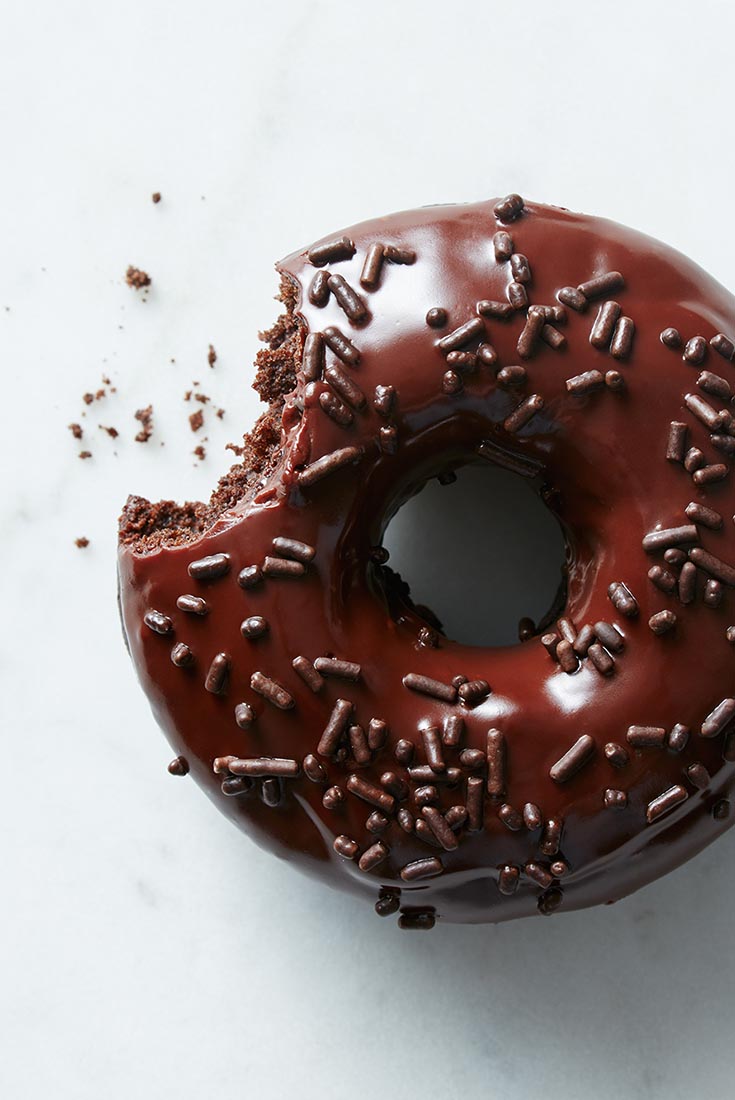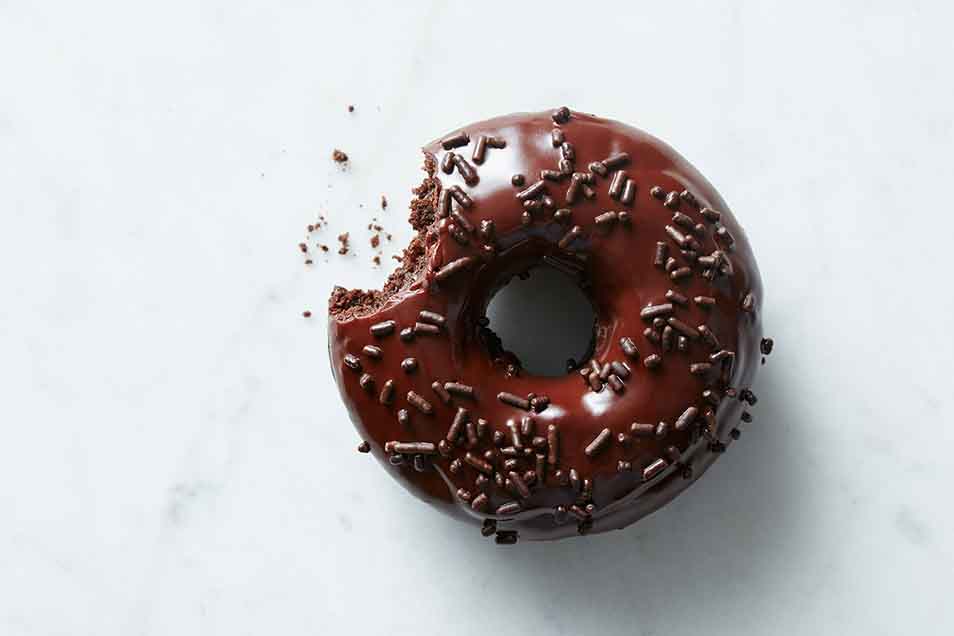 Many of you have been wondering when we'd come up with a chocolate version of our popular baked doughnut recipe — and here it is. Moist, dense, and dark, these doughnuts are everything a chocolate lover could want.
Ingredients
Chocolate icing, optional
1 cup chocolate chips
4 tablespoons milk or half & half
Instructions
Preheat the oven to 350°F. Lightly grease the wells of two standard doughnut pans. If you don't have two pans, simply bake the batter in two batches.

In a large mixing bowl, whisk together the cocoa, flour, sugar, baking powder, espresso powder, baking soda, salt, and chocolate chips. Set aside.

In a large measuring cup or medium-sized mixing bowl, whisk together the eggs, milk, vanilla, and vinegar. You may notice some curdling of the milk; that's OK.

Add the wet ingredients, along with the melted butter or vegetable oil, to the dry ingredients, stirring to blend; there's no need to beat the batter, just make sure everything is well-combined.

Spoon the batter into the prepared pan(s), filling them between 3/4 and full.

Bake the doughnuts for 12 to 15 minutes, or until a toothpick inserted into the center of one comes out clean.

Remove the doughnuts from the oven, and after 30 seconds or so, loosen their edges, turn the pan upside down over a rack, and gently let the doughnuts fall onto the rack.

For sugar-coated doughnuts, immediately shake the doughnuts in 1 tablespoon granulated sugar; add 1/2 teaspoon cocoa powder to the sugar for an additional touch of chocolate.

If you want to ice the doughnuts rather than shake them in sugar, allow them to cool completely before icing.

To make the icing: Combine the chocolate chips and milk or half & half in a microwave-safe bowl or measuring cup. Heat until the half & half is steaming and starting to bubble.

Remove from the microwave, and stir until the chips have melted and the icing is smooth.

Dip the top of each doughnut in the icing; or spread icing on the doughnuts.

Yield: 12 doughnuts.
Tips from our bakers
Can you shake these in confectioners' sugar? Yes, but it will gradually be absorbed into the doughnuts, and disappear. If you want to go this route, it's best to shake them in sugar just before serving. Or shake them in non-melting white sugar, which won't be absorbed — thus allowing you to finish them ahead of serving time.
Want to make these doughnuts without a doughnut pan? Check out our recipe for Chocolate Breakfast Muffins.
Reviews
These were excellent. I made them as donut holes (using a Babycakes Cake Pop Maker) and they turned out brilliantly. I coated them in non-melting white sugar, which worked perfectly. Small tweak: Add 1/4 - 1/2 tsp of nutmeg for the classic donut flavor. This will be my new go to baked chocolate donut recipe. Great work!
Delicious baked donuts with a lot of chocolate flavour. Don't make this expecting a yeast or deep fried style donut. I followed the recipe exactly using the grams measurements and included the optional espresso powder and chocolate chips which some reviewers opted not to add. The chocolate chips added an extra gooey factor and I might increase the number of chocolate chips the next time I make them. I used a wilton standard donut pan and a piping bag to fill the wells. I brushed the wells with vegetable shortening and followed the instructions for removing the donuts and didn't have any issues removing the donuts. The first pan I overfilled them and the middle was completely covered so I opted to fill the other pans half full and ended up with 20 donuts. After they cooled completely, I used the end of a wilton 4b tip to cleanly cut out any excess dough from the centre so it had the distinct donut appearance. Will definitely make these again.
I see that others had a problem with sticking to the pan. I had this same problem. Normally KAF recipes come out great for me. These Stuck to the pan horribly. Tried spraying like crazy, leaving chips out, taking out of the pans right away and measuring flour by weight. Each time I did notice a light cakey donut - Something denser would stay together better and not fall apart so easily. I will be searching for a more dense cake donut recipe.

We're sorry to hear about your trouble, MM. Recipes with a notable amount of sugar tend to be more likely to stick to the pan. One method you may want to consider trying is brushing the wells of the doughnut pan with melted vegetable shortening using a pastry brush. Also, your observation that these doughnuts are light in texture is spot on; they're designed to resemble classic cake doughnuts. If you're looking for something more hardy, consider giving our Mashed Potato Doughnut recipe a try and coating them in a chocolate glaze. Kye@KAF
I made half a batch as this was the first time using my donut pans. I filled the pan and had batter left over. After baking, they were definitely overfilled. I could have easily made 8-9 donuts from half a batch. My donuts looked funny but tasted good.
Excellent chocolate doughnut recipe. Very easy to execute and the results were a tender, moist crumb, and chocolatey flavor. Prep'ed pan per recipe and the donuts fell right out! Will definitely make again! They were delicious with and without the icing.
This was the best! I love the moist, chocolatey flavor!
These were great! So yummy and SO quick and easy to put together! This is my favorite baked doughnut recipe so far. Whenever I use my doughnut pan I spray the heck out of it with nonstick spray and then pipe the batter in with a piping bag or large plastic bag. Works like a charm every time.
Made these today #nationaldoughnutday. Turned out delicious!!
Wonderful recipe. I used a Nordpro mini donut pan (slightly larger than most other mini donut pans) and lubed the pan heavily with Wilton's Bake Easy Spray. The donuts FELL out of the pan when I turned them out. Aside from how well they baked, their flavor and texture were exactly what I was hoping for. Question: If I wanted to modify this recipe to make a non-chocolate version, would I just switch out the cocoa for flour at a 1:1 ratio? Can white sugar also be interchangeable with the brown sugar?

We're happy to hear these doughnuts hit the spot, Bethany! We developed this as a chocolate version of our recipe for Baked Doughnuts Three Ways, so rather than attempting to reverse engineer them, we'd suggest simply checking out that recipe instead. This other version does use a combination of white and brown sugars, which can be interchanged with some small changes to the final product, resulting from the higher moisture content of brown sugar. Hope this helps and happy baking! Mollie@KAF
Made this recipe today. My family loved them. I had no problem getting them out of the pan. My family ate them plain and really like the tastes. So am not going to glaze them.