A customized print-friendly version of this recipe is available by clicking the "Print Recipe" button on this page.
Chocolate Fudge Cake Doughnuts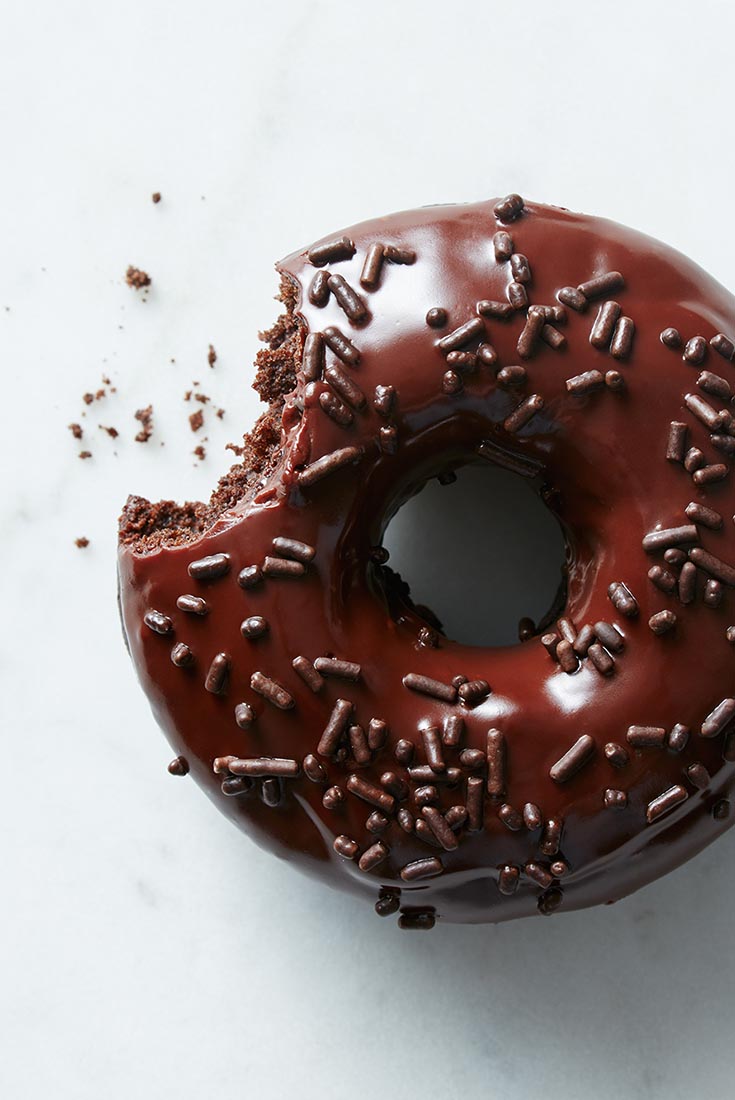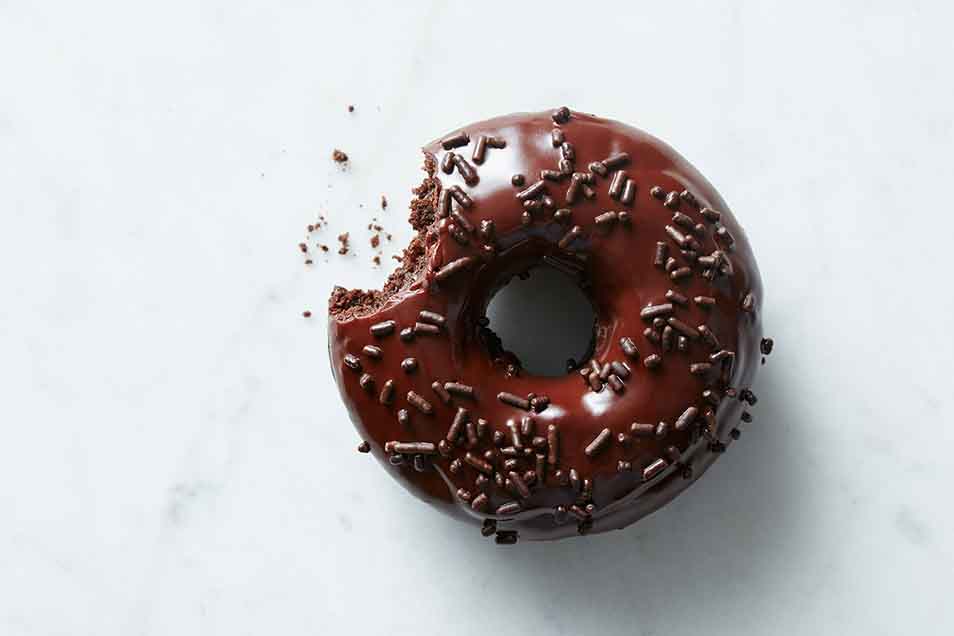 Many of you have been wondering when we'd come up with a chocolate version of our popular baked doughnut recipe — and here it is. Moist, dense, and dark, these doughnuts are everything a chocolate lover could want.
Ingredients
Chocolate icing, optional
1 cup chocolate chips
4 tablespoons milk or half & half
Instructions
Preheat the oven to 350°F. Lightly grease the wells of two standard doughnut pans. If you don't have two pans, simply bake the batter in two batches.

In a large mixing bowl, whisk together the cocoa, flour, sugar, baking powder, espresso powder, baking soda, salt, and chocolate chips. Set aside.

In a large measuring cup or medium-sized mixing bowl, whisk together the eggs, milk, vanilla, and vinegar. You may notice some curdling of the milk; that's OK.

Add the wet ingredients, along with the melted butter or vegetable oil, to the dry ingredients, stirring to blend; there's no need to beat the batter, just make sure everything is well-combined.

Spoon the batter into the prepared pan(s), filling them between 3/4 and full.

Bake the doughnuts for 12 to 15 minutes, or until a toothpick inserted into the center of one comes out clean.

Remove the doughnuts from the oven, and after 30 seconds or so, loosen their edges, turn the pan upside down over a rack, and gently let the doughnuts fall onto the rack.

For sugar-coated doughnuts, immediately shake the doughnuts in 1 tablespoon granulated sugar; add 1/2 teaspoon cocoa powder to the sugar for an additional touch of chocolate.

If you want to ice the doughnuts rather than shake them in sugar, allow them to cool completely before icing.

To make the icing: Combine the chocolate chips and milk or half & half in a microwave-safe bowl or measuring cup. Heat until the half & half is steaming and starting to bubble.

Remove from the microwave, and stir until the chips have melted and the icing is smooth.

Dip the top of each doughnut in the icing; or spread icing on the doughnuts.

Yield: 12 doughnuts.
Tips from our bakers
Can you shake these in confectioners' sugar? Yes, but it will gradually be absorbed into the doughnuts, and disappear. If you want to go this route, it's best to shake them in sugar just before serving. Or shake them in non-melting white sugar, which won't be absorbed — thus allowing you to finish them ahead of serving time.
Want to make these doughnuts without a doughnut pan? Check out our recipe for Chocolate Breakfast Muffins.
Reviews
I love this recipe. I use 3 Tablespoons of brewed coffee instead of the espresso powder and I use a sugar glaze instead of the fudge glaze, but it works out perfectly. I've made this several times as doughnuts, and recently I made it in an angel food cake pan to make a 'giant doughnut' out of it for my dad's birthday. It was a huge hit. Will continue to use this recipe in the future, and may even use it as one of several desserts for my wedding!
I thought they had good flavour, but not quite the doughnut-shop texture I was hoping for. I had no trouble with them sticking in the pan at all (I used a cooking spray first).
These were pretty good. I did not have the same issue others did with the doughnuts sticking to the pan. All I did was spray the pan liberally with canola oil cooking spray before each batch. I served them with a chocolate ganache glaze.
I read the reviews and worried about the doughnuts sticking. I went ahead and made them anyway because KAF rarely steers me wrong and in all honesty, I just wanted to taste these. I made a batch of 6. I omit the chocolate chips (because my kids would just pick those out). Half came out and the other half, well, only half of the doughnuts came out. I thought it was bizarre. Random. I enjoyed the texture and flavour. I just think I may search for another recipe. KAF is always my first choice for products and recipes. Just because these weren't an A+ choice for me, doesn't mean I won't continue to support and trust KAF <3

We genuinely appreciate your loyalty and support, Sherry! Thanks for baking with us. If you'd ever like to chat with one of our friendly and experienced bakers about how you might be able to adjust a recipe more to your liking, don't hesitate to reach out. We're here to help: 855-371-BAKE(2253). Kye@KAF
I made these doughnuts yesterday for my Canasta group and they loved them! I only had one pan for six doughnuts of an unusual size (not standard or mini), so I baked them in five batches. They were moist and didn't stick to the pan at all, which made it very easy to reuse the pan after each bake (I did spray the pan well with cooking spray). One of my friends said they were 'to die for.'
Quick and delicious! I mixed the dry ingredients the night before and then added wet in the morning before my eyes were completely opened! I advise putting the batter into a pastry bag with no tip or a ziplock bag and cut about a 1/2 inch opening. Pipe the batter into the doughnut mold. My molds must be smaller as the recipe made 18 doughnuts. Delicious!! Bravo!!
My 8 year old made these himself. These were a deliciously chocolate mini cake.
I have to admit, I wrongly ignored all the others who commented that these stuck to the pan. I greased the wells with shortening for the first batch. They were glued in there. I got a pile of crumbled chocolate donut mess that ended up in the garbage. So, for the second batch I greased the wells with shortening and then dusted them with flour. I got 2 of the donuts out in almost one piece each. The rest - another mess. Do not waste your time with this disaster. I am not sure how after so many complaints of sticking this recipe is still on the website. Just get rid of it, please. Interestingly enough this recipe is exactly the same as the Chocolate Breakfast Muffins minus 1/4c flour.

We're sorry to hear that getting these out of the pan was such a frustrating process, KN, and thank you for letting us know. We've had success using a pan spray right before adding the batter. You can also try dusting the freshly sprayed pan with cocoa powder rather than flour to give a more discrete coating, not to mention tastier! Annabelle@KAF
How should I alter this recipe for baking at 8,000 feet? Thank you!

Hi Cathie, we have a full High-Altitude Baking Guide that will help you make the necessary changes to this recipe (and others) based on your elevation. Simply type "high-altitude baking" into the search box on our website to find this resource. You'll see that some of our suggested changes include increasing the oven temperature by 15°F and reducing the baking time slightly, decreasing the sugar by about 1 tablespoon and increasing the milk by 1-2 tablespoons. Check out the chart for full details. Happy baking! Kye@KAF
I have made these several times and they are always perfect. A beautiful chocolatey breakfast. I made them for work and my co workers thought they came from a bakery.