A customized print-friendly version of this recipe is available by clicking the "Print Recipe" button on this page.
Chocolate Fudge Cake Doughnuts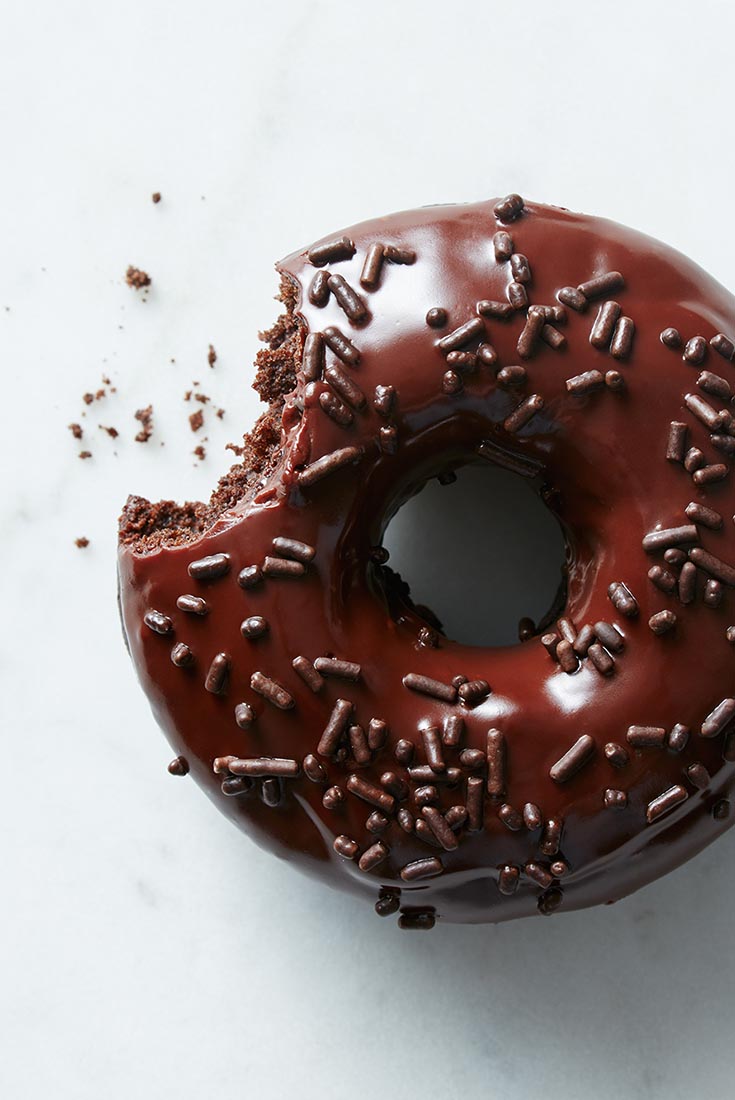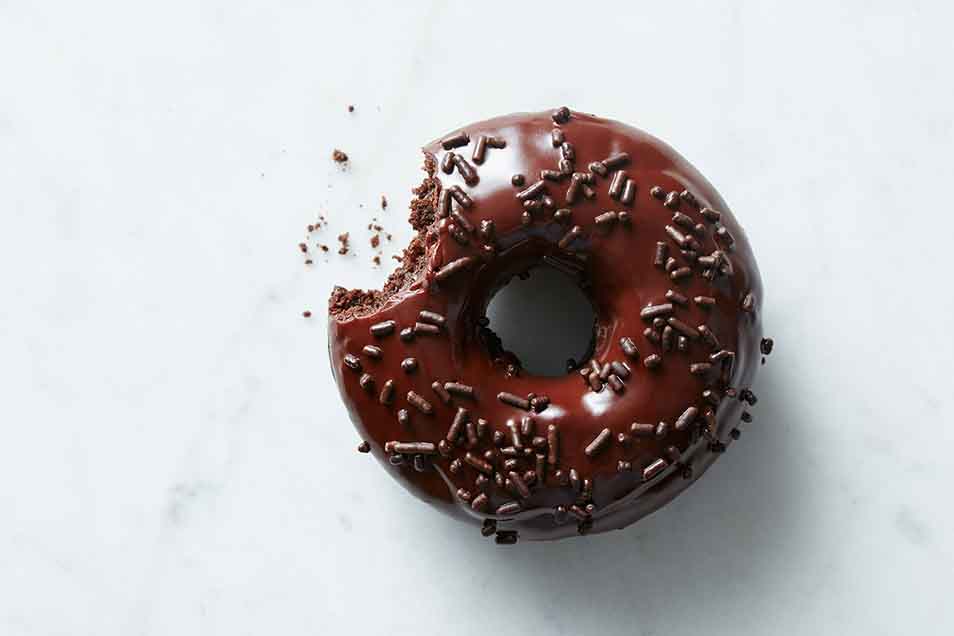 Many of you have been wondering when we'd come up with a chocolate version of our popular baked doughnut recipe — and here it is. Moist, dense, and dark, these doughnuts are everything a chocolate lover could want.
Ingredients
Chocolate icing, optional
1 cup chocolate chips
4 tablespoons milk or half & half
Instructions
Preheat the oven to 350°F. Lightly grease the wells of two standard doughnut pans. If you don't have two pans, simply bake the batter in two batches.

In a large mixing bowl, whisk together the cocoa, flour, sugar, baking powder, espresso powder, baking soda, salt, and chocolate chips. Set aside.

In a large measuring cup or medium-sized mixing bowl, whisk together the eggs, milk, vanilla, and vinegar. You may notice some curdling of the milk; that's OK.

Add the wet ingredients, along with the melted butter or vegetable oil, to the dry ingredients, stirring to blend; there's no need to beat the batter, just make sure everything is well-combined.

Spoon the batter into the prepared pan(s), filling them between 3/4 and full.

Bake the doughnuts for 12 to 15 minutes, or until a toothpick inserted into the center of one comes out clean.

Remove the doughnuts from the oven, and after 30 seconds or so, loosen their edges, turn the pan upside down over a rack, and gently let the doughnuts fall onto the rack.

For sugar-coated doughnuts, immediately shake the doughnuts in 1 tablespoon granulated sugar; add 1/2 teaspoon cocoa powder to the sugar for an additional touch of chocolate.

If you want to ice the doughnuts rather than shake them in sugar, allow them to cool completely before icing.

To make the icing: Combine the chocolate chips and milk or half & half in a microwave-safe bowl or measuring cup. Heat until the half & half is steaming and starting to bubble.

Remove from the microwave, and stir until the chips have melted and the icing is smooth.

Dip the top of each doughnut in the icing; or spread icing on the doughnuts.

Yield: 12 doughnuts.
Tips from our bakers
Can you shake these in confectioners' sugar? Yes, but it will gradually be absorbed into the doughnuts, and disappear. If you want to go this route, it's best to shake them in sugar just before serving. Or shake them in non-melting white sugar, which won't be absorbed — thus allowing you to finish them ahead of serving time.
Want to make these doughnuts without a doughnut pan? Check out our recipe for Chocolate Breakfast Muffins.
Reviews
Made this as a breakfast. great recipe but cooking it at 350°F for 15 mins did not cook them all the way. Second batch came out better cooking it at 350°F for 23 - 25 minutes.
I agree with other reviewers that these are more like mini chocolate cakes than donuts. Having said that, they are extremely moist and light, if you'd like to go that route over a more dense texture. I left out the chocolate chips and used buttermilk powder and water to sub for the milk and vinegar. Lovely texture and taste. I always tend to overfill the pans, so I also get a muffin top, with no hole. I solve that by using a 2-inch round cutter to make the hole in the middle once cool. Works like a charm and fools everyone into believing I made a nice donut, haha! Also, I had no issues with sticking as I used KAF's Vegalene Food Release Spray, which I highly recommend!
This is a great muffin recipe, but does not work as doughnuts, they rise flat and not ring like and have a hard shell on the top side and no shape on he bottom if you're lucky to get them out of the pan

We'd love the chance to talk through the recipe with you, Marsha, so we encourage you to reach out to our free and friendly Baker's Hotline staff to help troubleshoot at 855-371-BAKE (2253). Kindly, Annabelle@KAF
I veganized this recipe with phenomenal results. Using flax eggs, almond milk and grapeseed oil as subs, one teaspoon of espresso powder because I love coffee and chocolate. I used 1c. brown sugar and forgot the chocolate chips. Plenty sweet frosted with ganache (almond milk subbed half and half) and topped with toasted peanuts, toasted coconut and sprinkles. The cake donut texture was moist and the flavor was perfect. I used a coconut oil spray and no sticking at all. Exactly what I hoped for. Even tastier the next day! I will continue to use this recipe and look forward to experimenting with various flavors of toppings. Thank you King Arthur flour for a great recipe!
No nutritional information provided

Due to the extensive size of our recipe library, we're currently unable to research and provide nutritional information for all of our past recipes, including this one. We can understand your interest in those details, and extend our sincere apologies for any inconvenience. A resource you might consider exploring is free nutrition analysis calculators, which are made available online for general, non-medical use. Two such calculators we like are this from Spark Recipes and this from Verywell, both of which can be found through a general search engine. We hope this helps, and happy baking! Kye@KAF
This recipe was really easy, and the donuts tasted great! I piped the batter into my mini donut maker (like a waffle iron but with 12 mini donut wells) and cooked them for 5 minutes per batch ( probably could have done 4 minutes). I dipped them in the icing and chocolate sprinkles, and brought them to work the next day ( I had about 3 dozen or more). They were gone before lunch!
I love this recipe. I use 3 Tablespoons of brewed coffee instead of the espresso powder and I use a sugar glaze instead of the fudge glaze, but it works out perfectly. I've made this several times as doughnuts, and recently I made it in an angel food cake pan to make a 'giant doughnut' out of it for my dad's birthday. It was a huge hit. Will continue to use this recipe in the future, and may even use it as one of several desserts for my wedding!
I thought they had good flavour, but not quite the doughnut-shop texture I was hoping for. I had no trouble with them sticking in the pan at all (I used a cooking spray first).
These were pretty good. I did not have the same issue others did with the doughnuts sticking to the pan. All I did was spray the pan liberally with canola oil cooking spray before each batch. I served them with a chocolate ganache glaze.
I read the reviews and worried about the doughnuts sticking. I went ahead and made them anyway because KAF rarely steers me wrong and in all honesty, I just wanted to taste these. I made a batch of 6. I omit the chocolate chips (because my kids would just pick those out). Half came out and the other half, well, only half of the doughnuts came out. I thought it was bizarre. Random. I enjoyed the texture and flavour. I just think I may search for another recipe. KAF is always my first choice for products and recipes. Just because these weren't an A+ choice for me, doesn't mean I won't continue to support and trust KAF <3

We genuinely appreciate your loyalty and support, Sherry! Thanks for baking with us. If you'd ever like to chat with one of our friendly and experienced bakers about how you might be able to adjust a recipe more to your liking, don't hesitate to reach out. We're here to help: 855-371-BAKE(2253). Kye@KAF