A customized print-friendly version of this recipe is available by clicking the "Print Recipe" button on this page.
Chocolate Ice Cream Sandwiches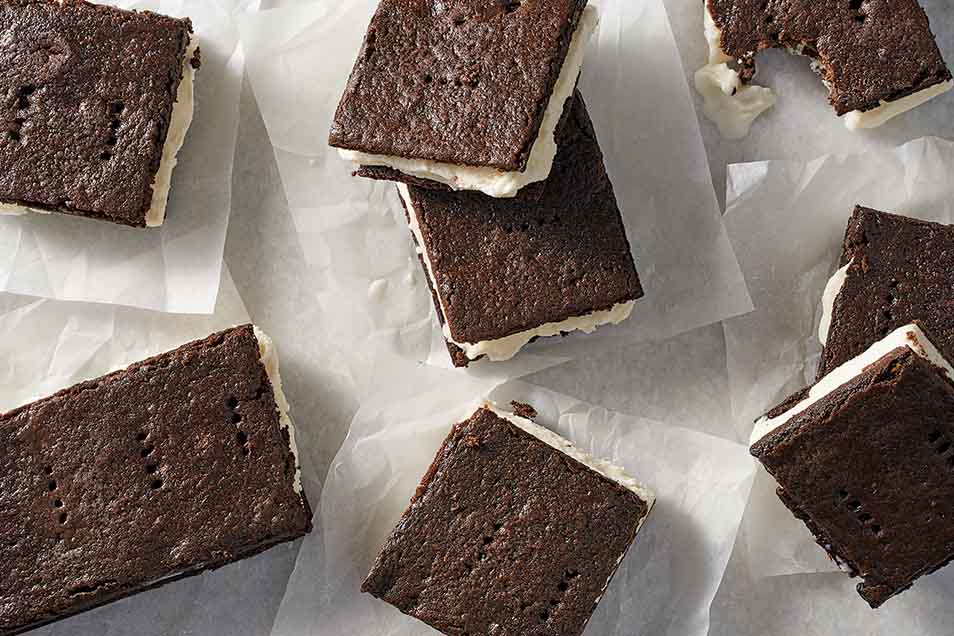 This recipe comes to us courtesy of author Jennie Schacht, whose book — "I Scream Sandwich!" — includes a wealth of truly delicious ice cream/cookie combinations. This particular sandwich is a tribute to everyone's childhood favorite: vanilla ice cream layered between two soft, rich chocolate cookies.
Ingredients
Vanilla ice cream
2 cups whole milk
1/3 cup granulated sugar
2 tablespoons golden syrup or light agave nectar*
2 tablespoons tapioca starch*
1/4 teaspoon kosher salt*
1 cup heavy cream
1/2 teaspoon vanilla extract
*See "tips," below, for substitutes.
Instructions
To make the ice cream: Whisk together 1/2 cup of the milk, the sugar, syrup, tapioca starch, and salt in a saucepan. Stir in the remaining milk, and the cream.

Cook and stir the mixture over medium-high heat until bubbles form around the edge and it begins to steam. Simmer for 3 to 5 minutes, stirring constantly, until the mixture thickens to the consistency of a cream sauce; don't let it boil.

Remove the mixture from the heat, stir in the vanilla, and chill thoroughly in the refrigerator. For best results, the mixture should be very cold. Make it ahead and refrigerate overnight or for up to a couple of days, if desired. When the mixture is thoroughly chilled, freeze it in your ice cream maker, following the manufacturer's directions. Store in your refrigerator's freezer until you're ready to make the sandwiches.

Preheat the oven to 350°F, with a rack in the center. Lightly grease a piece of parchment about 12" x 16", and place it on a flat work surface.

To make the cookies: Whisk together the flour, cocoa, baking soda, and salt; set aside.

In a separate bowl, beat together the butter, sugars, and vanilla at high speed until well combined and somewhat expanded; the mixture will look a bit grainy, but also fairly creamy.

On low speed, add half the dry ingredients; then the milk; then the remaining dry ingredients, scraping the bowl between additions.

Dollop the batter all over the prepared parchment paper. Use a spatula to spread it to the edges of the parchment, smoothing it as flat as possible. Pick the parchment up, and set it into a half-sheet pan (18" x 13"), or onto a large cookie sheet.

Bake the cookie slab for about 10 minutes, until it just loses its shine. Remove the pan from the oven, and cool the cookie on the pan for about 5 minutes. Cut it in half crosswise to make two rectangles, each about 8" x 12". Trim the edges of each rectangle, if desired; you'll make neater-looking sandwiches.

Use a fork to prick the top of the cookie slabs in neat rows, like the top of a traditional ice cream sandwich. Place the cookie slabs, with their parchment, on a rack or racks to cool completely. When completely cool, wrap well and place in the freezer. If there's room, freeze them on a baking sheet; it's good to have a cold surface to work on when you're making the sandwiches.

To assemble the ice cream sandwiches: Peel the parchment off the backs of the cookie slabs. Place one slab, bottom up, on a cold surface. Spread with ice cream. Top with the second cookie slab, top side up. Press down firmly to distribute the ice cream evenly between the cookie slabs.

Use a sharp knife to trim the edges of the sandwiches, if necessary or desired. If the ice cream has started to melt, place the pan back in the freezer to firm it up. Once it's firm, cut the slab into 12 squares.

Serve immediately; or wrap squares individually in plastic wrap, and store in the freezer.

Yield: 12 ice cream sandwiches.
Tips from our bakers
Substitute store-bought vanilla ice cream, if you like; but if you have an ice cream maker, this recipe for vanilla ice cream, with its interesting addition of tapioca starch for thick, smooth texture, is outstanding.
If desired, substitute honey or light corn syrup for the agave or golden syrup; substitute minute tapioca, ground until fine in a mini food processor or spice grinder, for the tapioca flour; and use a scant 1/4 teaspoon table salt in place of the kosher salt.
We like to add alcohol to homemade ice cream, to keep it from becoming rock-hard in the freezer. If desired, stir 3 tablespoons rum (vanilla rum is tasty), brandy, or vodka into the ice cream as soon as it comes out of the ice cream maker. Transfer the ice cream to a storage container, and freeze until solid; it'll still be soft enough to scoop easily.
If the ice cream you've made is really hard, remove it from the freezer 15 to 30 minutes before you want to assemble the sandwiches, to give it a chance to soften.
For more information on author Jennie Schacht and her book, visit her Web site, Fork & Swoon.
Reviews
We only baked the cookie (and used store-bought ice cream) but the ice cream sandwiches were DEEEEEEELICIOUS! I think I may have used too small of a cookie sheet (I just used a regular sized one) so the cookie was a little thicker, but we didn't mind! It was soft, and very reminiscent of the store-bought ice cream sandwiches... Only better! We used an ultra black cocoa that I buy directly from Guittard. I missed the whole part about spraying the parchment paper until after I had already spread the dough onto the parchment, but it didn't seem to make any difference. The cookie peeled right off! Last time I made ice cream sandwiches, I used a little gadget to press each cookie individually. I will never use it again. The method mentioned in this recipe of assembling a huge sandwich and then cutting it into smaller pieces was genius. Much less messy! We used a rectangular carton of ice cream, and I cut the ice cream into slices and laid them directly onto the bottom cookie. I then used a rolling pin to fill the remaining cracks in. Very efficient. I will definitely use this recipe again!
I just made the cookie part, and I used mint chocolate chip ice cream as a filling. They were fantastic. The cookie is not the easiest thing to handle and it is not super intuitive when you're baking it; when I pulled it out of the oven and let it cool, it seemed like it still wasn't cooked in the middle, and I wasn't sure I'd let it bake long enough. But I think the slight underbake is what makes it stay soft and chewy even when it's frozen. I would suggest, when handling it to assemble the sandwiches, keeping it in the freezer as much as possible. After you've cut it in half, put the other half back in the freezer while you spread ice cream on the bottom. Let it take maybe longer than you want. I ended up with my top piece cracking in several places while I was trying to separate it from its parchment. It had been in the freezer overnight but out on the counter while I worked with the bottom piece, and I think if I had just put it back in the freezer instead, I could have avoided that.
Just made the cookie part of this recipe, and it turned out perfectly. We used store-bought vanilla ice cream for the filling. The texture of the cookie is definitely reminiscent of store-bought ice cream sandwiches. Be sure to spread the batter real thin, as it doubles in height when you bake it off. Make sure to have wrappers handy to wrap up cut bars and stick them back into the freezer.
I made the cookies for this using one for one gluten free flour. They are amazingly good. Just made another double batch and will add the ice cream tomorrow after the cookies are frozen. Thank you for such an authentic recipe. I will attempt the ice cream next time
Question? It says spread cookie batter over prepared parchment but I don't see where it says how to prepare it. Am I just not seeing that bit of instruction?

We're happy to help, Kate. In step 4, the recipe calls for lightly greasing a piece of parchment paper about 12" x 16", and placing it on a flat work surface. This is the preparation step that we're referring to later in the recipe. Once your parchment is lightly greased, you're ready to dollop your batter and bake! Kye@KAF
Kids and adults both were happily surprised and enjoyed. First time making the sandwiches - double batch. This is the second time making the ice cream. The ice cream recipe is easy and spot on. I used light Karo syrup and did have tapioca starch on hand. I did not add vodka this time. I felt as sandwiches they'd soften quick enough eating but did and will use vodka again when using ice cream as a stand alone. The ice cream texture is velvet and the sweetness is just right . It's not too sweet, complimented by chocolately sandwich perfection Homemade goodness and summer fun!
Had to let you know how this came out. Made this as a birthday request. Did this recipe over 2 days, so baked the cookie/cake layer yesterday. Today, did the homemade ice cream. Used your recipe for Vanilla bean. No vodka, did have the xanthan gum. Actually used evaporated milk with the cream as per your advice when I realized I did not have enough milk. The ice cream was astonishingly good..and I will make it this way from now on. Oh, and also used vanilla bean paste and found a subtle difference that we liked better than the other options. Froze the cake layers until the ice cream was ready, used the ice cream layered on straight from the machine. As "crunchies" are a family necessity here..I added a layer of them (crushed Oreos mixed with Magic Shell until wet). After the whole thing was ready, I dipped the edges in chocolate sprinkles. Not difficult, a little time consuming but you cannot buy anything like this. Needless to say there is not one left. Amazing. Thanks KAF.
Fun finale for the first barbecue of the season. This may be my favorite ever vanilla ice cream. Made as directed, adding vodka as suggested in the Tips section. Very vanilla, creamy-textured, and easy to spread. Baked cookie layer for about 11 minutes and probably could have gone even a bit longer to achieve perfect ice cream sandwich-cookie consistency. Nonetheless, these treats were enjoyed by all, and I suspect I'll be making them often this summer.