A customized print-friendly version of this recipe is available by clicking the "Print Recipe" button on this page.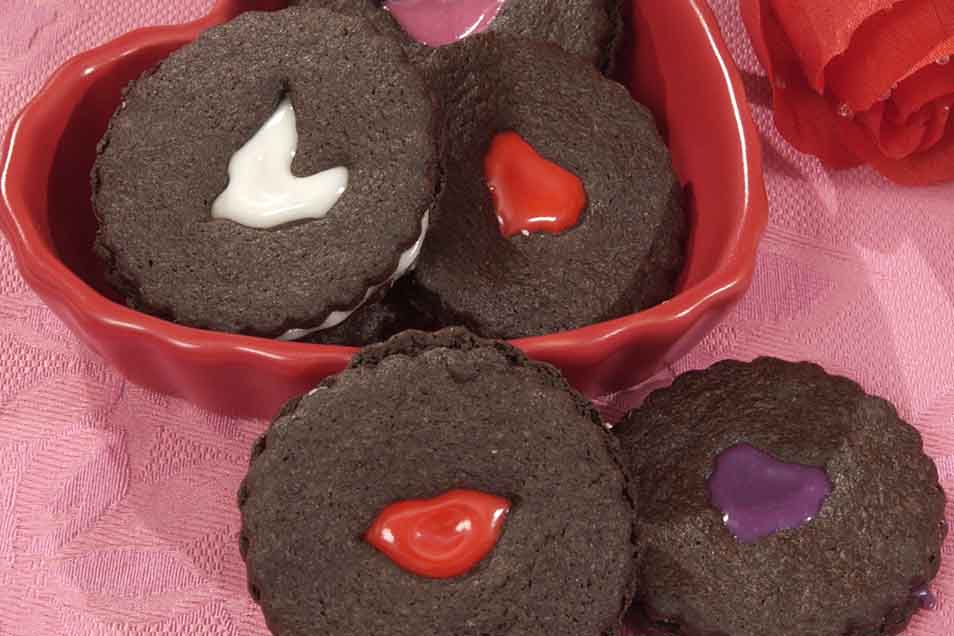 These chocolate sandwich cookies are the color and texture of Oreos. Sandwich them around vivid-colored fillings — red! pink! purple! — and watch the kids' eyes light up. And "fancy" doesn't need to be a challenge.
Ingredients
Filling
1 cup confectioners' or glazing sugar
4 teaspoons milk
1 tablespoon + 1 teaspoon light corn syrup
food color (gel paste makes the most vivid colors)
Instructions
To make the cookies: In a large bowl, cream the butter and sugar together until smooth.

Beat in the espresso powder, salt, and baking powder.

Add the egg, water, and vanilla and beat at high speed for 3 minutes, until the mixture has lightened both in color and texture.

Mix in the flour and cocoa, and divide the dough roughly in half, with one piece slightly larger than the other. If you're weighing, one piece will weigh about 13 1/8 ounces (375g), and the other about 11 1/4 ounces (325g).

Shape each sticky piece of dough into a flattened disk. Wrap in plastic wrap (or place on parchment, put in a 9" x 13" pan, and cover with plastic wrap, if you want to ensure the wrap doesn't stick to the dough).

Refrigerate for 3 to 4 hours, or overnight. This dough is very soft, so it's important that it's cold when you roll it out.

Preheat your oven to 325°F. Lightly grease (or line with parchment) two baking sheets.

On a clean, heavily floured work surface — a silicone rolling mat is ideal — roll the larger piece of dough 1/8" thick. You'll make a circle that's about 14" in diameter.

Use the plain round linzer cutter to cut about 35 circles before you need to reroll the scraps.

Place the cookies on the prepared baking sheets. They won't expand, so you don't need much space between them.

Repeat with the other piece of dough, rolling it 1/8" thick. You'll make a circle that's about 13" in diameter. Cut the same amount of circles as you did for the top, using the cutter with various interior shapes attached.

Place the cookies on the prepared baking sheet.

Bake the cookies for 17 to 18 minutes. (Watch them carefully! It's really difficult to tell when they're done, as they're so dark you can't see if they're brown, but when you start to smell them they're probably done. And, if you smell even a whiff of scorching, grab them out of the oven quick.)

Transfer the cookies to a cooling rack, and cool them completely.

To fill and finish the cookies: Put 1/4 cup confectioners' sugar into each of four tiny bowls.

Add 1 teaspoon milk and 1 teaspoon corn syrup to each bowl. Stir until you've made a soft, spreadable icing, adding more milk if necessary. Tint the icing in each bowl a different color (leaving one bowl plain, to make white filling, if desired).

Spread filling on each of the solid "bottom" cookies. Immediately top with one of the cutout "top" cookies.

Allow the filling to harden before storing the cookies.

Store, wrapped, at room temperature for up to 5 days.
Tips from our bakers
As you cut the cookies, the dough will stick in the shaped part. Don't bother to clean it out each time. You can cut about 6 cookies before you need to take the tip of a sharp knife, a bamboo skewer, or a cake tester, and clean it out.
If you want to, when you're done with both pieces of dough, you can make a dozen additional cookies by gathering the scraps, chilling, re-rolling, and cutting more cookies.
Go easy if you're using gel paste colors. A little goes a long way!
Reviews
I made these without the espresso powder (didn't have it in the house) and they still had a great chocolate flavor. Instead of the traditional rounds with filling, I used Star Wars stamping cookie cutters. They took about 10 minutes in my oven, probably because the stamps thinned the cookies. I was impressed with how well they held the shape of the stamps, even with my 3 and 5 year olds manhandling the cookies. I'll definitely make these again!
I'm gonna give this five stars because my husband, a chocoholic, really likes these cookies. I made the recipe exactly with the above listed ingredients for the dough. Towards the end of baking, I figured out how to handle this dough with great success. First, after you mix the recipe, roll the dough between two sheets of plastic to the thickness you want for baking. Put the dough in the fridge. When ready to bake, take one sheet of plastic off and flip over on a non-stick baking mat. I used a Linzer cookie cutter dipped in flour to cut my cookies. I immediately picked up my scraps. If the scraps became to difficult to handle, I put the baking mat in the freezer for a few minutes, then continued to pick up scraps. That only happened in the beginning before I figured this all out. Don't cut the cookies too, too close to one another. It's harder to pick up the scraps. I then put the mat on a cookie sheet and baked. I never used flour for rolling at any time. I immediately rolled my scraps between the same plastic wrap and repeated the process. Since the filling didn't sound too appealing to me, I used red raspberry seedless jam on the bottom cookie and sprinkled powdered sugar on the top cookie before putting the pieces together. Chocolate and raspberry is a good combo. Like I said, hubby loved them. A labor of love with a great outcome.
Really, really good. I used the black cocoa (not diluted) and it is great. I wrapped the dough in plastic and stuffed it into the tube from my cookie press. Then I froze it solid, unwrapped it and sliced it. At that point the baking is just like this recipe. Easy this way and no rolling.
I love the taste of this cookie, but it's an absolute beast to roll. It sticks to everything: the rolling pin, the silicone sheet. I tried more flour, I tried freezing the dough, I even floured the rolling pin . . . no matter what, I couldn't get the dough to the thickness in the recipe. A few rolls and it kept separating and sticking to the rolling pin. I finally had to tamp it flat with my fingers to get it reasonably thinned out. Can anyone suggest how to make this dough work?
Try rolling the dough between 2 pieces of plastic wrap or parchment. That will reduce the sticking problem without adding too much flour. Molly @ KAF