A customized print-friendly version of this recipe is available by clicking the "Print Recipe" button on this page.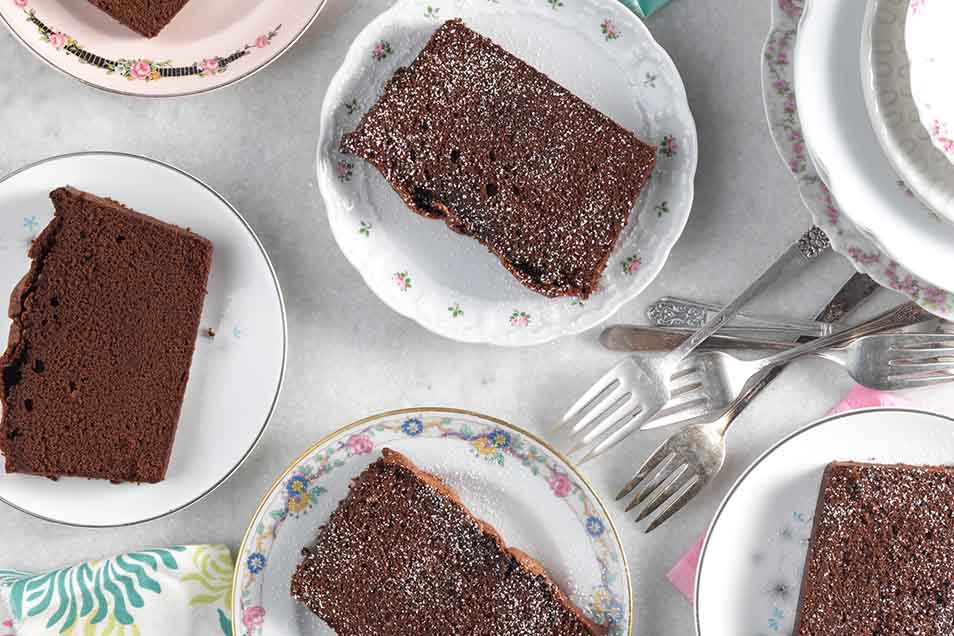 Loaf cakes are in many ways the building blocks of great desserts. With a close-grained slice of loaf cake as a starting point, you can create a delicious sundae, a beautiful trifle, or simply enjoy it with a cup of coffee or tea. This rich chocolate loaf cake makes a great snack with a little bit of peanut butter on top.
Instructions
Note: As of 02/12/13, the following adjustments have been made to this recipe: the baking temperature has been increased from 325°F to 350°F, and the baking time reduced from 75 to 80 minutes to 60 to 70 minutes. We feel this yields a slightly moister cake.

Preheat the oven to 350°F. Lightly grease a loaf pan: either 9" x 5", or 8 1/2" x 4 1/2". The smaller pan will yield a higher-crowned loaf.

In a medium-sized mixing bowl, beat together the butter, sugar, salt, vanilla, baking powder, espresso powder, cocoa, and Cake Enhancer to make a sandy, somewhat clumpy mixture. Don't worry; the eggs will smooth things out.

Add the eggs one at a time, beating well after each addition. Scrape down the sides and bottom of the bowl midway through this process.

Add half the flour to the bowl, beating at low speed to combine.

Add all of the milk, beating at low speed to combine.

Add the remaining flour, beating gently just until the batter is smooth.

Pour the batter into the prepared pan.

Bake the cake for 60 to 70 minutes, or until a toothpick inserted into the center comes out clean. The top may look a tiny bit damp; that's OK. If you have an instant-read thermometer, the center will register about 205°F, while just under the top will register about 195°F.

Remove the cake from the oven, loosen the edges, wait 10 minutes, and turn it out of the pan onto a rack to cool.

Store completely cooled cake well wrapped, at room temperature.

Yield: 12 to 18 servings.
Reviews
This cake wasn't ok for me, it raised well inside oven but when time was done I removed it and it all came down which means the timing in the recipe not accurate it was in 350 degree though.

We're sorry to hear your cake sank, Razan, that must have been so disappointing! It sounds like it simply needed more time to bake through. It's possible that the weather had an affect, as humidity creates all sorts of problems when baking because flour will absorb any moisture it can. It's possible that if the air was humid, the cake needed some extra bake time to dry out and reach that ideal internal temperature of about 205°F. That's a good temperature to keep in mind when making cakes or quick breads, and we hope that helps prevent any future collapses. Annabelle@KAF
Good tasting, dense cake with a deep chocolate flavor. My wife and I ate it plain, though I think it would really shine as a base for other deserts. Intend to bake up a few batches to freeze as tasty additions to a scoop of ice cream.
Followed the easy instructions and baked a perfect cake. The kitchen smell absolutely amazing and the cake was delicious. It was the most perfect base for a black forest inspired dessert.
I love this recipe. I just cream together butter and sugar then add eggs and vanilla. Then I mix the dry ingredients, add half that to the wet ingredients and fold together. Then add the milk and mix. Then fold in the rest of the dry.i
This is a quick and tasty cake. I like to add a tsp of cardamom to this recipe for a little something extra.
I have been making this cake for years and eveyone loves it. The only adjustments I made were to decrease the sugar to 8.5 ounces and I did not use any salt. Rather than adding chocolate chips I put in one ounce of chocolate nibs, wonderful. It's terrific with a small scoop of chocolate ice cream.
This recipe makes a lovely, close textured loaf with a particularly moist center and a lovely crackle crust. It is a textural achievement and the flavor is also delicious. That said, the only difference I introduced was a spice blend of cinnamon, nutmeg, clove, and ginger (the last is also said to help rise). These spices impart a dimension reminiscent of gingerbread that goes over well with the family. The only difference I think I will attempt for my third go around is to cream only the butter and sugar for a couple of minutes before adding the other things, as a big bowl full of powdery substances is hard to incorporate properly. Also, I use a gas oven (while I do have a convection setting, I don't use it for this cake) and the cake is often baked fully a few minutes before the recipe would suggest. Ultimately, a thermometer is the best assurance of whether something is done.
I baked this loaf in the evening.As i did not have sugar at home used icing sugar.Reduced the sugar weight to 200 grams and added instant coffee powder instead of espresso.Added chocochips as my kids love them.I didn't add the cake enhancer as well.I followed the normal method of creaming butter and sugar together.Then added eggs and sifted dry ingredients alternating with the milk .Let me tell you its one of the best loaves I have baked till date.Very moist and the coffee definitely kicks in the chocolate flavour.This one is a keeper for sure.Thanks KAF for a wonderful recipe.
Made this yesterday and have already fallen in love with it so much I think I'm baking another one tonight to take to a potluck. I did it in a slightly larger loaf pan than called for (I think? I eyeballed the measurements) just because that was what I grabbed quickly, so the slices are short and wide but still very delicious. I think I will try a smaller loaf pan next time to make it a little taller. When I told my dad the recipe suggested serving with some peanut butter he just looked at me and said "It doesn't need it. It's perfect just by itself."