A customized print-friendly version of this recipe is available by clicking the "Print Recipe" button on this page.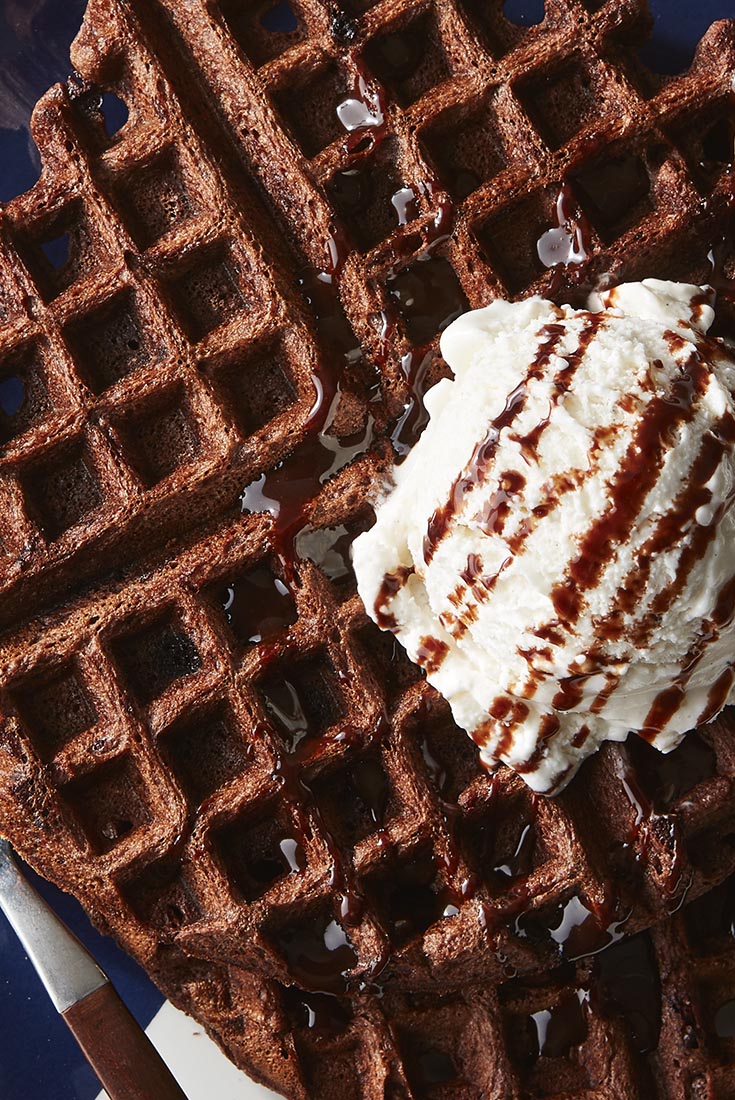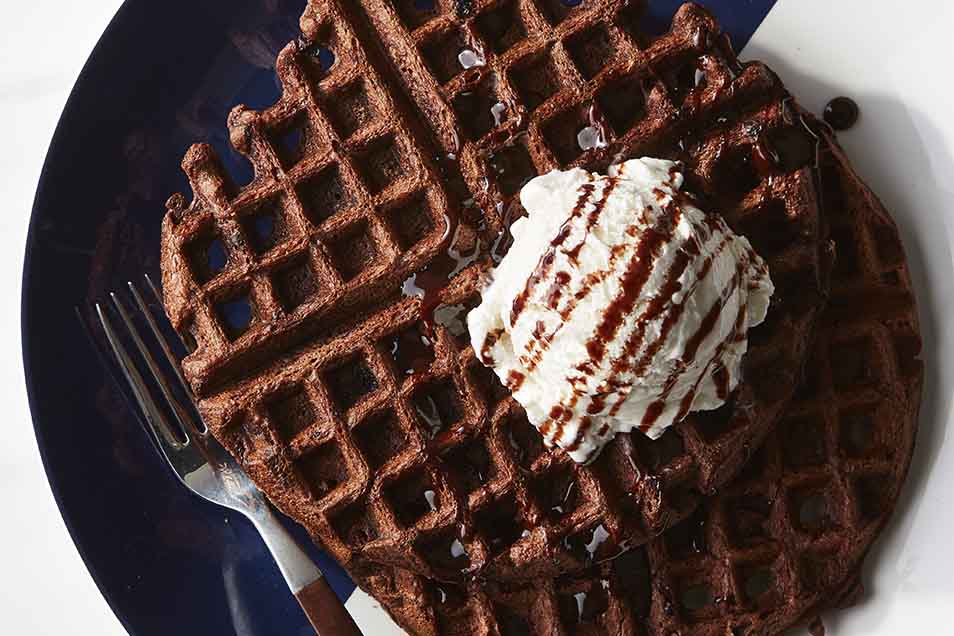 These decadent dessert waffles are so light and crisp, it's hard to believe they're made with sourdough and whole wheat. This is a great way to use up some of the starter that can quickly take over the kitchen when you're tending sourdough. These waffles are especially good made in a Belgian-style waffle iron, but may be made in a traditional waffle iron, as well.
Instructions
To make the starter: Measure 1 cup "fed" sourdough starter into a medium bowl.

Stir in the water and whole wheat flour, and mix until thoroughly combined.

Cover the bowl and set it aside for several hours, or up to overnight.

To make the batter: When you're ready to make the waffles, whisk the dry ingredients in a small bowl; you may need to sift the mixture if your cocoa is lumpy.

Add the dry ingredients, plus the eggs, melted butter, vanilla, and chocolate chips to the sourdough batter, stirring to combine.

To bake the waffles: Drop about ½ cup batter onto a greased, preheated waffle iron. Bake the waffle until steam stops coming out the sides of the iron. The waffles will feel soft and tender coming out of the iron, but will crisp up on standing.

Serve with sliced bananas, ice cream or whipped cream, and chocolate sauce, if desired.
Reviews
This recipe is great! I didn't have malted powder so I used guittard cocoa powder. In total I used 3/4 cocoa powder since that was all I had on hand. Worked out perfect. I also used ap flour instead of whole wheat, batter was thick enough to use. Kids loved this one! Great breakfast treat with just butter. Thanks King Arthur flour for helping me with sourdough recipes. This has been fun cooking through your website.
Woohoo!! My husband had no idea he was eating whole wheat! ;-) I made them for breakfast and served them with vanilla yogurt and sliced strawberries. Life is uncertain...start with dessert.
I made the recipe exactly like it said, using sourdough starter that I made from the recipe on your website. The texture was the best! It was moist on the inside and crisp on the outside. It was very chocolatey, but not bitter. I made cherry sauce to serve with it and it was delightful.
Easy to put together, kid-approved -- especially with ice cream. Will bake again, A+++
Delicious and decadent! Most of my family could only eat one or less waffles, so we ended up with a lot left over. I didn't have malted milk powder, so I just used powdered milk instead. It was definitely rich enough - I imagine it might be too much with the malted milk.
I keep a whole wheat sourdough starter (the most recent feeding was actually with pearled barley flour), and so the sour taste came through very strongly. The chocolate added a bit of bitterness. So, in the end, these were sour and bitter. I don't mind sour, but I don't think it's that great when it's also bitter. The waffles really didn't taste all that chocolatey either. Maybe the reason I didn't like them is because I didn't serve them with ice cream?
Perhaps it is the starter you are using contributing to the bitterness. I like your idea, when all else fails, add ice cream! Elisabeth
I have to admit that the sound of chocolate waffles didn't particularly appeal to me, but I was curious and wanted to try a new recipe using my sourdough starter, so I gave it a try. These are truly delicious, and freeze very well. I love the fact that they are made with whole wheat flour and are low in sugar. On their own, they aren't sweet and almost too chocolatey.... but served warm with a scoop of vanilla ice cream and chocolate sauce, they are divine. These are wonderful for a brunch. Adults love them, and they are one of my grandchildren's favorite desserts now.
Best sourdough wafle recipe yet!
Tasted Great. Consistency was thin. I used 1/2 cup whole wheat and the rest regular KA white flour. I also had trouble getting rid of clumps of cocoa powder so I may have over mixed, not sure. Would using all white whole wheat and mixing less make a thicker batter? How can I reduce the clumping of cocoa powder, just sifting didn't take care of it? Thanks.
This recipe should yield a thicker batter. Since you use a percentage of white flour and the recipe calls for the whole grain flour, your batter would have had too high a liquid ratio because the whole grain flour absorb more moisture than white flours. If your cocoa was sifted into a separate bowl and then dumped into the batter, it may have lost it's aeration and clumped when you mixed it. Try sifting it directly into the batter bowl and then stirring it in with a whisk. ~Amy