A customized print-friendly version of this recipe is available by clicking the "Print Recipe" button on this page.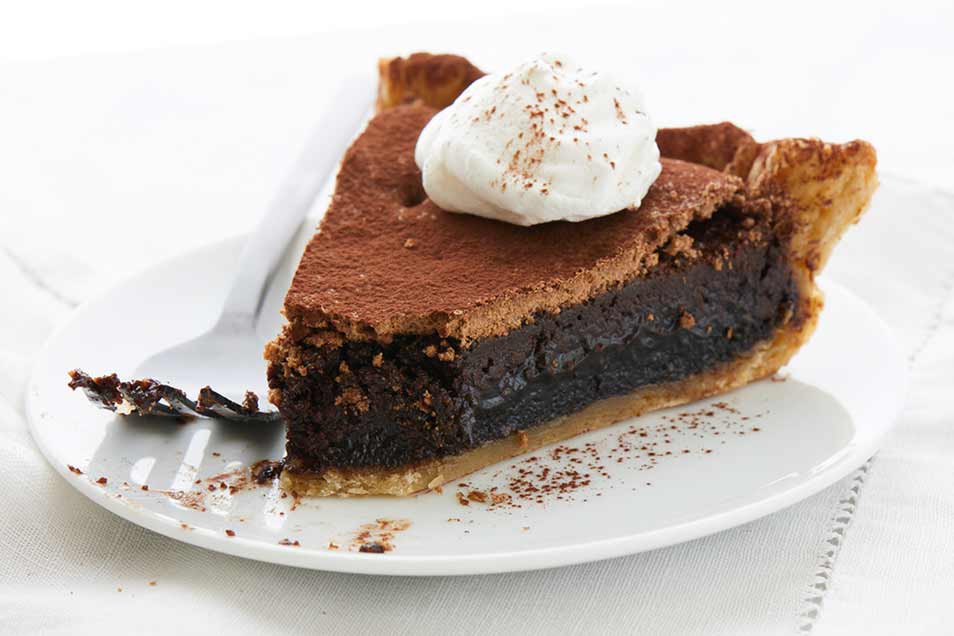 Dark magic! This luxurious pie makes its own chocolate-sugar topping as it bakes. Based on an old Southern favorite, chess pie, its texture hits the sweet spot between cheesecake and custard. A dollop of chocolate-infused whipped cream (see "tips," below) takes it over the top.
Ingredients
Filling
4 tablespoons (1/4 cup) unsalted butter
1 1/2 cups granulated sugar
1/4 teaspoon salt
4 large eggs
1/4 cup Dutch-process cocoa
2 tablespoons coffee liqueur* (e.g., Kahlua), or substitute strong brewed coffee
1 tablespoon cold milk or cream (half & half, light, heavy, or whipping)
1 teaspoon vanilla extract
1 teaspoon espresso powder, optional; for depth of flavor
2 tablespoons yellow or white cornmeal
2/3 cup semisweet or bittersweet chocolate chips
*Frangelico (hazelnut), Amaretto (almond), Grand Marnier (orange), or Framboise (raspberry) are all wonderful, in place of the coffee liqueur.
Instructions
To make the crust: Stir together the flour, sugar, and salt.

Work the butter into the dry ingredients (using your fingers, a pastry blender or fork, or a mixer) until the dough is unevenly crumbly.

Dissolve the espresso powder in 1 tablespoon of the milk. Sprinkle up to 5 tablespoons (or more, if necessary) of the milk into the dry ingredients (beginning with the tablespoon of espresso milk), continuing to mix until the dough is cohesive. Grab a handful; if it holds together willingly, and doesn't seem at all dry or crumbly, you've added enough liquid.

Shape the dough into a disk. Roll its edges along a floured work surface (as though the disk were a wheel), in order to smooth them out. Pat the disk until it's about 1" thick, wrap it in plastic wrap, and refrigerate for at least 1 hour, or overnight.

Preheat the oven to 350°F. Remove the dough from the refrigerator. Allow it to warm a bit and become flexible, 15 to 30 minutes

Flour your work surface, and roll the dough into a 12" circle. Transfer the dough to a regular (not deep-dish) 9" pie pan that's at least 1 ¼" deep. Trim and crimp the edges. Place the crust in the refrigerator to chill, while you're preparing the filling.

Beat together the butter, sugar, and salt until smooth.

Add the eggs one at a time, beating slowly but thoroughly after each addition; you want to combine them with the butter and sugar, but not beat in a lot of air.

Stir in the cocoa, liqueur, milk, and vanilla.

Use a food processor (mini, if you have one) to grind together the espresso powder, cornmeal, and chocolate chips. Add to the batter. Pour the batter into the crust.

Bake the pie for 45 minutes, adding a crust shield after 20 minutes. The middle may look pretty soft; so long as the temperature has reached 165°F right in the center, the pie is done. Note: If you're baking in a stoneware or glass pan, the baking time will almost certainly be a bit longer. Go by how the pie looks, not by your timer.

Remove the pie from the oven, cool to room temperature, then cover and refrigerate overnight before serving.

Serve each slice topped with a layer of whipped cream and a sprinkle of chocolate curls, if desired.

Yield: 1 pie, 10 servings.
Nutrition Information
Serving Size

107g

Servings Per Batch

10
Amount Per Serving:
Calories

390

Calories from Fat

153

Total Fat

17g

Saturated Fat

10g

Trans Fat

0g

Cholesterol

105mg
Sodium

150mg

Total Carbohydrate

56g

Dietary Fiber

2g

Sugars

40g

Protein

6g
* The nutrition information provided for this recipe is determined by the ESHA Genesis R&D software program. Substituting any ingredients may change the posted nutrition information.
Tips from our bakers
This pie is disturbingly liquid when you pull it out of the oven, but don't panic; an overnight rest in the refrigerator solidifies it and gives all the flavors a chance to mellow.
Plain whipped cream is a wonderful complement to this pie, but if you believe more chocolate is better, try this: whisk together 1/2 teaspoon espresso powder, 2 tablespoons Dutch-process cocoa, 1 tablespoon black cocoa, and 2 tablespoons confectioners' sugar in a medium heatproof bowl. Bring 1 1/4 cups heavy cream to a simmer and pour over the mixture, whisking until smooth. Stir one 1 teaspoon of vanilla extract and chill thoroughly before whipping. (If you don't have black cocoa, simply substitute additional Dutch-process.)
Reviews
This pie is soooo delicious! It's seriously Pierre Herme level delicious. What a wonderful recipe. Thank you so much KAF! :D (Just to put it out there for the sake of accuracy: I did accidentally leave it in the oven an extra 5 minutes. So I guess I can't technically actually speak knowingly about the intended results. But what I totally do know is that doing what I did definitely makes for a beyooond incredible pie as well! :) <3)
For chocolate lovers, this pie is the best! I read reviews about this pie coming out soupy...this did not happen to me- but I did cook it an extra 5 minutes. I used Kahlua and double Dutch process cocoa, as well as the espresso powder and it was truly heavenly!
I made one 9" pie and one 6" pie with 1 and1/2 times the recipe. I used pyrex baking pans and cooked them at 350 degrees until the center of each reached 165 degrees. I refrigerated them for 24 hours and served them right out of the refrigerator. The larger pie's chocolate center was totally liquid. The smaller pie's center was more firm but did not hold it's shape like the pie slice in your photo. The smaller pie of course took less time to reach 165 degrees. Any ideas?

Hi Beekeeper, we put our heads together as a baking team to see if we could come up some ideas about what might have gone wrong with your bake and caused your soupy pies. Some possible culprits might have been using small eggs (use large for best results), or adding a bit too much liquer or too much sugar (which liquefies during baking). Somehow it sounds like there was just too much liquid and not enough egg to bind the ingredients and set the pie.

You might also want to double-check your thermometer to make sure it's reading true, as 165°F should fully set your pie. Note that pies of all kinds, chocolate pie included, will bake more slowly in stoneware so the baking time may need to be extended. We hope these ideas help you troubleshoot and allow you to make a perfect fudgy, luxuriously rich Chocolate Midnight Pie next time. Happy baking! Kye@KAF
I entered this pie in a pie baking contest and won first place. I made it pretty much to directions. I used bittersweet chocolate chips, but didn't have Dutch process cocoa, and couldn't find it locally, so just used cocoa powder from Trader Joe's. For the liqueur I used one tablespoon of frangelica and one tablespoon of Kirsch. I used the espresso powder both in the crust and the filling; I didn't make the flavored whipped cream. The crust came out very well, very tender and flaky (I only used 3 tablespoons of whole milk). But I may have gotten it a tad too brown. I'd check before 20 minutes. Still, the judges said it was terrific. The pie is intense, and you can't eat a lot of it at once -- but it was a crowd pleaser!
One of the two KA recipes I tried for Thanksgiving. Maybe I am the worst baker in the world, because I made this pie and it came out pretty gross. The crust was all right, but the chocolate center? It started out soupy -- maybe it hadn't chilled long enough? It was a major fail at Thanksgiving. And no one even wants the leftovers because the center, once it congealed a bit more, ended up having this odd, grainy texture, like undissolved sugar. Seriously, I apologize for the negative review, but I genuinely do not know what I did wrong. I used strong coffee instead of liquer. Woe is me. I have failed in Thanksgiving pie land. (Fortunately, I also made a gooey pumpkin butter cake which is *the bomb*, though not from your site. That may have been the only thing to salvage my reputation. Sigh.) Oh King Arthur. I have failed big time. Any hints for why it might have been so grainy? All the other reviewers love this, so clearly, this must have been an error on my part.

We're sorry to hear this was such a Thanksgiving disappointment, Sher, and we appreciate your desire to get it right. It sounds to us like your oven might be running a little on the cool side, which would explain both the soupy (under-cooked) middle and the grainy texture (the result of sugar that didn't fully melt). Before your next bake, we'd suggest testing your oven temp with an independent oven thermometer, so that you can calibrate accordingly moving forward. Hope this helps to make for some happier baking! Mollie@KAF
I made this pie for thanksgiving today. In the first batch, the filling was a On the runny side. In the second batch I used a regular crust and tried to thicken up the filling by adding one egg and one tbspoon of starch to the filling. It was a hit. However, I think I will give original recipe another try in the future. Whoever thought of how the filling will crust naturally is a genius. I wonder if anyone else used a thickener to the filling and what type, of any, works best.

We're so glad you enjoyed the rich, chocolatey flavor, Fadi. We haven't found that we needed additional thickener, but we wonder if you came across this tip from our bakers? "This pie is disturbingly liquid when you pull it out of the oven, but don't panic; an overnight rest in the refrigerator solidifies it and gives all the flavors a chance to mellow." That overnight refrigeration really makes a difference!Mollie@KAF
Awesome pie! It is sweet and next time I will use all bittersweet chocolate and perhaps add some chopped toasted walnuts to the batter. Thank You
I made this for my hard core chocolate loving family members and it did not disappoint. They loved the flavors of the chocolate, amaretto, and espresso. Personally, it was a little too rich for me; however, the chocolate lovers raved about it!
I used 90% chocolate shavings instead of the chips, light margarine. Plain pie crust. Worked out awesome. Loved it!
This recipe is fabulous, but only if you are a shameless chocoholic with a very sweet tooth. I made it on Monday to serve on Tuesday, but only 1/2 a recipe as there were only two people at the dinner table. I have a six inch pie pan, and it was the perfect size. The filling stiffened up overnight just as you said it would. This is a very rich desert and a small piece was all we could handle, if we were to avoid a severe sugar high. And at that I had somewhat cut down the sugar quantity. Again thank you KAF for your incredible recipe collection.