A customized print-friendly version of this recipe is available by clicking the "Print Recipe" button on this page.
Chocolate-Peppermint Tartlets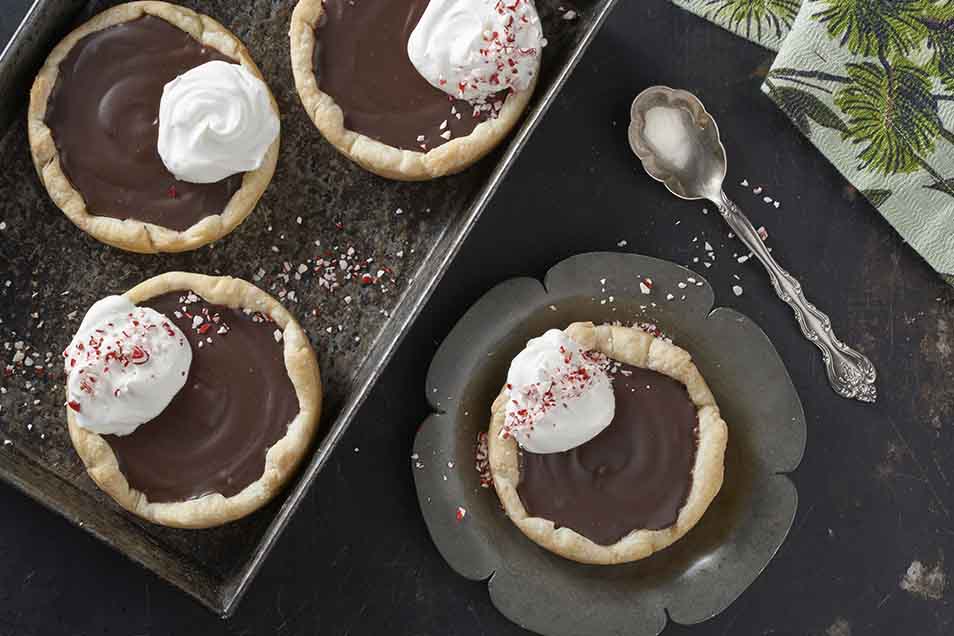 These tartlets are a decadently rich finish to any dinner. The whipped cream is refreshingly minty and adds a touch of elegance. You can pile the cream high, or stay conservative and serve the excess cream alongside.
Ingredients
Crust
1 1/4 cups King Arthur Unbleached Pastry Flour or King Arthur Unbleached All-Purpose Flour
1 teaspoon sugar
1/4 teaspoon salt
6 tablespoons cold unsalted butter
1 to 2 tablespoons ice water
Topping
3/4 cup heavy cream
2 tablespoons confectioners' sugar
4 to 5 drops peppermint oil, to taste
2 tablespoons peppermint crunch or crushed hard peppermint candies
Instructions
To make the crust: Whisk together the flour, sugar, and salt.

Work the butter into the flour until it's crumbly, and some larger pieces of butter remain.

Add the water, tossing until the mixture is evenly moistened and comes together.

Pat the dough into a disk, wrap in plastic, and chill for at least 1 hour.

To assemble the tartlets: Place four English muffin rings on a baking sheet lined with parchment.

Roll the dough into a 1/8"-thick circle. Cut out 6" rounds of dough, re-rolling the dough when necessary.

Transfer the circles to the prepared rings. Press each into the corner, and fold down and press the excess dough onto the edges of the tartlet, so that the dough is even with the top of the ring.

Prick the bottom of each tartlet with a fork, and freeze them for at least 30 minutes. Preheat the oven to 375°F.

Line the shells with aluminum foil and fill with pie weights or beans. Bake the tartlets for 25 minutes, then reduce the oven heat to 350°F, remove the weights, and bake for another 12 to 15 minutes.

To make the filling: Place the chocolate and butter in a heatproof bowl.

Heat the cream to a gentle simmer, and pour it over the chocolate and butter. Stir until smooth.

Cool the filling for about 30 minutes, then distribute it among the cooled crusts.

Transfer the tartlets to the refrigerator to cool completely, at least 3 hours.

To make the topping: Whip the cream, sugar, and oil together until stiff peaks form.

Mound the cream on top of the chilled tartlets, then sprinkle with the peppermint crunch.

Serve cool, or at room temperature.

Yield: 4 tartlets.
Tips from our bakers
To make a 9" fluted tart, double the quantity of the filling and the topping.