A customized print-friendly version of this recipe is available by clicking the "Print Recipe" button on this page.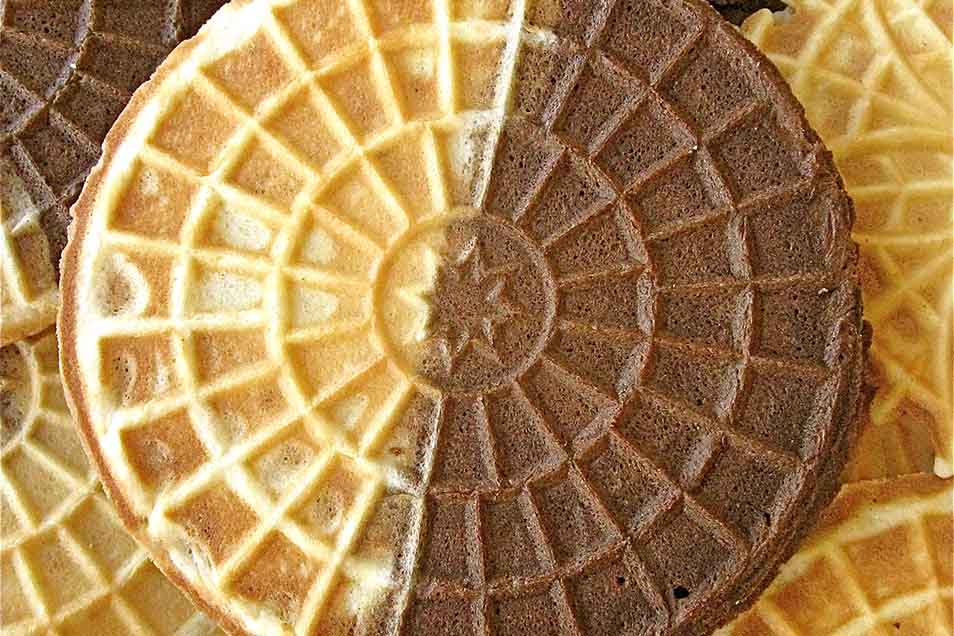 Pizzelle cioccolatte — chocolate pizzelle — are a delicious variation on the usual almond, anise, and rum-flavored cookies. Snapping crisp yet tender, pizzelle are a must-have at any Italian celebration.
Instructions
Beat together the eggs, sugar, vanilla, espresso powder, and salt till smooth.

Add the cocoa and baking powder, again beating till smooth.

Add the flour, mixing till well combined. Add the melted butter, again mixing till well combined.

Bake pizzelle according to your pizzelle iron instructions. A tablespoon cookie scoop works well for scooping batter onto the iron; a level scoopful of batter is the right size for most standard pizzelle makers.

To make two-tone pizzelle: Prepare plain pizzelle batter, flavoring it with 1/2 teaspoon hazelnut flavor, if desired. Using a teaspoon scoop (which holds 2 level measuring teaspoons), drop a chestnut-sized ball of vanilla batter just below center in the cooking area of the pizzelle iron. Drop a slightly smaller ball of chocolate batter just above the center line, nestling it right next to the vanilla batter. Close the iron, and bake according to the manufacturer's directions.
Reviews
Tried another variation, substituting the same amount of peanut powder for the cocoa. Can't say it had much of a peanut taste. I don't know if it was the particular brand I used of it that's just how it is, that I'd need a lot more peanut powder than cocoa to give a similar amount of taste. One odd thing: after adding the powder but before adding flour, the batter had an odd consistency, almost like that toy called "Slime." Next up: freeze dried raspberry powder.
Addendum to my earlier post: I took out the coffee and replaced the cocoa powder with the same quantity of freeze-dried strawberries that I'd ground to a powder (again, though, reducing butter to 85 grams). The product I used contains strawberries and no other ingredients. Very good. Clear strawberry taste, more delicate than the chocolate version, but it didn't need more strawberry at all.
I like my pizzelle batter a little on the thicker side, so I stopped adding the melted butter when I got to where I like it (I didn't use about 34 grams of it). Came out beautifully and received many compliments (makes me puzzled about the review that thought the recipe as written was thick). Thanks for the recipe!
What a treat these are. I followed the recipe, but amped up the vanilla to 1 tablespoon and espresso powder to 1 whole tsp. I like them to talk to me when I eat them. They are delicious.
I was doubtful because the batter was so thick, but they are wonderful. Crispy with a nice light chocolate flavor.
This recipe was fabulous!! I even wrapped hot pizzelles around a wooden spoon, cooled them., then took a straw and "wiped" the inside of the cooled pizzell with nutella! Awesome! I did not add the expresso.
I made the vanilla and chocolate Pizzelles as well as the vanilla/chocolate combination for a family gathering yesterday. I had made the vanilla and chocolate Pizzelles for another family gathering last year and since they went over so well, decided to make them again this year, but added the combination. I used the KA teaspoon scoop, placing a scoop of each of the chocolate and vanilla batter as suggested in their recipe. These made a big hit since nobody has ever thought to make them and some did not even know what they were. I was very pleased with the results.
Fantastic pizelle recipe, even with 100% whole wheat flour. I only use whole grains, and was out of white whole wheat, so I used regular whole wheat and the cookies were fantastic. I also substituted regular coffee powder. Other than that, I followed the directions exactly and sprayed the iron occasionally. The cookies came out very crisp with the perfect chocolate taste. I used them to make ice cream sandwiches, as well as eat plain (who could resist snacking on these while baking?) Note: I have substituted KA whole wheat flours in a lot of recipes that call for regular white flour and they are always successful. (Even my 50 year old hot milk sponge cake recipe from my mom) sometimes I add a bit of baking soda to balance the alkalinity, but usually I forget. I have never used another brand of flour that performs so well. Note to webmaster - please remove the anonymous post that says there is no butter in this recipe
What a fabulous review! With most recipes, using some or all whole wheat flour will be okay; however, I will often add 2-3 extra tablespoons of liquid as whole wheat flour absorbs more liquid than white flours do. Keep up the great work! Kim@KAF

I made a quadruple batch today, and wound up with about 82 five inch pizzelle. And that's with a lot of goo squirting out the sides of my iron. I was worried I'd have trouble with sticking as my pizzelle iron is not non-stick. I made them exactly as directed, adding the butter last, and they did not stick at all. They are very crisp and tasty. Next time I'll try adding orange or almond extract.
I would NOT recommend this recipe. This is the third pizelle recipe that I've tried. So far this is the only one that has not worked. I'm sure they would have tasted well but, unfortunately, they stick to the press. I would say that it is the press, but why would the other recipes work?
The cocoa powder may cause it to stick. Did you spray the iron? If you'd like to go over the recipe, give us a call at the Baker's Hotline. Molly @ KAF