A customized print-friendly version of this recipe is available by clicking the "Print Recipe" button on this page.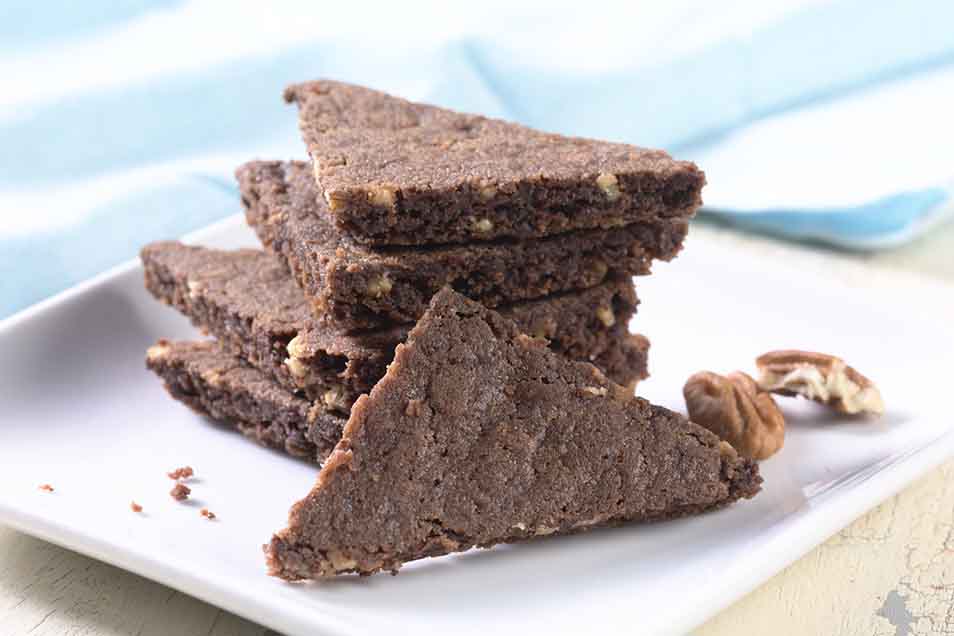 Originally published in the King Arthur Flour Cookie Companion cookbook, this simple 6-ingredient recipe yields incredible shortbread. Rich and chocolate-y, it comforts and soothes the palate with its buttery goodness. Endless variations will keep you baking these cookies over and over and over.
Instructions
Preheat the oven to 300°F. For thin, crisp shortbread, grease two 8" square pans. For thicker shortbread, grease one 9" square pan.

To avoid over-creaming, we recommend that you stir the dough by hand. In a medium-sized bowl, stir together the butter, salt, and sugar until well blended.

Add the cocoa, vanilla, baking powder, and flour, and mix until you have a smooth, slightly stiff batter.

Press the dough into your prepared pan(s) and prick all over with a fork. This will keep the shortbread from developing bubbles under the crust.

Bake the shortbread in two pans for 35 to 40 minutes; the single 9" pan will take about 50 minutes. Remove from the oven and cool for 5 minutes.

Invert the pan(s) over a clean sheet of parchment and turn out the shortbread. While still warm, cut each square into 12 pieces. Cool completely before serving.

Yield: 12 to 24 pieces, depending on thickness.
Tips from our bakers
Chocolate/Chocolate Chip-Walnut Shortbread: Prepare as directed, stirring in 1/4 cup mini chocolate chips and 1/4 cup diced walnut pieces before baking.
Chocolate-Orange-Spice Shortbread: Prepare as directed, stirring in 1/2 cup candied diced orange peel, 3 drops orange oil, 1/4 teaspoon allspice, 1/4 teaspoon ginger, and a pinch of cloves. Bake as directed. This version was a winner in our test kitchen tastings — a real home run.
Reviews
Super delicious. I made it into cookies. I have made it twice. Now a family favorite.
I tried this recipe using both volume and grams and while the flavor was good, they came out more like a brownie...the fork holes disappeared, and the gram batch rose more along the edges than the volume batch...I have to say that other than flavor, I was sadly disappointed in this recipe.

David, we're sorry to hear this recipe didn't result in the classic shortbread texture you were looking for. We'd love to help come up with some ideas about how you can tweak your method and ingredients to make the consistency more aligned with what your expectations. Give us a call at 855-371-BAKE(2253) to troubleshoot. Kye@KAF
I've been making this recipe for years, and love it. So easy to throw together in my stand mixer. However, instead of pressing it into a pan or rolling it out, I portion it onto a parchment-lined cookies sheet using a teaspoon scoop. then bake 14 minutes at 325 degrees. It's a hit!
"Magnificent!" said my 8-year-old, and I agree. The flavor is the perfect balance of sweet, salty, deep and smooth. Although the dough takes a bit of muscle to mix by hand, it turns out a very nice consistency. When adding the butter, I think I was a little shy of the 1 c. The dough was on the edge of fall-apart dry, so I added about 1 tsp. oil (easy to mix in), and it came together fine. I used the option of pressing the whole recipe in a 9x9 in. shortbread mold. It turned out great, but I found that I prefer a thinner shortbread, so next time I will try 2 pans -- or maybe a roll to slice and bake.
I slightly adjusted this recipe, adding only @2/3 C sugar and 1/2 C dark cocoa. I rolled and pressed the dough with a cut glass, and I baked for 30 minutes. I added just a pinch of espresso and cinnamon to the cocoa/sugar/butter mixture. They turned out perfectly!! Solid and savory, not too sweet.
I am with the group that found this recipe to be very greasy and sugary. No one liked it. Not edible. I've been baking for over 50 years and this recipe was not a shortbread and not to my liking. Will just have to add cocoa powder to my favorite shortbread recipe.
One of the easiest, cleanest, most fantastic doughs I've worked with. FAIR WARNING, the next tip may cause bakers to seize in delight. You can work this dough EXACTLY like sugar cookie dough. That's right friends, chocolate shortbread stamped into your favorite shapes? Can I get a WHAT, WHAT?! I used this recipe as an entry level recipe for a friend who had never in her life baked, and it turned out fabulous. We made tiny shortbread Totoro's (you can Google: My Neighbor Totoro if you don't understand the reference, it's an adorable kids movie). Seriously, every single one of these came out perfectly baked. I used parchment paper to simply slide onto a cooling rack. They wont last long. Trying a slightly different version next: with toffee bits and another with mint chips :) I can only fathom that the low ratings are from people who didn't hand blend, or use a high grade cocoa, because this was a breeze of a recipe. :) Thank you King Arthur Flour!
I used exactly the amounts of everything listed and it was actually greasy and chewy and my husband thought so, too. It was not like normal shortbread.
I am sorry this recipe was a disappointment. Be sure you are using the correct cocoa and mixing with a gentle hand. If you would like further assistance, please contact one of our bakers on our toll free Baker's Hotline, 1-855-371-BAKE. Elisabeth@KAF
I'm sure it's a personal taste thing, but this recipe in its basic form (didn't do the orange or walnut additions) tasted like eating pure chocolate flavored sugar held together with butter (which it kind of is). From the thinly veiled granular backround texture to the intense sweetness, this recipe was not for me.
I am sorry to hear that this recipe did not work out well for you. However, please feel free to call our Baker's Hotline if you would like to troubleshoot this recipe.-Jon 855 371 2253
Foolproof. Tastes great, and wait 'til you read what I did...anxious to use my new D. Dutch Dark Cocoa from KAF, and perhaps distracted by a dog just out of surgery, I neglected to read the recipe closely and creamed only 1/2 the butter with the sugar & salt. Added the other ingredients & thought, hmmm this is really dry. Read recipe again. Ack. Had 1/2 the remaining amount of required butter on hand. Zapped it to warm and added. Mixed well. Still a little dry....I know I'm missing fat...oil? Ick. Applesauce? None on hand. Mayo? Ok, a tbsp. Mixed it in, pressed out the dough and really, it tastes like chocolate-y shortbread. I like the salt presence too. So sorry KAF for wrecking the recipe, but thank you!