A customized print-friendly version of this recipe is available by clicking the "Print Recipe" button on this page.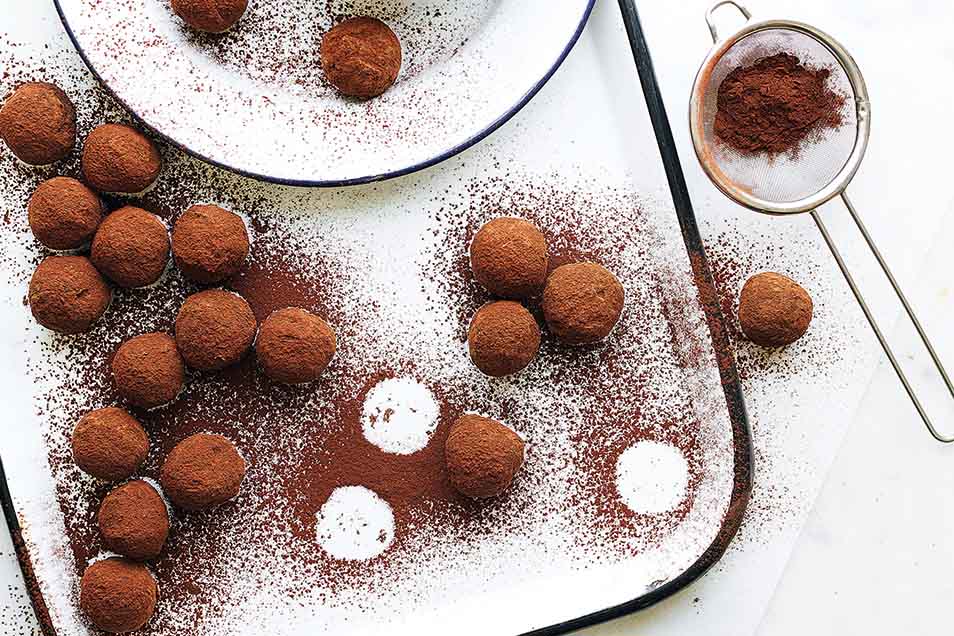 Cream and chocolate pair to make the simplest and most decadent of chocolate treats, the truffle. Originally intended to resemble the truffle mushroom, chocolate truffles are a way to enjoy the true flavors of your favorite chocolates. The silken texture of the ganache will melt on your tongue, transforming a simple bite into a sublime adventure.
Ingredients
Truffles
2 cups chocolate, chopped
1 1/2 cups heavy cream
1 teaspoon vanilla (optional)
Instructions
In a medium-sized saucepan or microwave safe container, heat the cream to boiling. Boil for 30 seconds to evaporate some of the water in the milk.

Remove from the heat and carefully add the chocolate. Let sit for 1 to 2 minutes to soften and melt. Add the vanilla if using.

Whisk the chocolate and cream together until smooth, silky and creamy. This mixture is called ganache.

Pour the ganache into a shallow baking dish or pan and refrigerate until firm, the consistency of soft clay. This will take about 1 to 2 hours.

To form the truffles, scoop small 3/4" balls from the chilled ganache. Roll each ball between the palms until rounded, but not perfectly so. The heat of your hands will slightly soften the truffle as you roll.

Roll the now softened truffle in your choice of toppings. Unsweetened cocoa, shredded coconut, chocolate sprinkles, toasted nuts and even sea salt are popular toppings.

Set the truffles aside to firm up before serving at room temperature. Truffles can be stored in the refrigerator for up to two weeks.
Tips from our bakers
You can flavor the cream adding a drop or two of extra strong flavoring after removing the cream from the heat. Subtle flavors are better than strong flavors, so that the taste of the chocolate shines through.
Mercken's Bittersweet, Belcolade Bittersweet Discs, Peter's Burgundy Chunks and Guittard Onyx wafers all make excellent truffles.
Reviews
I've been making this recipe at Christmas for a few years now and everyone just loves it! These are a delicious, simple treat.
I made 2 batches of this recipe with bittersweet chocolate and they turned out beautifully. Then I made a batch with milk chocolate and it didn't set enough to make balls I made sure to boil the cream for 2 minutes so enough water evaporated, just like I did the other 2 times. The only difference was the milk chocolate. Could this have caused it not to set up correctly?
Milk chocolate needs a higher ratio of chocolate to cream in order for it to set up properly. Use about 12 oz. of chocolate to 8 oz. of cream. ~Amy
Oh my Gosh!! These are so fantastic this time, I cant believe it!! I reviewed these earlier, and was not too thrilled with them. They came out a tad bit grainy and were not set up enough. I made them again last night, and I added the choc after the cream boiled. Then I mixed it in till it was all melted, then added the vanilla. Then I made sure I whisked it all the way - not just till it looked melted, but till it was shiny, smooth, and very creamy looking. I knew right away, that it was right. I did pour it into two pans one was a 9 x 13 glass, and then one a smaller rectange that that - just in case I needed a thinner layer. It came out perfect!!!! Sorry for complaining earlier - some times you just need practice with things I guess. This recipe is AMAZING!!!!!!
I had the same problem of it setting up, so I remelted everything and mixed in about 1/2 a cup of sifted powdered sugar and then refrigerated it again and it was MUCH firmer and easier to work with
I had similar problems as those being described about the ganache not setting up. I gave it nearly 2 hours in the fridge and then an hour in the freezer. It was firm around the outside, but soft in the middle. I decided to scoop anyway and my scoops were very soft and hardly round (mostly weird blobs). Then I put the blobs on a cookie sheet and into the freezer for 10 minutes. That firmed them up. Looking at the blog post for this recipe compared to what I did, the cake pans used by the blogger were creating a much thin layer of ganache than the bowl I used. That might account for the timing differences in firming up. These are delicious and I look forward to making them again soon!!!
I also had a problem with this recipe. I refrigerated the ganache overnight, but it's still too soft to make truffles. It does taste good, so I will try to find another use for it.
I am torn on whether to recomend this recipe or not - it made a very tasty recipe, but didnt come out right. I bought the real nice bittersweet chocolate (the 18$ stuff), and used a large portion of it to make this, and it didnt come out right. It has a good taste, and finally after sitting overnight in the fridge, I can make a ball out of it - but it seems way too soft still - like once you touch it, it starts melting right away - way too soft for truffles. I noticed two others had trouble with this recipe, but I thought with the choc you sell, I would be okay. Do you have anything else, I can do with the ganache? It has a really good taste!! I hate to throw away all that money - they were supposed to be gifts.
I'm sorry to hear experienced troubles with this recipe. Please give the bakers at call 802-649-3717 to talk about the issues. - kelsey@KAF
This is a classic, bassic ganache recipe, the proportions are correct. Probably there could be a bit more instruction on the chocolate and temperature. This recipe can have cream added to make thinner ganaches for other purposes or be made with less for a thicker ganache. It is just the right consitencey for truffles. I made a dozen as I'm the only chocolate eater in the house, saving some of the ganache to thin down for a nice chocolatey French Toast breakfast! With a bit of whipped cream on top. I did a modification on the recipe using 4 ounces German Sweet Chocolate and I put about 1/8 c sugar in the simmering cream. It worked just fine. There are many things you can do with ganache, so have fun!
I couldn't wait to try this recipe when the Mercken's milk chocolae I ordered arrived today. After 5 hours, it's still not set. I agree with the other review that suggested the amount of cream is way off. Should it be 1/2 cup instead of 1 1/2 cups? Hotline is closed for tonight, but will try tomorrow. What a waste of good ingredients.
We are sorry to hear that the recipe did not work out. The ratios are correct, equal parts by weights of cream and chocolate. Be sure that the cream is very hot before pouring into the chocolate to melt it completely. You can even boil the cream for a minute or two to ensure this
It's now been over 6 hours since I tried to make the truffles - the taste is great, but it has not come even close to being firm enough to handle. Other recipes have the chocolate/cream ratio heavier on the chocolate - could this be the problem?
Please be sure that you are using good quality bar chocolate, and heating the cream to boiling before mixing with the chocolate. If you have any further questions, please feel free to contact our hotline.