A customized print-friendly version of this recipe is available by clicking the "Print Recipe" button on this page.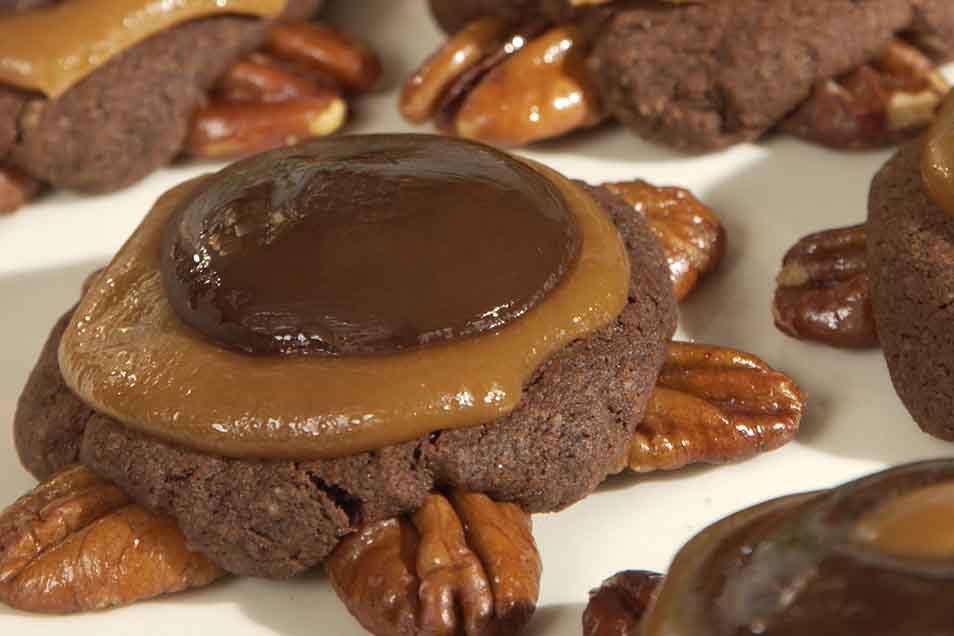 Chocolate, caramel, and pecans are a combination happily celebrated in candy, cake... and these cookies.
Instructions
Preheat the oven to 350°F. Lightly grease (or line with parchment) two baking sheets.

In a medium-sized bowl, cream together the butter, salt, cinnamon, confectioners' sugar, and vanilla.

Sift the flour and cocoa together to remove any lumps.

Beat the flour mixture into the creamed wet ingredients, then mix in the pecan meal.

Place 24 clusters of 5 pecans each onto the prepared pans, leaving a dime-sized circle empty in the center of each cluster.

Divide the dough into 24 balls, 1/2 ounce each.

Flatten the balls into 1 1/2" disks, and place them atop the pecan clusters, pressing down slightly.

Bake the cookies for 10 to 12 minutes, until you start to smell chocolate. You won't see much change in color. The cookies should remain soft, as they'll crisp as they cool.

Remove the cookies from the oven, place 1/2 a caramel (or a thin, nickel-sized dollop, if you're using block caramel) on top of each of the cookies.

Immediately top each cookie with a chocolate disk. The caramel and chocolate will melt and flatten.

Cool the cookies for several hours before storing in airtight containers for up to a week.
Reviews
Easy and delicious. My husband gave it a 9.34 out of 10 only because I didn't get the caramels to melt all over the cookies (they weren't sliced thin enough). I also used walnuts instead of pecans, which worked great. This will be a new traditional Christmas cookie.
i have made this cookies several times, but i modified the recipe a bit. I only used the cookie portion of the recipe. I added a Hershey Caramel Kiss to the cookies as soon as they came out of the oven. Did not use the pecan to make it a turtle. But i used ground walnuts. Still pretty much the same recipe and the cookies are still awesome. the cinnamon in the cookie gives it a whole different direction. All in the all: the chocolate, the cinnamon, the caramel; complex and a different dimension. In my modified version, i have a little bit of all in each bite. I can only recommend to make the recipe, with or without modifications. My 9+14 year old girls like it.