A customized print-friendly version of this recipe is available by clicking the "Print Recipe" button on this page.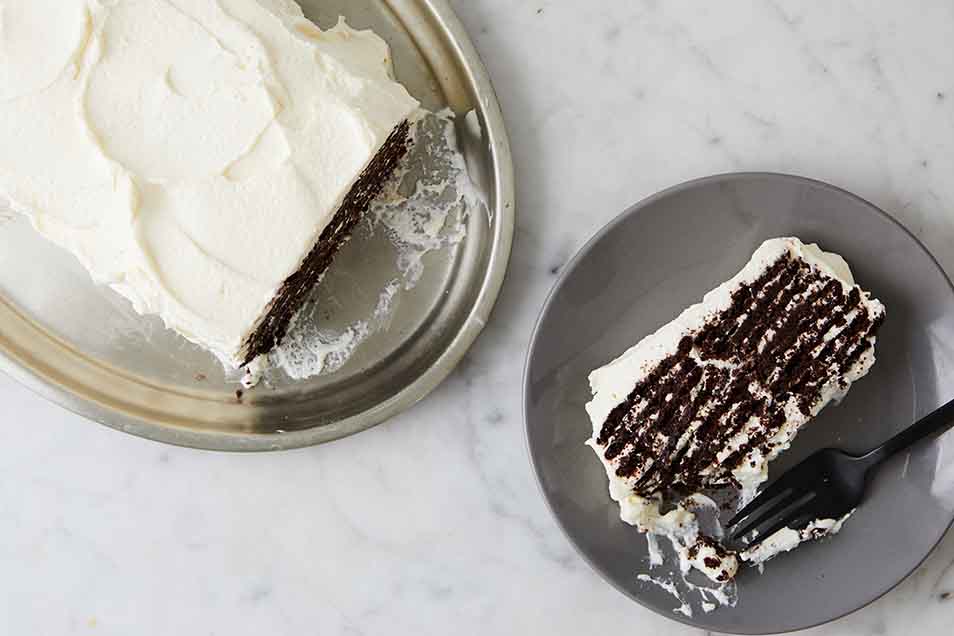 These cookies have a secret life: stash a stack of whipped-cream covered cookies in the refrigerator overnight and, voilà, they turn into a cake. Or, to make filled sandwich cookies (à la Oreos), just add our Sandwich Cookie Filling.
Instructions
Lightly grease (or line with parchment) two baking sheets, or more if you have them; you'll make 3 to 4 baking sheets' worth of cookies.

To make the cookies: In a medium-sized bowl, beat together the sugar, butter, salt, baking powder, and espresso powder.

Beat in the egg and vanilla, then the flour and cocoa. Cover the dough, and chill for 30 minutes. While the dough is chilling, preheat the oven to 350°F.

Roll the dough about 1/8" thick; use cocoa instead of flour to dust your rolling board and the dough.

Cut into 2 ½"-round cookies. A biscuit cutter is handy for this.

Bake the cookies for 10 minutes. Watch them closely at the end of the baking time, and if you start to smell chocolate before 10 minutes has gone by, take them out. When they're done, remove the cookies from the oven, and allow them to cool completely.

To make stack cakes: Whisk together the heavy cream and other ingredients. When blended, whip until the cream holds a soft peak.

Place one cookie on a small plate. Put about a tablespoon of whipped cream on top; our teaspoon cookie scoop, heaped up, works well here.

Top with a second cookie, using it to compress the whipped cream to about a ¼"-thick layer.

Repeat with 4 more cookies, finishing with a layer of whipped cream.

Refrigerate from 4 to 24 hours before serving.

Other flavoring options:
To flavor 1 cup of cream, add one of the following combinations:
*2 tablespoons confectioners' sugar + 3/4 teaspoon vanilla extract;
*2 tablespoons confectioners' sugar + 1/8 teaspoon coconut flavor;
*2 tablespoons confectioners' sugar + 1/8 teaspoon peppermint oil;
*1 tablespoon granulated sugar + 1 tablespoon Dutch processed cocoa + 1 teaspoon espresso powder
Tips from our bakers
Just before serving, refresh with a pretty dollop of whipped cream on top; garnish with fruit; or sprinkle with cocoa, coconut, cinnamon, or chopped ginger.
Want to make stained glass cookies for the holidays? Roll the dough out 1/4" thick. Use a cutter to form cookies of your desired shape and size, then cut out smaller shapes from the center of each cookie. Place the cookies on a parchment-lined baking sheet, and fill the center cutouts with crushed candy canes or other crushed hard candies. Freeze the cookies for at least 20 minutes; this will allow the centers to hold their shape during baking. Bake according to the directions at right, adding a couple of minutes to the baking time to account for the increased thickness of the cookies.
Reviews
Great chocolate taste. To Chewy to pass as a wafer when baked for the full 10 minutes. Baking time and temp needs to be refined. "Bake 20 - 22mins" or "Bake the cookies for 10 minutes" or bake until "you start to smell chocolate before 10 minutes has gone by, (then) take them out"? The last suggestion was about 7 minutes and they were still wet on top.
We made this recipe because we live in Australia and are unable to source retail versions of this cookie for a pie recipe we are making. We couldn't find the black cocoa but were unconcerned, doubling up on regular cocoa. The only other variance we had was to roll the dough between parchment. Could not be happier with the result. Crisp chocolatey flavor but not too sweet. A winner in all respects.
These had an excellent flavor, dough was easy to work with. Everyone liked them, but there was one issue--they were a bit chewy once they cooled. I was expecting something more crisp. I do not usually follow directions to a T but on these I did and I wonder why they came out chewy. Still, I will be making them again bc they were amazing with vanilla ice cream.
I needed this recipe to make cookies to crush for the tradtional bourbon balls we make each Chirstmas. Rahter than roll out the dough, I did a slice-and-bake roll. The
I made these for an ice-box cake, and they tasted wonderful by themselves; the dough got a bit soft when I was rolling it and I had to redo several cookies, but I'm sure that was just because it wasn't in the fridge for long enough. I layered it with marshmallow spread, and it was way too sweet (I think that was due to the spread) and the cookies were very hard. I had made these before and layered them with whipped cream to make stack cakes, and they softened after a bit. But these didn't. Maybe the others soaked up the cream? I will probably make these wafers again, since I love their taste, and stick with cream for layering.

Hi, fellow baker! We think your instinct to pair the wafers with a whipped cream is a good one. The marshmallow spread doesn't really have any excess moisture to soften up those cookies. The sugar in the spread will absorb any moisture it can possibly find. It's possible that not only did the spread not lend any moisture to the wafers, but that the sugar in it actually took some of the moisture out of them due to it being hygroscopic. Whipped cream will be perfect! Annabelle@KAF
I made this recipe as gluten & dairy free. I substituted Measure for Measure flour, Earth Balance Soy free spread and Enjoy Life dark chocolate chunks, and omitted the salt as there is plenty in the spread. It came out fantastically, very happy with the results. I don't do a whole lot of gluten free baking, however I wanted a good cookie recipe to use in a peppermint chocolate tart to accommodate a family member for the holidays. The end result needs to be good enough that everyone can enjoy it even the picky ones. This modified recipe works!
I did not experience soft, squishy anything in my dough. As a matter of fact it was quite crumbly, making me think I had measured incorrectly. I did not have time to order the specialty cocoa and espresso powder, but I had some Dutch process and Hershey's Special Dark cocoa that worked well. It rolled out beautifully in spite of the concsistncy and using two sheets of waxed paper eliminated the need for any additional cocoa powder. I have been making the recipe for years using the Nabisco wafers, but could not find them this year. The cookies I made from this recipe were not quite as thin as the store bought, so the finished dessert was not the same, but enjoyed by all nonetheless. I will make it again!

Beth, we're glad to hear you enjoyed the final result of this recipe! It sounds like there may have been a bit too much flour added to the dough, which caused the crumbly texture. To ensure you're using the right amount, we recommend either measuring your flour by weight using a scale, or fluffing and sprinkling the flour gently into your measuring cup one spoonful at a time before leveling off with a knife. This will help you measure light cups of flour that weigh about 4 1/4 ounces per cup. I hope that helps make the recipe even more enjoyable in the future! Kye@KAF
A follow-up to my previous review: the freezing didn't turn out quite as well as I'd hoped simply because frozen they were too hard to slice, and thawed they were just the same soft, messy mess I experienced the first time around. However, three's a charm: this last time I made the mixture, didn't even chill it, and used my handy falafel scoop to measure out and eject little cookie-batter 'pucks' which I then squashed with the bottom of a glass dipped in cocoa. Consistent size, nice circular shape, remarkably little mess, and very little extra cocoa needed! Lacking a falafel scoop, I imagine an old-fashioned cookie-press would be ideal, or even possibly piping out blobs. Also dipped mine in [thinned] couverture chocolate which helped the cookies retain their lovely crisp snap when combined with a moist ingredient -- in my case, an Italian Meringue Buttercream, but I'd imagine in ice cream they'd be pretty amazing.
Delicious and this recipe's obviously a winner. However, I'd change a couple of things next time because BOY do these make a mess! Because they're so rich, even after chilling for about an hour by the time I'd rolled out a chunk of dough and cut a few cookies, the remainder was very soft. So with the next couple of trays I rough cut small bits of dough and squished them with the bottom of a glass on my baking tray. They came out irregular in shape, of course, but otherwise flattened nicely. Next time I'd probably freeze the dough and slice it thin, and again squishing if necessary ... I used homemade espresso powder because such a thing's not sold in my area (and besides, I've always got plenty of used espresso 'pucks'!). I also used all regular cocoa as we don't have black -- it's a very dark cocoa in any event, and the end result is a lovely dark brown. As someone else noted, these use a lot of cocoa in the rolling [or squishing] process, so make sure you have plenty on hand.
These were simply great. I made the wafers and put them together with the sandwich filling. My grandchildren loved them! Definitely will make them again! One thing: maybe chilling longer would help but the dough is a little difficult to roll out, as it seems somewhat dry. Also, I have a practice of covering my counter surface area with Saran wrap before I roll out dough and I was doubly glad I did it this time because it made the clean up with all that cocoa powder supremely easy.