A customized print-friendly version of this recipe is available by clicking the "Print Recipe" button on this page.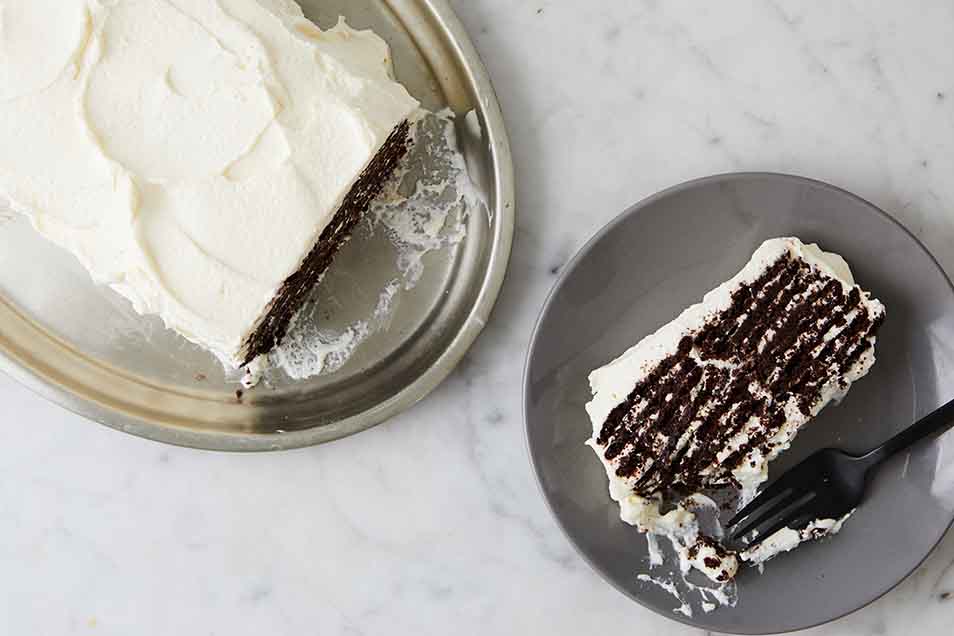 These cookies have a secret life: stash a stack of whipped-cream covered cookies in the refrigerator overnight and, voilà, they turn into a cake. Or, to make filled sandwich cookies (à la Oreos), just add our Sandwich Cookie Filling.
Instructions
Lightly grease (or line with parchment) two baking sheets, or more if you have them; you'll make 3 to 4 baking sheets' worth of cookies.

To make the cookies: In a medium-sized bowl, beat together the sugar, butter, salt, baking powder, and espresso powder.

Beat in the egg and vanilla, then the flour and cocoa. Cover the dough, and chill for 30 minutes. While the dough is chilling, preheat the oven to 350°F.

Roll the dough about 1/8" thick; use cocoa instead of flour to dust your rolling board and the dough.

Cut into 2 ½"-round cookies. A biscuit cutter is handy for this.

Bake the cookies for 10 minutes. Watch them closely at the end of the baking time, and if you start to smell chocolate before 10 minutes has gone by, take them out. When they're done, remove the cookies from the oven, and allow them to cool completely.

To make stack cakes: Whisk together the heavy cream and other ingredients. When blended, whip until the cream holds a soft peak.

Place one cookie on a small plate. Put about a tablespoon of whipped cream on top; our teaspoon cookie scoop, heaped up, works well here.

Top with a second cookie, using it to compress the whipped cream to about a ¼"-thick layer.

Repeat with 4 more cookies, finishing with a layer of whipped cream.

Refrigerate from 4 to 24 hours before serving.

Other flavoring options:
To flavor 1 cup of cream, add one of the following combinations:
*2 tablespoons confectioners' sugar + 3/4 teaspoon vanilla extract;
*2 tablespoons confectioners' sugar + 1/8 teaspoon coconut flavor;
*2 tablespoons confectioners' sugar + 1/8 teaspoon peppermint oil;
*1 tablespoon granulated sugar + 1 tablespoon Dutch processed cocoa + 1 teaspoon espresso powder
Tips from our bakers
Just before serving, refresh with a pretty dollop of whipped cream on top; garnish with fruit; or sprinkle with cocoa, coconut, cinnamon, or chopped ginger.
Want to make stained glass cookies for the holidays? Roll the dough out 1/4" thick. Use a cutter to form cookies of your desired shape and size, then cut out smaller shapes from the center of each cookie. Place the cookies on a parchment-lined baking sheet, and fill the center cutouts with crushed candy canes or other crushed hard candies. Freeze the cookies for at least 20 minutes; this will allow the centers to hold their shape during baking. Bake according to the directions at right, adding a couple of minutes to the baking time to account for the increased thickness of the cookies.