A customized print-friendly version of this recipe is available by clicking the "Print Recipe" button on this page.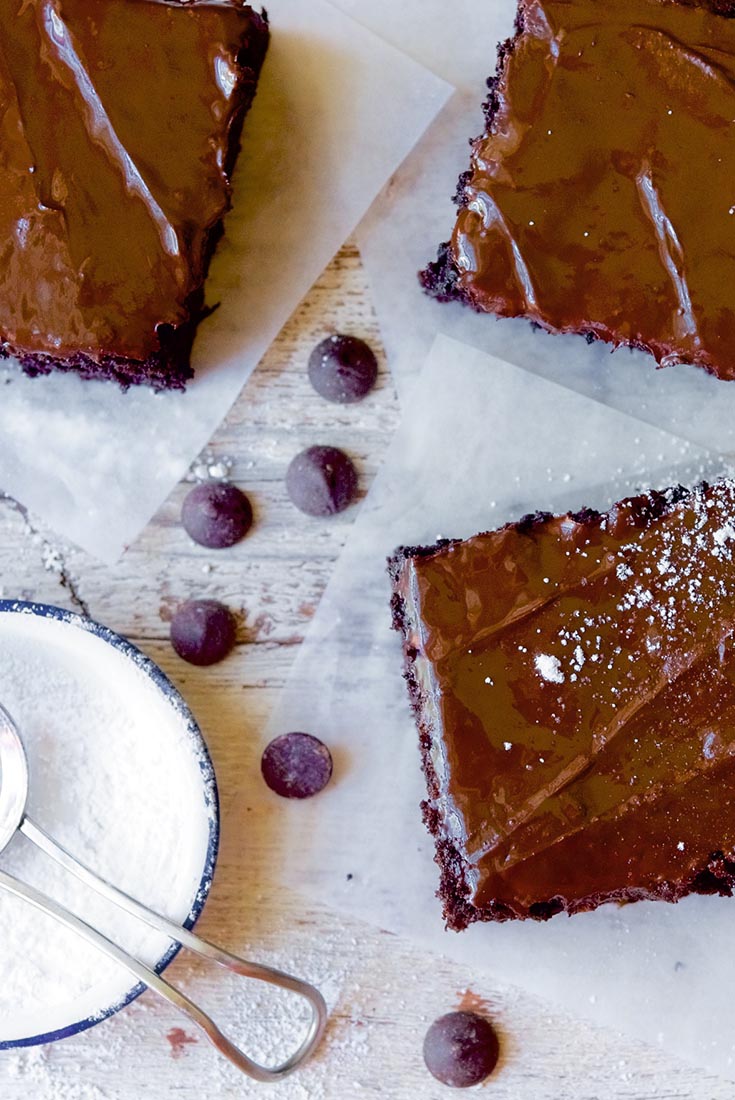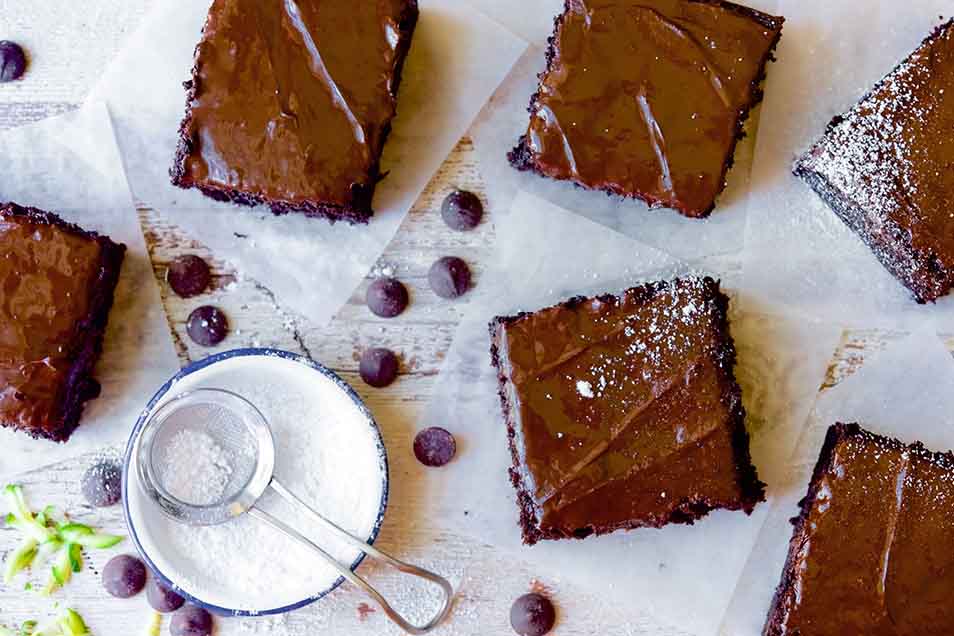 You'd never know there's zucchini in this ultra-moist, rich chocolate cake.
Ingredients
Cake
1/2 cup (8 tablespoons) butter
1/2 cup vegetable oil
1 3/4 cups sugar
1 teaspoon vanilla extract
1 teaspoon baking soda
1/2 teaspoon baking powder
1/2 teaspoon salt
2 large eggs
1/2 cup sour cream, buttermilk, or yogurt
2 1/2 cups King Arthur Unbleached All-Purpose Flour
3/4 cup King Arthur All-Purpose Baking Cocoa or Dutch-process cocoa
2 teaspoons espresso powder, optional but tasty
3 cups shredded zucchini (about one 10" zucchini)*
1/2 cup chocolate chips
*Why the range in weights? Zucchini's weight varies a lot, depending on its moisture. To avoid having to make a decision about weight, consider measuring zucchini by volume.
Instructions
Preheat the oven to 325°F. Lightly grease a 9" x 13" pan.

In a large mixing bowl, beat together the butter, oil, sugar, vanilla, baking soda, baking powder, and salt until smooth.

Beat in the eggs.

Stir in the sour cream, buttermilk, or yogurt alternately with the flour.

Add the cocoa and espresso powder, mixing until smooth.

Fold in the zucchini and 1/2 cup chocolate chips. Spoon the batter into the prepared pan.

Bake the cake for 30 to 35 minutes, until the top springs back lightly when touched, and it seems set.

To ice the cake: Slide the cake out of the oven, sprinkle it evenly with the 1 cup chocolate chips, and return it to the oven for 5 minutes, or until a cake tester inserted in the center comes out clean.

Remove the cake from the oven, and use a cake spatula or rubber spatula to spread the chocolate chips into a smooth glaze. Cool on a rack.

Yield: 24 servings.
Nutrition Information
Serving Size

73g

Servings Per Batch

24
Amount Per Serving:
Calories

260

Calories from Fat

120

Total Fat

14g

Saturated Fat

6g

Trans Fat

0g

Cholesterol

30mg
Sodium

120mg

Total Carbohydrate

33g

Dietary Fiber

2g

Sugars

21g

Protein

3g
* The nutrition information provided for this recipe is determined by the ESHA Genesis R&D software program. Substituting any ingredients may change the posted nutrition information.
Tips from our bakers
For a slightly thicker, richer frosting: In the microwave or on the stove top, combine 1 1/3 cups (8 ounces) chocolate chips and 7 tablespoons (3 1/2 ounces) half & half, heating until the chocolate softens. Stir to melt the chocolate, and spread over the completely cooled cake. Fat-free half & half is fine; as is liquid coffee creamer — try different flavors for a tasty twist.
Don't worry about espresso powder giving this cake any coffee flavor; it's there strictly to enhance the cake's deep-dark chocolate taste, which it does admirably.
Reviews
It's good as a cake with less sugar, but when I cooked it...I thought is was not chocolaty and dry. I squeezed the zucchini, used sour cream, doubled the chips, and used coconut oil. Since I was making this for a toddler, not sweet was great, but I really wanted more richness in the flavor and less fluff. I coated it with a chocolate cream cheese icing (regular cream cheese icing with cup of dark chocolate chips and orange oil). It really was more of a bread than a cake and I regret not just making a carrot cake. But it was fun to try. I will see what guests say.
I made an entry last week, but for some reason it didn't show up so I'm doing it again because I've just got to tell you how good this cake is! I shouldn't bake a new recipe as a present, but had confidence in this recipe. It just sounded really good, and the KAF hotline person discussed things with me. I used Hershey's special dark dutched cocoa powder and special dark chocolate chips. I followed the KAF recipe exactly, didn't drain or squeeze the zukes or substitute any ingredients. I live at 5700 feet altitude, but didn't need to add any extra flour. I used a light-colored bundt pan greased with butter, and it plopped right out, intact. The cake took 55-60 minutes in a bundt pan. Don't overbake it, take it out as soon as your toothpick is dry! It smelled and looked dense and delicious, and my veterinarian called and said the techs and docs raved about it! I didn't use ganache, just powdered sugar on top, because it was so delicious and rich that I thought ganache would be too sweet, gilding the lily. This is so easy, dense, reliable and chocolatey that it's going to be a staple go-to cake for me! Thank you, KAF, for talking with me!
I made this to the letter except cutting it in 1/2. I frosted it with chocolate ganache. It was even more delicious the second day.
Someone left an enormous freshly picked zucchini on the Giving Table in our church. There was so much I was able to make the 9 x 13 cake and four additional 9 inch round cakes. I opted to use yogurt and omitted the icing - the cake was so moist and rich it was fabulous on its own without the icing. Everyone said the same thing "I will just take a tiny piece. Oh, it is so good, I think I will just take another tiny piece. Oh, I better stop, I haven't had dinner yet. Maybe just one more tiny piece before dinner." We all know how this story ends :)
This cake recipe is to die for... it's very chocolatey and you can't taste or feel the zucchini. I decided to bake the batter into cupcakes instead of a standard cake and they came out great, with an airy and moist texture. For me, the recipe made 24 standard size cupcakes, with the tins filled 3/4 full. They finished baking in about 21 minutes, at the 325 degrees (in a gas oven). I originally started checking at 12 minutes but I'd recommend checking for doness at 17 minutes. I didn't use the chocolate chips as frosting but made a German Buttercream instead which was perfect because it's not even close to as sweet as American Buttercream. Honestly this cake doesn't even need frosting. It's sweet but not really sweet, it just has an incredibly rich chocolatey flavor. Also I don't care for chocolate chips in my baked goods unless they are in cookies, but I did want the 68 grams of chocolate in the batter the recipe calls for so I added 68 grams of Franz 65% cocoa chocolate (for making hot chocolate) which is basically shredded/crushed chocolate bar. I added it to the oil/sugar mixture in the first step. I could have shredded/crushed a baking chocolate bar for the same effect but I was too lazy to go that route.
Wonderful recipe, however my chocolate chips on top did not melt either. I put them in earlier thinking with more time they would melt (20 minutes). But will definitely make again and make a frosting to top it with.

Donna, some brands of chocolate chips are more resistant to melting than others. It sounds like you might want to try using chopped chocolate (your favorite chocolate bar or semi-sweet baking chocolate should do) to see how you like the way it melts and tastes. Another option is to use a simple chocolate ganache glaze, which melts chocolate with just a bit of cream to make it sooth and luxurious. We hope that helps! Kye@KAF
THE BATTER WAS DRY,DID I SQUEEZE OUT TOO MUCH ZUCCHINI MOISTURE? I ADD 1/2 OF LIQUID, WHOLE MILK, BUT MAYBE ADDING COLD COFEE WOULD HAVE BEEN JUST AS GOOD. I MADE IT INTO MUFFINS. WAITING TO TASTE RESULTS.

Jane, we hope the taste test proved a success! The most common cause of a dry batter is measuring out a heavy cup of flour. We find that this can be quite easy to do when measuring by volume, as the weight of one cup of flour can vary by as much as 20% depending on how it makes its way into the cup. To achieve the relatively light cup of flour (4.25 oz or 120 grams) our recipes assume, we suggest either weighing your flour or fluffing it up in its container, sprinkling it into the measuring cup, and sweeping off the excess. Using this technique, you should end up with less flour in your batter, resulting in a more moist and balanced final product. Mollie@KAF
Decided to make this with fresh squash from yesterday's harvest. Followed the recipe almost exactly but I had to tweak it (and extend baking time by about 20 minutes) for high altitude. I used coffee crystals since I didn't have espresso powder. I only put two handfuls of chips inside the cake and added them after I mixed the squash in. My shredded squash was pressed between paper towels and a dish towel to remove excess moisture and weighed about 14.4 ounces. Four 6" squash. Chips didn't melt on top but I didn't expect them to based on reviews. It's okay though cause they did stick to the top. I'm going to try making ganache next time because there will be a next time. Awesome!
I made this today with zucchini from my garden. I did not have espresso powder so I used a couple of tablespoons of cold coffee. This is a great cake. I will be adding this to my must haves for summer.
My husband does NOT do green. He does however, crave chocolate in the way of us with monstrous PMS. He knows not to ask what I am putting into his baked goods. I have to fine shred the squash, so that not a trace of green, or yellow is visible. I have made other zucchini cakes, but I adore this one for the three cups of squash. This recipe takes readily to alterations that I have tried. Coconut oil, sucralose/coconut sugar, the only subs I've tried so far. The only ingredient that I have opted out of has been the chocolate chips. Moisture content in zukes can be so variable, even from the same garden. I always shred onto a plate, or over a colander over a bowl to prevent over- saturation, or to reserve liquid in the event it is needed. After a couple of bakes, you can really get a good eyeball on how your adequately moistened batter should look. When this cake bakes up, it might be more or less moist, but it is always good. Always rich, and very, very good.