A customized print-friendly version of this recipe is available by clicking the "Print Recipe" button on this page.
Christmas Brandied Mince Tarts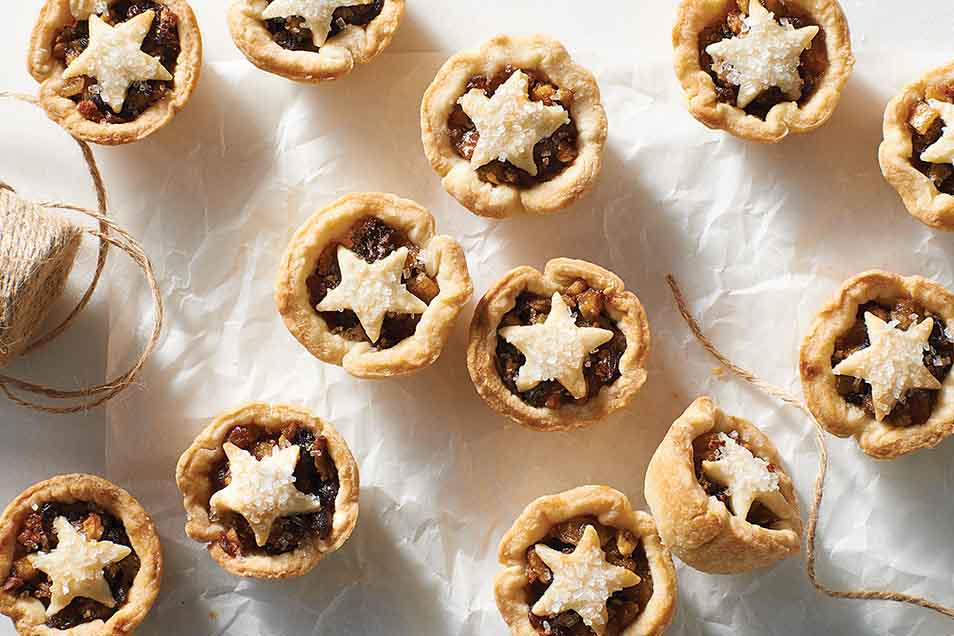 This Christmas treat, when served in its native England, features a buttery crust filled with a sweet mixture of brandied minced fruit — apples, raisins, and candied peel — plus in its most traditional form, chopped beef. We eschew the beef in our Americanized version, and substitute a sugar-topped pastry star for the more classic meringue.
Ingredients
Mince filling
1 cup raisins
1 cup golden raisins
1 cup Zante currants
2 medium Granny Smith apples, peeled, cored, and coarsely chopped
1/4 cup mixed candied peel*
grated rind of 1 small orange
grated rind of 1 small-to-medium lemon
3/4 cup dark brown sugar
2 teaspoons Yuletide Cheer Spice, or a combination of 3/4 teaspoon cinnamon, and 1/2 teaspoon each nutmeg and allspice
1/8 teaspoon salt
2/3 cup slivered almonds
1 handful golden raisins, a scant 1/2 cup*
1 handful Zante currants, 1/3 cup*
2 1/2 tablespoons melted butter
1/4 cup brandy, French brandy preferred
* see tips below to substitute Yuletide Cheer Fruit Blend
Pastry
2 cups King Arthur Unbleached All-Purpose Flour or Pastry Flour Blend
heaping 1/2 teaspoon salt*
1/2 cup butter
2 to 3 tablespoons ice water, enough to make a cohesive dough
castor sugar, optional for topping
*Reduce the salt to a level 1/2 teaspoon if you use salted butter
Instructions
To make the mince filling: Place the raisins, golden raisins, currants, chopped apple, mixed candied peel, grated orange and lemon rind, sugar, spice, and salt in the work bowl of a food processor. Process until finely minced, but not puréed.

Add the almonds and process briefly, just to break up the almonds.

Transfer the mixture to a bowl. Stir in the handful of golden raisins and handful of currants, then the melted butter.

Mix in brandy to taste.

Store airtight in the refrigerator, until ready to use; mince will keep at least a month in the refrigerator, tightly covered.

To make the crust: Combine the flour and salt in a bowl. Add the butter, mixing it in thoroughly. Unlike a typical American pie crust, this "short crust" shouldn't have any large pieces of butter remaining; the mixture should look like breadcrumbs.

Drizzle in the water, tossing as you go, until you've added enough water so that you can squeeze the dough together and it's cohesive. It should hold together nicely; if it doesn't, add a bit more water.

Divide the dough in half, and shape each piece into a flattened ball, or wheel; they should look like big hockey pucks. Wrap in plastic, and refrigerate for 30 minutes, or overnight.

When you're ready to prepare the tarts, remove the dough from the refrigerator. If it's been chilling for longer than 30 minutes, let it warm for 15 minutes or so, till it's "rollable." Start preheating your oven to 400°F.

Working with one piece of dough at a time, roll it into a 10" circle, about 1/8" thick.

Select your pan(s). For mini tarts, a mini muffin pans works well. For slightly larger tarts, use a standard muffin pan. Cut rounds of dough to fit whichever pan you choose. Measure the bottom diameter of one of the cups; that's your starting point. For a standard muffin pan, add 1 1/2" (so that the dough will come 3/4" up the sides of the cup). For a mini muffin pan, add 1". Example: If one of the cups in your standard muffin pan measures 2" across the bottom, you'll want to cut 3 1/2" rounds of dough.

Cut rounds of dough - 24 for a mini muffin pan, 12 for a standard muffin pan. A 2 3/4" biscuit cutter works well for the mini tarts; a 3 1/2" English muffin ring is the perfect size for the small tarts.

Nestle the dough circles gently into the muffin cups. Don't stretch them. Where the dough folds, snip through the fold, and lap one side over the other, pressing to seal. Cut stars from the dough scraps: 1 1/4" stars for the mini tarts, 2" stars for the small tarts.

Prick the bottom of each several times with a fork, to prevent them puffing as they bake.

Spoon about 2 teaspoons fruit mince atop each of the mini tart crusts; a level teaspoon cookie scoop works well. Spoon about 4 generous teaspoons filling into the larger tarts; a slightly heaped tablespoon cookie scoop works well.

Spritz the stars with water, and center one star atop each tart. Sprinkle with Baker's Special sugar or castor (superfine) sugar, if desired.

Bake the mini tarts for about 20 to 22 minutes, until they're golden brown. The larger tarts should bake for about 28 to 30 minutes, again until they're golden brown. Remove from the oven, and serve warm, with brandy butter or heavy cream; or at room temperature.

Yield: 24 mini tarts, or 12 small tarts.
Tips from our bakers
The crust for these tarts is easily made with the help of a food processor. Mix the flour, salt, and butter, pulsing till the mixture resembles fine crumbs. With the motor going, drizzle in the ice water, stopping when the dough comes together.
While the mince can be used right away, it's good to let it mellow in the refrigerator for at least several days, and up to a month or so. Keep it tightly covered, and stir it occasionally.
The entire batch of mince will make about 2 1/2 pounds. This is enough for 72 mini-tarts, or 2 dozen generously filled standard tarts — more than the amount of crust called for. What to do with the rest? Well, first of all, it keeps for months in the fridge. Or wrap tightly and freeze; it'll easily keep until next Christmas. You could make a regular-size pie; use the mince as filling in turnovers; or simply spoon it over ice cream, for that rum-raisin effect.
Raisins: golden raisins, Thompson raisins, Flame raisins, sultanas, currants... what's the difference? Raisins are sun-dried grapes, and different types of raisins come from different grape varieties. Two of the most popular seedless raisins in the U.S. are Thompson; and Flame, typically larger and moister than Thompson. Golden raisins (a.k.a. sultanas) are Thompson raisins that have been chemically treated, then flame-dried to attain their light-gold color. Tiny Zante currants (usually shortened to just "currants") come from Black Corinth grapes.
Our Yuletide Cheer Fruit Blend is a wonderful flavor and textural enhancement to this mince filling. Substitute 3 cups (12 ounces, 340g) fruit blend for the mixed candied peel and handfuls of golden raisins and currants, adding it to the mixing bowl in step 3.