A customized print-friendly version of this recipe is available by clicking the "Print Recipe" button on this page.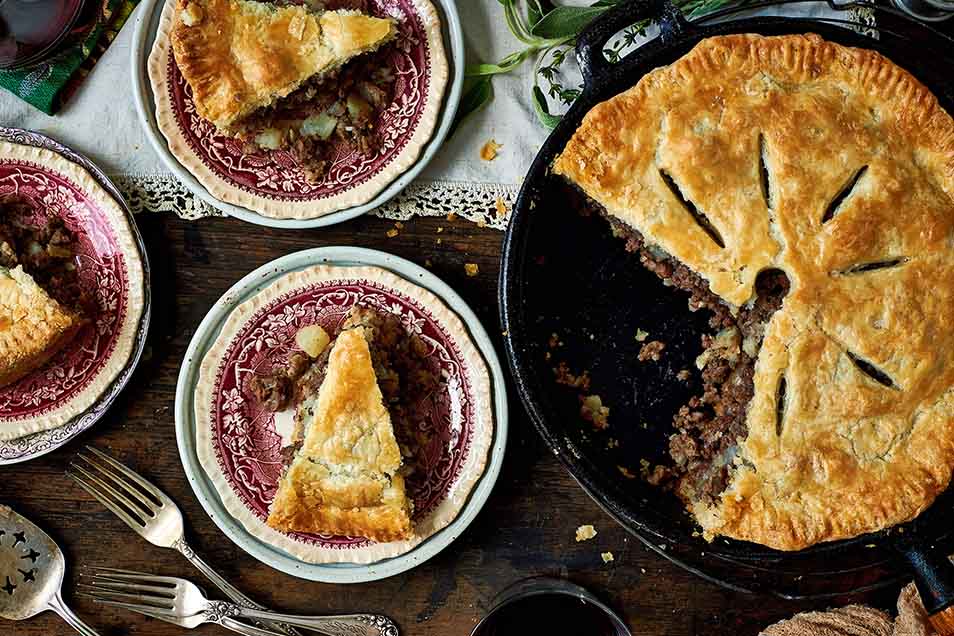 For such a simple meat-filled pie, tourtière certainly has a vast number of different incarnations! As one French baker we know says, "There are as many recipes for tourtière as there are cooks in Quebec." The meat can range from pork, chicken, or beef, to lamb, veal, or even duck. Some pies are simply meat and onions; others include potatoes and/or celery as well. The recipe you see here was developed in conjunction with a King Arthur Flour employee-owner whose French Canadian roots made her the perfect taste-tester.
Ingredients
Crust
2 1/2 cups Pastry Flour Blend or King Arthur Unbleached All-Purpose Flour
10 tablespoons cold butter
1/2 teaspoon salt
1 teaspoon baking powder
5 to 8 tablespoons ice water, enough to make a cohesive dough
Filling
1 teaspoon salt
2 cups water
1 large potato (about 12 ounces), peeled and cut into 1/2" dice; about 2 cups diced potato
2 pounds ground pork, or a combination of ground pork and ground beef; or meatloaf mixture
1 medium-to-large onion (about 8 ounces), diced; about 1 1/2 cups diced onion
1 to 2 large cloves garlic, chopped fine
1/2 teaspoon ground clove
1/4 teaspoon ground nutmeg
1/4 teaspoon ground allspice
3/4 teaspoon ground sage
1/2 teaspoon dried thyme
1 teaspoon ground black pepper
1/2 to 3/4 teaspoon salt, to taste
Instructions
To make the filling: Put the salt, water, and potato in a medium saucepan, and bring the mixture to a boil over medium heat.

Boil until the potatoes are fork-tender, about 5 to 6 minutes. Drain the potatoes, saving the water. Mash about half the potatoes, leaving the other half in chunks.

In a large skillet, brown the meat, draining off any excess fat when finished.

Add the onion, garlic, spices, salt, and reserved potato water to the meat, stirring to combine.

Bring the mixture to a boil, then lower the heat to simmer. Stirring occasionally, continue simmering the mixture for 35 minutes or so, until the liquid has evaporated and the onions are tender.

Add the mashed potatoes to the meat mixture, stirring until thoroughly combined. Gently stir in the diced potatoes. Set the mixture aside to cool.

To make the crust: Combine the flour, salt, and baking powder in a bowl. Add the butter, mixing it in thoroughly. Unlike a typical American pie crust, this "short crust" shouldn't have any large pieces of butter remaining; the mixture should look like breadcrumbs.

Drizzle in the water, tossing as you go, until you've added enough water so that you can squeeze the dough together and it's cohesive. It should hold together nicely; if it doesn't, add a bit more water.

Divide the dough into two pieces, making one slightly larger than the other. The larger piece will be the bottom crust; the smaller piece, the top crust. Shape each piece into a flattened ball, or wheel; they should look like big hockey pucks. Wrap in plastic, and refrigerate for 30 minutes. Note: make the dough ahead and refrigerate it overnight, if desired. Next day, let it warm at room temperature for about 30 to 45 minutes before rolling it out.

Preheat the oven to 375°F.

Select a 9" cast iron skillet that's 2" deep; or a 9" pie pan that's at least 1 1/2" deep. Roll the larger piece of dough into a 13" circle (for the skillet), or 12" circle (for the pie pan). Let the dough rest for 10 minutes; this will help prevent it shrinking as it bakes. Gently settle it into the pan, being careful not to pull or stretch it.

Spoon the filling into the crust, gently patting it flat.

Roll the other piece of dough into a 10" circle, and lay it atop the filling. Tuck the overhanging bottom crust over the edge of the top crust, pinching and pressing to seal. Crimp the edge of the crust, if you like. Cut a circular hole in the center of the crust, or some decorative slashes, for steam to escape.

Bake the pie for 45 minutes, until it's golden brown. Remove it from the oven, and set it on a trivet or rack.

Allow the pie to cool for about 10 to 15 minutes before serving.

Yield: one pie, about 10 servings.
Tips from our bakers
This pie freezes well, either before or after baking. Either way, thaw it overnight in the refrigerator before baking or rewarming.
Some tourtière makers substitute chicken broth for the water/potato water in the filling. if that's your preference, reduce the salt in the filling accordingly.
The combination of spices used in tourtière varies quite widely. Aside from those listed at left, cinnamon, savory, and rosemary are often used. Also, many cooks add diced celery to their filling.