A customized print-friendly version of this recipe is available by clicking the "Print Recipe" button on this page.
Ciabatta, Pan Bagna, & Garlic Bread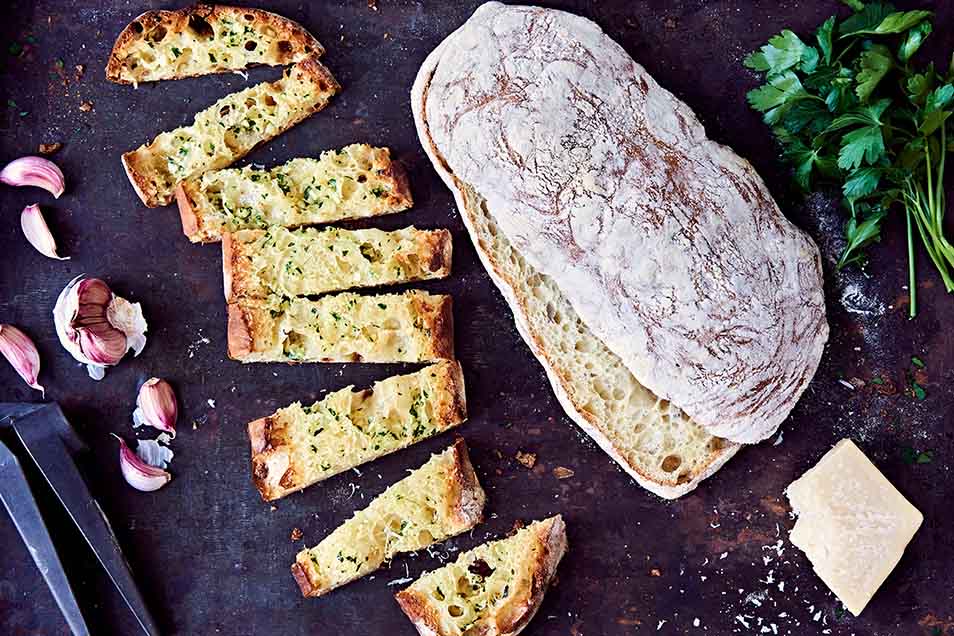 We love this recipe. It yields an extremely light, air pocket-riddled loaf, wonderful for splitting lengthwise, to make a stuffed sandwich (pan bagna), or the best garlic bread you've ever enjoyed.
Ingredients
Dough
all of the starter (from above)
1 teaspoon instant yeast
1 1/2 cups King Arthur Unbleached All-Purpose Flour
1 1/4 teaspoons salt
1 teaspoon sugar
1 tablespoon Baker's Special Dry Milk or nonfat dry milk
1/4 cup lukewarm water
2 tablespoons olive oil
Topping for Garlic Bread
1 medium head of garlic, cloves separated and peeled (about 15 medium cloves)
1/2 cup (8 tablespoons) unsalted butter, melted
1/3 cup olive oil
pinch (1/16 teaspoon) of salt
1 cup freshly grated Parmesan cheese
snipped fresh parsley, for garnish (optional)
Instructions
To make the starter: Mix the starter ingredients in a small bowl until well combined. Cover the starter and let it rest at room temperature overnight, or for up to 15 hours. It will become bubbly.

Place all of the dough ingredients, including the starter, into the bowl of your mixer, and beat at medium speed, using the flat beater, for 7 minutes. The dough will be very smooth, soft, shiny, and elastic. Alternatively, knead the dough ingredients in your bread machine using the dough cycle.

Transfer the dough to a greased bowl or other rising container, cover it, and let it rise for 2 hours, deflating it midway through. If you're using a bread machine, allow it to rise for an additional hour after the dough cycle has ended.

Lightly grease your work surface, and a half-sheet baking pan (18" x 13") or similar large baking sheet. Grease your hands, as well.

Very gently turn the dough out of the bowl onto your work surface; you don't want to deflate it. It'll lose a bit of volume, but don't actively punch it down.

Using a bowl scraper, bench knife, or your fingers, divide the dough in half. You should have two fat logs, each about 10" long x 4" wide.

Handling the dough gently, transfer each piece to the baking sheet, laying them down crosswise on the sheet. Position them about 2 1/2" from the edge of the pan, leaving about 4" between them. For a traditional look, dust the loaves heavily with all-purpose flour.

Lightly cover the loaves with plastic wrap (heavily oiled, if you haven't dusted them with flour) or a proof cover, and allow them to rise for 60 to 90 minutes. Midway through, gently but firmly dimple the loaves with your fingers, making fairly deep pockets. Towards the end of the rising time, preheat the oven to 425°F.

Spritz the risen loaves with lukewarm water. You'll see that the dimples have filled in somewhat, but haven't entirely disappeared.

Bake the loaves till they're golden brown, about 18 to 20 minutes. Remove them from the oven, and cool on a rack.

To make garlic bread: Prepare the topping by combining the minced garlic cloves, melted butter, olive oil and a pinch of salt.

Cut the loaves in half lengthwise, like you're going to make giant sandwiches.

Spread the cut halves with the garlic mixture.

Bake the bread in a preheated 400°F oven for about 10 minutes, or until the topping is bubbly and the edges of the bread are starting to brown.

Remove the bread from the oven, and sprinkle it immediately with the grated Parmesan and parsley, if desired. Cut in crosswise slices to serve.

To make pan bagna (a stuffed Italian sandwich): Split a ciabatta in half lengthwise, and brush each half with olive oil.

Fill the ciabatta with Italian cold cuts, provolone cheese, chopped olives, softened sun-dried tomatoes, sliced red onions, lettuce, basil leaves, sliced peppers or pimientos, or any combination of any similar sandwich-type fillings.

Wrap the sandwich tightly in plastic wrap or aluminum foil, and top with a weighted baking sheet (a baking sheet with a couple of bricks or heavy cans on top).

Let the pan bagna rest under the weights for a couple of hours, then slice and serve.
Tips from our bakers
Because this dough is so soft, it's quite a challenge to knead it by hand. Unless you're a baker experienced in working with high-hydration doughs, please use an electric mixer or your bread machine to knead this dough.
For extra-crispy loaves: When they're done baking, turn off the oven. Remove the loaves from the baking sheet, and return them to the oven, propping the oven door open a couple of inches with a folded-over potholder. Allow the loaves to cool completely in the oven.