A customized print-friendly version of this recipe is available by clicking the "Print Recipe" button on this page.
Ciabatta, Pan Bagna, & Garlic Bread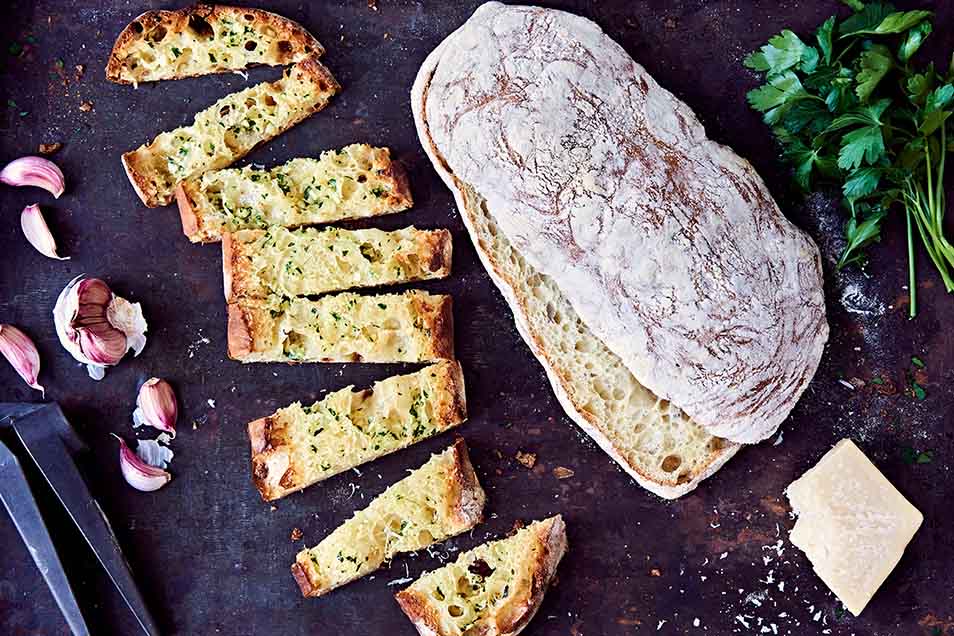 We love this recipe. It yields an extremely light, air pocket-riddled loaf, wonderful for splitting lengthwise, to make a stuffed sandwich (pan bagna), or the best garlic bread you've ever enjoyed.
Ingredients
Dough
all of the starter (from above)
1 teaspoon instant yeast
1 1/2 cups King Arthur Unbleached All-Purpose Flour
1 1/4 teaspoons salt
1 teaspoon sugar
1 tablespoon Baker's Special Dry Milk or nonfat dry milk
1/4 cup lukewarm water
2 tablespoons olive oil
Topping for Garlic Bread
1 medium head of garlic, cloves separated and peeled (about 15 medium cloves)
1/2 cup (8 tablespoons) unsalted butter, melted
1/3 cup olive oil
pinch (1/16 teaspoon) of salt
1 cup freshly grated Parmesan cheese
snipped fresh parsley, for garnish (optional)
Instructions
To make the starter: Mix the starter ingredients in a small bowl until well combined. Cover the starter and let it rest at room temperature overnight, or for up to 15 hours. It will become bubbly.

Place all of the dough ingredients, including the starter, into the bowl of your mixer, and beat at medium speed, using the flat beater, for 7 minutes. The dough will be very smooth, soft, shiny, and elastic. Alternatively, knead the dough ingredients in your bread machine using the dough cycle.

Transfer the dough to a greased bowl or other rising container, cover it, and let it rise for 2 hours, deflating it midway through. If you're using a bread machine, allow it to rise for an additional hour after the dough cycle has ended.

Lightly grease your work surface, and a half-sheet baking pan (18" x 13") or similar large baking sheet. Grease your hands, as well.

Very gently turn the dough out of the bowl onto your work surface; you don't want to deflate it. It'll lose a bit of volume, but don't actively punch it down.

Using a bowl scraper, bench knife, or your fingers, divide the dough in half. You should have two fat logs, each about 10" long x 4" wide.

Handling the dough gently, transfer each piece to the baking sheet, laying them down crosswise on the sheet. Position them about 2 1/2" from the edge of the pan, leaving about 4" between them. For a traditional look, dust the loaves heavily with all-purpose flour.

Lightly cover the loaves with plastic wrap (heavily oiled, if you haven't dusted them with flour) or a proof cover, and allow them to rise for 60 to 90 minutes. Midway through, gently but firmly dimple the loaves with your fingers, making fairly deep pockets. Towards the end of the rising time, preheat the oven to 425°F.

Spritz the risen loaves with lukewarm water. You'll see that the dimples have filled in somewhat, but haven't entirely disappeared.

Bake the loaves till they're golden brown, about 18 to 20 minutes. Remove them from the oven, and cool on a rack.

To make garlic bread: Prepare the topping by combining the minced garlic cloves, melted butter, olive oil and a pinch of salt.

Cut the loaves in half lengthwise, like you're going to make giant sandwiches.

Spread the cut halves with the garlic mixture.

Bake the bread in a preheated 400°F oven for about 10 minutes, or until the topping is bubbly and the edges of the bread are starting to brown.

Remove the bread from the oven, and sprinkle it immediately with the grated Parmesan and parsley, if desired. Cut in crosswise slices to serve.

To make pan bagna (a stuffed Italian sandwich): Split a ciabatta in half lengthwise, and brush each half with olive oil.

Fill the ciabatta with Italian cold cuts, provolone cheese, chopped olives, softened sun-dried tomatoes, sliced red onions, lettuce, basil leaves, sliced peppers or pimientos, or any combination of any similar sandwich-type fillings.

Wrap the sandwich tightly in plastic wrap or aluminum foil, and top with a weighted baking sheet (a baking sheet with a couple of bricks or heavy cans on top).

Let the pan bagna rest under the weights for a couple of hours, then slice and serve.
Tips from our bakers
Because this dough is so soft, it's quite a challenge to knead it by hand. Unless you're a baker experienced in working with high-hydration doughs, please use an electric mixer or your bread machine to knead this dough.
For extra-crispy loaves: When they're done baking, turn off the oven. Remove the loaves from the baking sheet, and return them to the oven, propping the oven door open a couple of inches with a folded-over potholder. Allow the loaves to cool completely in the oven.
Reviews
Last night I made this bread and transformed it into garlic bread. The voids (holes) came out just awesome. Just like it is shown in the blog. However, there is one thing that made me somewhat disappointed. After I finished all the steps and before baking, I made the dough into two logs as the recipe suggested. Somehow the logs flattened out a little bit. I was hoping that they will stay more as round logs without flattening. I used every ingredient weighed and followed to the letter. What am I doing wrong here to make the dough started spreading. It was not too much but I would have been happy if they stayed as solid logs. Please let me know how to correct this next time. Thanks

Hi Rom! It sounds like when you divided and moved them they may have been over-proofed so they collapsed. Try dividing them sooner next time. It's also important to remember that ciabatta is prone to being flat because it has so much liquid in it. We hope the earlier divide helps you! Annabelle@KAF
Delicious. I used the paddle attachment on my mixer, and 6:30 of beating the dough it looked like I was just mixing pancake batter - I thought there was no way it was going to come together. Then, in 30 seconds every bit of the dough came together in a mass on the paddle. The gluten was so well formed that the very sticky dough all clung together, and was beautiful, smooth and shiny. It was hard to work with, but all I really did was form two legs using my scraper, and it still came out beautiful and delicious. The best bread I've ever made.
Took a long time! However, it came out all right. It doesn't really "rise" as much as a sandwich loaf, but you can slice it down the middle instead of up and down. If I repeat the recipe, I'll probably make 6-8 tiny rectangles, pre-portioned servings that I can slice down the middle horizontally. They'd make great modest-sized sandwiches or half sandwiches to go with a bowl of soup or salad.
well, my dought was so wet, that i had to throw it the ducht pot and added 2 more cups o flour and still didnt form a boll

We're sorry to hear this dough gave you some trouble, Odile. This is a fairly wet dough by nature, but if you've been experiencing high humidity lately, it can help to decrease the water in your yeasted recipes by 10%. We have a couple of blog articles we think will be of help. The first is called "How to knead wet dough by hand" and the second is "Winter to summer yeast baking." Both of these articles share some really helpful tips, tricks, and visuals for working with sticky doughs. Kindly, Annabelle@KAF
With a little planning, you need to start it the day before, you can easily make 2 loaves of the best ciabatta. My boys devour the first loaf and I use the second for sandwiches. So easy to make. Be sure you leave the loaves on the oven rack to cool, the crunch of the crust is awesome!
I made this for my family yesterday and day prior with prep taken into consideration. I made two full loaves. Well by the time we were done eating dinner one entire loaf was gone. They couldn't stop eating it. It was so dang good!
I went ahead and started this on Friday night, and made enough to feed 30 - so 4 nice loaves. Since it was started in advance, when thoroughly cooled it was put in a space bag and enough air was removed to gently surround the loaves and froze until Tuesday morning. You couldn't tell it had been frozen at all. And it was delicious, only 3 slices were left. So this can be made in advance and if treated right, frozen. Bees wrap keeps it well also.
I made this just to try it for comparison to the light airy loaves bought at the grocery store for garlic bread. It was so VERY much better. I need to make this for about 30 people for garlic bread. I was wondering how to best srore it if made on a Sunday, held over to a Tuesday? I have beeswrap, enough for 3 but I will be doubling the recipe. Any hints appreciated. Plus will leave feedback too.

We're happy to help, Cherylnn! We recommend letting your breads bake and completely cool on Sunday. Wrap them well in plastic wrap, and freeze them until Tuesday morning. Let them thaw on the counter throughout the day. Before serving, take them out of the plastic wrap, wrap them in foil, and reheat them in your oven for 15-20 minutes at 350°F, or until they're warmed through. Happy baking! Annabelle@KAF
I made just the ciabatta bread - great recipe - delicious.
I plan to try this again. The loaves do taste good, but the holes are not there, sadly. I'm wondering if it might have been my starter. I did follow the recipe, but the starter was very dry and had a more traditional dough consistency. It mixed in well and I felt that the final dough was wet, it seemed to rise well. But the holes are just not there!

We're glad to hear that you're eager to get this recipe right, Laura! The overnight starter should be fairly wet (think pancake batter rather than dough), which leads us to believe that you're getting more flour than intended in your starter and your dough. For best results, we recommend weighing your ingredients, especially flour, or measuring it out by fluffing it up in the bag, sprinkling it into the measuring cup, and leveling it off. This will help ensure that you get the relatively lighter cup of flour intended, and the subsequent wetter dough, and increased holes in your final loaf. Mollie@KAF