A customized print-friendly version of this recipe is available by clicking the "Print Recipe" button on this page.
Cider-Gingerbread Bundt Cake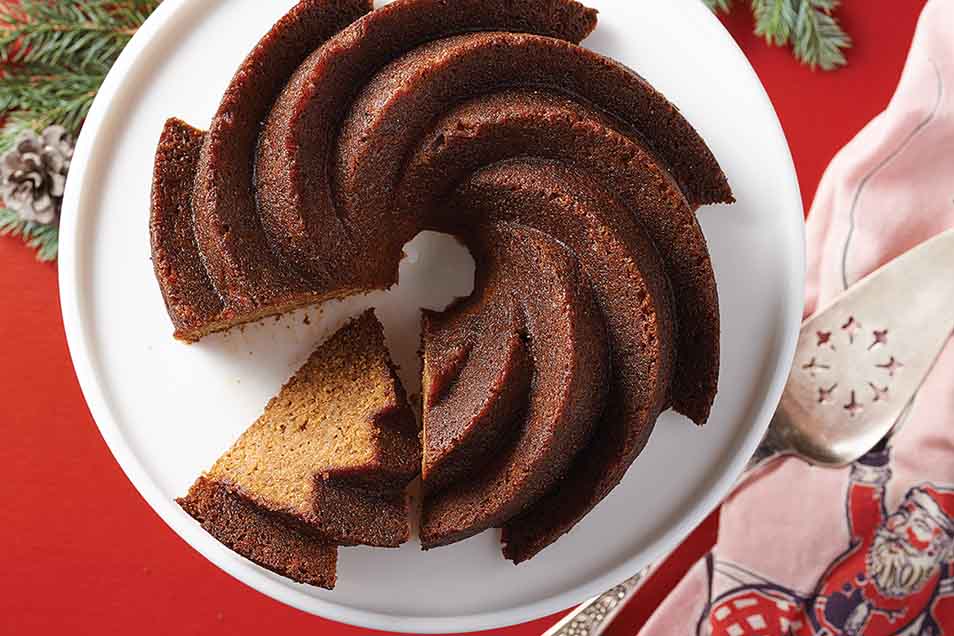 The bold, rich flavors of boiled cider and gingerbread are perfectly matched in this ultra-moist cake, which brings these traditional fall and holiday flavors together. This recipe fits a smaller-sized, 5- to 6-cup Bundt pan, but can be easily doubled to fit a 10- to 12-cup pan. Small or large, though, this cake is always big on flavor.
Ingredients
Cake
4 tablespoons (1/4 cup) unsalted butter, at cool room temperature, 65°F to 68°F
1/4 cup vegetable oil
3/4 cup sugar
4 teaspoons gingerbread spice; or 1 3/4 teaspoons ginger, 1 1/4 teaspoons cinnamon, 1/2 teaspoon nutmeg, 1/4 teaspoon cloves, and 1/4 teaspoon allspice
1/2 teaspoon salt
1 teaspoon baking powder
1/4 teaspoon baking soda
2 large eggs
1 1/2 cups King Arthur Unbleached All-Purpose Flour
3 tablespoons boiled cider
3 tablespoons molasses
1 cup grated apple
Glaze
2 tablespoons unsalted butter
2 tablespoons boiled cider
2 tablespoons sugar
1 teaspoon gingerbread spice; or 1/2 teaspoon ginger and 1/2 teaspoon cinnamon
Instructions
Preheat the oven to 350°F. Grease a small 5- to 6-cup capacity bundt-style pan.

To make the cake: Beat together the butter, oil, sugar, spice, salt, baking powder, and baking soda on medium speed of an electric mixer until light and fluffy, about 4 to 5 minutes.

Add the eggs one at a time, beating after each addition until the batter looks fluffy. Scrape the bottom and sides of the bowl.

Weigh the flour, or measure it by gently spooning it into a measuring cup and sweeping off the excess. Beat in half the flour, then the boiled cider. Scrape the bottom and sides of the bowl, then beat in the remaining flour followed by the molasses. Fold in the grated apple.

Pour the batter into the prepared pan.

Bake the cake for 38 to 42 minutes, until a cake tester or toothpick inserted into the center comes out clean.

Remove the cake from the oven, and cool it for 5 minutes before turning it out of the pan.

To make the glaze: While the cake is still warm, heat the butter, boiled cider, sugar, and gingerbread spice together (in the microwave or in a saucepan set over medium heat) until the butter has melted and the sugar has dissolved, stirring until smooth.

Brush the glaze onto the warm cake. Allow the cake to cool completely before slicing.

Store the cake, well wrapped, at room temperature for several days. Freeze for longer storage.
Tips from our bakers
This recipe doubles easily to fill a 10- to 12- cup bundt-style pan. Bake the cake for 55 to 60 minutes.
Reviews
This is a really wonderful cake: dark, moist, and spicy. It is my husband's new favorite, which is saying something because he generally doesn't much care for cake. It's a smaller cake, but if you double it, it fits in a regular bundt pan. It was a little dry when doubled, but that did not stop my husband from wolfing it down.
This is a delicious gingerbread with a wonderful texture. The boiled cider and grated apple add a lovely touch, and make for a very special gingerbread cake.
I made this and had it rise and then sink in the middle, it was OK but I wonder what to do to prevent that

Hi Sandra! Cakes will sink if they needed a little more time in the oven or if there was too much liquid. So long as you measured everything accurately, it was probably the former. You want the interior of the cake to reach 205°F on a digital thermometer — then you'll know it's really done. Annabelle@KAF
One word: outstanding. Well, let me add another couple of thoughts: This cake couldn't be easier, and it produces a fabulous flavor payoff for the minimal effort involved. Wonderful!
This cake is amazing! The house smelled like Christmas while it was baking, it popped right out of my small Nordic Ware bundt pan and that glaze!!!!!!! I could eat it by the spoonful! I'd previously bought a bottle of boiled cider and I wonder if it was a bad batchol or the formula has changed. Whatever the reason, it was the perfect addition to this cake. This will definitely be made on a regular basis here.
I make this cake to sell at our Farmer's Market, in Truro, NS. What can I say - people taste, chew it through, and their eyes roll with pleasure - and they buy. It's a difficult cake to cut into samples because it is so moist and tender, but it is so worth it. Two weeks ago a woman sampled, and earnestly asked "What do you have to use with this? Brown sugar sauce? Whipped cream? Lemon sauce?" My friend in the next booth quickly said " A fork." Great cake - if you haven't made it, do so. An aside, even buyers of the Caribbean Rum Cake are tasting this, then purchasing both.
This was my first time trying out a bundt cake, and it was splendid. I needed something to use up the boiled cider I made, and this recipe was great. The cake was nice and tender, and the blend of spices was just right. Just enough to give it a little kick. My cake did break when i removed it from the pan, but thats on me. The glaze was a perfect compliment to the spiciness of the cake. I'll definitely make this again
I made this today after finding the recipe when cleaning my kitchen. It is amazing. The texture is fine, it is moist, the spices a perfect match to the apple cider sweetness. I will definitely make it again.
Served this at a large holiday open house party. Everyone loved it! Boiled cider adds an incredible flavor to the ginger.
i used this as a gift for a tennis club gift exchange and included a new bundt pan as part of the present. the recipient was delighted and said she served it to her family over the holidays. i used pumpkin pie spice and regular cider and it came out fine. very attractive cake.