A customized print-friendly version of this recipe is available by clicking the "Print Recipe" button on this page.
Cinnamon-Apple Raisin Challah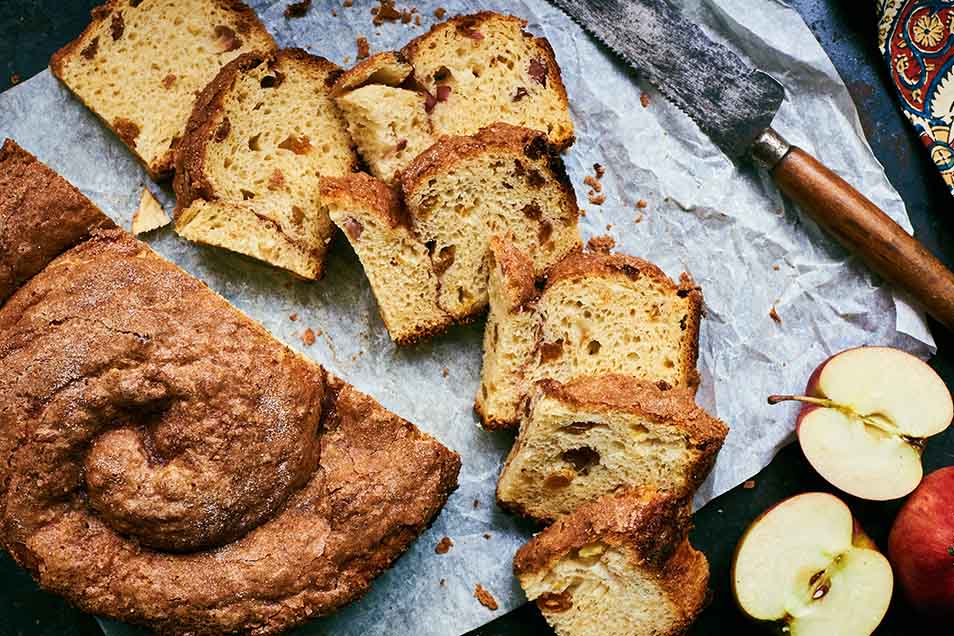 Challah is typically made as a long, braided loaf, its crust a shiny golden brown from a glaze of beaten egg applied before baking. But Rosh Hashanah challah, which celebrates the Jewish new year, often appears in a spiral — signifying the circle of life. This particular challah is studded with fresh apple and raisins, and rolled in an aromatic coating of cinnamon-sugar — autumn flavors to complement the September Rosh Hashanah holiday.
Ingredients
Dough
1/2 cup lukewarm water
6 tablespoons vegetable oil
2 large eggs
2 tablespoons honey
1 3/4 teaspoons salt
4 teaspoons instant yeast, SAF Gold instant yeast preferred*
3/4 cup raisins, regular, golden, or a mixture
3/4 cup diced apple (1/2" cubes); leave the skin on, if you like
*If you use regular (SAF Red) instant yeast, you'll see an increase in your rising times.
Glaze
1 large egg white beaten with 1 tablespoon cold water
Instructions
To make the dough: Combine all of the dough ingredients and mix and knead them, by hand, mixer, or bread machine, until you have a soft, smooth dough.

Allow the dough to rise, covered, for about 1 to 2 hours (or more, if you don't use SAF Gold yeast), or until it's puffy though probably not doubled in bulk.

Gently deflate the dough, and transfer it to a lightly greased work surface.

Pat and roll the dough into a 36" rope, tapering one end. Poke any raisins or apple bits sticking out of the dough back underneath the dough's surface; this will help prevent them from burning in the oven. Sprinkle the dough with cinnamon-sugar, rolling it around to coat as completely as possible.

Starting with the tapered end, coil the rope loosely into a lightly greased 9" round cake pan, starting at the center and working outwards.

Cover the loaf with lightly greased plastic wrap (or place it in a proof box), and let it rise until it's very puffy, 60 to 90 minutes. Towards the end of the rising time, preheat the oven to 375°F.

Whisk together the egg white and 1 tablespoon water, and brush this glaze over the risen loaf. Sprinkle with additional cinnamon-sugar, if desired.

Place the cake pan atop a baking sheet; this will insulate the bread's bottom crust, and keep it from browning too much. Put the challah in the lower third of the oven, and bake it for 20 minutes.

Tent the challah loosely with aluminum foil, and bake for an additional 18 to 22 minutes, until the loaf is golden brown. An instant-read thermometer inserted into the center will register 200°F or above.

Remove the bread from the oven, and place it on a rack to cool.

Yield: one 9" spiral challah.
Reviews
Way too much flour, so dough became a cementy slab. Used about 2.5 cups.

Rdw, hello! Flour naturally packs down in measuring cups so it's quite possible that a few extra ounces wound up in each cup.

To ensure you're using the right amount, we recommend checking out the "Recipe Success Guide," link next to the ingredients header above. You'll see that either measuring your flour by weight using a scale, or fluffing and sprinkling the flour into your measuring cup are the most accurate ways to measure flour. We hope this helps! Annabelle@KAF
I would like to make this recipe gluten-free. Can I successfully replace regular flour with Measure for Measure? An aside: One thing I've notice when using Measure for Measure in other recipes is the need to cut back on the fat.

Hi BJ! When it comes to yeast breads, we recommend using a recipe that's designed to be gluten-free, like our Gluten-Free Sandwich Bread, and then adding in the flavors or mix-ins of your choice. Cinnamon, apples, and raisins would make lovely mix-ins! If you have any questions, our free and friendly Baker's Hotline can be reached at 855-371-BAKE (2253). Happy GF baking! Annabelle@KAF Annabelle@KAF
This recipe is super easy and tastes great! I omitted the raisins, and subbed in 1.5 cups whole wheat flour + 2.5 cups white flour instead of 4 cups white flour. I didn't have a cake pan, so I used a 9 inch glass pie pan, and it ended up working great! I didn't change the temperature of the oven, but I did have to bake it for about 5 extra minutes. I think if I were to make this again, I would add more apples (they got diluted out as the bread rose/baked). But otherwise, the bread was delicious!
In the ingredients, I see "1 large egg beaten with 1 tablespoon cold water." In the instructions, I see "whisk together the egg white and 1 tablespoon cold water." Which is correct?

Thanks for catching that, Jim! The ingredients for the glaze should call for 1 egg white mixed with 1 tablespoon of water. This will give your challah a beautiful shine. We'll update the recipe right away. Happy baking! Kindly, Kye@KAF
I followed the recipe with only the one exception of putting it in a cake pan. I did 3 smaller rolled on a flat sheet pan. I liked everything, except it seemed a bit dry. I'm sure part of it is as doing smaller rolls, but the dough did seem a bit dry. The cinnamon sugar has a nice sweetness on the outside.

Sounds like you're so close to challah perfection, Marcia! If you decide to make this recipe again, try holding back the last 1/4 cup (30 grams) of flour and add it only if the dough seems sticky or wet. This might be the only slight adjustment you need to make in order to have your challah turn out perfectly. Good luck! Kye@KAF
tried this today. Came out awesome . Thank you for sharing this delicious recipe.
I made this almost exactly as the recipe says. It turned out beautiful, just like the picture. I was disappointed because it didn't have much flavor...more like bread than a sweet coffee cake. I used a whole apple and chopped it finely and the full amount of raisins. It was easy and rose well, it seemed a bit dark after baking but didn't taste burned. I put a bit more honey in it than called for . It will be better toasted with butter, I think.

We apologize if we didn't set the right expectations with this recipe, Magart, but it is intended to be very much a bread rather than a coffee cake. Challah is a slightly sweet, enriched dough that should be buttery and in this case, scented with cinnamon and studded with apples. If you're looking for something that's more like a coffeecake, consider making our recipe called "Magic Buckle." It's a perfect blend of cake and fruit, packed with warmth from the cinnamon and sweetness from fruit. We hope you consider giving it a try and find that it's more aligned with what you're looking for. Kindly, Kye@KAF
This bread was easy to make, and the taste was delicious. However, it was rather dense, and I expected it to be light. I would like to make it again with a lighter result. So I want to know what might be the problem - the water was not warm enough? We did not let it rise long enough? We used too much flour? (We measured by volume.) We used Angel brand instant yeast because we live in China, and that is all I can get here. Thanks for your help.

Laura, the most common reason why bread turns out heavy and dense is because too much flour is used. If you're measuring by volume, check out the link below the ingredients header that says "Measuring Standards," to see the best method of measuring your flour. To ensure the dough is fully kneaded, press on the dough with your finger. If the indent stays and doesn't spring back, you're ready for the next step. We hope this helps, and happy baking! Kye@KAF
My favorite Challah to date! We have it in the center of every holiday, I bake a challah every weekend, and have tried several recipes from all over. This Challah is more like a donut, pour out your cinnamon sugar on a sheet of parchment paper and actually roll it to coat it before twisting. Beautiful. Thank you again King Arthur!
I made this bread last week. 2 loaves. It was great. I did not have any apples, so I put dates and raisins in it. Everyone thought it was great. Thank you KAF for the fantastic recipes.