A customized print-friendly version of this recipe is available by clicking the "Print Recipe" button on this page.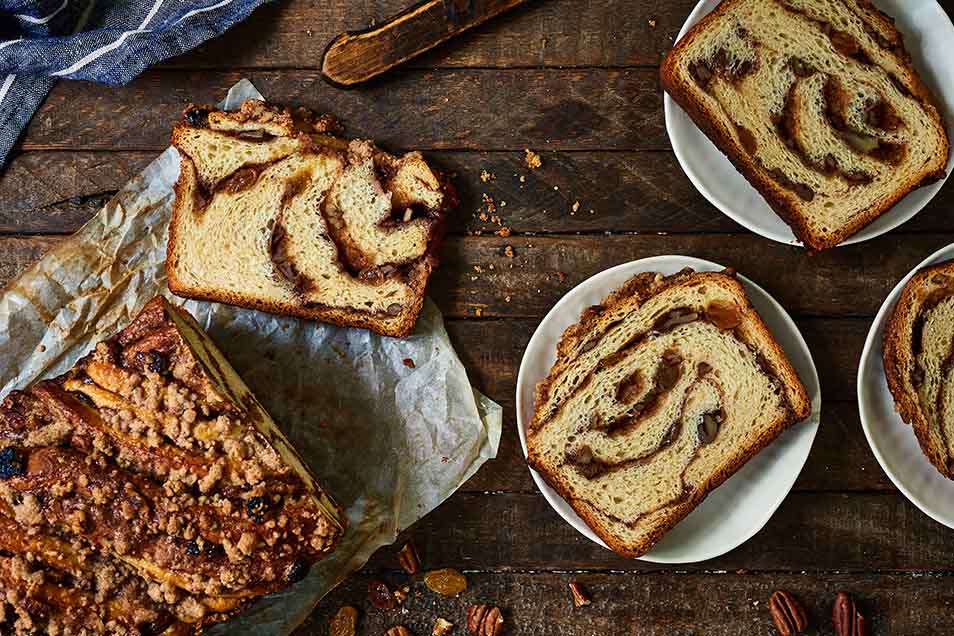 Here at King Arthur Flour, we take our cinnamon-swirled buns and breads pretty seriously. This babka is no exception with its cinnamon-laced, buttery, brown sugar filling studded with nuts and raisins. It's a loaf worthy of any celebration, large or small, even if it's just your daily tea or coffee ritual.
Ingredients
Glaze
1 large egg beaten with a pinch of salt
Instructions
Weigh out your flour; you'll find its weight by toggling to "ounces" at the top of the ingredient section above. Or measure it by gently spooning it into a cup, then sweeping off any excess.

Combine all the dough ingredients (starting with the lesser amount of water), mixing until everything is moistened. Add more water if necessary to enable the dough to come together. Cover the bowl and let the dough rest for 20 minutes. Then mix and knead it until it's soft and smooth.

Place the dough in a lightly greased bowl, cover, and allow the dough to rise for about 1 1/2 to 2 hours, until it's quite puffy.

To make the filling: Just before you're ready to shape the dough, combine the sugar, cinnamon, and flour. Stir in the melted butter and water until evenly incorporated. Set aside.

To make the topping: Combine the flour, sugar, cinnamon, and salt until evenly incorporated. Work in the butter until coarse crumbs form. Set aside.

Shape the dough into a 9" x 18", 1/4"-thick rectangle. If the dough "fights back," cover the dough and let it rest for 10 minutes to relax the gluten, then stretch it some more.

Smear the dough with the filling, coming to within an inch of the edges.

Scatter the nuts and raisins over each piece.

Starting with a short end, roll the dough gently into a log, sealing the seam and ends.

Using a pair of scissors or a sharp knife, cut the log in half lengthwise (not crosswise) to make two pieces of dough each about 10" long; cut carefully, to prevent too much filling from spilling out.

With the exposed filling side up, twist the two pieces into a braid, tucking the ends underneath. Place the twisted loaf into a lightly greased 9" x 5" loaf pan.

Brush the loaf with the egg glaze. Mix together the topping ingredients until crumbly and sprinkle it over the loaf.

Cover the loaf, and let it rise until it's very puffy and crowned a good inch over the rim of the pan, 1 1/2 to 2 1/2 hours. Towards the end of the rising time, preheat your oven to 350°F.

Bake the bread for 40 to 50 minutes, tenting with aluminum foil during the final 15 to 20 minutes of baking; the loaf should be a deep-golden brown and a digital thermometer into the center of it should register about 195°F.

Remove the babka from the oven, and immediately loosen the edges with a heatproof spatula or table knife.

Let the babka cool for 10 minutes, then turn it out of the pan onto a rack to cool completely.

Slice the babka and serve it at room temperature; or rewarm individual slices briefly in a toaster, if desired.

Store any leftovers, well wrapped, at room temperature for several days; freeze for longer storage.
Reviews
I'm sure the recipe is fine, but it doesn't state to divide the dough into 2 pieces clearly. I didn't realize I needed two pieces of dough until I looked at the bake along. By the time, I noticed the discrepency I had already shaped my dough into a mangled mess. Pretty annoyed. Please make this step clearer.

Hi there, Rachel. We're sorry that you missed the step about dividing the dough during shaping. On step 10. the instructions read to cut the log in half lengthwise with either a knife or pair of scissors. We hope this helps for future baking adventures! Morgan@KAF
Very pleased with this Cinnamon Babka recipe! The filling oozed out just a little and dripped some on to the oven floor, but that was because my halving and braiding was messy I think. Would definitely make this again.
I made two loaves using the chocolate babka bake a long as a guide. I made a few rookie mistakes ( mixed my nuts in with the cinnamon mixture) nevertheless it turned out delicious. I asked a question to the baking hotline regarding fridging the first rise and I'm very appreciative of that service. Very fun bake.
Lovely! I adjusted a little for my own fun and pleasure, but stuck with basics. Easy and lovely dough. I doubled the recipe and it worked perfectly. I added zest of an orange and used a hefty amount of KAF Baker's Cinnamon Filling to amp up the filling (which I found a bit stingy in quantity). Also sprinkled toasted walnuts and some cinnamon bits on top of the cinnamon filling. Where it called for vanilla, I used 2/3 vanilla and 1/3 KAF Buttery Dough flavoring. Instead of the egg wash, I opted to brush with a simple syrup after it came out. I suppose it sounds like I made a lot of adjustments, but it didn't feel that way. The dough formula is perfect, the rise times are spot on, and the temperature guide to doneness was very helpful. I really enjoyed the versatility of the recipe.
This is the 3rd time I've made this but I tweeked it a little by adding a little more cinnamon and brown sugar. I sent a loaf to my dad in Florida as I live in Colorado, he described the Babbka as when he was little as he walked the alleys of Chicago with his friends back in the 1930-40's describing smelling the Babbka being baked as he said THANK YOU SON , this is TRULY a memorable loaf of bread.
This babka is delicious! It takes a little time to make it, but it is worth the effort.
This bread was amazing!! I followed the directions exactly as written and it turned out beautifully (in flavor and appearance). I will make this again. Can I do the final proof overnight in the fridge?

We're so glad this was a hit, Sarah! If you're going to use the fridge at any point in this recipe, you'd want to use it right after the dough has been mixed so it can have its bulk rise in there. Fillings tend to leak and seep after being in the fridge, and sweeter, enriched doughs can overproof, so we wouldn't recommend putting the filled, shaped loaf in the fridge for those reasons. Annabelle@KAF
Oh, my word. This is delicious! The cinnamon flavor is perfect and the texture of the bread is excellent. I can't stop sneaking a piece. I will certainly make this again!
Phenomenal flavor--but not the most beautiful thing I've ever made. I don't know what I'm doing differently than what's in the recipe to make mine look so different, but I don't seem to get the tightness in layers that I think I'm supposed to get. The layers seem to separate/explode more than hold together. My son declares that there is absolutely no problem with the way I'm doing it as it tastes great and he gets to eat what falls off the loaf when I turn it out. (I have found that putting a piece of parchment in the loaf pan makes turning out the loaf easier.)

We're glad this is a hit, Rachel, and we'd love to help with the shaping! We recommend going to our blog, linked in the upper right corner of our website. Then, click on "Bakealong" where you'll be able to scroll down to Challenge 9: Chocolate Babka. Here you'll find detailed step-by-step photos of two different methods of folding/twisting babka dough to keep those layers together. We hope those visuals help make the next loaf as satisfying to you as it is to your son! Annabelle@KAF
Made this for Sunday fellowship time. Very well received. I've made the chocolate babka several times and this is a nice change. Thanks for another great recipe.