A customized print-friendly version of this recipe is available by clicking the "Print Recipe" button on this page.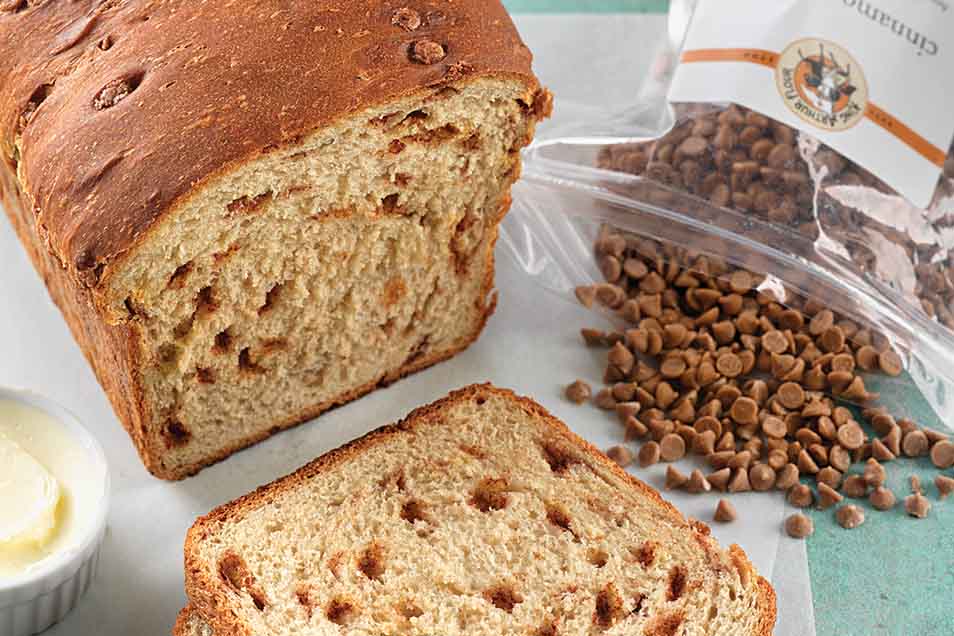 This bread tastes like a warm-from-the-oven cinnamon bun — without the fuss of rolling and cutting.

Bake the 2-pound version in a 9" x 5" pan; the 1 1/2 pound loaf fits perfectly into an 8 1/2" x 4 1/2" loaf pan.
Instructions
To make this bread in your bread machine: Place all of the ingredients except the cinnamon chips into the pan of your machine, program for raisin or mixed bread, and press Start. Add the chips at the signal. (If your machine doesn't have an "add-in" cycle, program it for basic or white bread, and add the chips about 5 minutes before the end of the final kneading cycle.)

To make this bread by hand or with a mixer: Mix and knead all the ingredients by hand or mixer until you've made a soft, smooth dough.

Place the dough in a lightly greased bowl. Cover the bowl, and allow the dough to rise, at room temperature, until it's puffy, about 60 to 90 minutes.

Gently deflate the dough and form it into an 8" log. Place the dough into a greased loaf pan. Cover the loaf, and allow the bread to rise until it's crested about 1" over the rim of the pan, about 1 hour.

Preheat the oven to 350°F.

Bake the bread for 40 to 45 minutes, tenting it lightly with aluminum foil about halfway through baking. The bread's crust will be golden brown, and the interior of the finished loaf should measure 190°F on a digital thermometer.

Remove the bread from the oven, gently loosen the edges, and turn it out of the pan. Allow the bread to cool completely before slicing.

Store on the counter for 4 days, or freeze for up to 3 months.
Reviews
Better than Great Harvest loaf. Good toasted and buttered. I use a stand mixer, kneaded 5 minutes medium speed with dough hook. Then added chips and ran just to incorporate (a couple rounds) Dough is sticky. The water was at tap temperature meaning not the usual warm. This might explain the orange bread syndrome.
I was looking for a chocolate chip bread recipe to use in French toast. I used this as the base, cutting down the cinnamon and replacing the cinnamon chips with chocolate chips. It was just right. The bread is soft enough that the French toast wasn't heavy and dense. The leftovers toasted up really nicely for breakfasts in the subsequent days. I'm not a big chocolate person myself, but the family devoured this and the kids really liked a change from chocolate chip pancakes.
I've been experimenting with this loaf in my Zo machine, and my biggest piece of advice is that the type of chips you use really matters! A certain brand of store-bought "cinnamon" chips (that doesn't even have cinnamon as an ingredient FYI!) melted and turned the bread orange and my simple homemade cinnamon chips partially dissolved, giving the bread more of a cinnamon flavor throughout. But, the perfect mini cinnamon chip is the secret ingredient! I used Olive Nation brand available on Amazon. (I don't see cinnamon chips for sale on the KA site currently?) Secondly, when made exactly as written. my loaf rose VERY high, then fell in the middle. Will try again with a little less yeast perhaps. I'm looking to imitate the cinnamon chip bread from Great Harvest and this recipe comes close! My next goal is to figure out how to make it with whole wheat flour. :) One question: The side and bottom crust of my loaf are a bit crisp and shiny. Not necessarily overcooked but more like the crust of a pound cake than soft bread crust. Any suggestions? Thanks!

Hi Erica, we're no longer selling cinnamon chips but rather offering something called Cinnamon Sweet Bits, which have a lovely cinnamon flavor and more organic shape than the chips. As for your question about the side and bottom of your loaf, try baking in a medium or light-colored metal loaf pan if possible. Dark colored pans as well as glass and ceramic tend to bake the outer edges more readily than lighter colored ones, which can help. You can also try brushing the dough with some melted butter before putting it into the pan, and then again once the loaf is removed from the loaf pan. This will add a pleasant shine and also help keep the crust soft. Happy baking! Kye@KAF
Bread machine will produce an orange bread. Made bread for 40+ years, only use dough cycle for the consistency, as a controlled and predictable environment. Even added chips just before end of knead cycle and they all melted. KA chips given to me from a friend, the warmth that insures a consistent result is too high for the melting point of the chips. Will use for cookies muffins and scones, or mix with my dough hook. Love your recipes and tips, only use KA PRODUCTS AND WEIGH WEIGH WEIGH!!! As I weigh at times I stir and spoon and never get the weight correct, never buying bread again!!
We loved this recipe. I used the dough setting on my Zo bread machine. Unfortunately like another reviewer my cinnamon chips melted completely and turned the dough orange. Oh well it didn't affect the taste only the appearance. Since the recipe was for a two pound loaf I used my USA Hearth pan (12 x 5 1/2 x 2 1/4) and reduced the baking time by five minutes. The loaf turned out perfectly. I've already made this bread a second time at the family's request. So this recipe goes into rotation as a much loved bread.
The bread turned out delicious ! My husband and kids (6years and 1.5 years)devoured half of the bread in one day .Thank you KAF again for amazing recipe .
The bread tasted really good, but the chips all melted to the point that the bread was actually orange. I was really looking forward to enjoying the bread in your photo. Did I put the chips in at the wrong time? I use a Panasonic bread machine and used the raisin bread cycle, which beeps at the time you are to add the raisins. I used the chips instead. Would using Bread flour instead of All Purpose have made a difference? This is the first loaf I've ever made using All Purpose Flour in the 12+ years of making bread.

Sharon, it sounds like the chips may have been added too early during the kneading cycle. The melting may also have been a result of the kind of cinnamon chips you used; some are higher quality than others and resist melting better than others. We recommend trying again with King Arthur Flour's brand cinnamon chips, and consider shaping and baking the loaf by hand in the oven. You can still use the bread machine to mix the dough initially. We hope that helps. Happy baking! Kye@KAF
I baked the 2 lb loaf exactly as written. It was perfect for snacking and for toast.
My 1980 something Oster 2 1/2 lb bread machine has no option of "crust color" so my very first KAF Apple bread mix baked to the most wonderful texture ever achieved the aroma made my mouth water!! Then changed quickly to burning cinnamon!! Never had KAF mixes before I could not believe the difference it made for a little box to make such wonderful bread just amazed me!! I had to cut the crust off but it was so delicious it didn't matter! So tasting something that wonderful made me want more, I can't afford the ZO so I went out and found the Cuisinart Sbk 100 ss for $100. It is a beautiful machine with all the up dated features I should need. Made the Cinnamon Chip Loaf on the Sweet Cycle and I knew it seems to over knead it really dances in place!! Everything comes out Super Fluffy I thought about it and just knew 1 TBLS of my new favorite yeast would be too much for her to handle so I cut back 1/2 tsp !! Gonna cut back another 1/2 tsp next time too!! It rose to the window!! Tried Light crust cause cinnamon browns well but I think I can use Med next time. It makes beautiful caramel colored crusts on Med!! I used the cinnamon flav-r-bites they are tasty but want to try with cinnamon chips as well. It broke my heart to have to SQUASH my beautiful loaf to put it in the expandable bread keeper that I love so much!! I would love a DENSER CHEWIER crumb can I get that by trying KA BREAD FLOUR for KA APS Flour ?? Love the new machine but miss the texture of the old one!! Just too FLUFFY!! I KNOW EVERYONE ELSE WANTS THE REALLY FLUFFY SOFT TEXTURE!! Have a lot of health problems and this machine makes dough while I can't with these crooked fingers and bad back! It has brought such joy to be baking bread with all the KAF products and wonderful recipes. I'll be 69 in Oct and they can't stop me from playing with all my new TOYS!! THANK YOU FOR ALL YOUR WONDERFUL PRODUCTS AND RECIPES LOVE THEM ALL Please try the Cinnamon Chip Loaf. It's so hard to wait for it to finish baking!! You'll make it again and again I promise it's that good!!

Patches, it's great to hear you've been using your bread machine with wonderful success! To give the load more of a dense crumb, try using bread flour instead of all-purpose. You might also want to try using the smaller version of the recipe if you were having trouble with the loaf rising too much in your machine. Happy baking! Kye@KAF
I used my Kitchen Aid commercial mixer...making certain I followed manufacturer's instructions for kneading. I made the 2lb recipe and made mini loafs in my popover pans with the 'extra' dough...this is a great recipe and if you follow the directions, you will never be disappointed. The cinnamon bits are fabulous; and when the bread is fresh out of the oven the pockets of cinnamon melt to a smoothie texture. This is in my go to file.